It's your birthday. Your friend brings out your cake. You blow out the candles and — smash! — they shove your face into the cake. It's all fun and games until you lose an eye — which is, apparently, a possibility.
On Nov. 4, Redditor u/xuanhu posted an image of a warning on the back of a cake box from Paris Baguette, a South Korean bakery chain with nearly 100 locations across the U.S., in the subreddit r/mildlyinteresting — and it prompted a rousing dialogue.
"This cake has a warning to not face smash," u/xuanhu captioned the post.
u/xuanhu did not immediately respond to a request for comment from TODAY.com, so we visited a Paris Baguette to see if this was a real thing, and sure enough, our pastry purchase was placed in a blue box with the same warning on it.
"There is a clip in the middle of the cake board to keep the cake stable during transportation," reads the warning. "Behaviors such as traditional face smashing into the cake can result in severe injury. Some of the decorations on the cake might be inedible."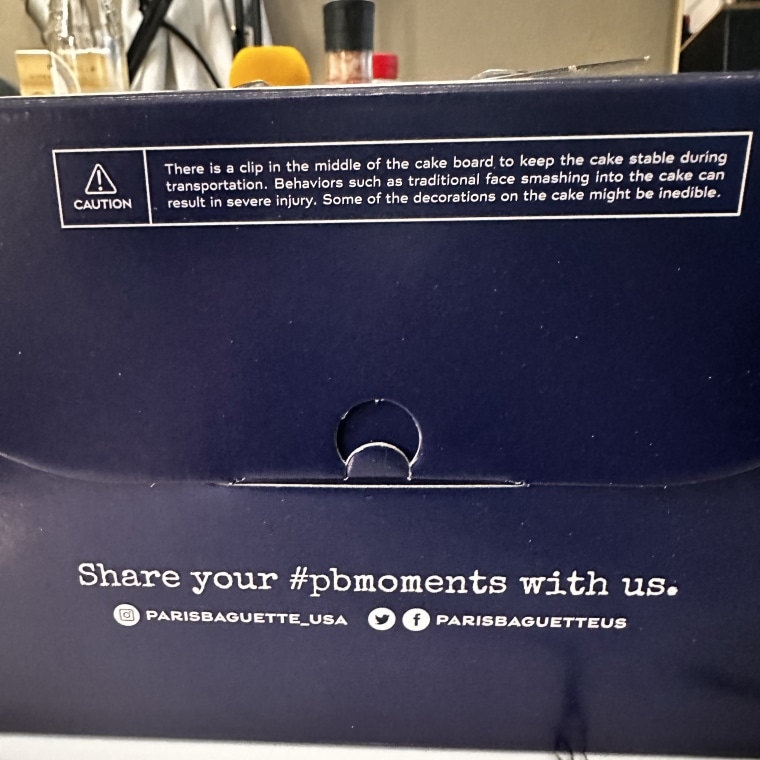 A spokesperson for Paris Baguette tells TODAY.com that the notice has actually been on its boxes for some time now.
"We include a clip on our packaging to make sure our expertly-crafted cakes stay beautifully in place during transit, ensuring the best experience for our guests," the spokesperson says. "The caution message has been on our cake boxes for several years to reinforce proper safety protocols for our valued customers."
For those unfamiliar with the potentially dangerous celebratory custom, what the brand refers to as "traditional face smashing" can mean a few things.
First, it can refer to the nuptial tradition where the newlyweds feed wedding cake to one another, playfully squishing a bit into each other's faces. More recently, though, much more aggressive instances of this custom have emerged, especially on TikTok, stirring up heated debate.
There's also a Mexican cake-smashing tradition called "la mordida," meaning "the bite." Mexican American actress Salma Hayek explained the tradition in 2021 when a clip of "Eternals" co-star Angelina Jolie pushing Hayek's head into a birthday cake went viral.
"When the cake comes you make a wish, you blow the candle and then you take a bite of the cake and then somebody behind you whacks you in the head and puts your face inside of the cake. It's very normal in Mexico," Hayek said on "The Kelly Clarkson Show."
On TikTok, the hashtag #cakesmash has over 500 million views, with folks betraying the trust of their loved ones with forceful fistfuls of buttercream. The trend has gone so far that folks are even cake-smashing their pets.
On the original Reddit post, hundreds of commenters discussed the box's warning.
"Congratulations, you've unlocked a new fear!" commented one Redditor.
"I don't foresee the type of people that smash people faces into cakes reading a warning label like this," wrote another person.
"after watching a video of a cake smash with wooden stakes that (were) basically pointy chopsticks to hold the cake together, and seeing the aftermath of a girl losing an eye, yes this warning is needed," commented someone else.
In 2021, reports emerged about a woman who almost lost her eye during a cake smash. When her head was pushed into her birthday cake, she was impaled by a sharp wooden dowel which narrowly missed her eyeball and had to be removed by an emergency room doctor.
But this isn't an isolated incident. Elsewhere on the internet, folks have discussed many other cake-smashing accidents, so if you insist on participating in this tradition, please double- and triple-check that your cake doesn't have dowels. No one is blowing out their birthday candles with a wish for a trip to the ER.