Panicked Twinkies lovers lost their minds when Hostess shut down in 2012. Thankfully, the company made a swift and sweet comeback, with an assist by TODAY's Al Roker, in 2013.
But now another classic sweets factory has shuttered — and it's unclear whether it will be bouncing back anytime soon. Necco, the maker of divisive, chalky treats, has bitten the dust and closed its factory on Tuesday.
This week, devoted fans of all of the company's sweets are scrambling to find their favorite treats amid the sudden closure.
The historic candy maker (which stands for New England Confectionery Company) had been in operation since 1847 and was the oldest continuously running candy company in America. Its other famous candies are Sky Bars, Mary Janes, Clark Bars, Candy Buttons, Squirrel Nut Zippers and Mighty Malts.
Necco was bought by an investment company in May at a bankruptcy auction, and recently sold to a new, unnamed owner. The new owner has not indicated if production will resume at the factory which employed 230 people.
In the meantime, the classic Necco candies are in ultra high demand by fans.
Inventory is already low, as the plant was shut down for seven days in May after the Food and Drug and Administration found evidence of rodent activity and unsanitary conditions, according to the Boston Globe. But the good news is that plenty of places are still selling the sweets ... for now.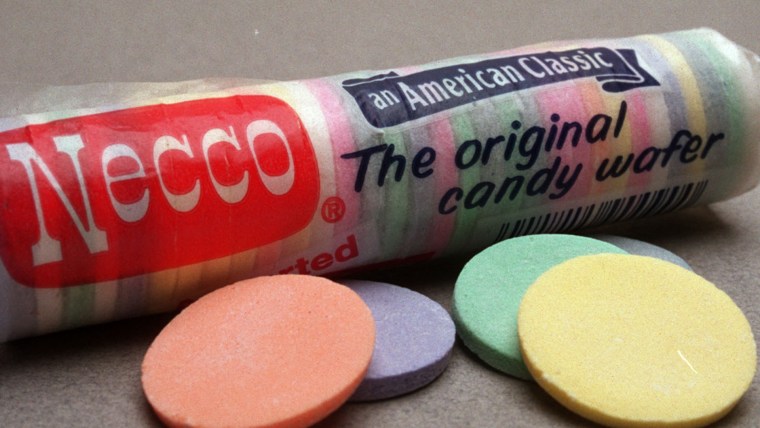 Amazon
Athough some Amazon sellers are asking increasingly higher prices for Necco Wafers, TODAY Food found six rolls paired with Bazooka Bubble Gum for $16.99 — and they're available through Amazon Prime.
eBay
There are also plenty of options on eBay, like this two 4-ounce bags of Necco Wafers for a Buy It Now price of $10.99.
CandyWarehouse.com
Necco lovers can get a 24-piece box of tropical-flavored Necco Wafers and a 100-piece tub of Clark Bars for $30 each.
Rocket Fizz
TODAY Food contacted several locations of this vintage candy and soda pop store located around the country to check on their inventory of Necco candies. Some reported they were totally sold out, while others still had the candies.
As of Thursday, stores in Cary and Raleigh, North Carolina, had a few packages of Necco Wafers and Mary Janes left on shelves. The Marietta, Georgia, store still had plenty of Necco Wafers and Mary Janes, but reported that demand had increased since the factory closure. The Chattanooga, Tennessee, location confirmed to TODAY Food that had Squirrel Nut Zippers and Sky Bars in still stock.

Cracker Barrel
The "Old Country Store" section of this comfort food restaurant is known for stocking up plenty of nostalgia. When reached via email, a spokeswoman for the eatery told TODAY Food, "Yes, we are currently selling Necco Wafers in our stores. However, inventory is low (less than 2,000 are left across our 650+ locations). We expect to sellout by the end of the week."
Better get to that local Cracker Barrel soon, folks!
Hopefully, someone will revive this struggling company and bring the plant back to life — fingers crossed that Al can come to rescue again, just like he did for Twinkies. Otherwise, what will we do on Valentine's Day without Sweethearts?