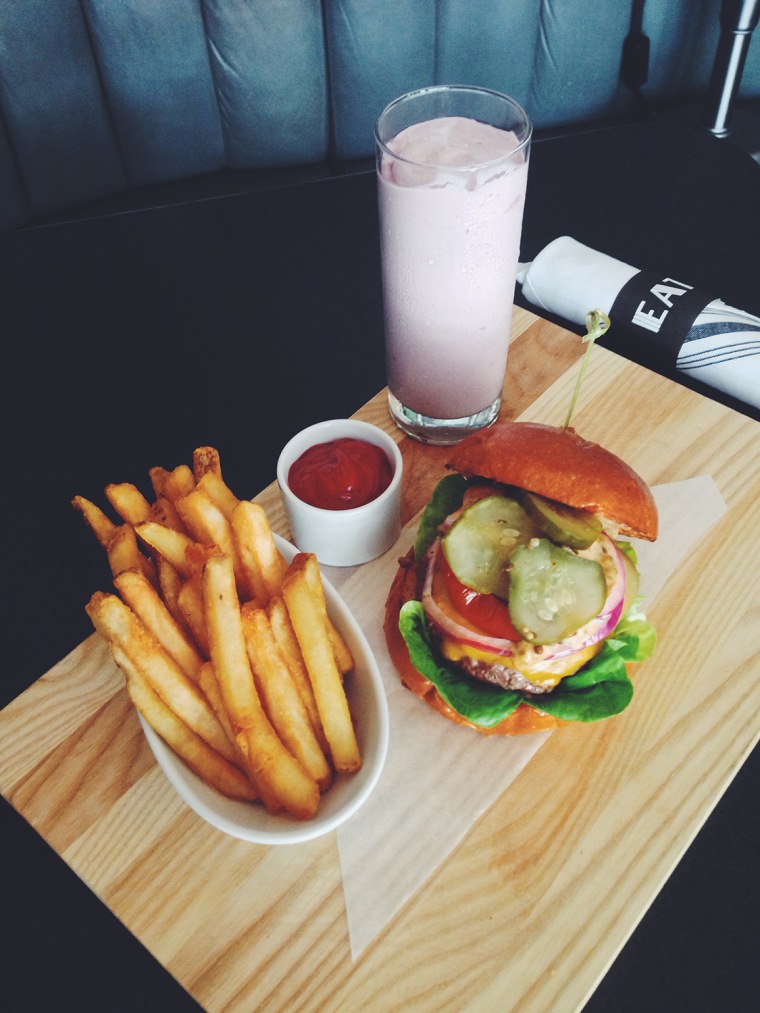 Craving a cheeseburger for lunch or dinner? Why not have one at both meals today? Consider it your duty, since September 18th is National Cheeseburger Day. 
Time for a quick folklore lesson: According to urban legend, the first cheeseburger was made between 1924 and 1926 when a homeless man suggested that a slice of cheese be added to his hamburger. The chef who took the order was named Lionel Sternberger (is the second half of his last name just a coincidence?), and he then added the cheeseburger to his menu. Nowadays, most chefs who like having customers are smart enough to offer some version of a cheeseburger at their restaurant. Here are a few of our current favorites, plus expert tips and recipes.
The Empire cheeseburger
Let's face it—not many people are brave enough to take on Bobby Flay, but Chef Amanda Freitag had the chops to go grill-to-grill with him on "Iron Chef America." The New Jersey native is not only a judge on Food Network's "Chopped" and a contributing chef on The Cooking Channel's "Unique Eats," but she's also the head chef of New York City's iconic Empire Diner. And the only thing better than a cheeseburger from a diner is a cheeseburger from a diner made by a talented celebrity chef.
Freitag says the first and foremost tip in cooking anything is starting with fresh, high-quality ingredients. "Once you have that, our ultimate cheeseburger tip is all about the technique," she adds. "Here at Empire Diner, we believe in our old-school griddle for the best sear and to retain the most moisture in the meat. At home, a griddle pan is a great alternative." Freitag tops the cheeseburgers with house-made pickles and, of course, special sauce. See below for her recipe.
The Curley cheeseburger
JM Curley's restaurant in Boston is named after James Michael Curley, the former four-time mayor of Bean Town and the one-term governor of Massachusetts. Their traditional burger is a custom blend of chuck, brisket and shank, with roughly 23 percent fat, says chef Christopher Bauers. The 9-ounce beef patties are then seasoned liberally and grilled to order. As for the fixings? Simple and perfect: "Sharp white cheddar cheese, along with house-made pickles, griddled onions and Russian dressing, all on a toasted soft sesame roll," says Bauers.
He adds that when trying to create the ultimate burger, it's best to put your effort into the ground beef. "People tend to become too focused on extravagant toppings and artisanal buns, and the burger gets lost in 'the garden,'" he explains. "Take the time to find an amazing ground beef with enough fat, season it well and grill it carefully. And let that poor thing rest for a couple minutes before chomping it down—that way every bite can be as juicy and delicious as the first!" See below for Bauers' Russian dressing recipe to complement your cheeseburger.
The Meatstick
At first glance, a dish simply named "Meatstick" may not sound terribly appetizing on a menu. But don't be scared off too soon. Robert Phalen, the chef at One Ear Stag in Atlanta, makes his popular double-cheeseburger—named after a never-released Phish song—by mixing grass-fed chuck with ground slab bacon, then pressing the four-ounce patties until they're super-thin. He then grills the burgers and smothers them with his favorite cheese. "The perfect accompaniment is Kraft cheese or, as we call it, 'government cheese,'" admits Phalen. When it melts it coats the burgers perfectly. The patties then get layered onto a butter-toasted brioche bun.
Phalen has two more tips: "You want a super-hot flat top to produce maximum crispiness and ensure the burger bastes itself in its own fat," he says. "And the only tool you need is a spatula. I actually prefer a fish spatula, the Lamson Sharp Flexible Fish Spatula, to be exact."
The Emily cheeseburger
Who would even consider ordering a cheeseburger at a place known for its pizza? Well, New Yorkers might want to rethink their choice when dining at Brooklyn's Emily, a cozy Italian restaurant owned by a husband and wife team, Emily Hyland and chef Matt Hyland. The cheeseburger debuted on the menu this summer after Matt Hyland—who had previously cooked at NYC's Public and The Breslin—spent months perfecting it. The end result: An 8-ounce patty called the "LaFrieda blend" (referring to the iconic Pat LaFrieda Meat Purveyors), topped with a house-made barbecue aioli, charred onion, and a homemade pickle on a pan au lait bun. 
His choice of cheese is cheddar, but not just any cheddar—four-year Grafton, a crumbly textured cheese handmade in Vermont. And his number one tip for making a tasty cheeseburger? "Use ingredients from local shops. Local bakeries, butchers and cheesemongers carry an array of high-quality products whose tastes really shine through."
Amanda Freitag's Empire cheeseburger recipe:
2 lb. ground beef burger meat (ideally an 80-20 percent meat-fat ratio)

4 brioche hamburger buns

4 slices sharp cheddar cheese

4 slices raw red onion

4 Boston bibb lettuce leaves

16 slices pickles (recipe below)

1 C. Empire Diner special sauce (recipe below)

1 tablespoon plus 4 teaspoons softened butter

Preheat a griddle pan on medium-high heat. Evenly divide you ground meat into four 8-ounce burger patties.
Coat pan with 1 tablespoon butter. Season burger patties on both sides with salt and pepper, then place patties onto the griddle pan. (Making sure not to overcrowd the pan will help you get the perfect sear.) Allow meat to cook, undisturbed, for 3-5 minutes on each side for medium rare or until you've reached the desired temperature. Place a slice of cheddar cheese on each patty during the last 2 minutes of cooking.
Slice brioche buns in half and spread 1 teaspoon of butter on the inside of each bun. Place buttered buns on griddle for 1 minute to toast. To assemble, place the cheesy burger patty on the bottom half of your toasted bun. Add lettuce, sliced red onion, pickles and a generous dollop of special sauce. 
Empire Diner's special sauce
1 cup mayonnaise

½ cup ketchup

2 tablespoons chopped cornichon

2 tablespoons small diced shallot

1 tablespoon balsamic vinegar

¼ teaspoon kosher salt

¼ teaspoon fresh ground pepper

Place all ingredients in a bowl. Mix thoroughly.
Christopher Bauers' Russian dressing
2 tablespoons small diced sweet onions

2 tablespoons small diced green pepper

2/3 cup mayonnaise

1/3 cup ketchup

Mix all ingredients well. For a smoother dressing, blend in a food processor.

Matt Hyland's Emily cheeseburger recipe:
48 ounces high-quality beef blend from your local butcher (80-20 percent meat-fat ratio)

6 buns such as pan au lait, grilled slightly

6 slices of your favorite cheese, for instance Grafton cheddar

1 red onion, sliced

1/2 cup mayonnaise

1/2 cup barbecue sauce

kosher salt to taste

pepper to taste

peanut or safflower oil or any neutral high-heat oil

Preheat the broiler on high. While oven is preheating, make your barbecue aioli by simply whisking even amounts of barbecue sauce and mayo. Refrigerate until ready for burger assembly.
Make 8-ounce patties with the beef; when forming the patties, don't overmix the meat. Heavily salt the outside of the burger; don't be afraid to season liberally.
Put a cast-iron pan on the stove top, and heat on medium-high heat. Lightly oil the pan until the oil is smoking. Put burger in pan and cook to desired temperature. After crust has formed on bottom, flip once. Keep checking as needed. Once burger is cooked to desired temperature, remove from pan and place on a cooling rack. Let it rest for 5 minutes. While on cooling rack, grate fresh pepper atop the burger and add desired amount of cheese. 
While burger is resting, toss onions into residual heat of the pan to soak up all of the flavors. Leave onions in pan. Toast bun and put aside. When burger has finished resting, place back into pan (which still has onions in it) and put under broiler until cheese has melted. Take out and assemble on the aioli-coated bun.