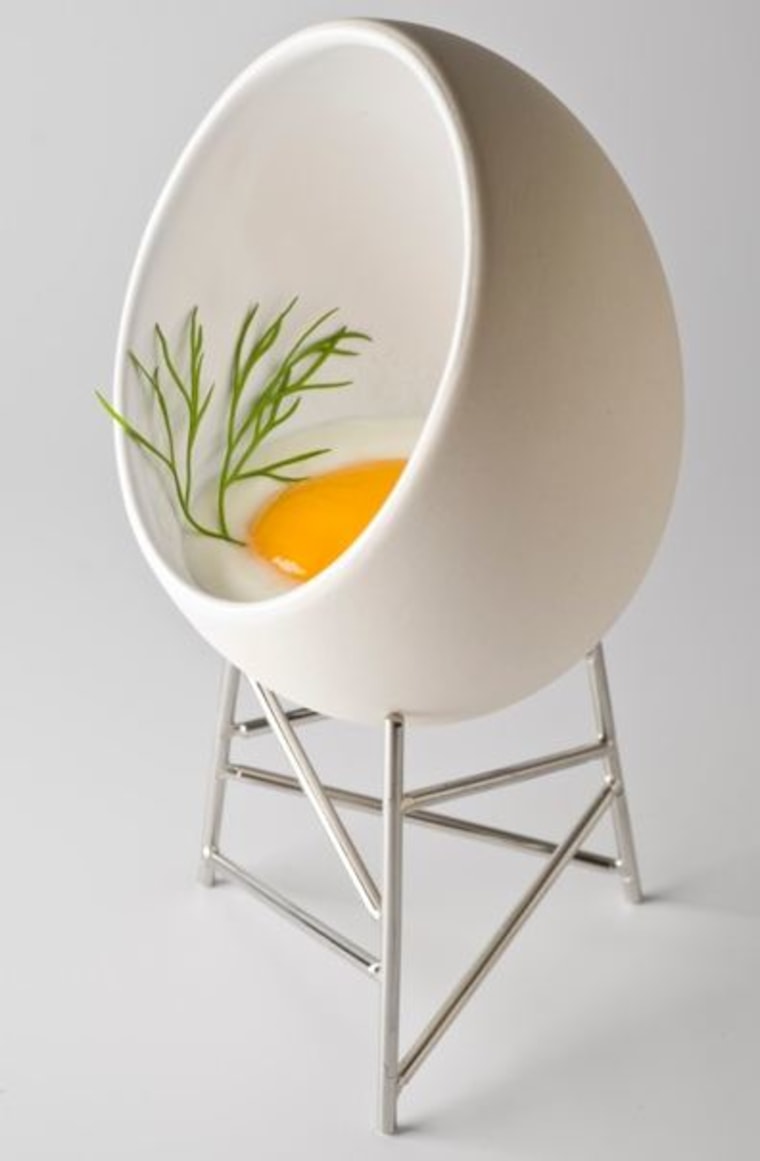 Scratching your head for a creative gift for your food loving friends and family? We've got some cute, quirky (and yummy) offerings for all of them!
For the breakfast lover
Most eggcups are for the hard-boiled variety, but fans of scrambled eggs or soft eggs en cocotte will love this new over-sized, 6-inch-tall egg-shaped Le Nid ramekin from Alessi. It's equal form and function: Bake eggs right in it in the oven, or use it in a bain-marie, then bring to the table to serve; $60.
For the entertainer
Hard-core entertainers can never have enough tea towels, especially adorable ones like these. The hand-printed tea towels—with butter, sugar, and salt and pepper designs—come packed in a fruit basket, so your wrap job is all set; $38 for 3.
For your hostess
An enameled cast iron Dutch oven is every cook's dream—but if it's not in your budget this year, hand out these cute new mini versions from Cucina instead. No, you can't cook in them—they have candles inside!—but they look perfectly cute on the counter, which is half the point right? Stock up on a few of the perfumed candles,in scents like Coriander and Olive Tree, or Clementine and Candied Ginger, as last-minute gifts for the season; $15 each
For the semi-pro
Last holiday season, almost every chef out there wanted a copy of the "Modernist Cuisine," the $625, six-volume cookbook from Nathan Myhrvold, the billionaire and former Microsoft executive who runs a high-tech cooking laboratory outside of Seattle. Now this year, Myhrvold rolled out a more attainable, abridged version of his behemoth book with "Modernist Cuisine at Home."It still has more than 400 recipes and loads of scientific tips for getting perfect eggs, ultra-frothy milkshakes, and pizza as crispy as a wood-fired oven's; $113.
For the kiddos
These LEGO Drinking Bottles are meant for kids, but we know lots of former Lego-loving grown-ups who'd love them too—either way, the 13.5-once BPA-free bottles are a great way to encourage us all to drink more water or bring kids' juice drinks on the road; $12.99 each
For the whole family
If you're tired of sending far-away relatives popcorn tins or boxes of pears for the holidays, check out these handmade tamales from Williams-Sonoma—the meat- or veggie-filled pockets of corn dough are a Mexican-American Christmas staple. Send them pork, chicken, beef, or the vegetarian blue corn, stuffed with green chilies and jack cheese—all they'll have to do is steam them; $60 for 12
For the baker
For friends who secretly pine to open their own cupcake shop, order a spool or two of Divine Twine. They'll be able to package up baked goodies like a pro, in whimsical colors like Peppermint, Lemon and Cotton Candy Pink; $15 each or $42 for 3
For the wine lover
Chefs often get asked for their favorite go-to wines, and now Emeril Lagasse has put together a collection of his top picks, with the Emeril's Everyday Sampler. The elegant black box comes with six mini bottles of wine to try with everyday dinners, plus tasting notes and suggested pairings from the celeb chef; $32.95
Tracy Saelinger is a freelance writer based in Portland, Ore. 
More from TODAY Food: