Whether you're hosting a New Year's Eve party or attending one — you don't want to spend what's left of 2014 cooking in the kitchen. 
Lucky for you, Justin Chapple, Food & Wine's Test Kitchen senior editor, has the perfect party solution: five ingredient appetizers. Here, he shares his recipes for hogs in a blanket, bacon-wrapped cherry peppers and more.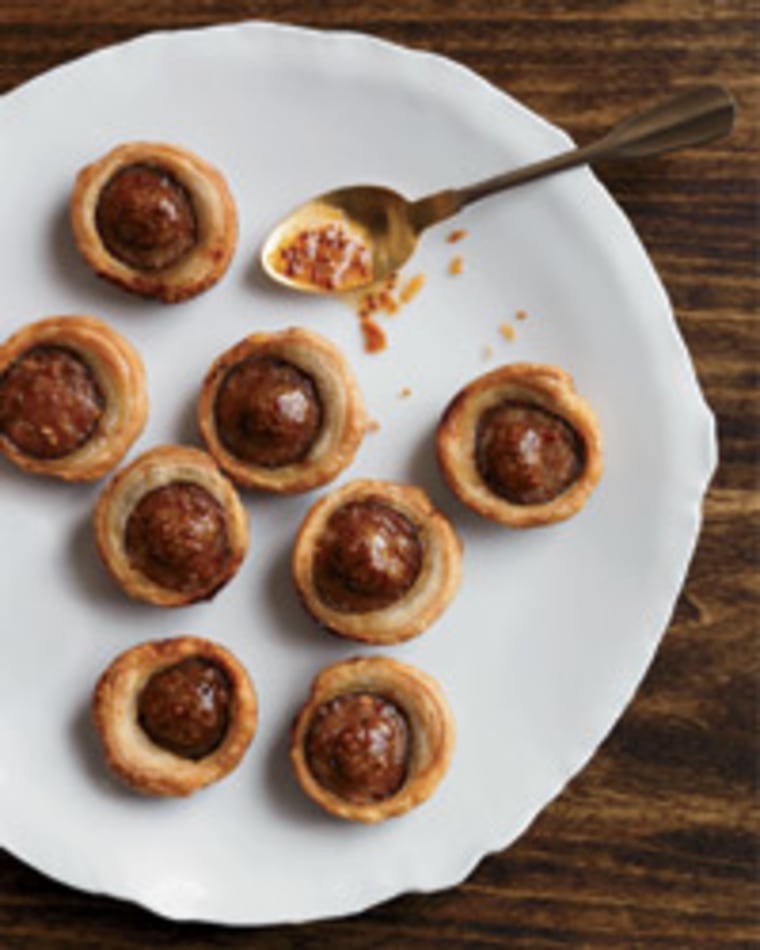 Hogs in a Blanket
Active time: 20 minutes
Total time: 50 minutes
Servings: 36 Hors D'Oeuvres
This fun, high-brow take on pigs in a blanket swaps spicy andouille sausage for the hot dogs, with sweet mustard chutney as a condiment.
Ingredients
7 ounces all-butter puff pastry, thawed and cut into four 5-inch squares

1 large egg yolk mixed with 1 tablespoon of water
4 andouille sausages (3 ounces each)
1/4 cup Major Grey's chutney
2 tablespoons whole-grain mustard
Make ahead: The unbaked sliced rounds can be frozen for up to 1 month. Thaw before baking.
Preheat the oven to 375° and position a rack in the center. Arrange the puff pastry squares on a work surface and brush the top edges with the egg wash. Place the sausages on the bottom edges and roll up the pastry, pressing the edges to seal. Freeze the logs for 10 minutes, or until firm.
Cut the logs into 1/2-inch slices and place them cut side up in 3 mini muffin pans. Bake for 25 minutes, until golden and sizzling. Turn out onto a paper towel-lined rack to cool.
Meanwhile, in a mini food processor, pulse the chutney and mustard just until the chutney is chopped. Spoon a dollop of the chutney mustard on each slice and serve.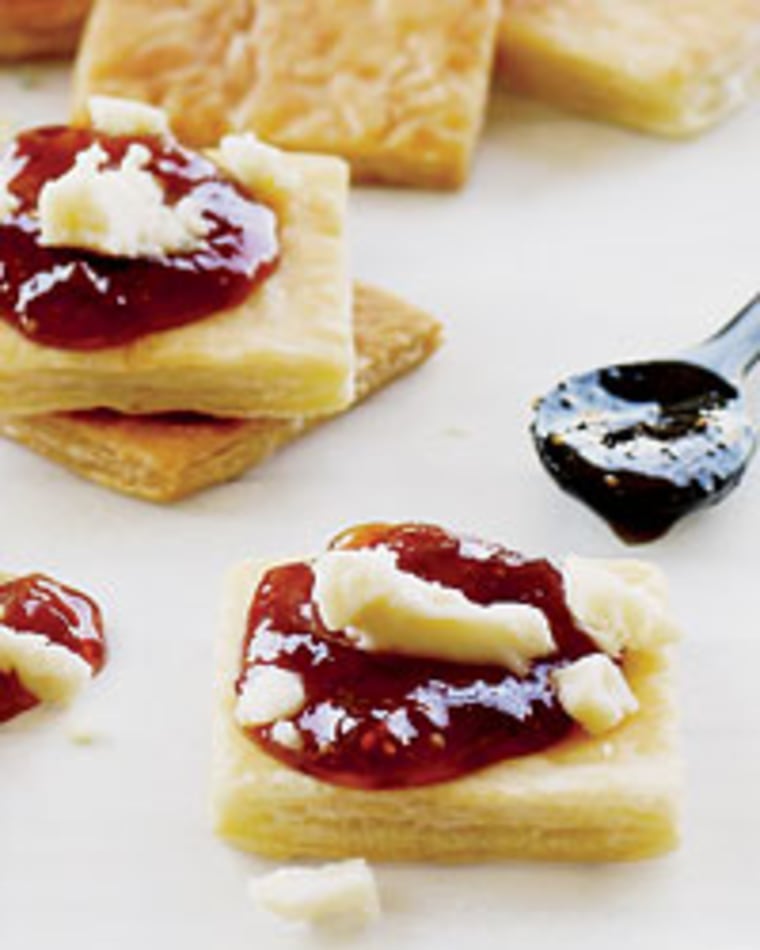 Fig and Stilton Squares
Active: 20 minutes
Total time: 3 hours and 15 minutes
Servings: Makes 4 dozen squares
After baking flaky squares of puff pastry they are topped them with sweet fig preserves and pungent blue cheese.
Ingredients
One 14-ounce package all-butter puff pastry, thawed if frozen but still cold

1/2 cup fig preserves
3/4 cup crumbled Stilton cheese (4 ounces)
On a lightly floured work surface, roll out the puff pastry to a 16-by-11 1/2-inch rectangle. Trim to form a 10 1/2-by-15-inch rectangle. Transfer the pastry to a large rimmed baking sheet and cut into 1 3/4-inch squares; you should have about 48. Freeze the squares until firm, about 30 minutes.
Preheat the oven to 375°. Line a large rimmed baking sheet with parchment paper. Arrange 12 squares on the sheet and cover with more parchment paper. Top the squares with another baking sheet, bottom side down. If you have another pair of baking sheets, repeat with 12 more squares. Bake the squares for about 35 minutes, until the pastry is golden. Transfer the squares to a rack to cool. Repeat to bake the remaining squares.
Return as many cooled squares as will fit to a baking sheet. Top each square with 1/2 teaspoon of the fig preserves. Sprinkle with the Stilton and bake for about 5 minutes, until the Stilton is melted. Serve warm or at room temperature.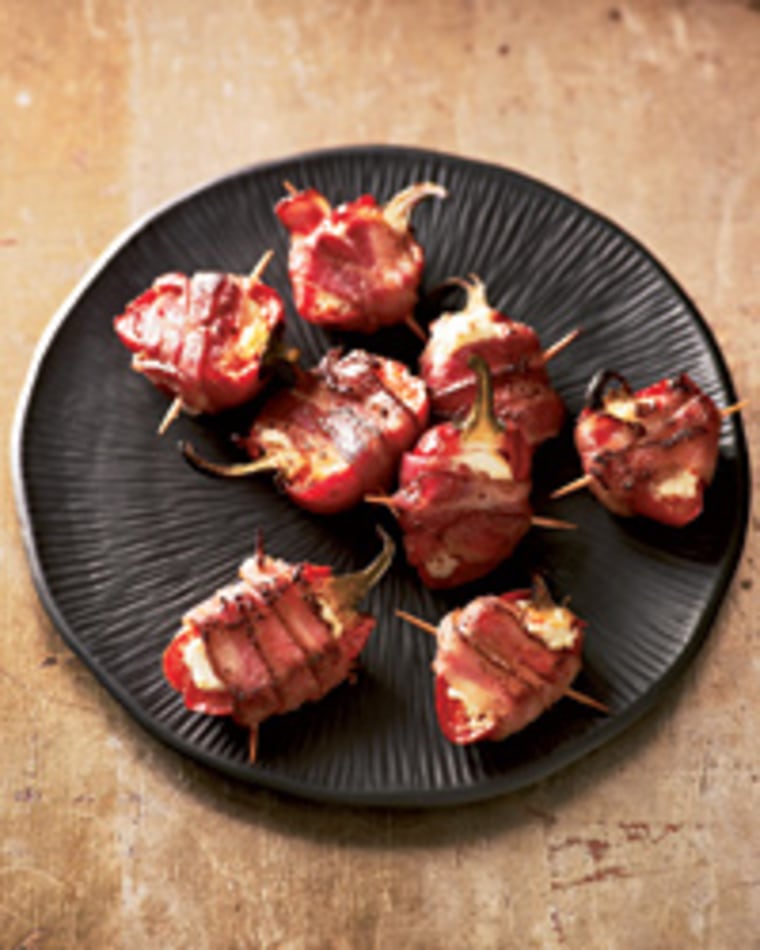 Bacon-Wrapped Cherry Peppers
Contributed by Colby Garrelts
Total time: 30 minutes
Servings 4 to 6
These genius hors d'oeuvres from Colby Garrelts (an F&W Best New Chef 2005) call for just three ingredients. The recipe can be made ahead of time, so it's great for parties.

Ingredients
6 jarred hot cherry peppers- halved through the stem, seeded, drained and patted dry

1/3 cup cream cheese, softened
12 thin bacon slices (6 ounces)
Preheat the oven to 350°. Stuff each cherry pepper half with a heaping teaspoon of cream cheese and wrap with a slice of bacon; secure with a toothpick.
Arrange the stuffed peppers in a large ovenproof skillet and cook over moderate heat, turning, until the bacon is browned, 12 to 15 minutes. Transfer the skillet to the oven and bake for about 5 minutes, until the bacon is crisp and the cream cheese is hot. Serve the stuffed cherry peppers warm.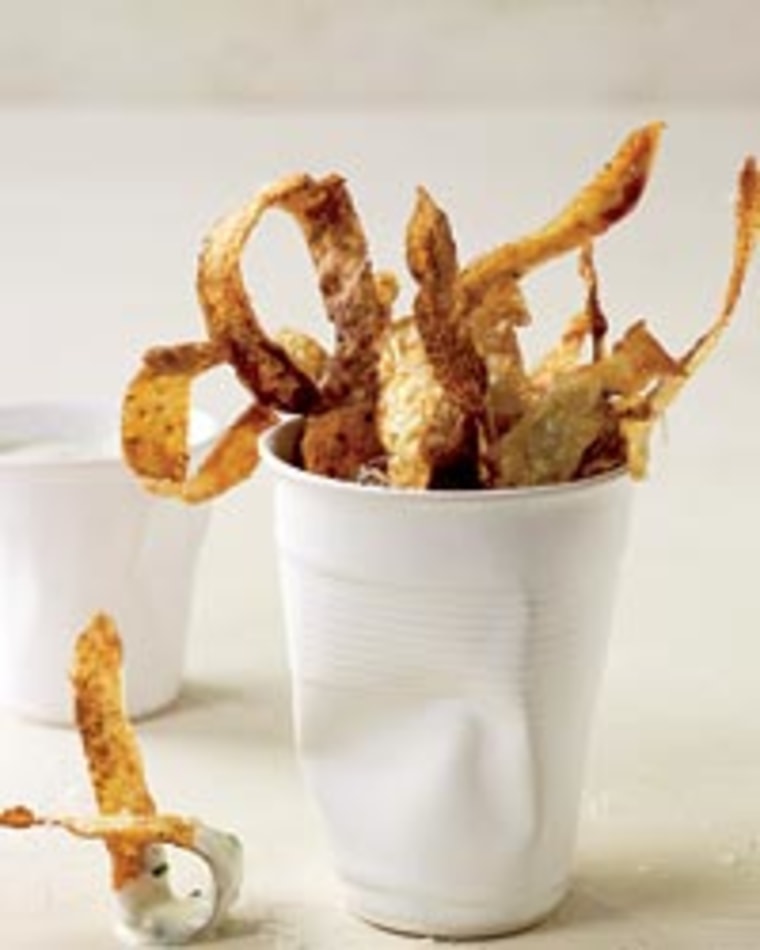 Potato Crisps with Chive Sour Cream Dip
Contributed by Grace Parisi
Total time: 40 minutes
Serves 4

Grace Parisi makes brilliant use of throw-away potato peels: She deep-fries them until they're crispy, then sprinkles them with Parmesan. An utterly addictive snack, they're great with cocktails, beer or wine.

Ingredients

2 tablespoons snipped chives

Freshly ground pepper
Kosher salt
2 tablespoons freshly grated Parmigiano-Reggiano cheese
1/2 cup low-fat sour cream
3 cups canola oil
Thick peelings from 3 pounds of Yukon Gold or russet potatoes (roughly 1-by-3-inch strips)
Preheat the oven to 350°. In a large saucepan over moderately high heat, heat the oil to 360°. Fry the potato skins in batches, stirring occasionally, until browned and crisp, 2 to 3 minutes per batch. Using a slotted spoon, transfer each batch of potato strips to paper towels to drain, then sprinkle with salt immediately.
Transfer the potato strips to a baking sheet and sprinkle them with the grated Parmigiano-Reggiano. Bake for 3 to 4 minutes, just until the cheese is melted. Let the crisps cool, then transfer to a bowl.
In a blender or processor, puree the sour cream with the chives and a pinch of salt and pepper until the chives are finely chopped. Transfer the dip to a bowl and serve alongside the potato crisps.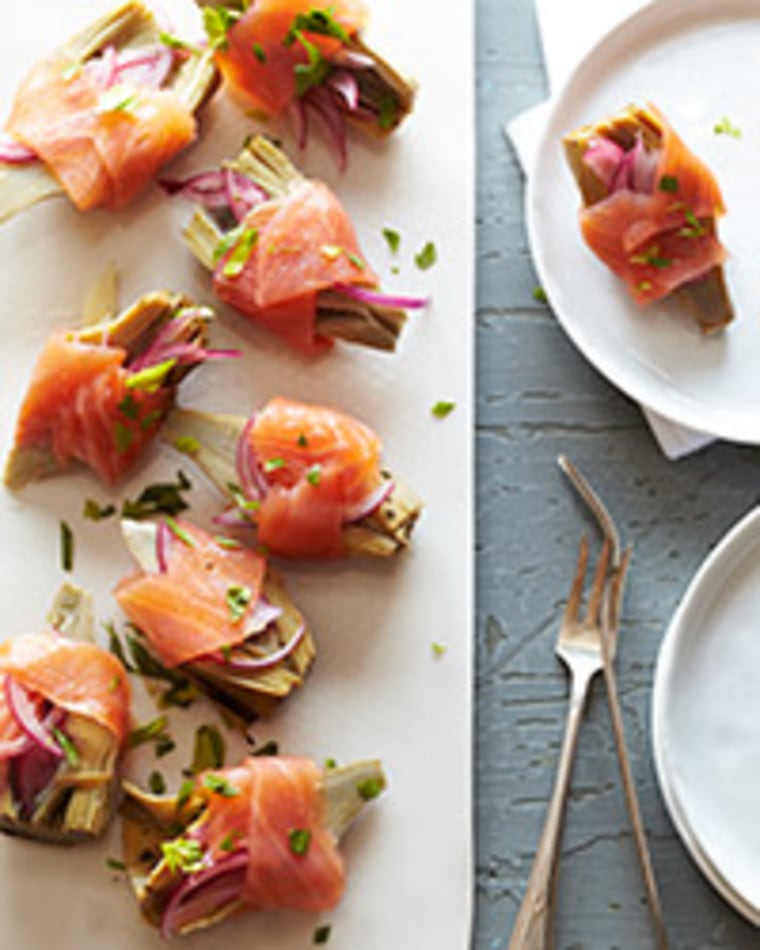 Smoked Salmon Involtini with Artichoke Hearts
Contributed by Marcia Kiesel
Active: 15 minutes
Total time: 25 minutes
Servings: Makes 32 Hors D'Oeuvres
Ingredients

16 small marinated artichoke hearts, drained, plus 1 teaspoon of the oil from the jar

1/2 cup packed celery leaves
1/2 pound thinly sliced smoked salmon, cut into thirty-two 4-inch-by-1-inch strips
1/2 small red onion, cut into thin 1-inch-long strips
Preheat the oven to 450°. Pat the artichoke hearts dry with paper towels and halve them lengthwise. Arrange the artichoke hearts cut side down on a lightly oiled baking sheet and roast for 5 minutes, until sizzling. Carefully transfer the artichokes to a plate. Arrange the celery leaves on the baking sheet and coat with the reserved artichoke oil. Roast for 3 minutes, until the leaves are crisp.
Wrap each piece of the smoked salmon around an artichoke half and a few of the onion strips and transfer to a platter. Garnish with the crisp celery leaves and serve.