On Monday, Jenna Dewan celebrated her 38th birthday in a truly life-changing way.
Thanks to Busy Philipps, and her new talk show "Busy Tonight," the "World of Dance" host enjoyed a cheesy, salty, super-special birthday cake — and it was made entirely out of different types of french fries.
"A little birdie told me that you're more of a savory girl. You don't really get down for the treats as much?" Philipps asked Dewan as they chatted on the set of the late-night show.
"Yes, it's true. French fries over cake, all day long," Dewan admitted.
Well, the future is here, folks! The days of choosing between a giant plate of french fries or a big piece of cake are officially behind us.
"I didn't even know this was possible, until this moment!" Dewan exclaimed as a crew member walked onto the set with the one-of-a-kind treat. It even had three candles shaped like french fries.
On social media, the mini tower of salty deliciousness sent french fry fans into a tizzy.
"I just saw a French fry cake on #BusyTonight and my birthday's [sic] will never be the same," one person wrote.
Thankfully, a "Busy Tonight" producer actually tweeted back with the top-secret recipe.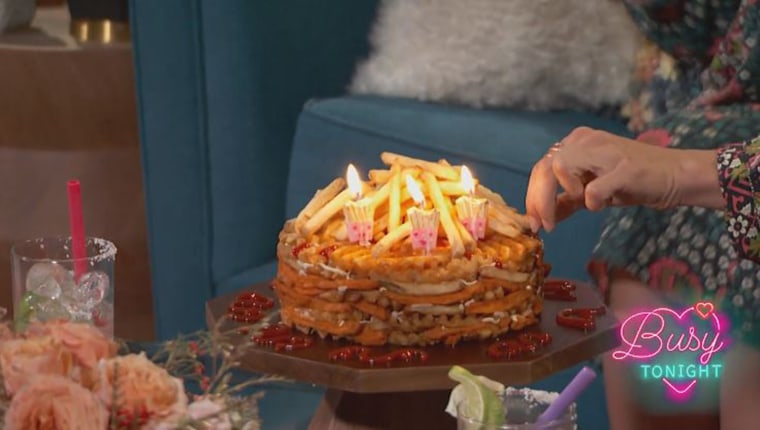 Philipps' production team assembled the cake by crisscrossing stacks of waffle and sweet potato fries, then they added layers of dairy-free cheese to help the cake hold its shape. They even added a ketchup decoration around the edges for ample dipping possibilities. Then they topped it all off with a heap of regular fries.
Dewan was clearly overjoyed by her customized french fry "dessert," but the busy mom has certainly enjoyed her fair share of french fries over the years.
After a Hollywood premiere party in 2017, the dancer chowed down on her favorite snack while still dressed up in her glamorous red-carpet attire.
Dewan says she sticks to a vegan diet most days, but she definitely knows how treat herself. According to the star, there's no real secret to maintaining her slim figure — other than balance and dedication.
"It's so boring, literally the only thing that works for me is if I'm going to go to a party and splurge and have treats … I just try not to do that every night of the week! And, you know, work out and keep it balanced," Dewan told E! News.
In other words, this trendsetting mom likes to have her (french fry) cake and eat it, too! Here's to another year of savory treats for the supersweet star.