Rosés are perennials.  They seem to show up like clockwork as spring gives way to summer.  We enjoy them for a couple of months and then let them go dormant once the cooler weather returns.
It must have something to do with the notion of drinking cold red wine, or lighter shades of red, to be precise, as a summer-only phenomenon.  And yet, I can certainly see myself drinking a crisp and flavorful rosé from, say, southern France, with a ratatouille tart that my wife likes to make — even in January.  But maybe that's because summer has just arrived and I've been tasting rosés.
Rosés, which are made from red grapes but with only brief contact with the color-producing skins during fermentation (usually no more than 8 to 12 hours), come in all shades of red, and in styles ranging from bone dry and feather light to fuller, fruitier and somewhat more complex.
I tend to like them somewhere in between — well-focused wines that capture the essence of the grapes from which they are made, but that are also refreshing and easy to drink.  Rosés are not wines to swirl and contemplate over long periods of time. Someone even suggested drinking them on a scorching summer afternoon with a straw.  Not a bad marketing idea.
Rosés are for drinking young, and the ones you'll find around now are almost all from 2004.  Although made just about everywhere, the French excel at them, as was demonstrated by four that I liked from the southern Rhône region.
All were 2004s and were in various shades of red and orange; they were fragrant and refreshing, showed good fruit (the stars of the Rhône, grenache and syrah, are the dominant grapes), and had at least some level of complexity.  What they were not was heavy or dull, which poorly made rosés can fall victim to.
Domaine de Saint-Antoine's Rosé, a Vin de Pays, or "country wine," is slightly smoky with spicy cherry and minerals. It's mostly syrah with some grenache and is about $10.
Also on the dry side is the 2004 "L'Instant" Rosé from Domaine de Fondrèche in the Côtes de Ventoux.  It has a nice mineral quality and notes of strawberry, honey, orange rind and a spicy finish.  Its light color (close to salmon) suggests a very light style, but it's a head fake.  The wine has a substantial feel in the mouth and is made from cinsault, syrah and grenache.  It's about $11.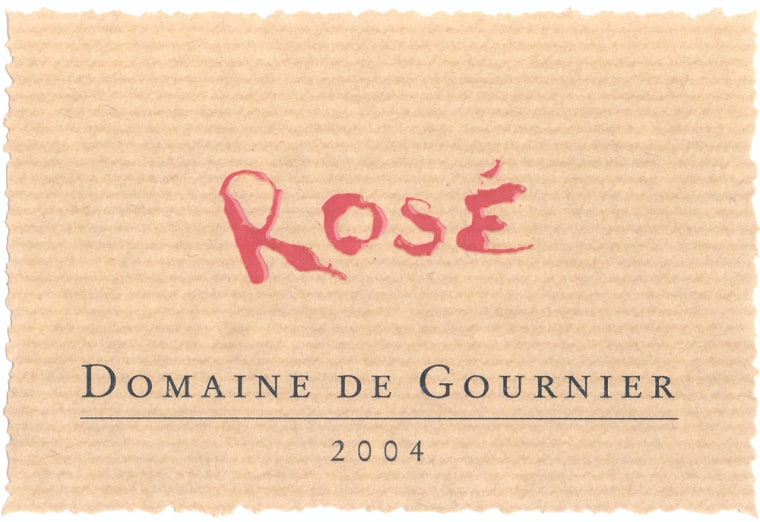 Two others were slightly fruitier.  Domaine de Gournier's Rosé, another Vin de Pays, has notes of cassis, raspberry and citrus and a slightly spicy finish. It's made from merlot, syrah, grenache, mourvèdre and cabernet sauvignon.  I liked the simple label.  It's $9.
Chateau Grand Cassagne's Rosé from the Costières de Nîmes has hints of raspberry, cherry, peach and mineral notes.  It's mostly from grenache and syrah with a little mourvèdre and is about $10.
I like these wines quite cold and found myself putting the bottles back in the fridge again and again.  Although light in color and refreshing because they're served cold, I wouldn't call them "light" wines.  In fact, they are food wines with the requisite acidity.  Over the course of several evenings I tasted them with everything from herbed chicken and salad to cheese and pan-sautéed steak.
Indeed, these rosés will complement many simply prepared foods, including any number done on the grill.  Draw the line, though, at creamed dishes and heavy sauces.
Edward Deitch's wine column appears Wednesdays. He welcomes comments from readers. Write to him at EdwardDeitch