The Chinese have a rich culinary culture and heritage, and many famed chefs, like Jean-Georges Vongerichten, have Asian influences. And even if that means Thai, Vietnamese or Korean, the place that influenced all those countries is China. Rice noodles from southern China, for example, are staples in Vietnamese and Thai cuisine.
In fact, Chinese food has traveled all around the world. And since I am Chinese myself, I find it frustrating when people think Chinese food is just cheap when in actuality, it has influenced all the best cuisines in the world.
Fortunately, you don't have to go to China to sample the most delicious options. The authenticity is right here in America – you just have to have to seek out the mom-and-pop shops to find it.
For instance, Flushing, N.Y., has some of the best – the closest I've had to food you get in China. And at the Mandarin Noodle Deli in San Gable Valley in California, I met a chef from the Shanxi province who made the best hand-pulled noodles I've ever had.
In America and in London there are often two menus: the pared-down English menu and the "secret" menu. The trick to getting that "secret" menu is to really try to converse. If you are at a restaurant without Chinese-speaking friends, give the waiter back the English menu and ask for the "other menu." Open up that dialogue and ask for recommendations, because the "secret" menu is usually in Chinese. (If you can't get help from the waiter, check out what the other diners are eating and ask them for recommendations.)
And try to be open to experimentation. The secret menu will often contain elaborate dishes with offal like chicken feet, braised duck's tongue, or braised pig's trotter. We Chinese eat everything, and these are some of the heartiest dishes we have, so just go in with an open mind.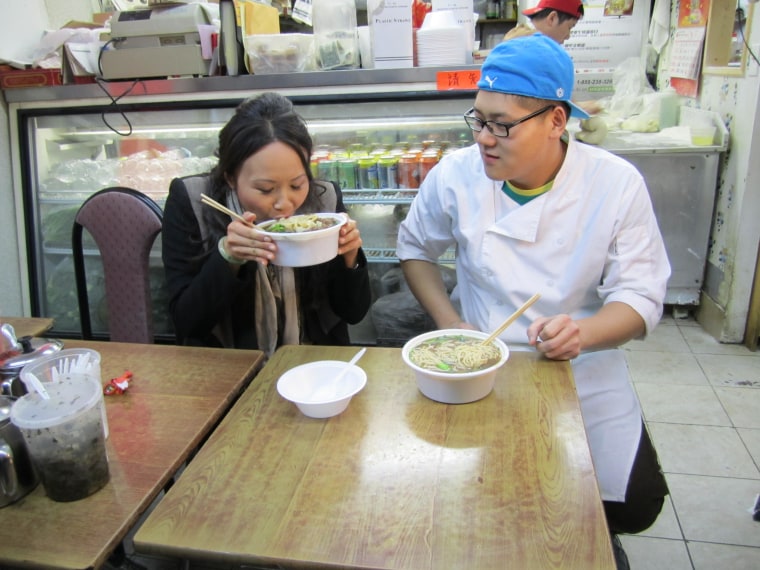 Some places may not have a secret menu. Very classic restaurants won't even have the English menu; if it's just the Chinese one, and the place is full of Chinese diners, you're going to get really authentic, quality fare.
So how do you know what to order if you're at a run-of the mill Chinese restaurant? See if you can get an Eastern-style sweet-and-sour dish – the sauce will be dark, and it's made with rice vinegar and sugar, as opposed to tomato puree, so it won't be goopy. It's closer to food that you'd get in China.
Recipe: Try pork meatballs with sticky rice and miso chicken wings
Every chef will be different. Szechuan restaurants will have different secret dishes than Cantonese ones: A traditional dish there would be the "man and wife lung slices" (sliced ox lung) in a chili bean sauce. In contrast, at a Cantonese restaurant, traditional fare will include clay pot dishes like clay pot chicken or braised tofu stuffed with minced shrimp or yi mein (a pearly, flat noodle) in a soup with shredded crab meat and scallions. 
But wherever you are, you can find some great fare if you know where to look. Here are some basic tips for sniffing out a good, authentic Chinese restaurant:
The toilet is clean (the restaurant will be too).
There's a good-looking roast duck in the window.
There are long queues outside the restaurant full of Chinese people – the Chinese are impatient when it comes to food, so if they are waiting, its going to be an AMAZING restaurant.
In my opinion, MSG should not be on the menu.
If you feel intimidated about going in, you probably should.
To get the best Chinese food, ask Chinese foodies: friends, colleagues, uncles, aunts, people in the community who adore good quality food and want authentic flavors of "home," someone whose palate you trust and is quite critical about food.
Go where the fish and seafood are swimming happily in tanks.
The head chef and his crew are Chinese.
None of the waiters speaks English.
The diners are Chinese and there is only one menu – the Chinese one.
Ching-He Huang is a cookbook author and host of Cooking Channel's "Easy Chinese," which puts a modern twist on traditional Chinese cuisine. Check out the second season of her show, which starts up this month!
More from TODAY Food: