Made-up holidays are the worst. There are the big ones like Valentine's Day and Mother's Day, which are just money grabs by the greeting card companies and florists (that's not to say I don't participate – I'm not looking for that kind of trouble!).

But every once in a while, a faux holiday emerges that I can get behind, like IPA Day, for which August 7 is set aside to stop and smell the hoppy goodness of a delicious India Pale Ale.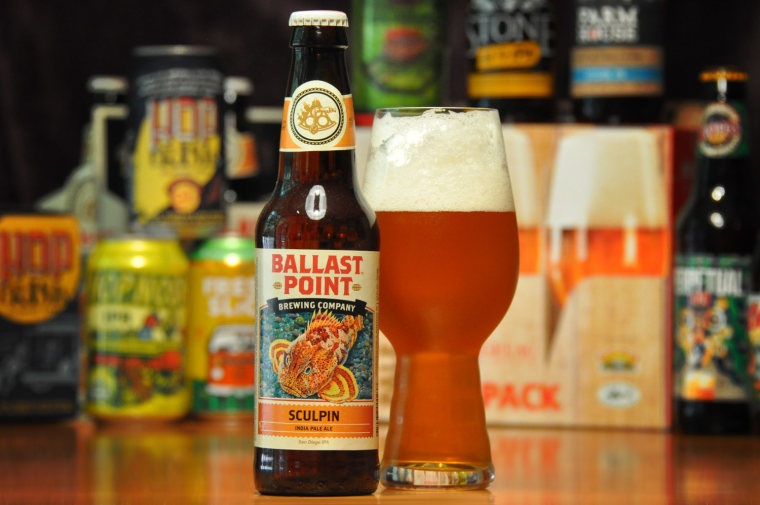 There are no hard and fast rules for IPA Day; no expectation of gifts, no pre-ordained ceremonies to perform, no card sections to pore over until you find the perfect sentiment to share with your favorite beer buddy (Hoppy IPA DAY! If you need to cure what ails you, Ale's what cures you!).  But that's not to say you should approach the day without a plan.
Here are five thought starters on how to spend your time during this very important American holiday.
Air freshener or grapefruit?
One thing to consider on IPA Day is how you like your hops. Some people love a big dose of resinous pine flavor in their IPAs, while others (like me) lean towards sweet citrusy tastes. If you're a pinehead, look for an IPA like Old Schoolhouse Brewers Reserve Imperial IPA (you'd think they ground up a spruce tree and threw it in the brew kettle) or Deschutes Inversion IPA. If you enjoys a big dose of sweet citrus, then look to West Coast brewers, and treats like Ballast Point Sculpin IPA (my personal favorite), Stone IPA or Firestone Walker Union Jack.
Go big!
Perhaps you're a very busy person and want to pack all the excitement of IPA Day into a single serving. That means you're looking for an Imperial or a Double IPA, like Great Divide Hercules Double IPA, Uinta Diversion Double IPA or 21st Amendment Hop Crisis. These brews deliver big flavor and a chest-warming dose of alcohol in every delicious sip, but be warned – the higher the alcohol-by-volume of the IPA, the more likely it will have unpleasant notes of fusel alcohol. While stouts and barleywines have the rich malt profiles to mask the taste of booze, India Pale Ales struggle to keep their flavor in balance as their ABVs rise above 8 percent. Choose wisely!
Tread lightly
Maybe you're a marathon drinker, someone who enjoys working through a string of beers all night long. If that's you, seek out "session" IPAs, beers that deliver a hearty pop of hops but have a lower amount of alcohol than typical India Pale Ales. My go-to session IPA is Stone Go To IPA, which delivers the citrusy West Coast hop profile I adore. If you prefer something earthier (and available in cans), Founders All Day IPA is a great choice. If you're looking for something with a milder hop blast, Long Trail Farmhouse Session IPA has a peppery balance of tropical and pine hops that won't blow out your taste buds. It's a great place to start with IPAs if you're not a hophead.
Go with something a little weird
The IPA is a very popular style of beer (popular enough for its own made up holiday!) and because of this, there's an almost endless supply of them to explore, some of which have been brewed with funky ingredients. There are Black IPAs with roasty malt backbones like Uinta Dubhe (weird beer bonus: it's brewed with hemp!). There are White IPAs, like Otter Creek Fresh Slice, which blends the smooth malts of a Witbier and the hoppiness of an IPA with a citrusy assist from orange peels and clementine juice. There are also rye IPAs, IPAs brewed with grape must, IPAs brewed with Champagne yeast, chocolate IPAs, you name it – go wild!
Morning, noon and night
Of course you can combine all of the above if you plan on making IPA Day a daylong festival of beer. You could start with a session IPA in the morning, enjoy something weird that pairs nicely with your lunch, and then cap the day of with a big boozer that's full of toe-curling flavor. Why save all the fun for after five o'clock?
There's no word on if Congress is planning to make IPA Day an official national holiday (you can check with HR to see if your company recognizes this important day of reflective hedonism), but with their approval ratings at an all time low, it'd be a great way to boost their popularity as we roll towards the midterm elections.