It's not every day that kids score an invite to the White House. Rarer still is getting to sit down with the First Lady for a meal they designed themselves.
Fifty-four budding chefs between the ages of 8 and 12 got to do just that on Friday at a "state dinner" capping off the Healthy Lunchtime Challenge, a nationwide contest (managed by Epicurious) that tasked young cooks and their families with whipping up original recipes that are nutritious and delicious. Michelle Obama hosted the event.
A panel of esteemed food pros sifted through an estimated 1,500 entries, ultimately selecting one kid chef from each state, plus three U.S. territories and the District of Columbia. You can check out all 54 winning recipes here. In the meantime, we have three to tide you over.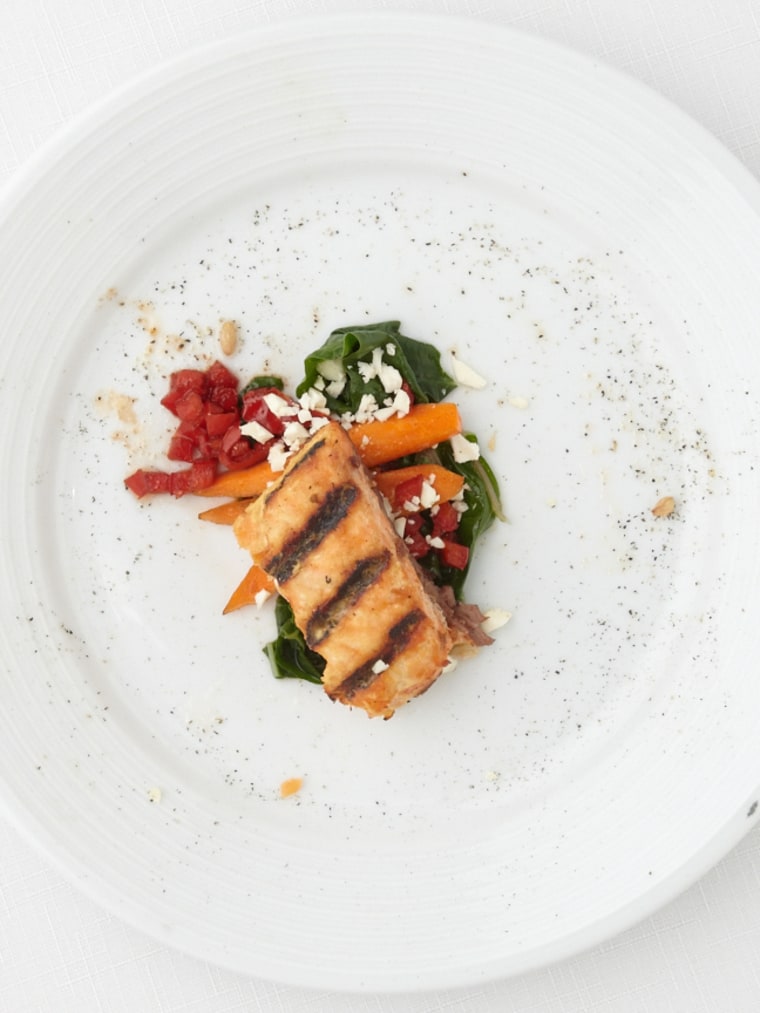 Grilled salmon with farro and warm Swiss chard salad
Tropical smoothie
The chef: Kiana Farkash, 8, Colorado
"I made grilled salmon because it is one of my very favorite dishes," Kiana told Epicurious. "I made the salad because it is very colorful, and it reminds me of spring. I like warm, tropical places, so I decided to serve this with a tropical breeze smoothie because it reminds me of our family trip to Florida. I used farro because it's a healthy whole grain, and I like the nuttier flavor it has!"

Makes 4 servings
For salmon and farro:
1 cup uncooked farro
2 Tbs. olive oil
4 salmon fillets (about 1 lb. total)
2 Tbs. herbes de Provence
Generous pinch garlic powder
Generous pinch onion powder
Salt and pepper
1 lemon, sliced into rounds

For the salad:
1 bunch Swiss chard, tough stems removed, roughly chopped
1 large carrot, julienned
1 large red bell pepper, julienned
1/2 Tbs. olive oil
1 Tbs. balsamic vinegar
Salt and pepper to taste
1/3 cup crumbled feta cheese
For the smoothie: 
1 cup orange juice
1 cup coconut milk
2 cups low-fat vanilla yogurt
1 tsp. vanilla
2 frozen bananas, cut into chunks
1 cup frozen mango chunks
1/2 teaspoon fresh ground nutmeg

Salmon and farro: In a large saucepan, boil 2 cups water over high heat. Add farro and return to boil. Reduce heat to low, cover and simmer until grains are tender and water is absorbed, about 30 min.
Preheat grill to medium-high. Rub salmon with olive oil. Combine herbes de Provence, garlic powder and onion powder in a small bowl, then use mixture to evenly to coat salmon. Sprinkle with salt and pepper, if desired. Grill salmon 5 min. Flip and place lemon slices on fillets. Grill another 5 min., or until fish can be flaked apart with a butter knife. Remove lemon slices.

Salad: In a large skillet, warm olive oil over medium heat. Add Swiss chard and saute 2 min. Add carrot and red pepper and cook 2 min. more, stirring occasionally, until crisp-tender and Swiss chard wilts. Add balsamic vinegar and salt and pepper to taste. Divide among four plates and top with feta cheese. Place one salmon fillet on each salad portion and serve alongside farro.
Smoothie: Add liquid ingredients to the blender. Add remaining ingredients. Blend until smooth. Enjoy!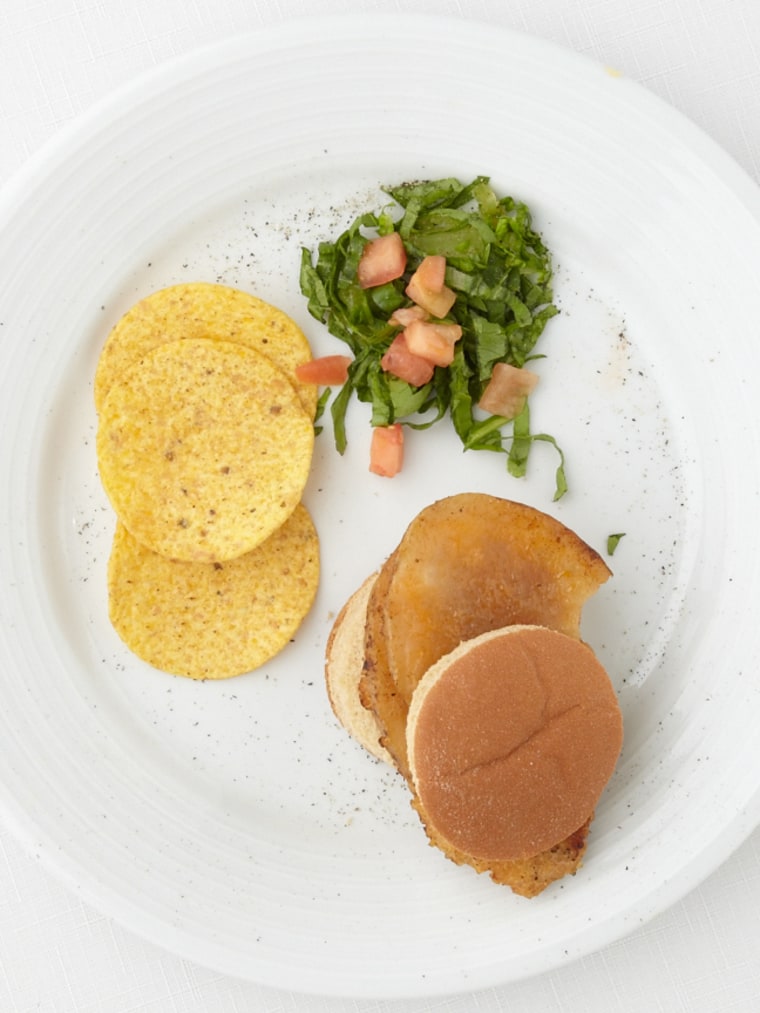 Chicken-quinoa burger with baked kale chips and potato chips
The chef: Cecilia Vinas, 10, Connecticut
"I came up with my dish by thinking about a food that a lot of Americans enjoy—I came up with a hamburger," Cecilia explained to Epicuious. "Next I thought of how I can make this dish healthier but still taste really good. I thought of a quinoa base for grain with chicken for a lean protein, then kale and potato for veggies."

Makes 4 servings
4 tsp. olive oil, divided
10 oz. lacinato kale, stemmed and roughly chopped
1 yellow potato, very thinly sliced with a sharp knife or mandoline
1/2 lb. boneless skinless chicken breast, chopped (or 1/2 lb. ground chicken)
3/4 cup cooked quinoa
2 tsp. teriyaki sauce
1 Tbs. vegetable oil
4 whole-wheat slider buns
Salt, to taste

Kale chips and potato chips: Preheat oven to 325°F. In a large bowl, toss kale with 2 tsp. olive oil and sprinkle with salt to taste. Spread leaves in a single layer on a large rimmed baking sheet. In same bowl, toss potato slices with remaining 2 tsp. olive oil and sprinkle with salt to taste. Spread potato slices in a single layer on a large baking sheet. Bake kale and potatoes 20 minutes, switching tray positions halfway through cooking time, until kale is crisp and potatoes are light golden brown.
Chicken-quinoa burgers: If starting with chicken breast chunks, use a food processor to finely grind meat. In a large bowl, combine ground chicken with cooked quinoa and teriyaki sauce and mix thoroughly. Shape into 4 patties. Warm oil in a large skillet over medium heat. Add patties and cook about 5 min. per side, or until a thermometer inserted into the center reads 165°F. Place patties on buns and serve with kale and potato chips.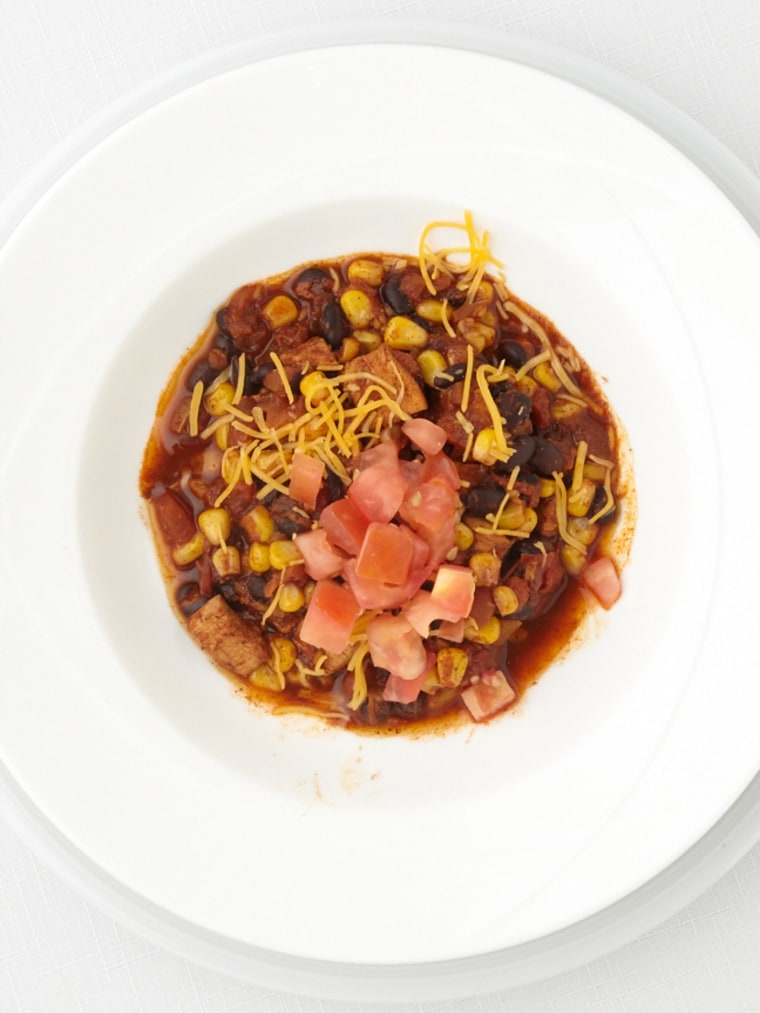 K&T's amazing tortilla chicken soup
The chef: Katie Hebdon, 11, Idaho
"My mom and I were attempting to make a quick, healthy and easy dinner, and we came up with this recipe," Katie recalled. "Both my brother Timmy and I modified it to make sure it was a complete meal and tasted fabulous!!! We both love to cook! We serve this soup with low-fat sour cream or Mexican crema, low-fat cheese, more fresh chopped tomatoes, yummy avocados, a squeeze of lime or lemon juice, and crushed tortilla chips or a whole-wheat roll to round it out."
Makes 8 servings
2 Tbs. olive oil
1 medium onion, diced 
2 Tbs. minced fresh garlic
2 Tbs. chili powder
1 Tbs. ground cumin
Meat from 1 cooked rotisserie chicken, cubed (about 3 to 4 cups)
4 (14.5-oz.) cans diced tomatoes
2 (15-oz.) cans black beans, drained and rinsed
1 (15-oz.) can sweet corn, drained
2 (15-oz.) cans low-sodium chicken broth
Suggested garnishes: diced tomatoes; low-fat shredded cheese; low-fat sour cream or Mexican crema; tortilla chips or whole-wheat rolls; sliced avocado

Warm olive oil in a heavy stockpot over medium heat. Add onion and sauté until soft, about 3 min. Add garlic and sauté 1 min., stirring frequently. Stir in chili powder, cumin, and cubed chicken. Cook 4 min.
Add canned tomatoes, black beans, corn, and chicken broth. Bring to a boil, then reduce heat to low and simmer 30 min., uncovered. Ladle into bowls and top with garnishes of your choice.