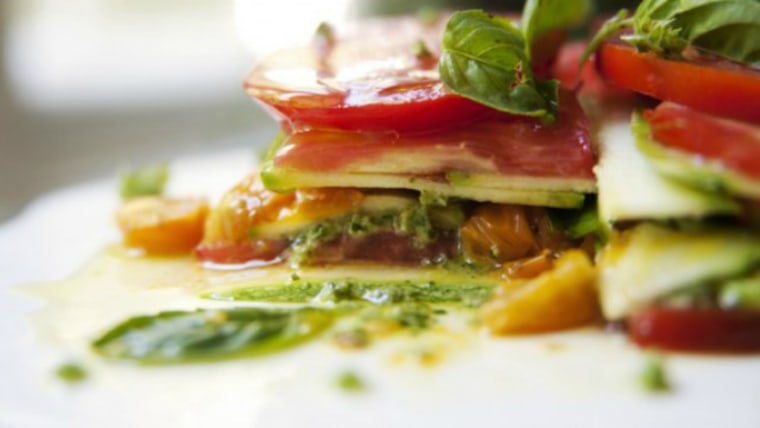 Ready to take Meatless Monday to the next level and go vegetarian for a full week? Whether you want to do it for health or ethical reasons, or just expand the repertoire of delicious veggie recipes you can add to your diet, now's the perfect time to give meatless eating a shot: It's National Vegetarian Awareness Week.
For tips on how to forgo meat for a week—and still eat fabulously well—we turned to Claire Thomas, founder of the popular blog The Kitchy Kitchen and author of the brand-new cookbook, "The Kitchy Kitchen: New Classics for Living Deliciously." While Thomas does eat meat, her blog and cookbook are filled with super-appealing—and easy—meat-free recipes. Thomas also recently catered an all-vegetarian birthday party for Glee star Lea Michele, so she's a pro at creating meatless recipes that can wow a crowd. 
"Vegetarian cooking doesn't need to be boring," says Thomas. The first step is great ingredients: "If you use really good produce, you don't need to do that much." And if you have a vegetable that is "less than amazing," Thomas recommends roasting it, which caramelizes the natural sugars and instantly improves taste.
To make a meat-free dinner that really stands out, Thomas suggests following the example of non-vegetarian meals, and turning one recipe into the focal point of the menu. At Michele's party, that honor went to a decadent cauliflower Brie soup that, according to Thomas, ended up being the birthday girl's favorite dish. Ready to go meat-free this week? Here are five fantastic veggie recipes from Thomas' blog and cookbook: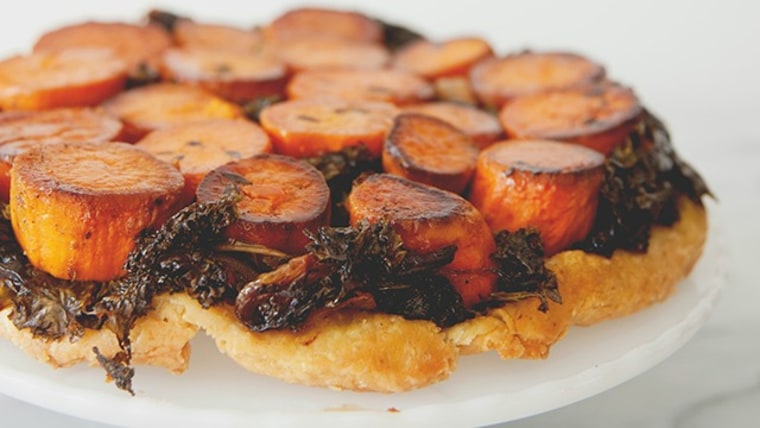 Inspired by tarte Tatin, the French apple dessert, this stunning savory version makes a great centerpiece dish for dinner parties. To give the tart what Thomas calls the "stained glass" look, be sure to oil the pan so the tart slips out easily.
Orecchiette cacio e pepe with roasted squash, kale and burrata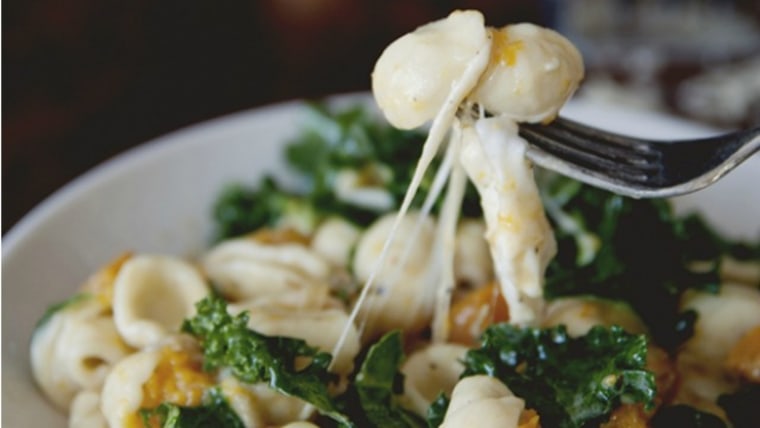 "Cacio e pepe is a classic Italian pasta sauce, and I wanted to make it bigger and add lots of flavor," says Thomas about the traditional cheese-and-black-pepper sauce. In this recipe, she adds squash and kale to the basic ingredients. If you want to experiment with different vegetables, Thomas suggests substituting spinach and pumpkin.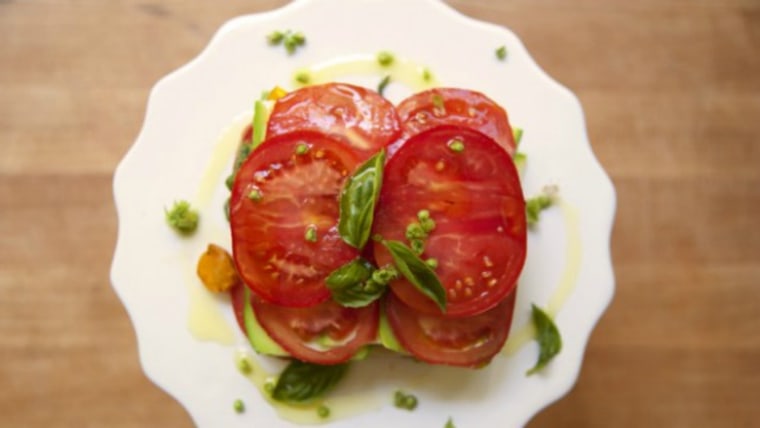 Another updated classic, this noodle-free lasagna makes use of one of Thomas's favorite vegetarian techniques: combining roasted and raw versions of the same ingredient. It's a simple trick, but it adds layers of texture and loads of flavor.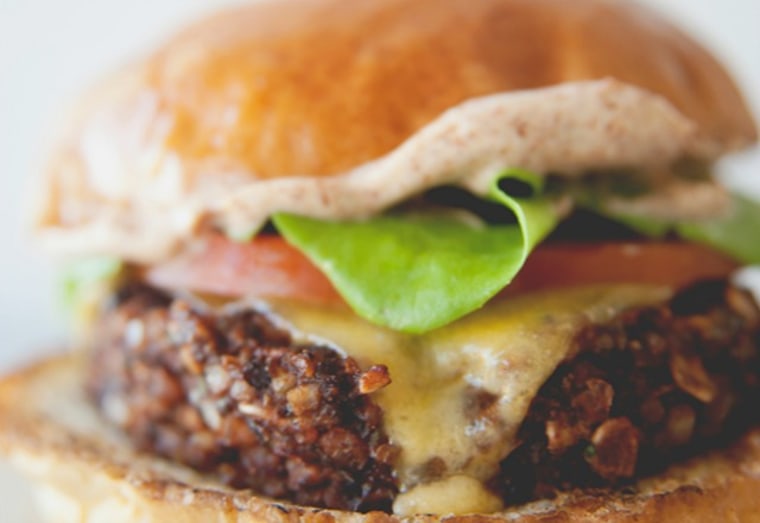 A huge fan of veggie burgers, Thomas set out to create a recipe that "really stands up to a meat burger" and uses flavor-packed ingredients like chipotles, cilantro, onions and cumin. What's the secret to veggie burgers that won't fall apart? Thomas's tip is to chill the patties briefly before cooking.
Nasu miso-style salmon or eggplant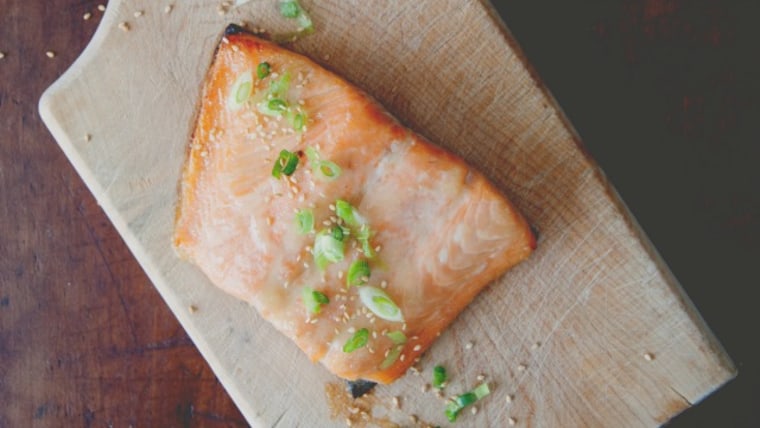 This Japanese-style roasted salmon is perfect for cooks who want to go meat-free but still eat fish. And for vegetarians, Thomas offers a broiled eggplant alternative. Both options feature a salty-sweet marinade made with sake, mirin and miso, plus sesame seeds and crunchy green onions for garnish. This recipe is also in Thomas's new cookbook.
Makes 2 servings
3 tablespoons mirin

2 tablespoons dry sake

1/2 cup white miso

1/4 cup sugar

1/2 teaspoon kosher salt

Two 6-ounce salmon fillets, skin on

2 tablespoons vegetable oil

2 tablespoons toasted sesame seeds

1/4 cup finely chopped green onions

In a small saucepan, bring the mirin and sake to a boil. Whisk in the miso until dissolved. Add the sugar and salt and cook over moderate heat, whisking, just until dissolved. Set aside and let cool. 
Cover the salmon with the marinade in a container, seal and marinate in the fridge for at least 1 hour.
Preheat the oven to 400 degrees F. Scrape the marinade off the salmon. Brush the oil on a heavy rimmed baking sheet. Place the salmon on the baking sheet, skin side down, and roast for 10 minutes until flaky. Transfer to plates and garnish with toasted sesame seeds and green onions. 
Note: You can easily make this dish vegetarian by switching in eggplant for the salmon. Preheat the oven to broil. Place the top oven rack 6 to 8 inches from the top. Slice 2 Japanese eggplants in half and marinate in the miso dressing for an hour. Put the eggplants cut side down on a silicone mat or parchment paper-lined baking sheet. Broil for about 3 minutes, watching carefully so they don't burn. Turn the eggplants over and cook for another 4 to 5 minutes, until the tops are golden brown and a bit bubbly. Enjoy hot, garnished with toasted sesame seeds and green onions. 
Nasu miso-style salmon recipe with eggplant variation is reprinted with permission from "The Kitchy Kitchen: New Classics for Living Deliciously" (Atria Books/Simon & Schuster, 2014).