Call us chicken, but at first glance, we would be seriously afraid to come face-to-face with this bird that's taking over the internet this week.
First of all, no, it is not a human in a costume. Secondly, yes, it's a giant chicken. Finally, yes, it's real.
Originally posted by Fitim Sejfijaj, a member of a Kosovo-based poultry-enthusiast group on Facebook called "Shpeztaria Dekorative," which translates to "Decorative Poultry," the video went viral this week after it was reposted on Twitter.
"Am I the only person wondering why this chicken is so big?" Twitter user @LifesBook_CEO asked the internet. He is definitely not alone. The video of the amazing-looking creature already has 40,000 retweets, 54,000 likes and thousands of comments, so TODAY Food had to get the real deal about this huge bird.
"It's an example of a real breed called the Brahma chicken," Emily Lhamon, a poultry health educator for Penn State Extension, told TODAY.
"I'm short, and these birds come up tall on me," Lhamon said, noting that most males top out at 2½ to 3 feet, max. "They grow to be quite large, but not Great Dane-sized. They are more feathers than they are meat. They're fluffy and look heavier than they actually are."
RELATED: 5 things you need to know about poultry
Weight-wise, they range from about 11 to 18 pounds, in the most extreme cases, Jeannette Beranger, senior program manager for The Livestock Conservancy, told TODAY.
"They are great birds — a laid-back, wonderful breed," Beranger assured us.
In case you're wondering, Brahma chickens are not the result of modern-day GMOs or antibiotics. They've been around since about 1850, through old-fashioned breeding of large birds from Asia. "They bred the two biggest chickens back then to create what they wanted to stylistically," Lhamon explained.
Popular for eating back then, the breed has since fallen out of favor — not because it's not tender enough, but because the birds are expensive to raise because they eat a lot. But they also take longer to mature and get to market than newer breeds of chickens, Lhamon said.
"You could lose your shirt feeding a flock of Brahmas," Beranger agreed. Because of their size, they don't do well in warm climates, and they can be hard to care for. Their feathered feet don't mix well with muddy conditions, for example.
Brahma chickens are considered endangered, but people do eat their eggs (which are a normal size in case you're wondering) and some of the chickens become dinner too.
"As we always say, 'you have to eat them to save them,'" says Beranger. "They are chickens after all and need a job beyond being someone's pet or lawn ornament. For those that are not breeding quality, that job is to be food for the table."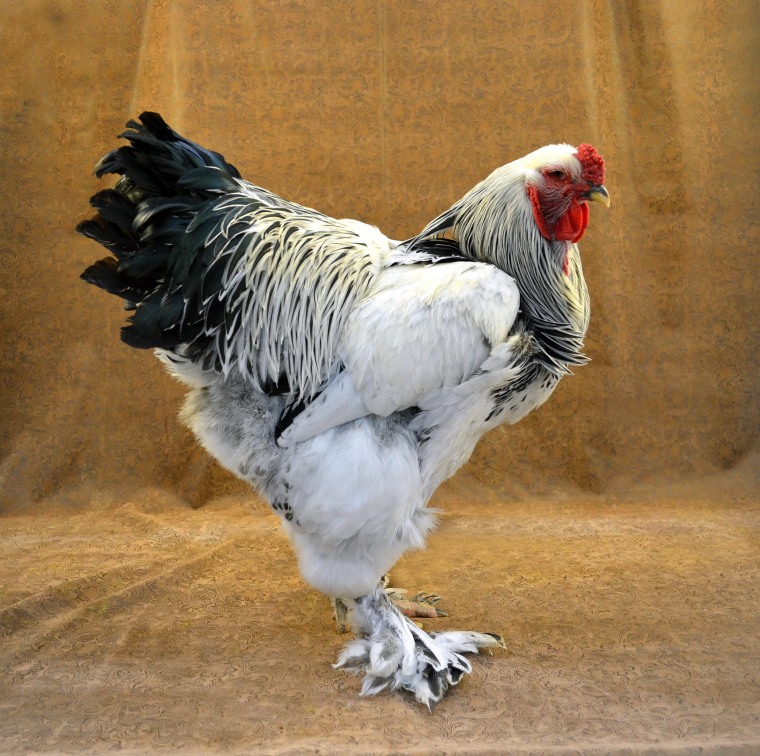 Funnily enough, much like the reaction the birds got on social media this week, the Brahma chickens actually set off "hen fever" in the United States and England, after they were introduced in Europe in the mid-1800s.
"It came to be considered quite trendy to be breeding chickens. It was a gentleman's farmer-type activity to get your name associated with creating something new," Beranger said — not unlike the hipster obsession with urban farming we're seeing today, we might add.
Curious to get a look at one yourself, in real life? Our experts suggested seeking out poultry shows such as the Ohio National Poultry Show in Columbus, which Lhamon likened to the Westminster Kennel Club Dog Show of chicken shows. Or you can likely find a show in your own area, nationwide.
"Throughout the country, you're always going find a Brahma chicken at a poultry show," Beranger said. "They're real show stoppers."