Pregnant women past their due dates are known to try eating almost anything at a certain point to induce labor: pineapple, dates, spicy curries — even special "Maternity Salads," tried by TODAY Tastemaker Siri Daly.
But for women near the Atlanta, Georgia-area, there's one classic comfort food that's been rumored to help women move things along for years — an eggplant Parmigiana dish so legendary that the restaurant claims it's helped more than 1,000 women go into labor.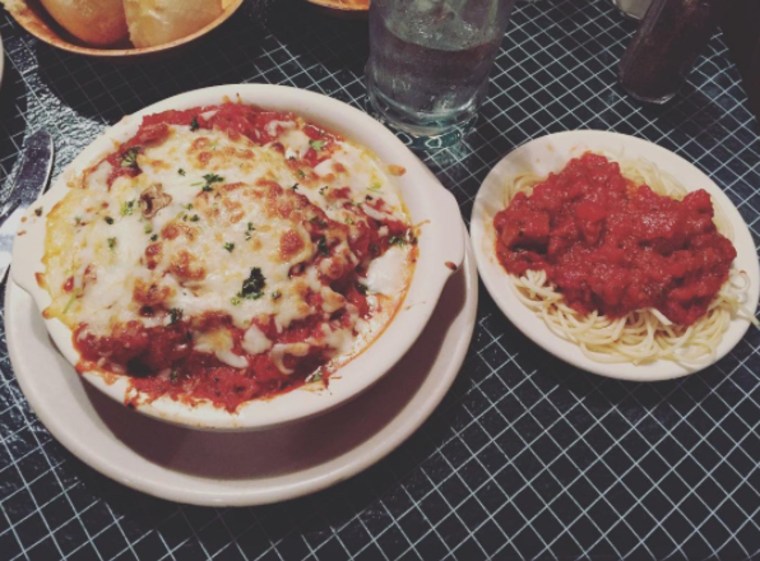 At Scalini's, an Italian eatery in Smyrna, one or two women a year have reportedly had their water break before they even get a chance to ask for the check, restaurant manager Robert Bogino told TODAY Food.
"That's always exciting when that happens. Once, a father even came up and said, 'Can we get our food to go?' I think his wife really wanted to get going to the hospital, though."
Instagram is filled with photos of the mythical meal — bubbly cauldrons of cheese and tomato sauce —alongside lots of eggplant and baby emjois.
We think this delicious dish looks pretty darn good, even if you aren't pregnant.
Anywhere from two to six women a day come to Scalini's in hopes of prompting their little one into the world. Pregnant patrons are asked to sign the restaurant's "baby book," and if they go into labor within 48 hours of leaving, they get a $25 gift card, a Scalini's infant T-shirt, and their baby's photo on the wall.
Because pregnant women aren't supposed to travel far, and the restaurant doesn't want to ship the dish in order to preserve its integrity, Scalini's has since posted the recipe online. Though some women do send friends or relatives across state lines, from Alabama, Tennessee or even Texas, to retrieve the original version of the dish, Bogino added.
Women all around the world have made the recipe, and posted the results (with adorable baby photos) on the restaurant's site. One mom, Mel from Australia, credited the recipe with helping her third, fourth and fifth babies make a speedier debut: "voila!"
Another mom, Kathy, wrote that she made the Parm on her due date, thinking she'd have it for lunch the next day. "I had a tiny piece before going to bed and woke up four hours later, when my water broke. As an added bonus, I had a great dish ready in the fridge to serve our out-of-town family the next day!"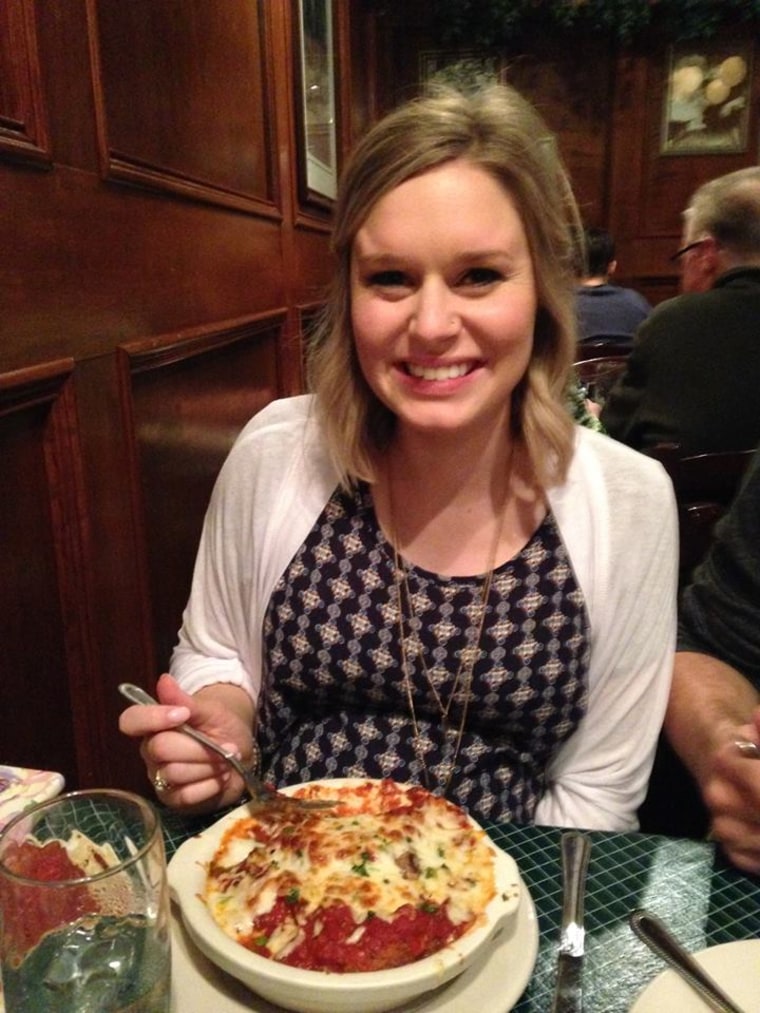 But apparently the dish, though tasty, doesn't work for everyone.
At 39 weeks pregnant, Atlanta-area mom Grace Erath, a blogger and co-owner of an online tea shop, Measures of Grace, stopped in at Scalini's last year in hopes of meeting her baby girl sooner. "Unfortunately the eggplant Parm did not induce labor for me, but it was delicious," she told TODAY Food.
Expectant mom Riel Green, an Atlanta-area entrepreneur, ate at Scalini's just two days ago, anxious to deliver her girl. "It didn't work for me, but it has for a few people I know," she told TODAY Food. "It was still a very yummy dish!"
Plenty of restaurants make eggplant Parmesan but why is Scalini's so special? It all started back in 1977, with present-day manager Robert Bogino. His dad, the restaurant's founder, John Bogino, prepared the dish for Robert's mom. Just 24 hours later, Robert was born.
The legend surrounding the dish grew by word of mouth, and his dad put it on the menu when he opened Scalini's in 1980. Since then, the restaurant claims that more than 1,000 women now swear by it. "People even have their pets try it — there are dogs and bunnies on the wall," Bogino said.
As for why it works, or whether the phenomenon is an old wives' tale, that's anyone's guess — though some say it has to do with the enzymes in an eggplant, combined with the herbs, spices...and overeating (Scalini's serves large portions), Bogini said.
"Of course," he added, "you have to believe a little bit, too."