/ Source: TODAY Contributor
What began as a California restaurant serving a mysterious "Maternity Salad" to pregnant patrons who hoped it would kick-start their labor has grown into a legend that has overdue women across the country mail-ordering the salad's dressing.
Hilary Duff is the latest celebrity to turn to the salad for some help with labor and delivery. According to E! News, Duff, who is expecting a daughter with boyfriend Matthew Koma, shared a photo of the salad in her Instagram story recently with the caption, "This salad is supposed to make you go into labor...@caioti_pizza don't let me down."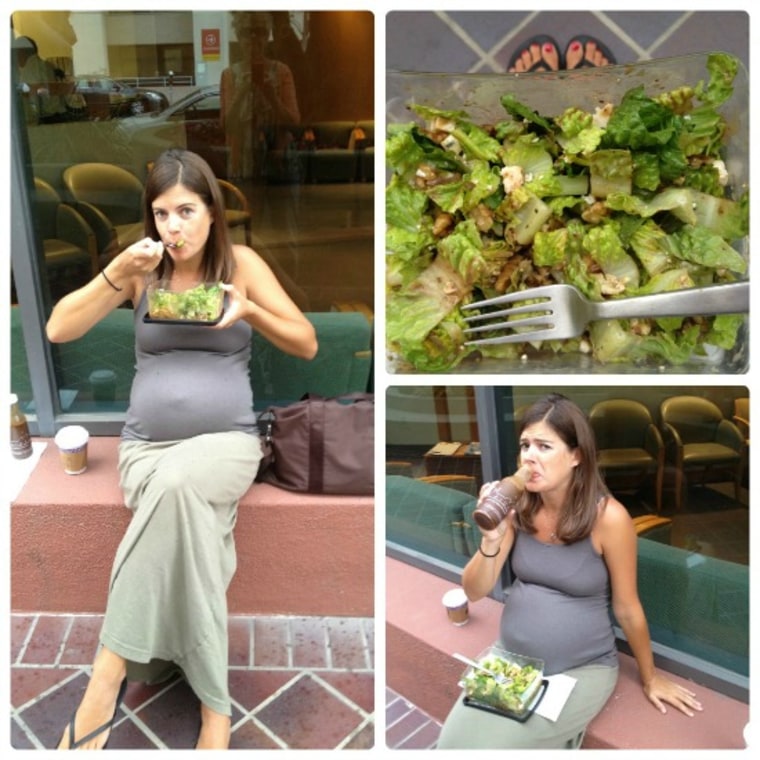 TODAY's own Siri Daly turned to the famed salad in hopes of kick-starting her labor with daughters London and Etta. And, although Daly isn't 100 percent sure the salad was the sole reason her contractions started, the TODAY Food Contributor and wife of TODAY anchor Carson Daly says she thinks it helped.
"The first time I tried 'the salad' I was pregnant with our daughter, Etta," said Daly. "It was my due date, so needless to say I was ready for her to come out."
"I did start experiencing mild contractions within a few hours of eating it, and Etta was born two days later," said Daly, adding that her doctor had also stripped her membranes — a method used to try to start labor — right before she ate the salad, leaving the actual cause of her labor unknown.
"The salad itself was tasty but what I really remember was the dressing," said Daly. "It had a very strong flavor — like perhaps it was laced with castor oil, or Pitocin."
In fact, when expecting their second daughter, London, Carson had the dressing delivered to New York, where his wife drank it straight from the bottle.
"She was induced, so I'm not sure if it worked, but as any pregnant woman will tell you, it's worth trying anything," said Daly.
Siri and Carson also have an older son, Jack — born without any salad intervention.
The "Maternity Salad" is on the menu at Caioti Pizza Cafe, in the Studio City neighborhood of Los Angeles.
"It has been 28 years of this," the restaurant's owner Carrie LaDou told TODAY. "Pregnant women come in every day — we have between five and 20 a day — they're past due and they want to get the baby out."
Most patrons credit the salad's dressing with inducing labor. While LaDou says the ingredients of the dressing are a family secret, she did reveal the other components of the salad: romaine lettuce, watercress, walnuts and pasteurized gorgonzola cheese.
"It's very simple, and a lot of people are unfamiliar with watercress, which is somewhat bitter," said LaDou, explaining that often, women ask to modify the salad and leave certain ingredients out.
"We're not saying it's the dressing — we don't know what it is," said LaDou. "So, I always tell them, 'If you're here to have a baby, you need to have the salad as it's meant to be.'"
LaDou credits generations of women and their OBGYNs for the salad's reputation. In fact, when LaDou herself was pregnant, her doctor told her to eat the salad, unaware that she owned the restaurant responsible for its creation.
"He told me, 'Look, there's this place in Studio City and they have this salad,'" LaDou recalled. "Doctors send their patients here — so do midwives and doulas — everybody knows us and the salad has become an end-of-pregnancy tradition for most locals."
Dr. Donnica Moore, an OBGYN who hosts the "In the ladies room with Dr. Donnica" podcast, says while there's no clinical proof of certain foods or herbs kick-starting labor, she's not one to argue with her postpartum patients about what "worked" for them.
"As a woman who gave birth to two children, I know how eager women can be to give birth in those last few weeks," said Moore. "However, in general, we don't want women going into labor until Mother Nature — or their doctors — say it's the right time. That being said, most women — pregnant or not — would enjoy the health benefits of eating more salad."
So what does Moore recommend for past due women who are desperate to go into labor?
"If you are past your due date and want to do something to speed things along, there is reason to believe that sexual activity may help for three reasons," said Moore. "One, semen contains prostaglandins, which may enhance cervical ripening. Two, intercourse may increase uterine activity. And, three, nipple stimulation stimulates oxytocin production. So far, however, studies have also failed to prove this hypothesis."
LaDou says the restaurant tracks each month's alleged "salad babies" on a chalkboard hanging in the restaurant. And, pregnant patrons of Caioti Pizza Cafe can write a bit about their pregnancy in diaries provided by the restaurant.
"They write about what's going on, what they're having, and how past due they are," said LaDou. "Sometimes, people come back and give us a follow up story and post a photo of their baby in the book."
"There are now kids that are literally in their twenties who come in and eat and tell us that their mom ate the salad," LaDou continued. "This isn't something we set out to do — a lady came in 28 years ago who was past due and ate the salad, then felt contractions and went into labor. From there, the salad's popularity just kept increasing."