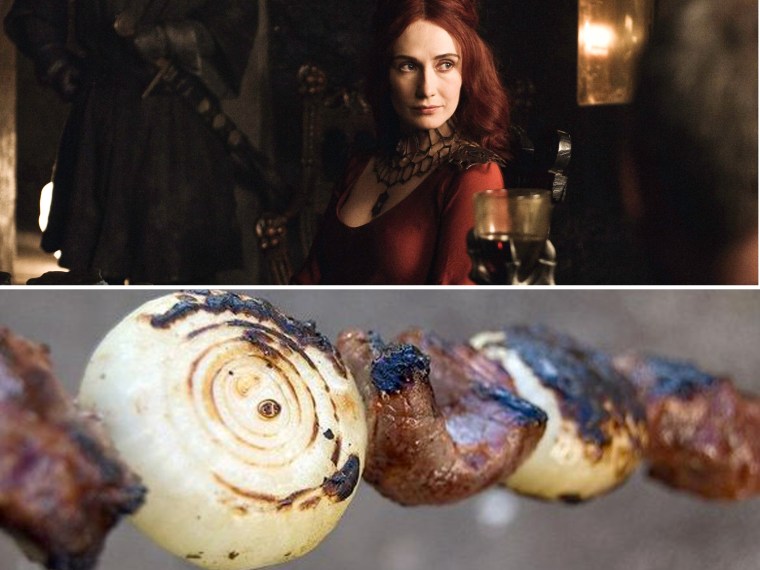 The highly anticipated return of HBO's "Game of Thrones" is this weekend, and as with "Mad Men" and "The Hunger Games," many fans are celebrating with recipes straight from the fictional world of the series.
Recreating dishes from books, movies, TV, comics and other fiction is a growing trend, and Crystal Watanabe, founder of FictionalFood.net, is at the forefront.
"Food really puts you into the story with [the characters]," Watanabe told TODAY.com, as she detailed some foodie moments from "Lord of the Rings" and "The Chronicles of Narnia."
Story: Teens rule in 'Game of Thrones
"When the Fellowship gets lembas bread from the elves and they tell them how amazing it is, you can't help but wonder what it tastes like," she said. "When the White Witch tempts Edmund with enchanted Turkish Delight, you can't help but wish you could reach in and have some with him."
Watanabe's blog, Fictional Food, includes recipes for a wide variety of dishes. To her, the trend is all about fans relating to the worlds of their most beloved characters through the foods the characters eat and encounter.
"When Harry is on the train to Hogwarts and has money to spend on treats for the first time, you can almost taste those pumpkin pasties with him. It's as though you share that moment of joy with them," Watanabe said.
Inspired after reading Suzanne Collins' "The Hunger Games," Watanabe entered a "Hunger Games"-themed cake in a food contest and then decided to make some of the food mentioned in the series.
A 30-year-old wife and mother of two toddlers who lives in Hawaii, Watanabe tried her first "Game of Thrones" recipe when HBO posted a recipe for lemon cakes before the premiere of season one. Those lemon cakes were such a hit that HBO even has a food truck in New York City offering them up this week along with other "Game of Thrones" fare featuring a menu created by Tom Colicchio. 
"I have been a fan of the books for somewhere around a decade," she said.  "George R.R. Martin is very descriptive about his food and if there's any other book that has put me into the story with food more than 'The Hunger Games,' it has to be his 'A Song of Ice and Fire' series (the books that were adapted to become 'Game of Thrones')."
These successful cooking attempts inspired Watanabe to create her Fictional Food blog, which features dishes inspired by a variety of fictional references. While not a career chef, Watanabe has co-authored a cookbook, "Yum-Yum Bento Box: Fresh Recipes for Adorable Lunches" and has another food-related blog, Adventures in Bentomaking.
Watanabe's Fictional Food blog has received a large increase in visits as people prep to watch their favorite movies or shows with themed parties. Usually averaging 85,000 hits a month, this month her visits have more than doubled. So which food directly inspired from fiction is the most popular right now? It probably won't surprise you that it's from "The Hunger Games." First place goes to Watanabe's Lunch with Cinna recipe, featuring chicken with creamy orange sauce, closely followed by her recipe for Katniss' favorite Capitol dish — lamb stew.
While it's tough for Watanabe to concentrate as much as she'd like on her recipe list, she hopes to expand her collection of "Game of Thrones" and "Hunger Games" dishes soon. She also wants to tackle the large number of requests from her readers. Many of these are for media she's not familiar with and looks forward to exploring.
"Someone requested I cook from the "Redwall" series [by Brain Jacques], which I've never heard of. I've also gotten a request for Skyrim food, which is a game I haven't had the chance to play yet."
If you're psyched for the return of "Game of Thrones," get in character by trying these recipes. 
Flea Bottom bowl o' brown
Serves 6 to 8
Ingredients:
2 pounds ground beef
2 packets Lipton Onion soup
2 cups water
3 cans beef broth
5 to 6 medium carrots, peeled and chopped
4 to 5 medium potatoes, cubed small
1 cup pearl barley
Salt and pepper to taste
Brown the ground beef in a pot. Add onion soup to slow cooker and add two cups of water. Stir to dissolve. Add ground beef, carrots, and cans of beef broth. Cook on high setting for 3 to 5 hours. One hour before serving, add potatoes and barley, adding more water as needed, since the barley absorbs a lot. Season with salt and pepper to taste. Serve with bread, preferably a heel from yesterday.
Meat and onion skewers from the Eyrie
1 1/2 inch cubes of beef
Small onions, peeled
Skewer the beef and onions in alternating order. Char over a fire or grill until sizzling hot and onions are cooked through.
More:
Lisa Granshaw writes and produces for TODAY.com. She'd like to find a recipe for ent-draught so she can be a few inches taller!