Maybe you've been looking forward to those Labor Day plans for weeks— but have you considered what to do in celebration of this weekend's other big event? In case you didn't mark the calendar, International Bacon Day is this Saturday, August 30. And if the much-hyped ingredient is making you yawn through your breakfast lately, celebrate the (so-called) holiday with an alternative that packs the same umami punch.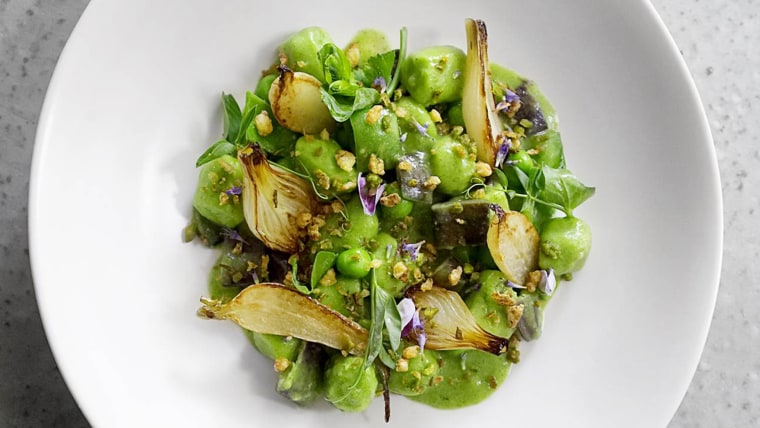 Clever chefs around the country are coming up with their own ways to get a similar taste and texture using preparations that mimic bacon's intense, savory, smoky flavor. To get the effect, they use ingredients that non-carnivores can fall for too, and that deliver better nutritional value than the real deal.
For instance, vegan chef Tal Ronnen (who catered Ellen Degeneres's wedding to Portia de Rossi) serves mushroom bacon on the new Sunday brunch menu at his Los Angeles restaurant Crossroads. "We start by slicing shiitake mushrooms thin, and then seasoning them with olive oil, sherry vinegar, salt and pepper," Ronnen told TODAY.com. "We oven-toast them until crispy, smoke them over hickory chips, and then drizzle a little maple syrup over them."
For another take on meatless bacon, Southern California-based artisanal sandwich shop Mendocino Farms serves its signature house-smoked tempeh bacon, created by chef Judy Han, in its smoked tempeh bacon club sandwich, along with avocado, vegan mayo, pickled red onions, tomatoes and butter lettuce on toasted rustic white bread. (For those desperate for real bacon, fear not: The shop also serves a more traditional club, with applewood bacon, smoked turkey, cheddar, avocado, and mustard-pickle remoulade.)
Ready to whip up your own bacon alternative at home in honor of (or despite?) Bacon Day? Try the faux bacon bits offered at New York City restaurant Blenheim, devised by its head chef Ryan Tate—who serves them sprinkled on top of gorgeously green English pea dumplings:
Blenheim's faux bacon bits
8 ounces Russet potato (approximately one large potato)

8 ounces raw peas

1 tablespoon liquid smoke (available at grocers or specialty stores, or online retailers like Amazon)

Peel and chop potato and put in a blender with peas and liquid smoke, and fill to the top with water. Blend until mixture looks like coarse sand. 
Strain mixture, then rinse it and wrap it in a kitchen towel; ring out excess water. 
Heat canola oil in a pan to 220 degrees, add potato mixture and stir constantly until golden brown. Season with salt and pepper, then let cool and seal in an airtight container.

Alesandra Dubin is a Los Angeles-based writer and the founder of home and travel blog Homebody in Motion. Follow her on Facebook, Google+ and Twitter.