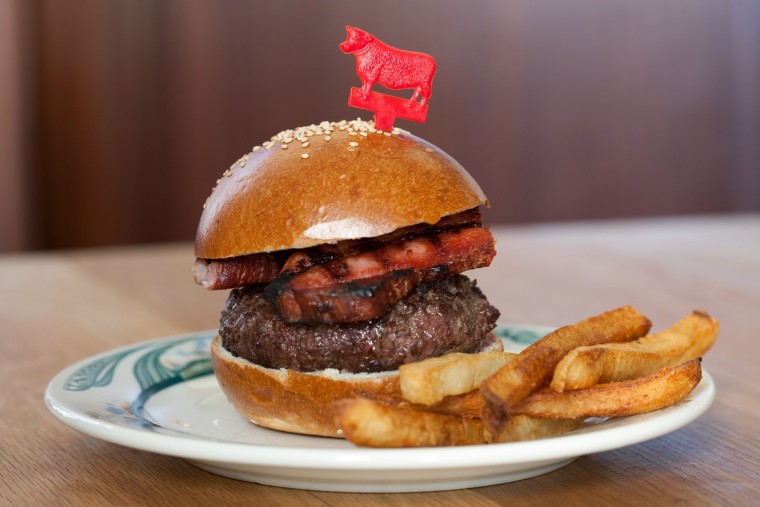 Chefs across the country are upgrading their amazing burgers with the ultimate finishing touch: incredible bacon that's smoked in-house or is sourced from cult producers like Allan Benton and Nueske. Here, F&W names the Best Bacon Burgers in the U.S. Here, check out 7 that top the list, and click here for the full list. Tell us in the comments below, where's your favorite place to get a bacon burger?
New York City: Peter Luger
At this legendary steak house, it's hard to decide which meat is more delicious in the broiled, lunch-only Luger Burger: the beef or the bacon. Prepared with a porterhouse-and-prime-chuck-beef blend, the super-flavorful patty is served in a sesame seed bun and topped with incredible, thick-cut hardwood-smoked lean bacon from famed charcuterie shop Schaller & Weber.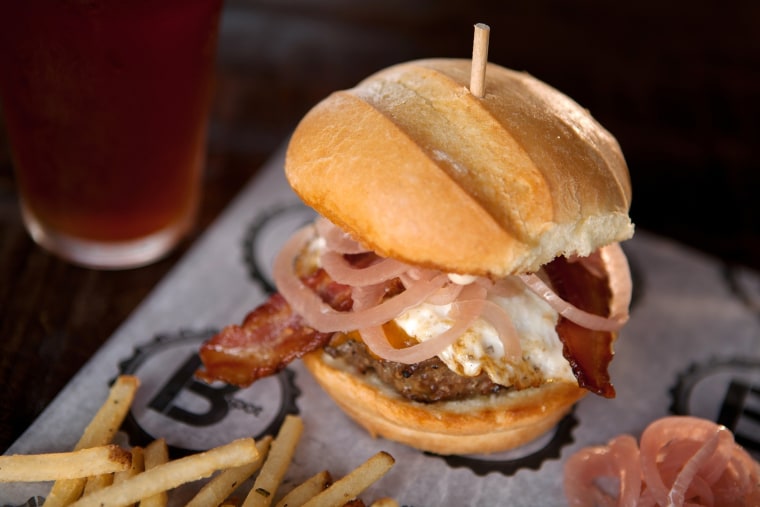 Ohio: B Spot Burgers
Michael Symon, F&W Best New Chef 1998, specializes in "meat on meat" burgers at his Ohio-based chain B-Spot. Named after his Cleveland flagship, the Lola Burger could almost double as a breakfast sandwich, since it's piled with bacon and a fried egg (in addition to pickled red onions, cheddar cheese and mayo).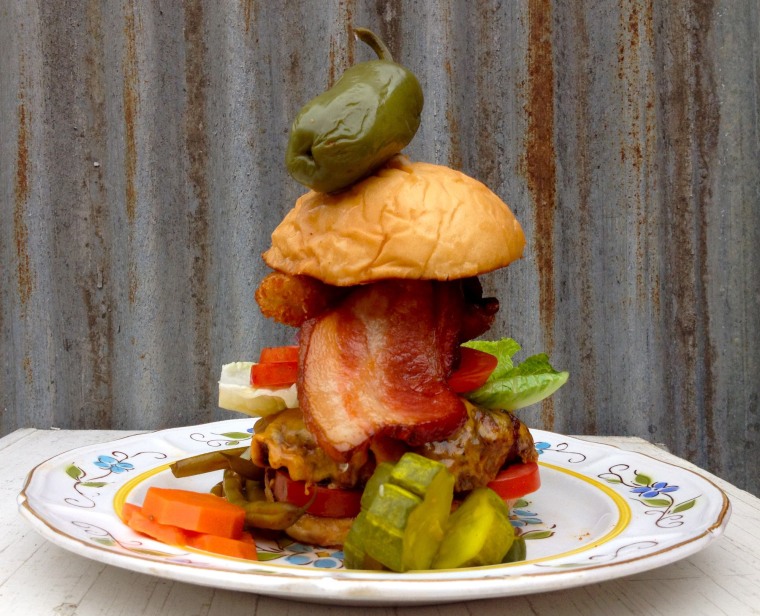 Dallas: Smoke
Chef-owner Tim Byres (F&W People's Best New Chef 2012) relies on an in-kitchen wood grill and smoke pit to smoke and cure almost every item on the menu. He serves his mega burger, called the EB&D Loaded Up & Truckin' Burger, with a soft-cooked egg fritter, thick house-smoked bacon and smoked sharp cheddar on a homemade honey roll.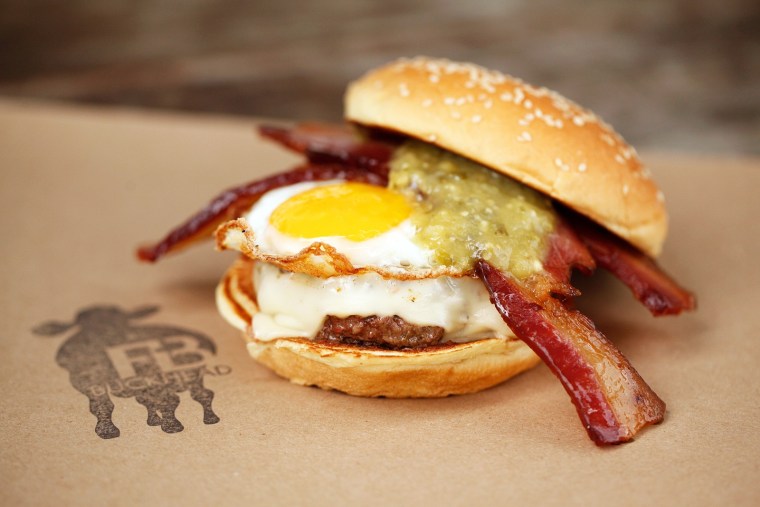 Decatur, Ga: Farm Burger
This farm-to-table burger spot grinds its grass-fed, dry-aged, locally sourced meat daily. Its No. 6 Blackboard Burger is topped with local bacon, a runny sunny-side-up egg, pepper Jack cheese and salsa verde, a salty-savory Italian sauce made with capers, parsley and anchovies.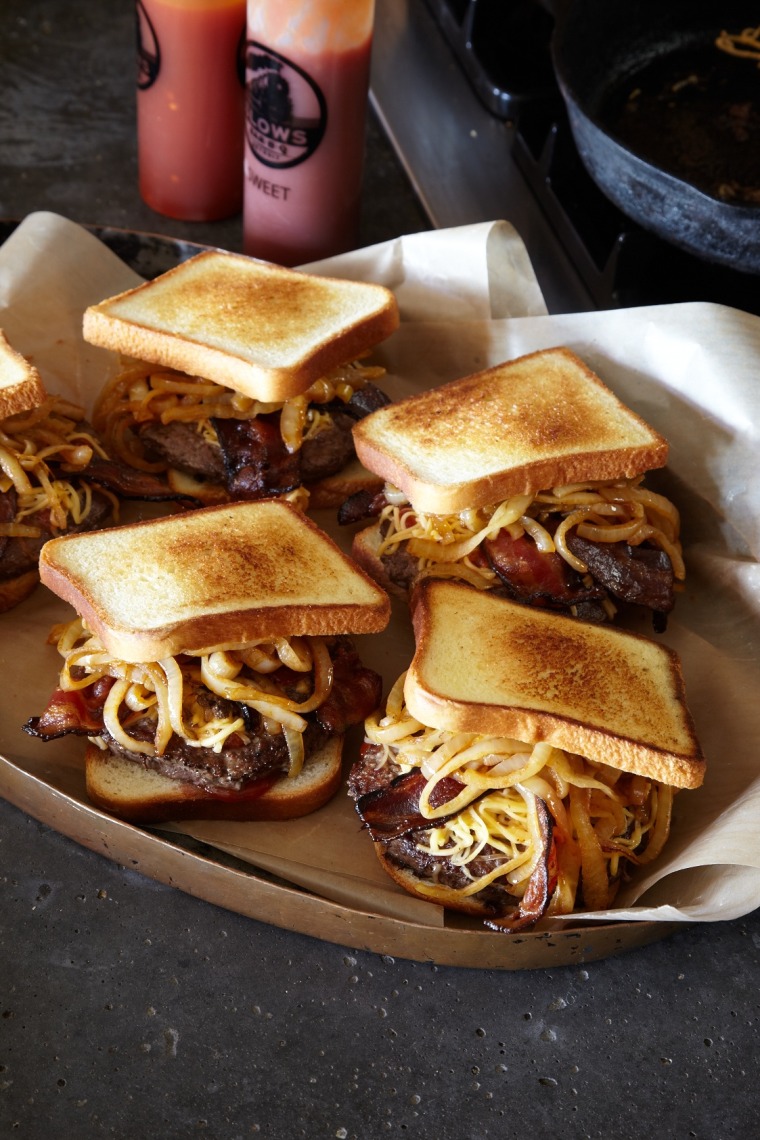 Detroit: Slows Bar BQ
Executive chef and co-owner Brian Perrone was reluctant to put a burger on the menu because he wanted to focus on barbecue. At the insistence of his partners, he came up with a patty-melt-style version topped with smoked Gouda, sweet house-made barbecue sauce, hot-sauce-spiked onions and house-smoked thick-cut bacon. It was an instant hit.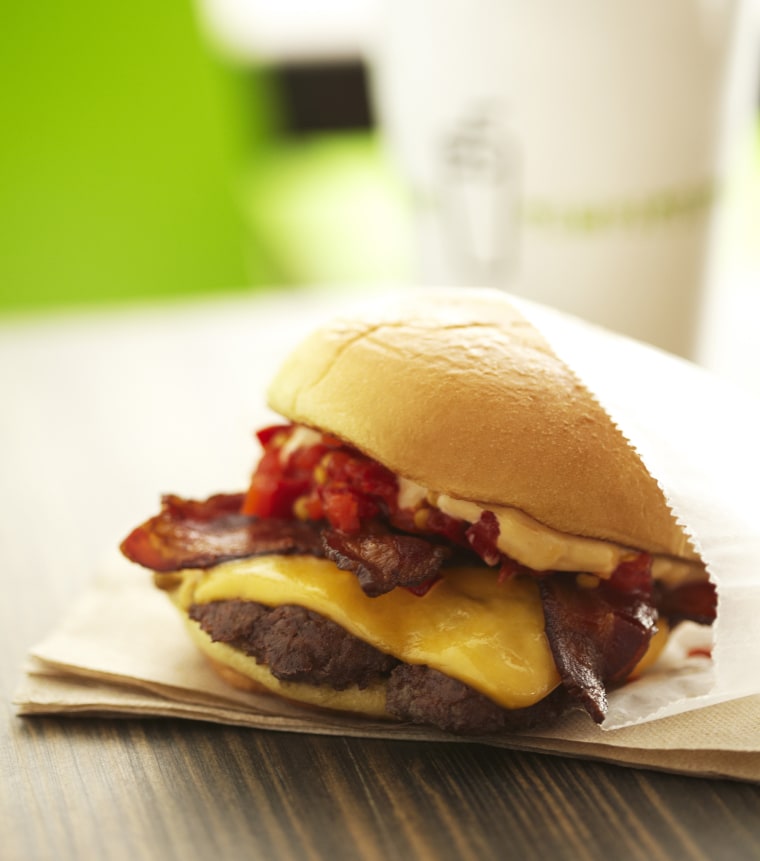 Philadelphia: Shake Shack
The newest location of restaurateur Danny Meyer's popular burger chain was the first one to feature the new SmokeShack: a cheeseburger topped with Niman Ranch applewood-smoked bacon, chopped cherry peppers and the famous tangy Shack Sauce, a secretly spiced blend of traditional condiments like ketchup, mayo and pickles.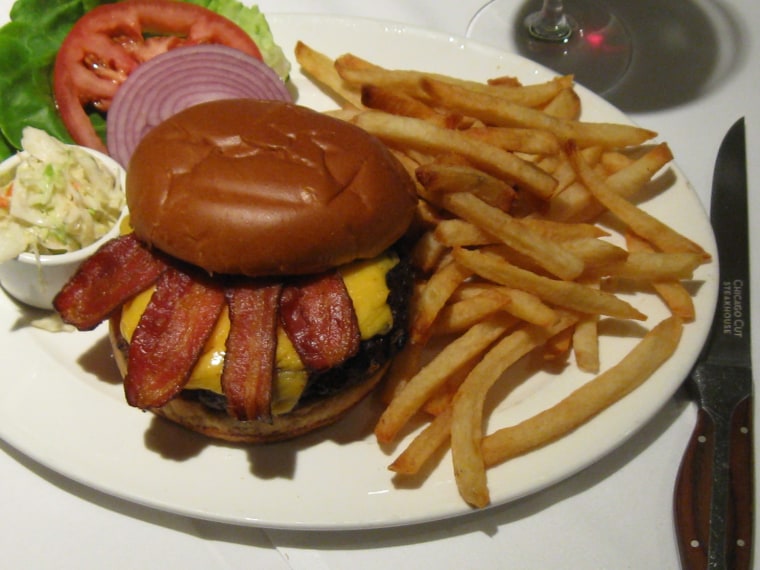 Chicago: Chicago Cut Steakhouse
"The bacon just pops the flavor of the burger," says Matthew Moore, co-owner of this steakhouse with an in-house dry-aging meat locker. The flavorful 12-ounce Chicago Cut Prime Burger is made from a blend of 35-day prime dry-aged rib eye, dry-aged sirloin and wet-aged filet mignon. "Every waiter always highly recommends adding Nueske applewood-smoked bacon, which is hand-cut in thick or thin slices depending upon the customer's preference." 
More from Food & Wine: