In honor of Mickey Mouse's upcoming 90th birthday, Oreo is gifting a limited-edition version of its birthday cake-flavored cookies to commemorate the world's most famous talking rodent.
Will that little extra hint of Disney magic baked in (in the form of three different Mickey Mouse-themed designs on the wafers) make fans of the regular cookie more animated?
Well, here at TODAY, we take our roles as arbiters of Oreo tastes extremely seriously — having chewed our way in recent years, through previous limited-edition flavors, such as Easter-themed Peeps, Strawberry Shortcake, Pumpkin Spice and Red Velvet Oreos.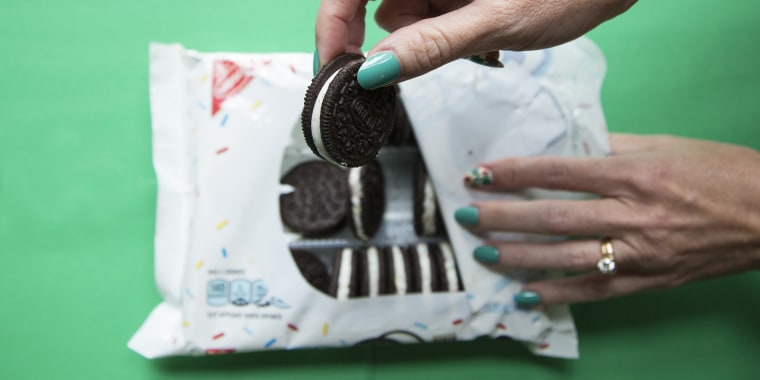 So our editorial staff put their waistlines on the line to see if these newest Oreos, available nationwide on Sept. 24, were worthy of Mickey's big milestone:
"They taste exactly like the regular birthday cake Oreos, so if that flavor is up your alley and you're a Disney fan, you'll like this cookie," said one taste tester. "Even if it isn't up your alley, have one anyway. It's Mickey's birthday."
"I'm a big fan of this latest Oreo flavor. They are extra sugary and extra delicious!" said another. "They have yummy artificial birthday cake taste mixed the classic Oreo filling and chocolate wafer and it's a winning combination if you ask me!"
"It's like a birthday party in my mouth," said another enthusiastic cookie lover.
Some TODAY staffer got truly swept away in the Disney magic. Said one taster, "It's a sweet, Minnie-ature delight that is yummy — and totally Goofy." Yuk, yuk.
The cookies come out just in time for Mickey Mouse's official 90th birthday celebration on Nov. 18 — pegged to the release of the venerable vermin's cinematic debut in the animated short, "Steamboat Willie," in 1928.
If you're looking for more Mickey Mouse goodness to snack on, there are Mickey Mouse-themed Goldfish crackers, Sugarfina gummies and even Mickey Mouse-themed cans of Campbell's soup coming to stores soon.