Last week we shared the super exciting news that Peeps Oreos were headed to supermarkets across the country soon. When the festive yellow and pink box of the limited-edition cookies arrived in our office this morning, we had to put them to a TODAY staff taste test.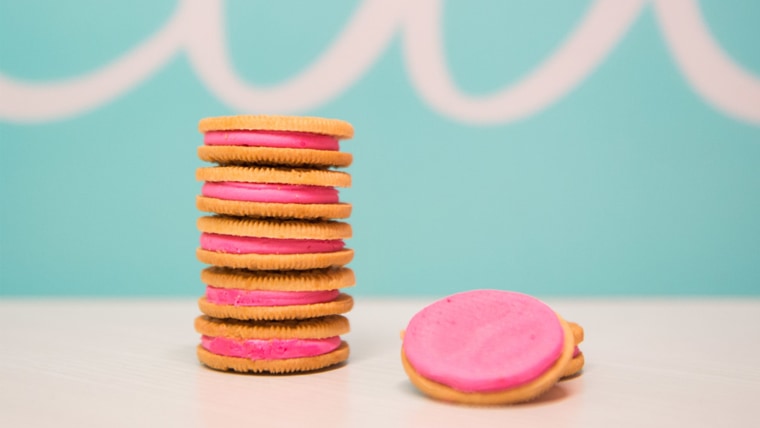 When it comes to Oreos, the TODAY team is pretty obsessed with the classic version of America's favorite cookie. So, when the Oreo Wonder Vault comes out with a new flavor, it's pretty hard to impress us.
RELATED: Peeps Oreos are coming to save you from the winter blues
We like to think of ourselves as Oreo connoisseurs since we've tested and reviewed so many of the limited-edition flavors, like Strawberry Shortcake, Pumpkin Spice and Red Velvet Oreos. Could the Peeps Oreos become a new favorite of ours? Here are the reviews from the TODAY team: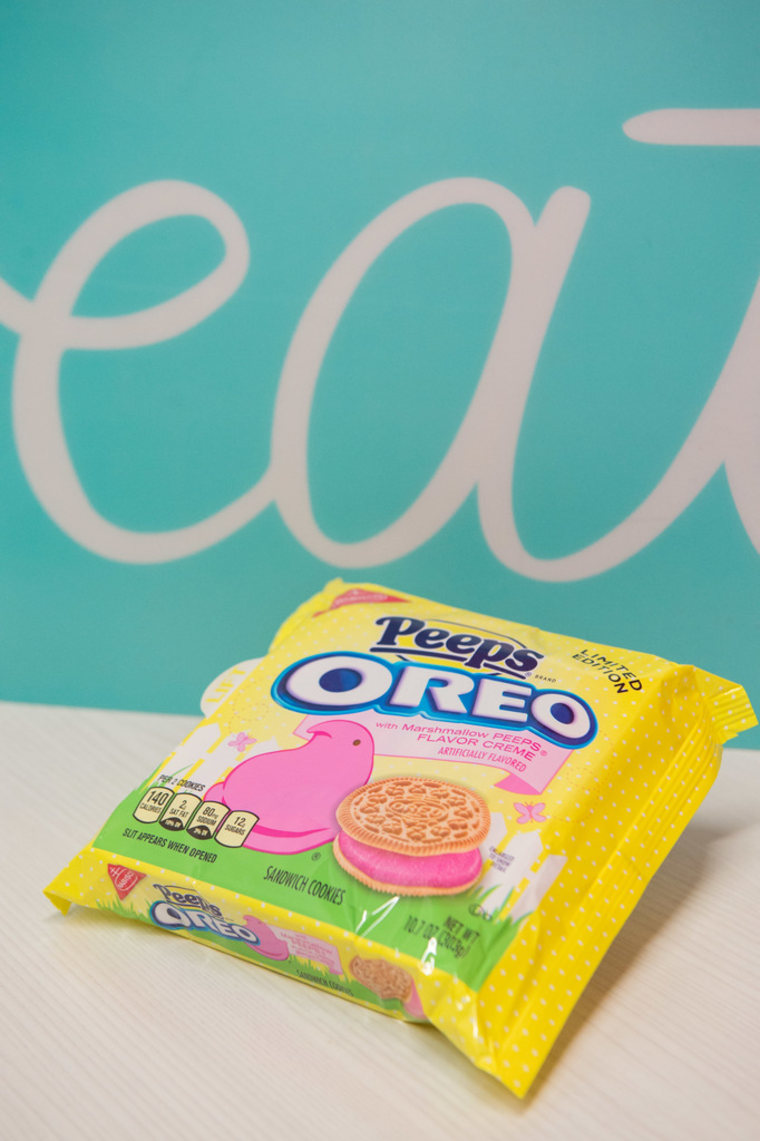 "It's what I would imagine Easter tastes like. Where's the love button when you need it most?!" – Brooke Sassman, Social Media Associate
"It was better than I expected, but mostly because it didn't really seem like a Peep in the middle. I was expecting sticky marshmallow to stretch out attached to your teeth after every bite, but it seemed more like it was just pink icing. That said, I'm a purist. The original Oreo is 'America's favorite cookie' for a reason. Why mess with success?" – Matthew Murray, Senior Editor
"I love every Oreo in the world — but this one does get REALLY sweet about four chews in. I don't think I could eat a second one." - Amy Eley, Managing Editor
RELATED: Oreo unveils new thin cookie sandwich — and we get a taste
"Maybe my taste buds are out of order, but these didn't taste so different to me. I expected neon pink Oreos to be more Peeps-like, but these reminded me of regular Oreos." – Ian Sager, Editorial Manager, Strategic Content
"They taste like the marshmallows in Lucky Charms cereal…so mostly just like sugar. Not terrible, but I may have liked it better with a chocolate cookie instead of a vanilla." – Checka Ciammaichelli, Video Producer
"This is kind of what I imagined Lucky Charms would taste like in cookie form." – Andrew Pinzler, Head of TODAY Innovation Labs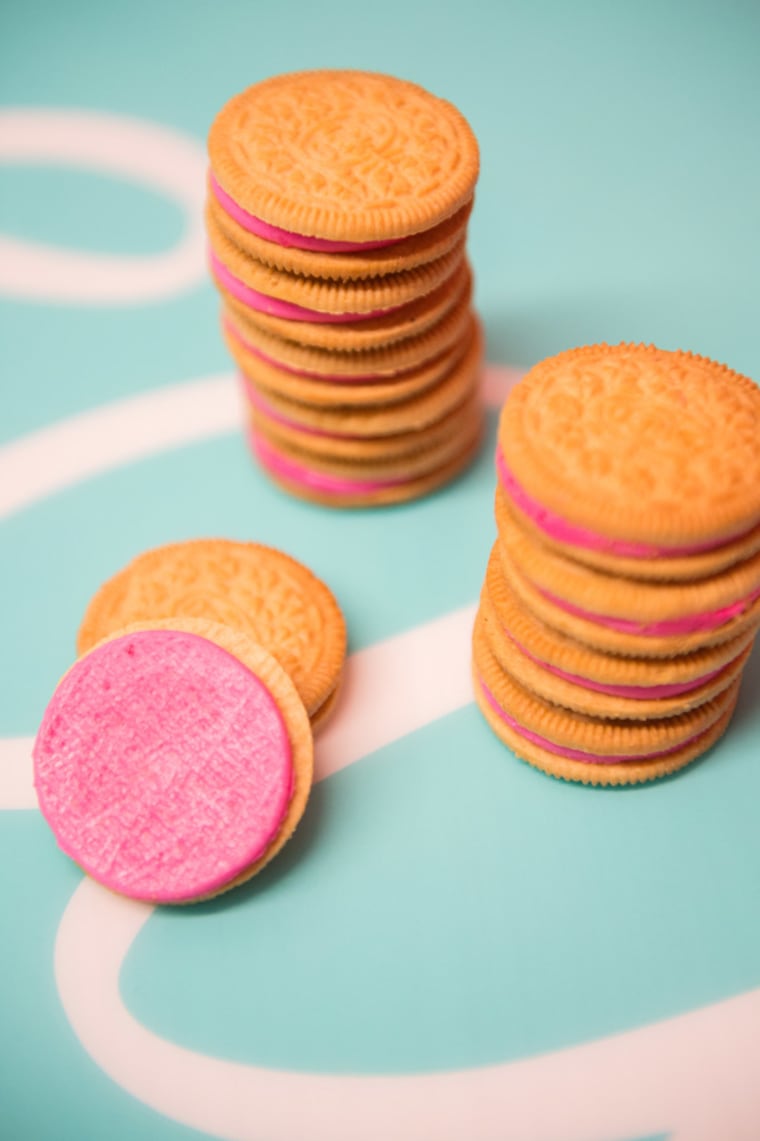 "First of all, these are probably the most photogenic Oreos that I've seen in a while, thanks to their creamy bright pink filling. I was prepared to not like them because I'm not super into Peeps, but here's the thing — they don't really taste that much like Peeps to me. The creamy filling's flavor reminds me more of birthday cake frosting than Peeps. Combined with the crispy vanilla wafers, it's a nice little cookie that I could see a lot of people digging." – Alessandra Bulow, Food Editor
RELATED: 'This one falls short': TODAY tests a new Oreo cookie flavor
"This is the most delicious thing I've ever eaten. Can I have a box (or four), please? I don't taste much of the 'Peeps,' but it's still absolutely delicious. I think it kind of tastes like cake?" – Emily Slawek, Special Projects Associate
"The filling didn't taste all that different from regular Oreo filling. The cookie lacks the charm of an actual Peep, too." – Shane Lou, Editor
"The Peeps-flavored Oreo tasted like reallllllly sweet vanilla icing. There wasn't even a soupçon of Peep flavor in there." – Christina Anderson, Editorial Lead for Original Video
"They smell like Play-Doh to me, but the cookies are good and taste like vanilla wafers. Not much flavor, just really… sweet. Like vanilla icing hit you in the face with a handful of sugar. Not bad, though!" – Nicholas Kiray, Multimedia Designer
"It just tastes like a cookie with frosting. If anything, it tastes more like frosting than a Peep. It's a little too sweet for my liking. However, I do love the bright pink color." – Jordan Muto, Lifestyle Editor
"It's like a normal vanilla sandwich cookie, only 10 times sweeter!" – Brianna Bernath, NBC News Group Intern
In the end, the Peeps Oreos didn't knock everyone's socks off, but a few people completely loved them, and that alone may be enough of a reason to go out and buy a box.
This article was originally published on February 21, 2017.