There's a new buzzy bagel out now, and no, it's not rainbow.
Bagel chain Einstein Bros. has just introduced the Espresso Buzz Bagel which is loaded with 32mg of caffeine — about a third of the amount that's in a standard cup of coffee. While it won't give you the exact kick that your regular cup of joe will, it's great for grabbing-and-going sans spillage.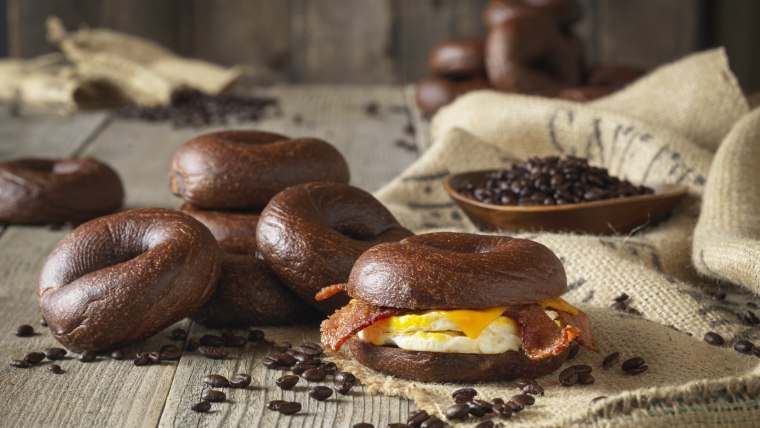 The bagel has 13 grams of protein and the caffeine is naturally sourced from both espresso and coffee-cherry flour.
It's part of Einstein Bros's new line of Boosted Bagels, which features innovative recipes. The caffeine bagel is one of three options available right now. The others include the sweet, oat-topped Cherry Chia Bagel and the Savory Parm Bagel (we're already imagining layering the prosciutto on that one).
RELATED: The buzz on caffeinated peanut butter: Could it replace your morning coffee?
And how's this for the ultimate hangover cure? Einstein Bros is also offering a breakfast sandwich version of the Espresso Buzz Bagel loaded with bacon and eggs. It's got almost 600 calories, but, you know, worth it?
Right now, the "Boosted Bagels" are available for a limited-time; however, if guests love them and they perform well, the brand could consider adding them to the permanent lineup, a spokesperson for the company told TODAY Food.
And if you're a nurse, you might want to listen up. To celebrate the launch of this new line of bagels, Einstein Bros. is giving a free Espresso Buzz bagel and schmear to any nurse who stops by a participating location Thursday, May 11, 2017, wearing his or her scrubs or showing ID.
"When the launch of Boosted Bagels coincided with National Nurses Week, we knew it was a perfect opportunity to thank a group of people who give others a boost when they need it most," said Kerry Coyne, Einstein Bros. Bagels SVP of Marketing, R&D, and Catering. "We hope the nation's nearly four million nurses take us up on our offer for a free Espresso Buzz Bagel and schmear to jumpstart their day or give them a boost after a long night on the job."