Beyond the romantic and idyllic images that wine and vineyards convey, most wineries are in the business of making money.  To do that, of course, they must keep the product moving. 
Fine, except for an unfortunate result: Too many wines are released before their time (to borrow from a memorable old advertising line).
In the past, this was not so much of an issue. Serious wine drinkers buying serious wines just put them in their cellars and waited. That's still the case for some, but like most people I simply don't have the space to hold many bottles, so I generally look for wines that are more or less ready to drink.
With these thoughts in mind, something unusual happened last week.  I received a high-end cabernet sauvignon that was actually ready to drink.  A tip of the hat goes to California's Rodney Strong Vineyards, which has been producing cabernets in Sonoma County for three decades.
The wine was the 2000 Sonoma County Reserve Cabernet, which comes with a suggested price of $40.  Steep?  Yes, but this complex and memorable wine will leave a real impression when you serve it with a special dinner.  Now, if 2000 doesn't seem that long ago, consider that most serious cabernets now being released are from the 2002 vintage, along with a few stragglers from 2001.  In general, the extra year or two will make a big difference in what comes out of the bottle.
Can you drink those younger wines?  Of course, but they're likely to be more tannic, reflecting the solid parts of the grape that give a wine structure but also a "chewy" quality that is tamed by aging.  As the tannins become more supple and recede into the background, the beauty of the fruit emerges more fully and the wines become more unified and approachable.  For some wines, like the greatest Bordeaux, this can take a decade or more.  But there is already evidence of it in Strong's Reserve Cabernet, although it will continue to evolve for a number of years.
The wine is rounded out by a couple of supporting players, namely cabernet franc (13 percent) and merlot (8 percent), which also help to soften things (and are also commonly used in Bordeaux wines).  The grapes are mainly from Sonoma's Alexander Valley, with some from the Dry Creek and Russian River Valleys.
Curious, I called Rick Sayre, Rodney Strong's longtime winemaker, about holding the wine.  "That's deliberate," he said, "because a lot of the grapes that go into it are mountain-top, so they're very high in tannins and color, and it takes time in the barrel to soften those tannins."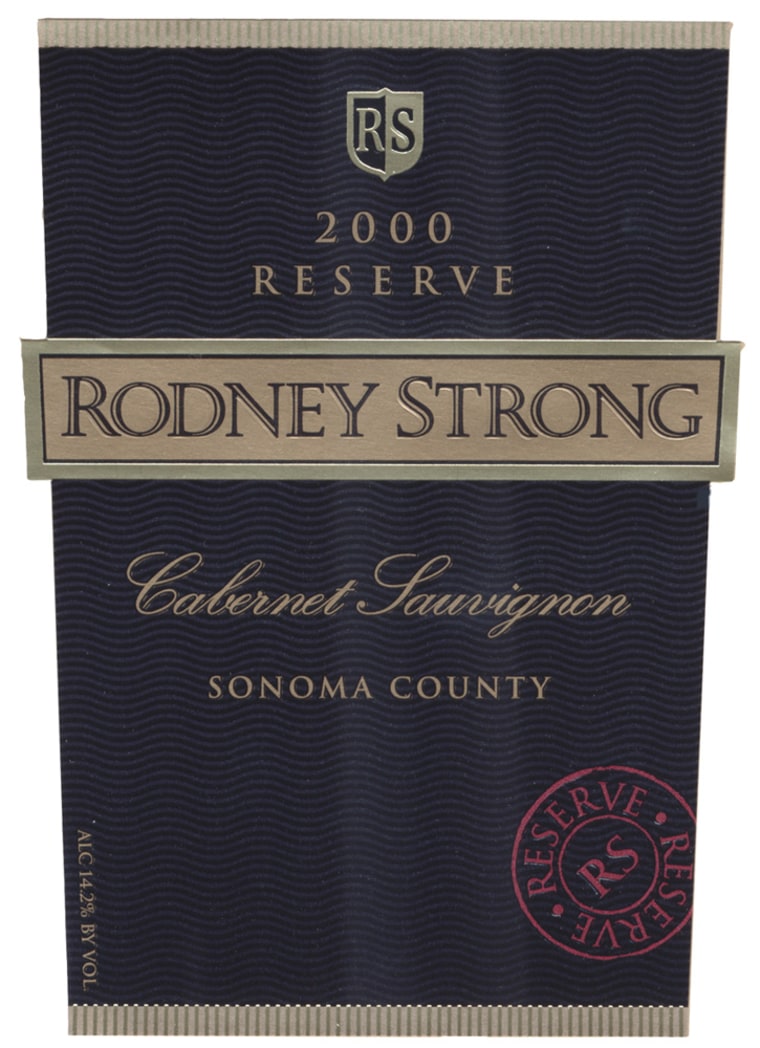 Two years in the barrel, in this case, followed by two more years of aging in the bottle. "There's no pressure to get something out there if it's not ready," Sayre said.  "That's part of our policy — to release wines when they're drinkable and when they can truly be appreciated." 
In a sense, the winery, whether intentionally or not, is taking some of the burden of cellaring the wine off the consumer, even if it's only for a year or so.  It is also, of course, helping to preserve its reputation, which could be compromised by consumers drinking wine that needs more aging.
And this one is just right. The Rodney Strong Reserve cab has classic blackberry and sweetly spicy aromas, with what I like to call a "powdered sugar" dustiness that is common in good cabernets.  Blackberry, black cherry and the sweet tanginess of plum are reflected in the mouth, with subtle notes of tobacco and vanilla from the oak.  The finish is long and peppery.
If you haven't yet, try imagining this with a good steak.  That's precisely what I was doing as a handsome cut of sirloin for two sautéed in a well-used cast iron skillet that substitutes for my charcoal grill in the coldest months.  Cabernet is all but made for beef, which was proven again on this night with this wine.  The combination was simply delicious, and the timing, just right.
Edward Deitch's wine column appears Wednesdays. Write to him at EdwardDeitch