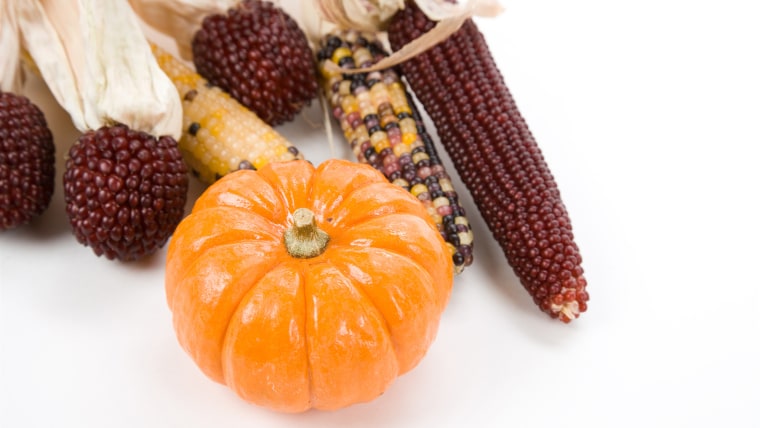 This time of year, it's impossible to resist snapping up a gorgeous pumpkin or two for carving, cooking or just decorating the house. But before you toss out the pumpkin parts you're not using — whether it's the seeds, the shells or the flesh — check out these smart tips and delicious recipes. Keep in mind that small sugar pumpkins work best in most recipes; the larger jack-o'-lanterns (great for carving) are packed with seeds that make excellent snacks, but their flesh is usually not ideal for eating. Pick up a few choice specimens at the pumpkin patch this weekend, and use these ideas to make the most of your loot: shell, stem, seeds, flesh and all.
Shell and stem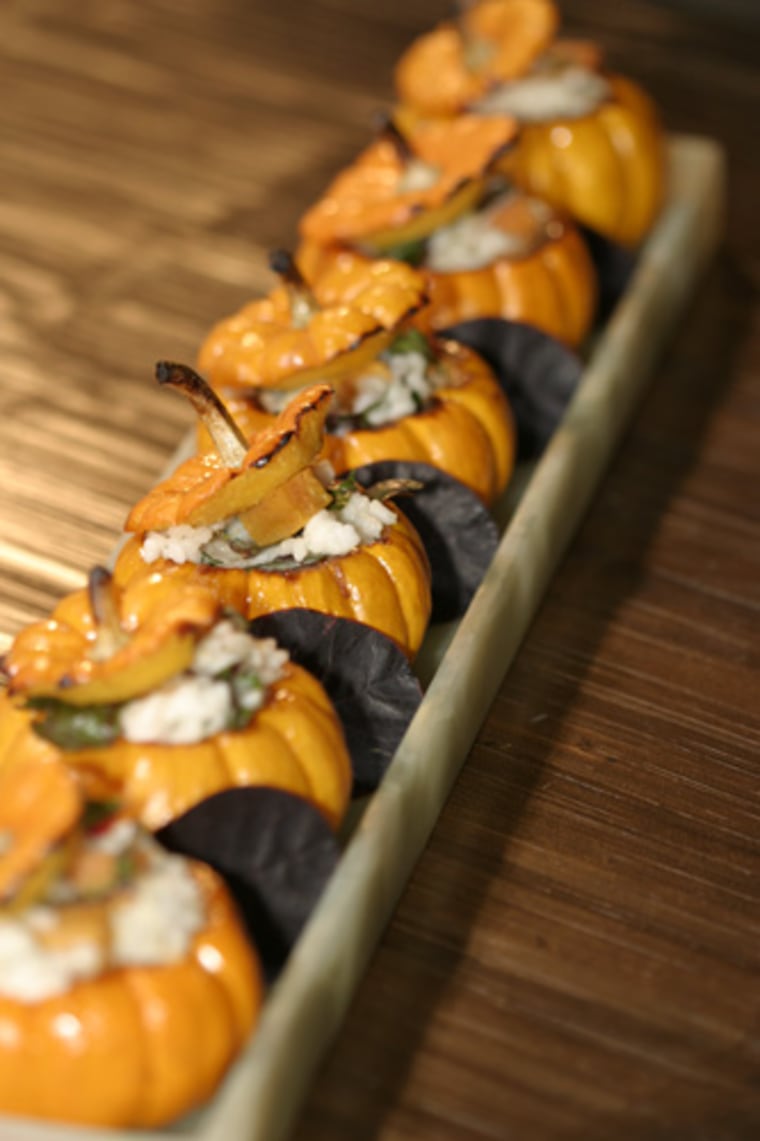 You've seen pumpkins-as-bowls on the covers of magazines for years, and surprisingly, they usually take less work than a jack-o'-lantern. Miniature pumpkins require very little cleaning, says Alison Awerbuch, chef and partner at New York City's Abigail Kirsch Catering. Simply cut the lid off, scoop out any string or seeds, lightly coat the lids and insides with canola oil, and bake at 350˚ for 15 minutes. Another tip: Sprinkle the insides with seasonings that will complement the dish you'll serve in the pumpkins, Awerbuch says. And while pumpkin bowls are perfect for serving soup — she does an excellent cider squash bisque— don't stop there: For example, Awerbuch also uses the bowls as beautiful vessels for risotto (pictured).
Seeds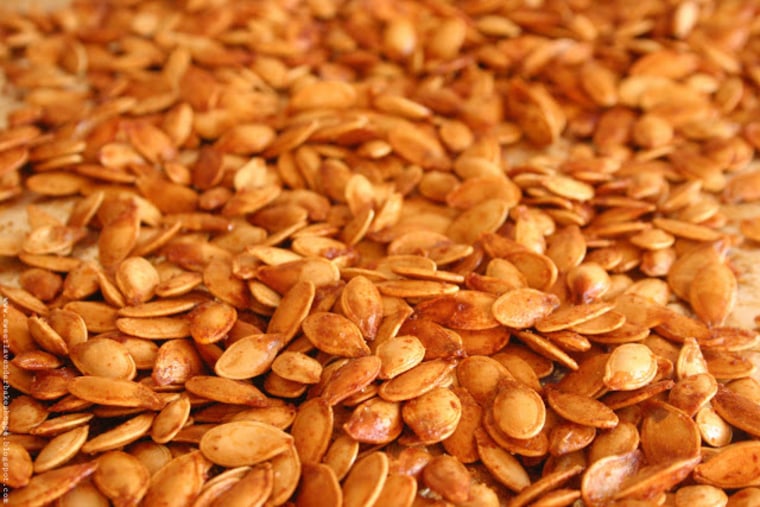 When you're carving a pumpkin, save the seeds instead of throwing them out. You can always make the classic pumpkin-seed snack by tossing them with salt and roasting them, but for something more unexpected, try this recipe from Los Angeles pastry chef Christina Main. She uses brown sugar, agave syrup, cayenne, paprika, garlic, salt and Worcestershire sauce to achieve the sweet-spicy-salty flavor trifecta. This snack is super-addictive, and even better: Pumpkin seeds are loaded with fiber, protein and vitamins.
Flesh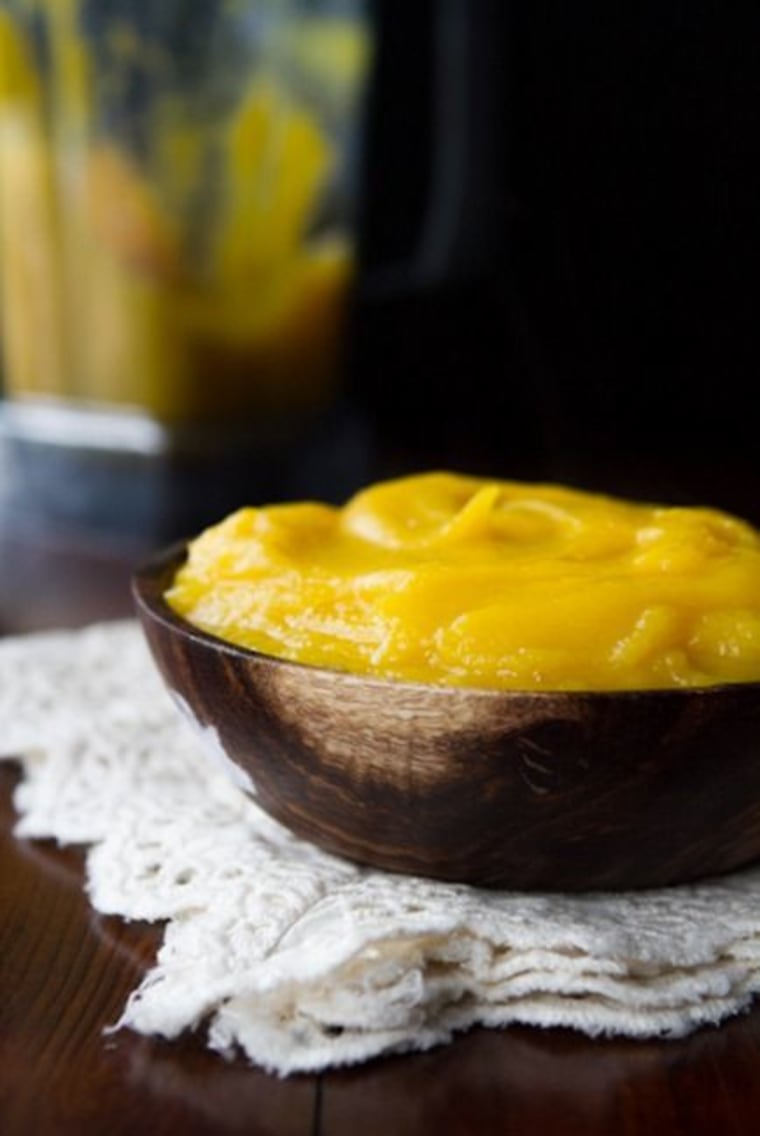 As for the meat of the pumpkin, you basically have two options: Puree or mash it for use in desserts, breads, sauces, soups and the like, or cut it up and roast it like other squash. Cookbook author Angela Liddon, of OhSheGlows.com, has a handy tutorial on how to break down a sugar pumpkin to make a purée, which she uses in baked goods like her pumpkin gingerbread snack bars, or in savory dishes like garlic-pumpkin mashed potatoes. And if you want a show-stopping roast pumpkin dish for dinner parties, look no further than the Szechuan-crusted version from chef David Bazirgan of San Francisco's new Dirty Habit cocktail lounge. He slipped us the recipe:
Szechuan-crusted pumpkin with crispy mustard greens
Serves 6 as an appetizer
1.5-pound sugar pumpkin, peeled, seeded, sliced into wedges

1 tablespoon toasted and ground Szechuan pepper

Salt to taste
3 tablespoons butter

1 tablespoon kabayaki sauce per plate (recipe below)
1 bunch mustard greens

yuzu vinaigrette (recipe below)
Preheat the oven to 375˚. Scoop out the seeds. 
Dust squash with Szechuan pepper and salt.

Put a pat of butter on each piece of squash. Roast in the oven for approximately 20 to 30 minutes or until tender.
To serve, drizzle with 1 tablespoon of warm kabayaki sauce per serving. Garnish with tender mustard greens dressed with yuzu vinaigrette.
Kabayaki sauce
1/8 cup soy sauce

1/8 cup of mirin

2 tablespoons sugar

Combine the ingredients in a saucepan, bring to a boil, then simmer. Reduce the sauce until starts to thicken, about 5 minutes. Remove from heat and cool.
Yuzu vinaigrette
3 parts olive oil

1 part yuzu juice (or lime juice) 

Add the ingredients to a bowl or jar and mix well to combine.