/ Source: TODAY Contributor
I'll admit it: I used to be something of a Champagne snob, sniffing, so to speak, at sparkling wines that didn't come from the famed Champagne region of France. No more. I still love Champagne, with its refinement and complexity derived from more than 400 years of production, but the more good sparkling wines I taste from other regions, the less I find myself comparing them to Champagne.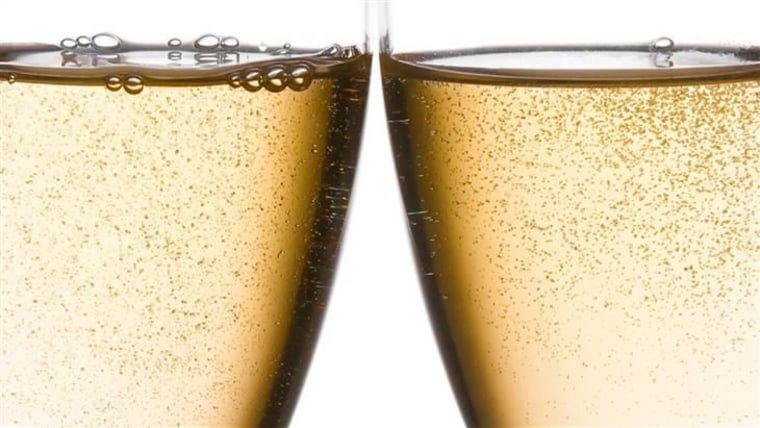 There is a world of excellent sparkling wine out there, and in many cases, it costs far less than a good bottle of Champagne, whether from elsewhere in France, Italy, Spain, the U.S. or beyond. The choices below are a few of my favorites.
From the Alsace region of France, Valentin Zusslin's Crémant d'Alsace Brut Zéro is unique and outstanding. It is made from grapes grown organically and biodynamically by this small producer. Made primarily from the pinot auxerrois grape, this lightly sparkling wine has no added sulfur ("sans soufre ajouté" on the label). The "zero" means there has been no sugar added. It's very dry with ripe apple, brioche and vanilla tastes and costs about $25. Also from Alsace, consider Lucien Albrecht's Crémant d'Alsace Brut and Brut Rosé, which are about $20 and are more widely available.
The true bargain among the wines I tasted was from Italy, Ruffino's Prosecco, with an average price of about $11. Prosecco, which is the name of the wine and the grape, is made in northeastern Italy and there are oceans of it on our shores. In typical fashion, this one is fresh, bright and fruity with lots of lemon, lime and an herbal touch. Simple and delicious.
Also from Italy, Berlucchi's Franciacorta '61 Brut is an excellent Champagne alternative from the Lombardy region for about $20. A classic chardonnay and pinot noir blend, it's very dry and elegant with fine bubbles, citrus, herb and cream notes.
Gloria Ferrer's Sonoma Brut shows is a superb California sparkler made from mostly pinot noir with a touch of chardonnay. It has pear and apple notes with a lively touch of orange and a toasty finish. This classy wine costs about $22.
Another standout from California is Laetitia's Brut Cuveé from the Arroyo Grande Valley on the Central Coast. With a fresh and fruity style, it's bursting with green apple, lemon and lime notes and has a long finish in which the citrus and cream persist. In addition to chardonnay and pinot noir, pinot gris is part of the blend. It is about $21.
If you prefer rosé, try Schramsberg's Mirabelle Brut Rosé from California's North Coast, an elegant pinot noir-chardonnay blend with subtle cherry and raspberry notes and an herbal touch. A bottle will cost about $22.
As I think about these wines, I am struck by their remarkable quality in the $20 range, which is less than half the price of most Champagnes. All are fitting wines for a toast, and don't forget that dry sparkling wines are also excellent with a wide variety of foods.
Edward Deitch is a James Beard Award-winning wine critic. Find many more of his wine reviews and commentary on his blog, Vint-ed.com, and follow him on Twitter.