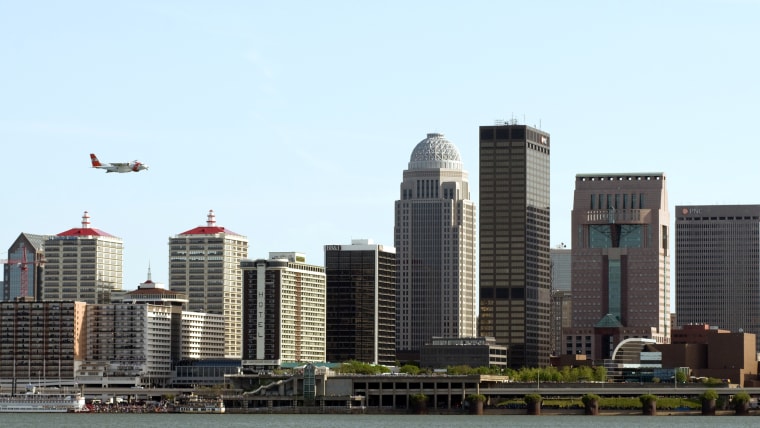 Kentucky Derby fans who haven't booked restaurant reservations may miss out on some of Louisville's most acclaimed dining, as top restaurants book up well ahead of the famous horse race. But odds are still good for visitors looking for a taste—if they don't mind bypassing the expected Louisville fare.

Budget eats
"You're probably going to spend a lot of money at the track, so use the opportunity to eat what Louisvillians eat on normal days," says local food blogger Ashlee Thompson. "Louisville has a lot to offer. It's a lot more diverse than people necessarily give us credit for."
Among Thompson's top picks are Annie's Cafe, which she says is just as good for Vietnamese fare as local cult favorite Vietnam Kitchen, but not as crowded, Ethiopian restaurant Queen of Sheba for a fun outing with a group, and The Monkey Wrench. "It looks like a bar but the menu is sophisticated, but still attainable in terms of price." she says. "It's on the cusp of growing into a destination spot so [go] now while it's still a bit of a secret."
For visitors willing to skip traditional options, "you can go into a lot of places and get southern fare," Thompson says, "but when you want to change it up go to El Taco Luchador. It's what Mexican food should be: inexpensive and tasty."
South of the border
Louisville is still riding out a recent boom in south-of-the-border fare. "Latin flavors are exploding," says chef Anthony Lamas, the James Beard nominated owner of Seviche. His popular Latin restaurant and another local institution, the Mayan Cafe, are part of a lineup that now includes tiki bar El Camino and its Mexican street fare, Wild Rita's, a modern Mexican restaurant and tequila bar and "taco-slinging honky-tonk" Manny & Merle on downtown's Whiskey Row.
For diners looking to discover under-the-radar gems, Lamas shared some of his favorite spots. Topping his list: El Mocajete—a small Mexican spot near Churchill Downs (2932 S 4th St).
"It's the truest, purest form of Mexican food anywhere [in town]," Lamas says. "There's something about putting soul in food. … It's as if you were at a Mexican mother's home."
For a street style taqueria, "hands down go to La Tropicana," Lamas says. "Everything is made by hand … like a little taqueria on a side street in Tijuana." In addition totamales, posole and menudo, "which is an amazing comfort dish they think helps cure hangover," he says, the shop also serves "out-of-control tacos."
Beyond bourbon
Whiskey enthusiasts cherish Kentucky bourbon. But Louisville offers plenty for beer and coffee lovers to quench their thirst, according to locals. "People are looking for things to drink with the amazing food here," says John Wurth, founder of louisvillebeer.com, a guide to the area's craft brewing movement. "What better than a beer?" Wurth counts seven area craft breweries in various stages of opening, joining the seven in place.
Wurth urges visitors to try a bourbon barrel aged beer. "This is bourbon country. Even if you don't like bourbon, it's kind of a sweet, caramely, almost chocolatey beer. Bluegrass Brewing Company Bourbon Barrel Stout is one of the greatest."
The beer writer also recommends Bo & Luke, a smoked stout aged in Pappy Van Winkle barrels, from Against the Grain, a downtown brewery "with great barbecue." For "burger and frites to die for" with his beer, Wurth heads across the Ohio River to Bank Street Brewhouse.
Expect to find plenty of options for a caffeine boost. "It's surprising the amount of good coffee that's here," says Sondra Powell, who owns small-batch roaster/organic coffee drive-thru Red Hot Roasters. "In other cities, there may be one micro-roaster, and here we've got four or five. Heine Brothers was here before Starbucks."
Powell traces the coffee zeal here to the city's early days. "Louisville being a river town, we were getting some good quality coffee," she says. And not just through imports. Kentucky's former state tree was the coffee tree. "You can brew coffee out of the pods —that was a selling point when trying to get settlers. We have that pioneering spirit and I think that's why we have independents that are so successful."
"I've been to every coffee shop in the city of Louisville," says Powell, who's happy to steer visitors to shops with sit-down options. "If you want to sit outside and people watch go to Heine on Longest and Bardstown … I love that frozen espresso frappe. If I was near the track, I'd stop by Nord's, this old school bakery, and pick up a maple-glazed bacon donut and take it next door to Sunergos. They make a great latte and it's cool that you can see what they're roasting in the roasting room."