Bad weather won't stop TODAY fans from visiting the plaza, but Wednesday morning's freezing temps — a bitter 11 degrees Fahrenheit — felt especially unbearable. The solution: invite the crowd inside!
Matt and Savannah welcomed 26 frostbitten fans into Studio 1A to warm up — and participate in the show. One couple was interviewed live for a temperature wars segment, debating whether the thermostat should be set high or low. (Verdict: Men prefer it colder.)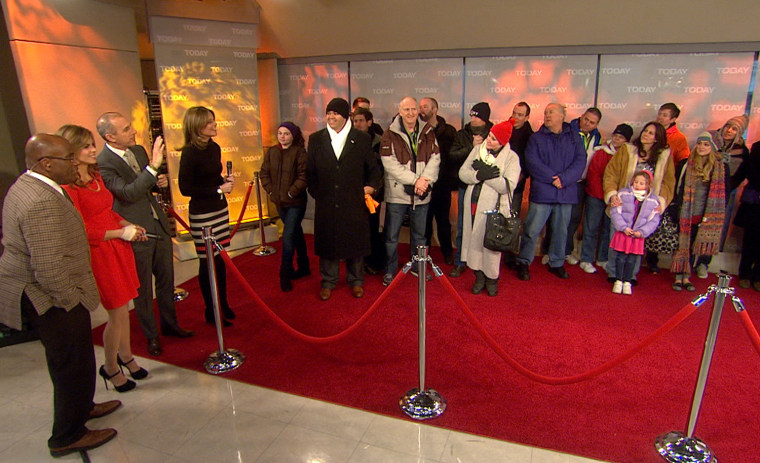 For Shawn Dougherty and his family, the opportunity to be in Studio 1A made him quite the host.
"Normally I'd be at work, but my cousin's here from Italy and we wanted to show him New York and I figured we could get him on national TV, give him some fame," the Collingswood, N.J. resident told TODAY.com. "And it worked! We did a lot better than I thought we were going to do!"
Shawn, who was joined by his wife, 6 1/2-year-old daughter, cousin and two other family members, said the whole crew are big TODAY fans.
"It was really cold but worth it," said his wife Danielle Dougherty. 
The highlight, they said, was that Shawn's hat was blessed with Matt's touch.
"He picked my hat up off the ground and said, 'You can't be losing this on a day like this,'" Shawn beamed. And what will they do with that hat? 
"Put it on eBay!" Danielle joked.
As for his cousin Andrea Brentari who is in town from Trentino, Italy until Sunday, the trip can't get much better than this.
"It was amazing – really, really good," he said. "It's [the] American dream; in America, anything can happen."
Are the freezing temperatures affecting you? Submit your winter chill photos below. We'll feature your most chill-inducing shots in a future story!
More on TODAY: