Like Scuba diving? Like watching TODAY? Then you're in luck: The next time you head to Cancun for a Caribbean vacation, you can swim right up to Matt Lauer, Savannah Guthrie, Al Roker and Natalie Morales and pose for underwater photos with them.

The TODAY anchors, along with NBC News correspondent Kerry Sanders, underwent the arduous process of being covered in a cold algae wrap and then smothered in plaster to create molds of their likenesses. Their sculptures can now be seen at Museo Subacuatico de Arte (MUSA), a wondrous underwater museum in Cancun, Mexico.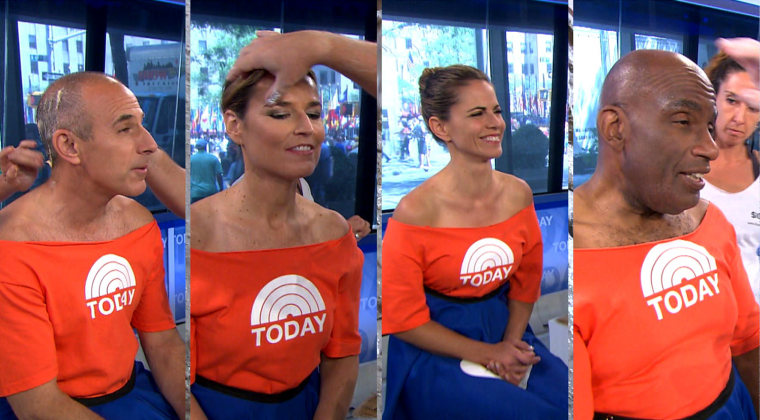 The museum is the brainchild of British artist Jason deCaires Taylor, who has taken his work to unusual depths by sinking hundreds of sculptures underwater. Taylor, a self-described "eco-sculptor," has done this for more than the sake of art.
Taylor is eager to create magical — and artificial — underwater reefs to divert some of the 750,000 tourists who come to dive in the Mesoamerican Reef, the world's second-largest reef system. The Mexican government is supporting Taylor's efforts because the crush of recreational divers is breaking and killing too many slow-growing corals at the nearby natural reefs.
"Scientists are realizing that through tourism and through the sort of increase in people wanting to go diving and snorkeling, that's putting a great amount of pressure on the natural reformations," Taylor said. "Just by people visiting and touching things, it's actually causing degradation of the reefs."
Taylor finds models to create molds and then meticulously crafts each sculpture using special sea-grade cement in a studio. This process can take a few weeks before the sculptures are transferred and set in the sea floor using an underwater drill and sand screws.

"I'm kind of in a Catch-22 situation where the sculptures need to be incredibly heavy so that they survive the elements underwater, so they survive hurricanes and storms and don't get moved in the currents," said Taylor, who also has installed sculptures underwater in Grenada. "But I'm also very aware that I can't make them too heavy on land; otherwise, logistically, they become an absolute nightmare to handle."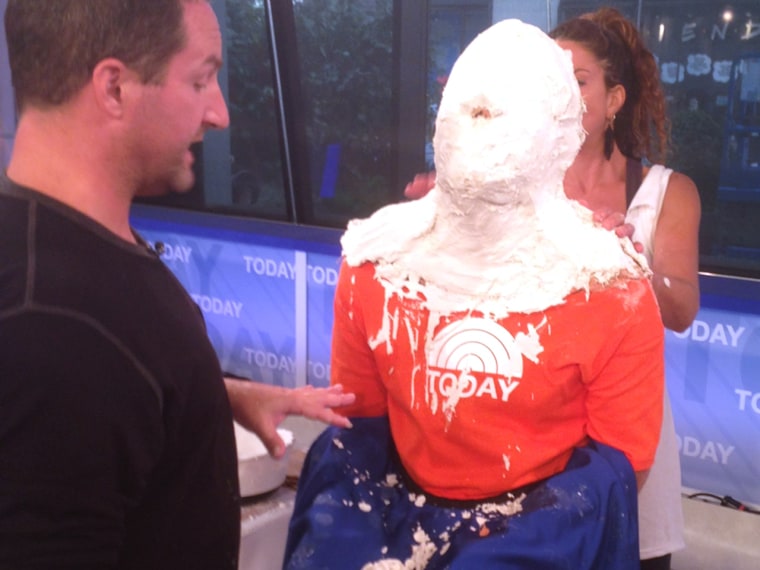 Taylor's sculptures range from the playful (a man lazing on his couch watching TV) to the symbolic (a politician burying his head about the looming environmental crisis) to the sublime (a woman with her arms stretching toward the surface). One installation called "The Silent Evolution" incorporates about 400 sculptures of different people in a community, including a fisherman, a nun and a 4-year old boy.
Lines in the sand: Artists' sculptures boggle the mind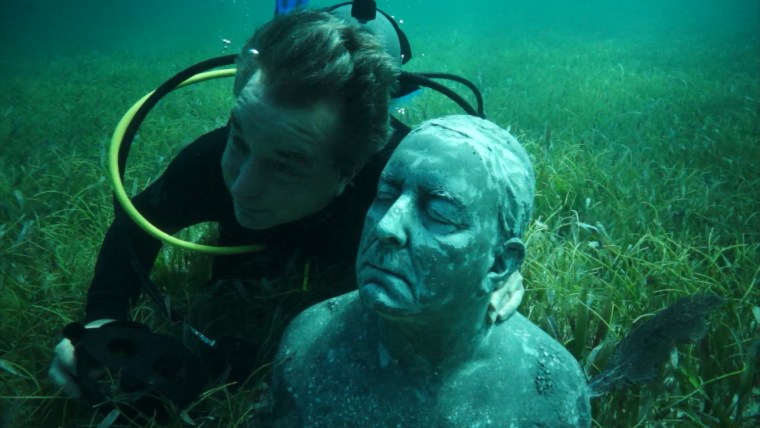 Of course, Taylor's recent plaster-casting session with the TODAY anchors took a turn toward the hilarious.
"I feel like I'm being buried alive!" Morales said, laughing.
"Wow, that's crazy!" Guthrie said.
"OUCH!" Roker exclaimed.
"The challenge for me is you want to have an expression that is going to stand the test of time — not some goofy expression that every snorkeler is going to laugh at when they see it," Lauer said.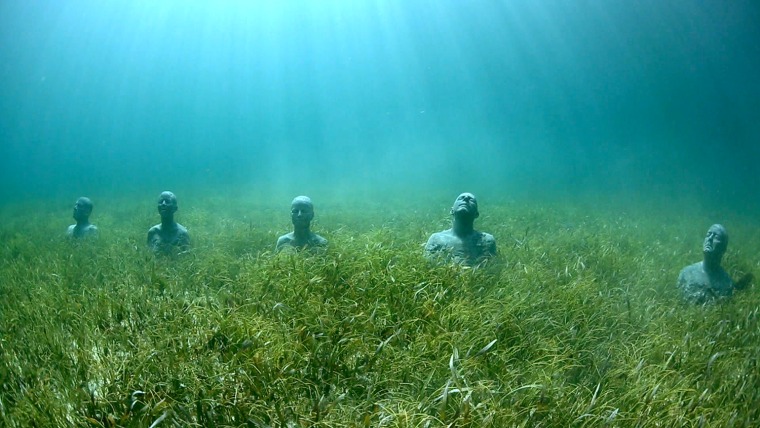 Once the molds dried after about 20 minutes, Taylor gingerly pulled them off — producing sounds of intense relief.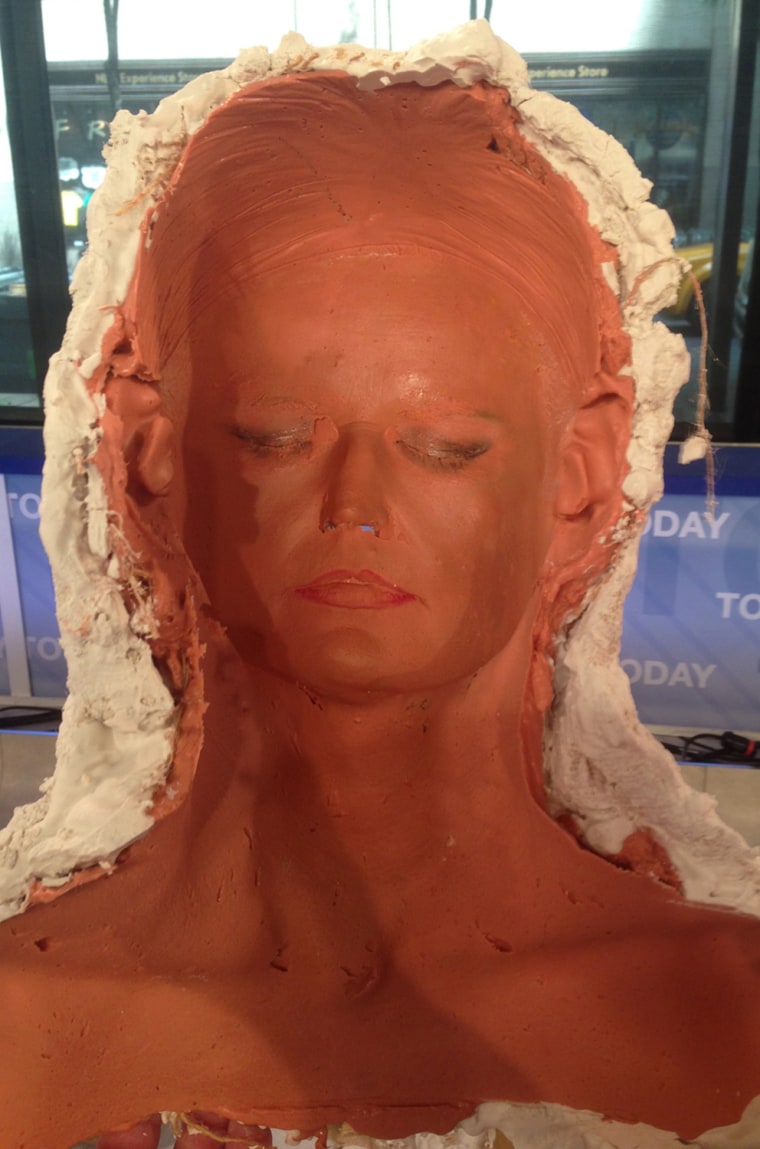 "I'm alive!" Morales cried. "Wow!"
The sculptures of Lauer, Guthrie, Roker, Morales and Sanders are now under the sea, where they will begin to change appearance as they attract polyps and nutrients and develop into a reef teeming with aquatic life. Taylor said his sculptures eventually become unrecognizable.
"I put a lot of hard work into the details and into creating something that looks really great on land, and then when I put them under water, I kind of have mixed emotions," Taylor said. "They're going to be changed, they're going to be obscured ... I'm sort of saying goodbye to them. A feeling of letting go." 
Marvel at artwork made from pennies, Oreo cookies, shoelaces, rubber bands, pumpkins, CT scans and — ummm — brightly colored vomit.