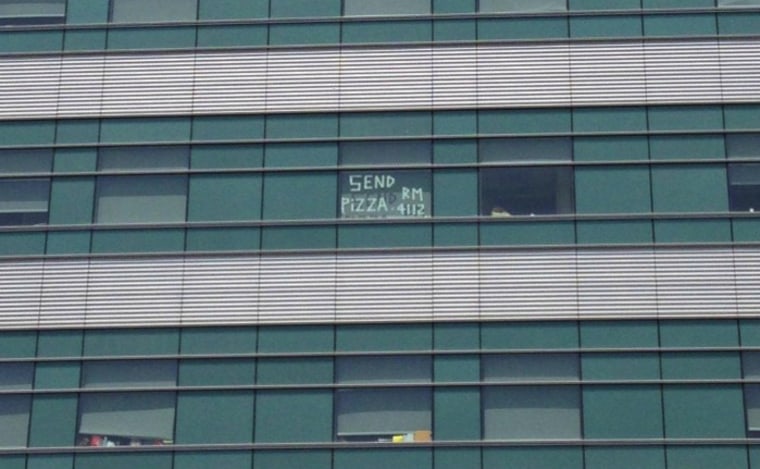 After a Reddit user posted a photo showing that someone had written "SEND PIZZA RM 4112" on a window of the Children's Hospital in Los Angeles, several of the social site's members teamed up to — what else — send pizza to room 4112.
The resident of room 4112, Hazel Hammersley, was delighted. The 2-year-old was diagnosed with Stage 3 Neuroblastoma in April and had been in the hospital since July 4, to receive chemotherapy. Her mom and grandma used medical tape to spell out the request for pizza on the hospital window in an attempt to be silly and make Hazel smile.
"The nurses, doctors, other children and we all had a great time with it and thought it was just something to brighten someone's day," Lauren Hammersley, Hazel's mom, explains in a blog post.
"A couple of days went by," Lorenzo Benet, director of media relations for the hospital, tells TODAY. "We started getting pizzas on Saturday and they were just flooding in. We got like 30 of them."
"Several other children and nurses came into the room, with music playing, and had themselves a wonderful Pizza Party," Hammersley writes. "We had such a great time! However, due to the sheer number of pizzas and inquiries from the media, the hospital has asked that the pizza deliveries end and thank everyone for their support."
"We politely asked them to take [the tape sign] down," Benet confirms. The incoming pizza deliveries had become overwhelming. "We had to take measures to stop."
"You've made a little girl very happy," a post on the hospital's blog proclaims, "but NO MORE PIZZA IS NEEDED."
Want more tech news or interesting links? You'll get plenty of both if you keep up with Rosa Golijan, the writer of this post, by following her on Twitter, subscribing to her Facebook posts, or circling her on Google+.