When newlyweds Rob and Lauren Sattler first met, it wasn't exactly love at first sight. 
"I don't think it's fit to print," she says of her husband's first impression of her, when they found themselves in class together at Northeastern University. "Very pretty, very smart, but maybe a little, um, high maintenance," he clarified, choosing his words carefully. "That's the politically correct version."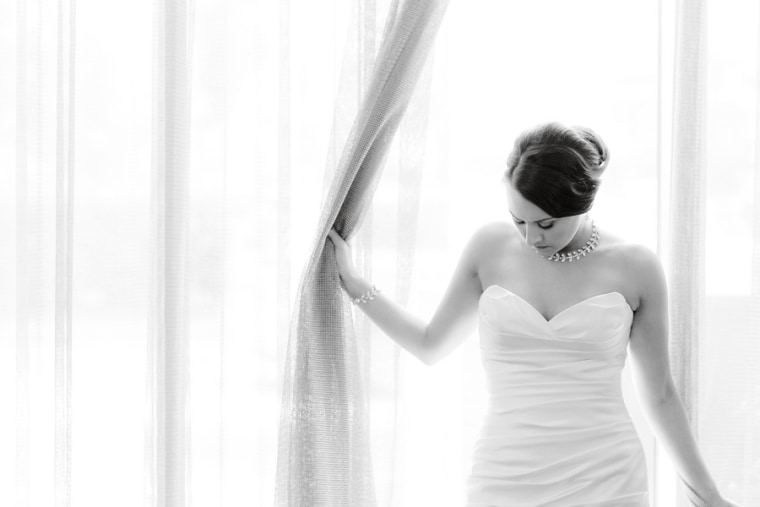 Nevertheless, Rob was intrigued, and began to strategize how to ask her out. "I was waiting for the right moment, but then I saw her out one night and I'd had a few too many cocktails, and I asked her if she'd like to go to a rugby banquet with me. She said yes, hoping I wouldn't remember."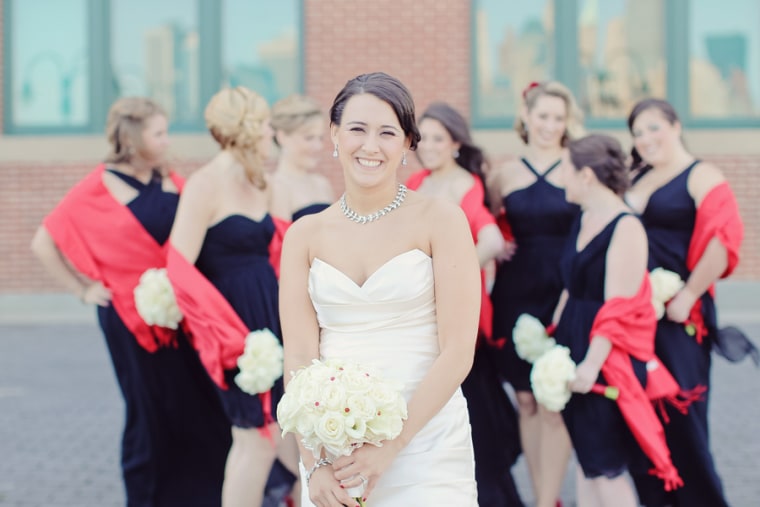 "I don't know if I was hoping he wouldn't remember, but I didn't think he would remember," Lauren says.
Oh, he remembered. A rugby banquet, as it turns out, is not for the faint of heart — perhaps not the most well-chosen of first date locales, but at least it settled that "high maintenance" question for good.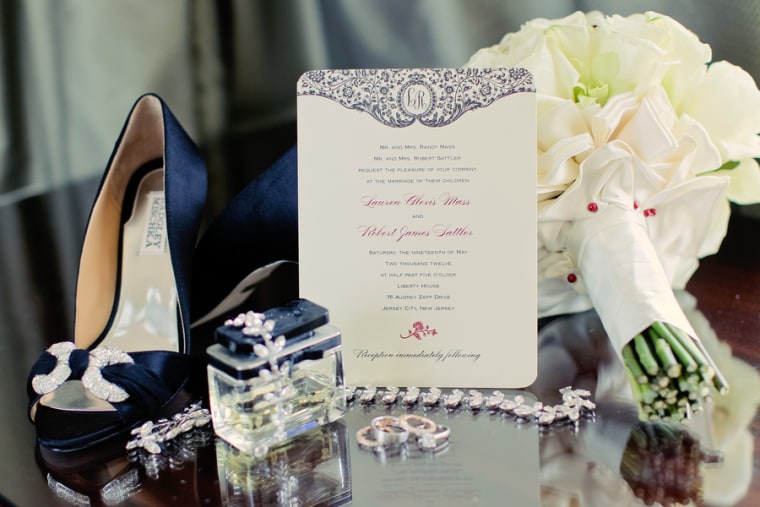 "It's over the top. It takes a special person to be able to handle what goes on there," Rob says. "I asked a friend the day after: 'What do you think my chances are with that girl?' He was like, 'you'll be lucky if she ever speaks to you again.'"
As it turns out, Lauren could hold her own with the best of them. "It didn't really bother me," she says. "I chalked it up to a bunch of of people having too much fun. I had a good time, obviously. I came back for more!" High maintenance? Not so much.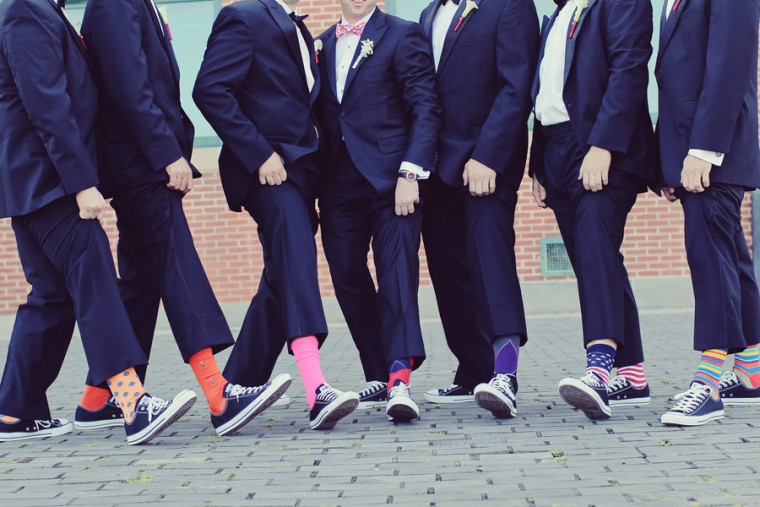 Rob was impressed and, soon enough, in love: "We were young, but I was pretty sure early on."
For her part, Lauren knew she'd marry Rob when, having both moved to New York City after graduation, they moved in together, "and I didn't want to kill him."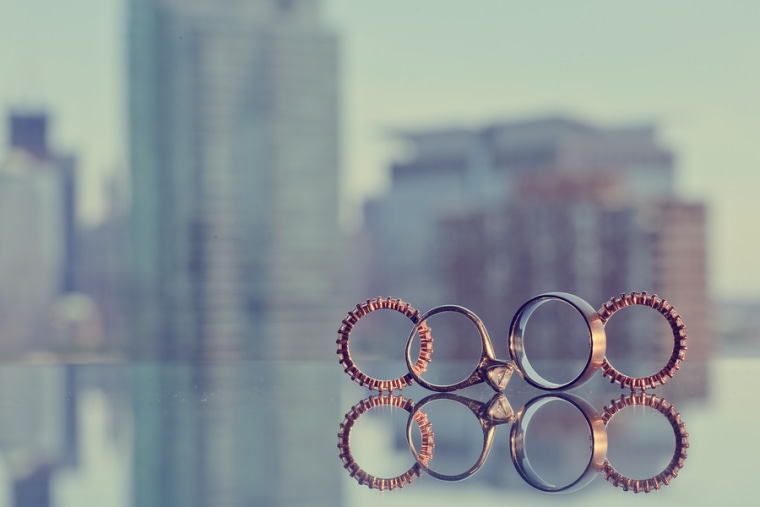 When, after more than five years together, the time came to take things up a notch, Rob bought Lauren a classic, timeless ring, scattered flowers throughout their apartment, and asked her to marry him.
"I got on my knee, gave the sappy speech, and she basically just grabbed the box, opened it, and put the ring on her hand," he says. "Then I was like 'let's have a nice dinner,' but she said 'no, let's go to a bar and talk.' I thought, 'now I know I made the right choice.'"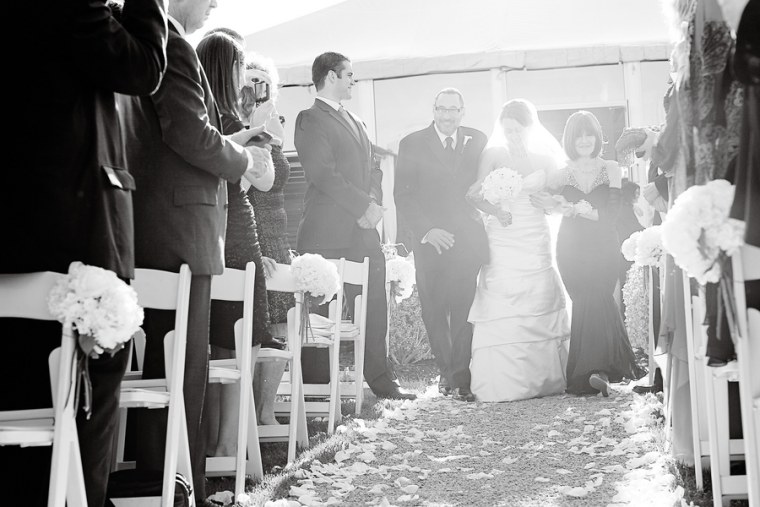 The couple was married on May 19, 2012, officiated by a boat captain in front 225 guests, many of whom were sipping on glasses of champagne, at Liberty House in Jersey City. It was a perfect, cloudless day, with the Manhattan skyline as their breathtaking backdrop.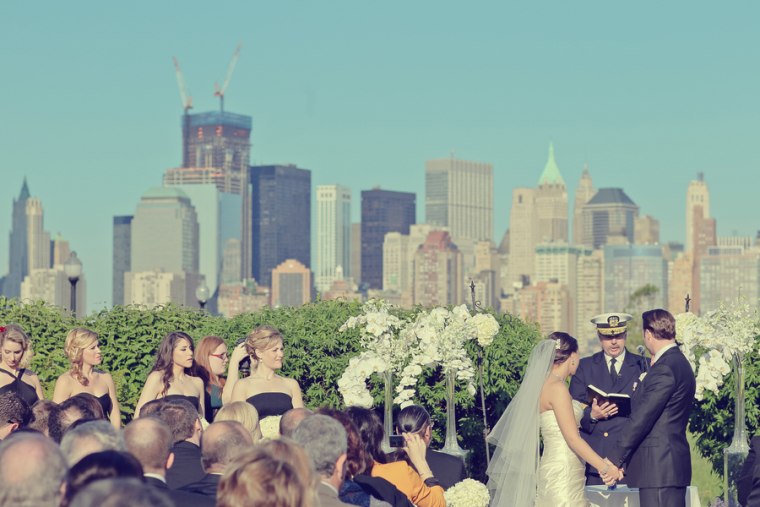 "People still talk about how great the actual day was," Rob said. "I always joke that we only really get about 14 days in the northeast where we actually like the weather. This was one of those days."
Lauren agreed: "I always tell Rob that we can never be mad at Mother Nature again."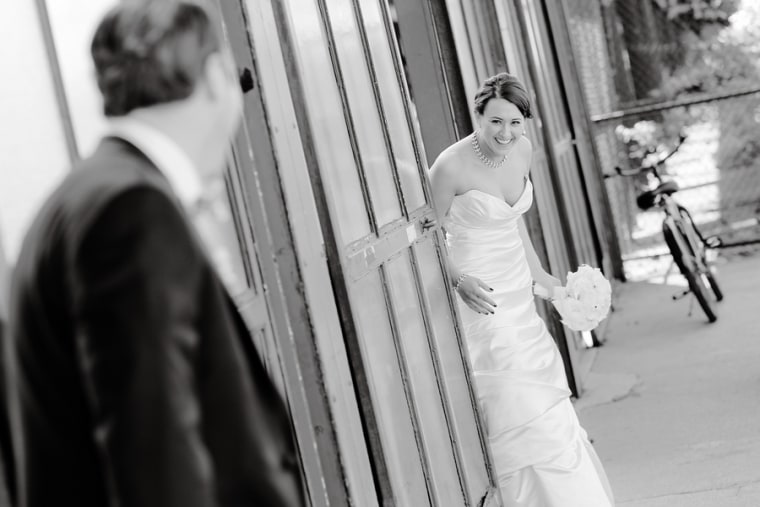 Thanks to the great weather and a great band, the wedding was a lively affair. "There was dancing from the moment it started to the moment it ended," Rob says.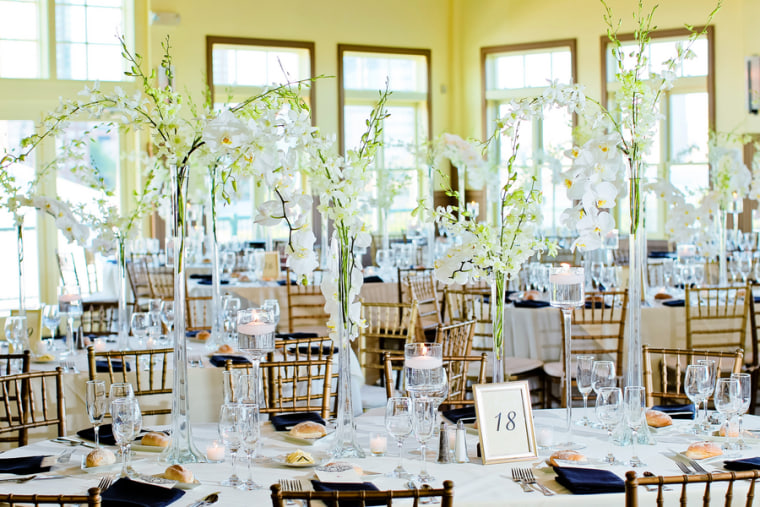 And it was the little things that solidified the evening's elegant, personal feel: the guest book, composed of their engagement photos, the floating votive candles, navy napkins folded against a crisp white tablecloth.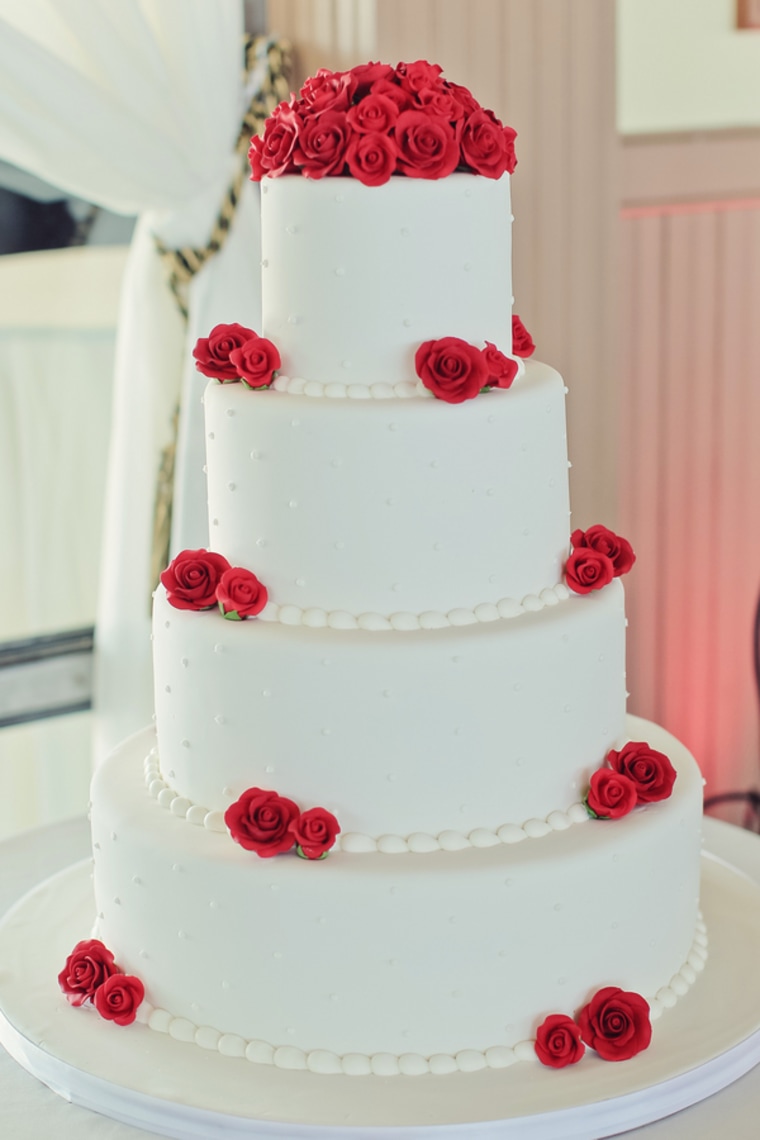 Even so, Lauren didn't want to agonize over the details — one of the reasons the two avoided the DIY approach. "We did the gift bags and the gift bags and the gift bags," Lauren joked. "I'm not very creative. I'm an accountant."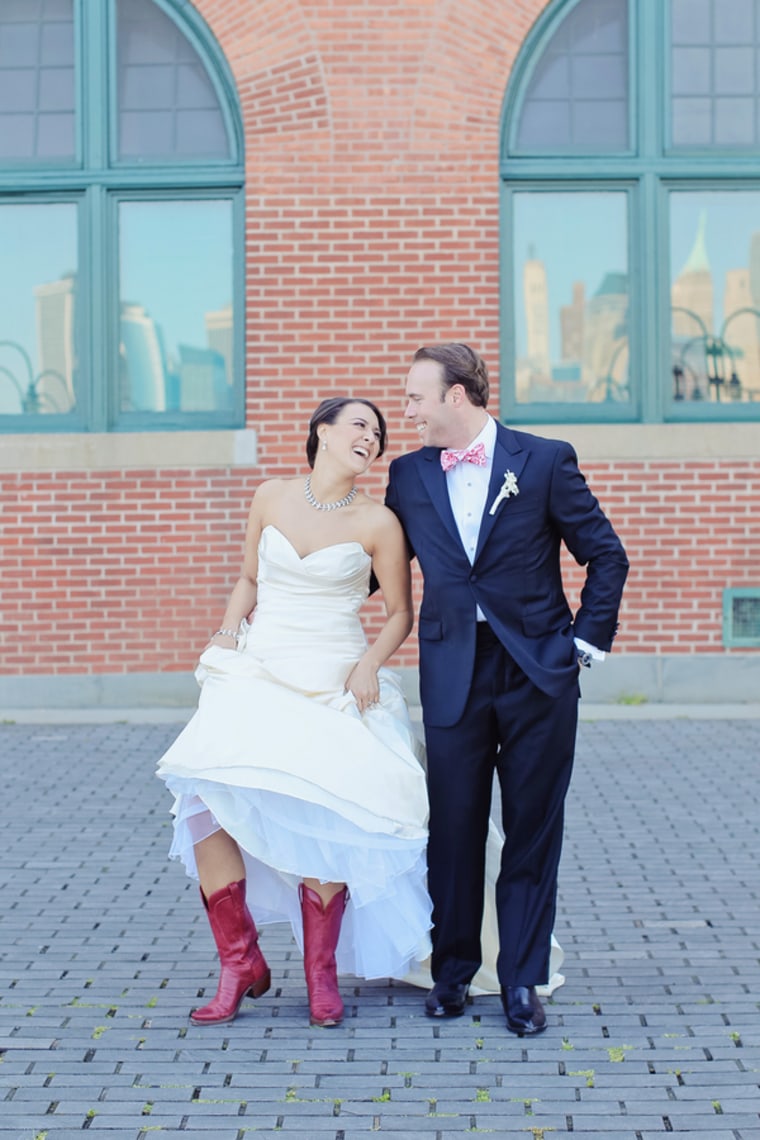 The wedding was tied together by the color scheme: black and white, with red accents. Lauren swapped out her heels for a pair of red cowboy boots to properly kick off the reception. "We're just really into country music and I still wear them all the time," she says.
Country music also played a role in Rob's favorite moment of the reception — their first dance as husband and wife. "I never used to listen to country music until Lauren dragged me to a country concert," he says. "It became a big part of my life."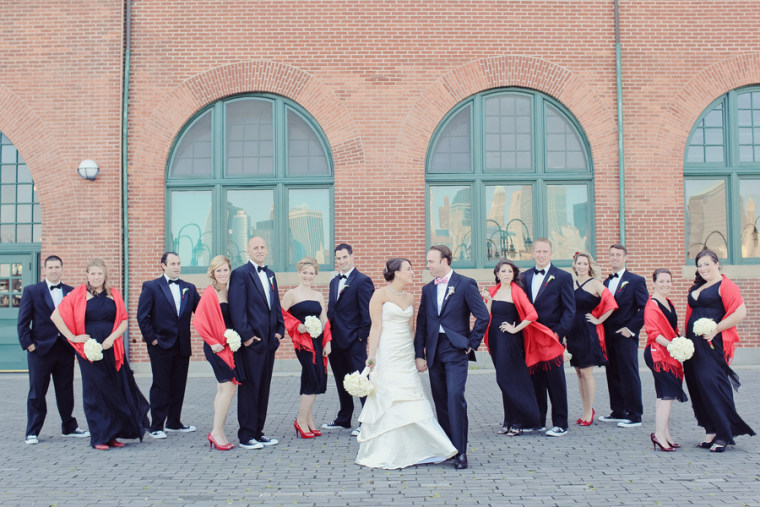 The pair chose to dance to a song by one of the first singers they saw perform together. "That was a really cool moment for me," Rob says. "It was the best day of my life. Not only did I get married but I had an amazing time."
As someone who doesn't exactly enjoy the spotlight, Lauren was delighted to find that she, too, had never had a better night in her life. "I don't like being the center of attention and was stressed before the ceremony, but I had a great time," she says. "Everyone says it goes so quickly, and that's 100 percent true."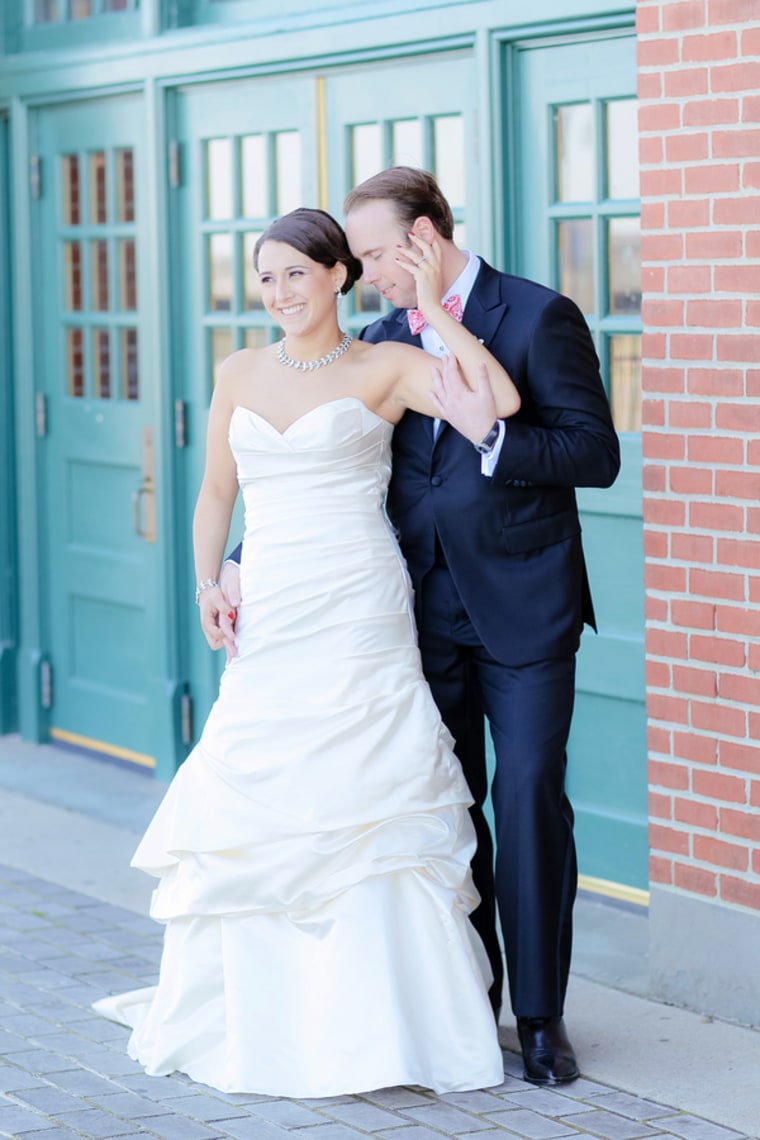 And while Rob doesn't see Lauren as the "high-maintenance" girl he spotted in their business strategy class nine years ago, he does have some advice for the other newlyweds out there: "Keep your wife happy and your life will be much easier. There's two of you now, not just one of you."