I've always been of the opinion that if your hair and shoes are on point, then you can wear pretty much anything else in between. When it comes to the top half of that equation, my go-to has long been the bun — specifically, a topknot.
My definition of "topknot" is fairly precise. Not just any messy bun will qualify. This is a sleek, oversized knob that sits squarely on top of the head, giving off a sort of high-fashion alien vibe.
The topknot has its perks. It's easy and surprisingly flattering if you get the placement right, creating cheekbones on even the most cherub-cheeked among us. I've even managed to pull off a sultry day-to-night transition, untucking the ends for a perfectly bouncy ponytail after the sun goes down.
But the topknot is severe. Not everyone "gets it." (Mom, if you're reading this ... I just don't like wearing my hair down. Stop asking!) And while it can make you look sleek and professional, it can also make you look a bit intimidating.
Enter the double bun. Or rather … re-enter the double bun. As a '90s kid, I'm old enough to have worn this trend the first time around, which I'm told ought to disqualify me for the revival.
RELATED: I tried burning off my split ends — and I'd do it again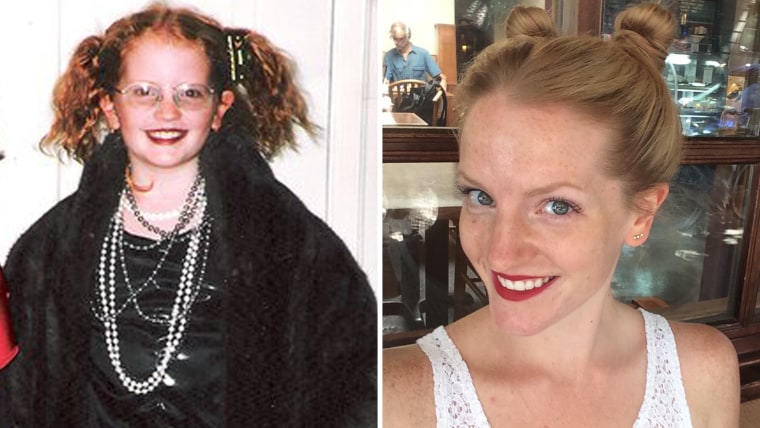 But fashion rules were made to be broken, right? So ever since this look began resurfacing on the likes of Miley Cyrus, Cara Delevingne and Hailey Baldwin, I've become a repeat offender.
(Remember Gwen Stefani's double-bun days?)
Easy? Check. Flattering? Again, it's all about the placement (you want the buns high and close to the back of your head, not sticking out of the sides like Princess Leia).
Where one bun is uptight and intimidating, two are playful and approachable. And while the look might never be described as "professional," it's at least clear that you styled it that way on purpose.
The biggest downside is what I call the "winged liner effect" — that is, the urge to do and re-do each side until they're exactly even. If you try it out for yourself, remember that it's a style that looks best a bit messy; no one will notice or care about that quarter-inch difference but you.
RELATED: What is 'hair piercing' and should you be worried?
Double buns are like a topknot with a sense of humor. Who cares if some people don't get the joke? At its best, fashion is about experimenting and having fun with what makes you feel good.
What do you think? Would you ever wear this trend?