Beaming in a shimmery white gown, Miss Venezuela Gabriela Isler accepted the Miss Universe crown Saturday night at Moscow's Crocus City Hall. The 25-year-old TV presenter is the seventh Venezuelan to hold the title of Miss Universe.

Isler, a trained flamenco dancer, was stunned: She didn't realize she had the won until last year's winner, Olivia Culpo, awarded her the crown with a bouquet of red roses. In all the commotion, the crown fell off her head, but luckily Isler caught it with a laugh.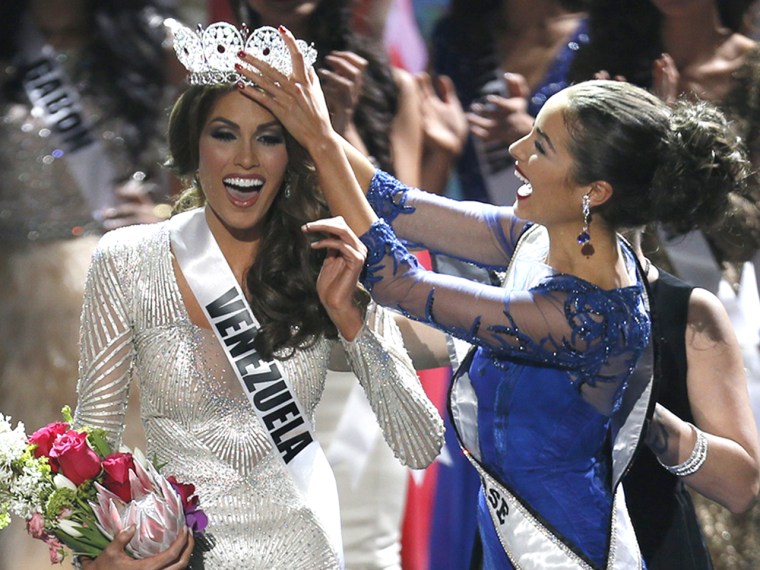 During the interview portion of the competition with the five finalists, Steven Tyler asked Isler about her biggest fear.
"I believe we should overcome all of our fears and this in turn would make us much stronger, and [thus] we can become stronger persons," she said. "As soon as we overcome our fears and we are sure of ourselves, then we can face any challenge."
Isler is hardly the only beauty queen from her home country: Venezuela has more international beauty pageant titles than any other country, except for the United States, which holds five. 
First runner-up went to Miss Spain Patricia Yurena Rodriguez, while Miss Ecuador Constanza Baez placed second runner-up. Fourth place went to Miss Philippines Ariella Arida, who sent her support via Instagram to fellow Filipinos stuck in the midst of a destructive typhoon.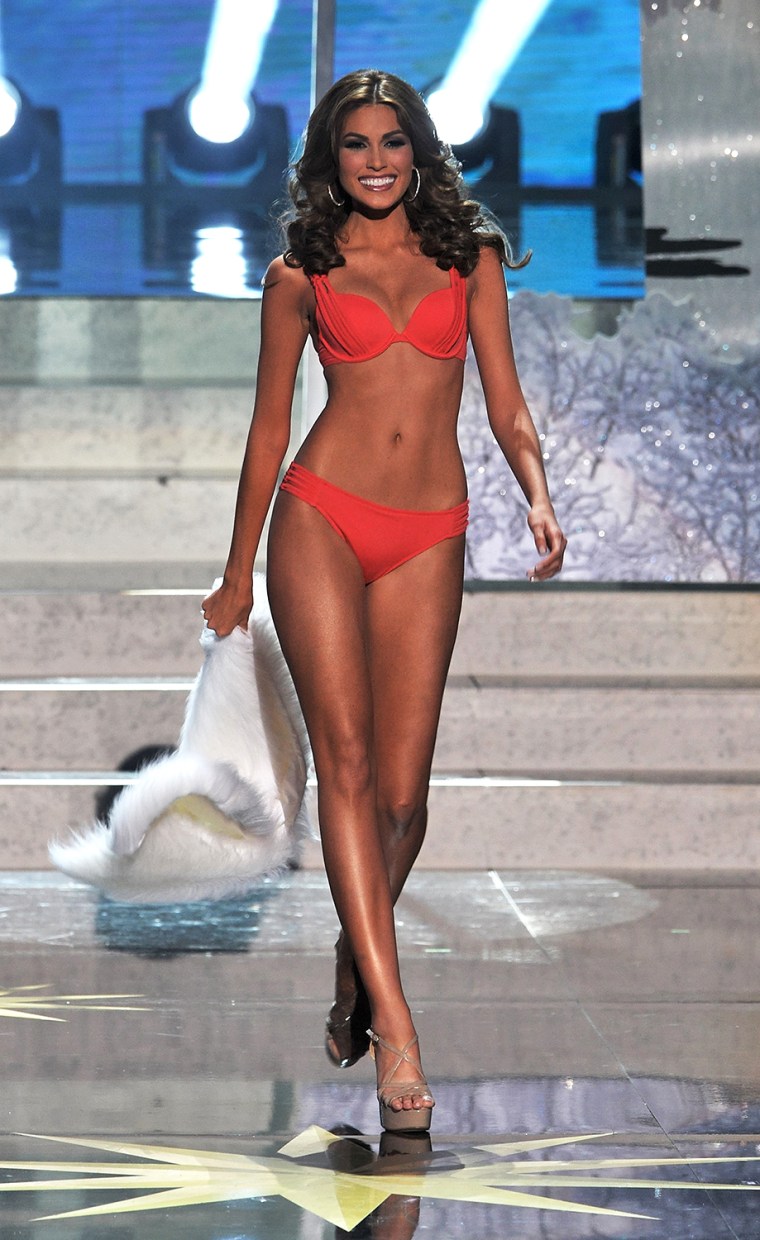 Eighty-six young women from six continents vied for the title of Miss Universe at the final show in Moscow, competing in swimsuit, evening gown and interview categories. Some contestants brought inspiring stories with them, from Miss Bulgaria Veneta Krasteva, who successfully battled breast cancer, to Miss Israel Titi Yitayish Ayanaw, an Ethiopian-born orphan who moved to Israel at the age of 12 and later became an officer in the army. This was the first pageant in 53 years that included a contestant from the war-torn nation of Myanmar, 25-year-old Moe Set Wine.

While several contestants made headlines in the weeks leading up to the pageant, the Miss Universe Organization's decision to hold the beauty competition in Russia, a country with strict ant-gay laws, generated the most controversy. Donald Trump, a co-owner of the organization, has defended the choice.
"We have a lot of gay people who work at the Miss Universe pageant, and we said, 'What do you think?' And they said, 'We want to go, we want to show our stuff,'" he told NBC News on Saturday.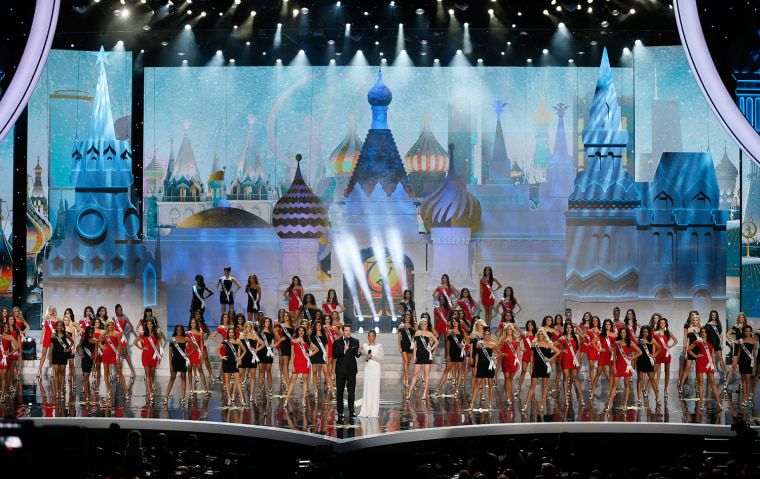 Openly gay MSNBC anchor Thomas Roberts expressed a similar sentiment when he jumped at the chance to co-host the 67th annual pageant after Bravo host Andy Cohen turned the job down. Brushing aside criticisms from some gay rights activists, he said that he hoped to bring visibility to the LGBT community and send a "message of hope" in an MSNBC op-ed.

"There have been great people who have come out in support of this and they get what I mean by this role being too visible to pass up for an LGBT person, because it's seen in over 190 countries by a billion people," he told TODAY.com.
Though Andy Cohen initially expressed safety concerns with going to Russia as a gay man, Roberts told TODAY's Savannah Guthrie on Friday that he did not experience any anti-gay discrimination in the week leading up to the final round.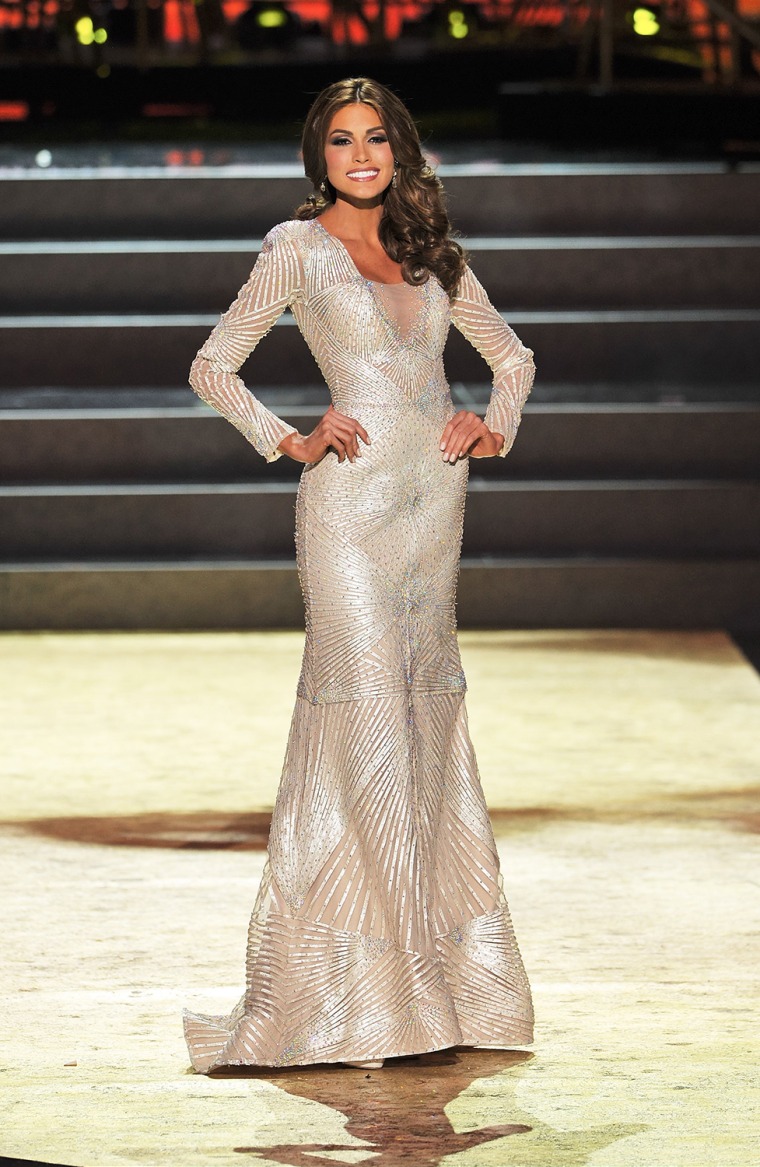 The Miss Universe pageant kicked off on Nov. 5 with preliminary competitions and a National Costume Show, featuring the beauty queens in ornate costumes inspired by their home countries. Wearing an extravagant peacock-feathered headdress, Miss Nicaragua Nastassja Bolivar took the prize for best costume.

Roberts hosted the final round with style expert Jeannie Mai, former Miss Universe Olivia Culpo, Nick Templitz of sports website The Fumble and former Spice Girl Mel B. Several celebrities were called upon to judge the competition including Aerosmith's Steven Tyler, Olympic figure skater Tara Lipinski and Japanese chef Nobu Matsuhisa.
Next up for Isler is her first official photoshoot on Sunday — wearing a diamond-encrusted bikini worth $1 million.
Miss Venezuela walked away with the Miss Universe crown by beating 86 other pageant queens in Moscow. See their gorgeous gowns, bikinis and more.