As the weather gets colder, our skin becomes drier and more prone to cracking — but who wants to bundle up and head to the store? Now you can make your own scrubs for your face, feet, lips and body with these scrumptiously simple recipes.

WATCH: Tamron's Tuesday Trend: Dry scrubs to try at home
1. Body scrub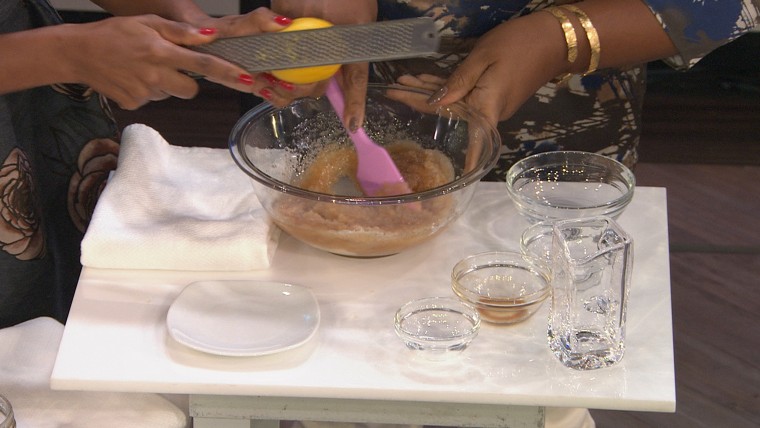 1 cup organic cane sugar

1 cup table-grade sea salt

Fresh lemon zest

2/3 cup almond oil

2 tablespoons vanilla extract

Juice of 1/2 a lemon

1 teaspoon of spice (I use garam masala, but I also suggest nutmeg or cinnamon)
Directions: Stir dry and wet ingredients together and spoon into jars. Essential oils may be added, if desired. 
Why it works: The cane sugar and salt gently exfoliate the skin, while the lemon zest, vanilla extract and spice add a beautiful, natural fragrance. The almond oil moisturizes after the skin is exfoliated. The fresh lemon juice helps reduce the oil a bit, so your skin (or your tub) won't be too greasy!
2. Face scrub (for dry skin)
1/2 cup honey

1/2 cup dark brown sugar

2 tablespoons coconut oil 
Directions: Warm the coconut oil to its liquid form to make mixing easier. Combine ingredients and stir.
Why it works: The honey naturally draws moisture to your skin, and the brown sugar acts as a gentle exfoliant. The coconut oil is a moisturizer with a small molecular structure, so it's easily absorbed and doesn't leave your skin feeling greasy.
3. Alternate face scrub (for all skin types)
1/2 cup rice flour

1/2 cup powdered milk

1/2 cup rolled oats

Petals from 2 dried roses

Directions: Mix for about 45-60 seconds in a NutriBullet. Pour about a teaspoon into your hand and add warm water. Mix into a spreadable paste and gently scrub onto your face, avoiding the eyes. Rinse thoroughly.  
Why it works: The rolled oats soothe the skin. The rose petals also have a number of soothing properties: antibacterial, moisturizing and anti-inflammatory.
4. Foot scrub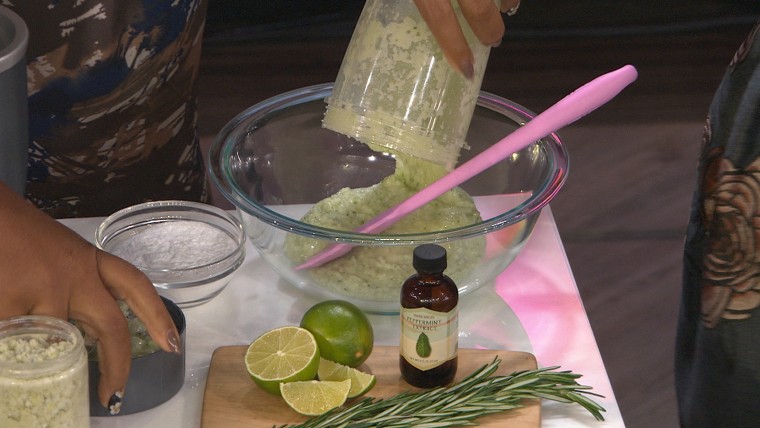 1 cup Epsom salt 

1 cup of sea salt, table grade

1/2 cup baking soda

Zest of a lime

Juice of a lime

3/4 cup of coconut oil 

1/4-1/2 cup of canola oil, enough to allow NutriBullet to whip

4-6 sprigs of fresh rosemary

Essential oil of peppermint

Directions: Mix sea salt and Epsom salt. Add lime zest, stir and pour into NutriBullet. Add coconut oil, canola oil, lime juice and rosemary sprigs. Mix for 60-90 seconds. Pour into a bowl and add baking soda. Stir and let sit for 5 minutes. Add peppermint essential oil and mix. Store the scrub in a jar and use within a few weeks of making.  
Why it works: The sea salt exfoliates, the baking soda deodorizes and the lime acts as an anti-bacterial agent. The coconut oil moisturizes, the peppermint reduces pain, and the sprigs of fresh rosemary add a natural fragrance.
5. Lip scrub
3 teaspoons of jojoba oil

3 tablespoons of honey

3 tablespoons of cane sugar

Vanilla (optional) 

Why it works: The sugar exfoliates, and the honey sweetens and soften lips. It also acts as a natural humectant, helping you skin retain moisture. The jojoba moisturizes and protects. You can add vanilla, but it's quite tasty as is! Scrub your lips gently and follow with a lip butter.