/ Source: TODAY contributor
Maximize your makeup bag and get more beauty bang for your buck with tools that work in more ways than one! From dual-tip pens to triple-threat treatments and even 20+ use balms, these beauty bargains are the all-in-one answer you've been waiting for. Bobbie Thomas, TODAY Style editor and author of the Buzz column for In Touch weekly, presents a roundup of multifunctional items.
For those who already keep a candle on their nightstand, why not swap it out for something that's not only scented, but boasts special features to boot!  Essence of Beauty's Soy Lotion Candle ($9.99; cvs.com; main image, above) melts into a lotion, so once it's cool to the touch, you can lather on some overnight moisture for your hands and feet!
Brands like Gillette and Schick have jumped into the two-in-one trend with razors that lather to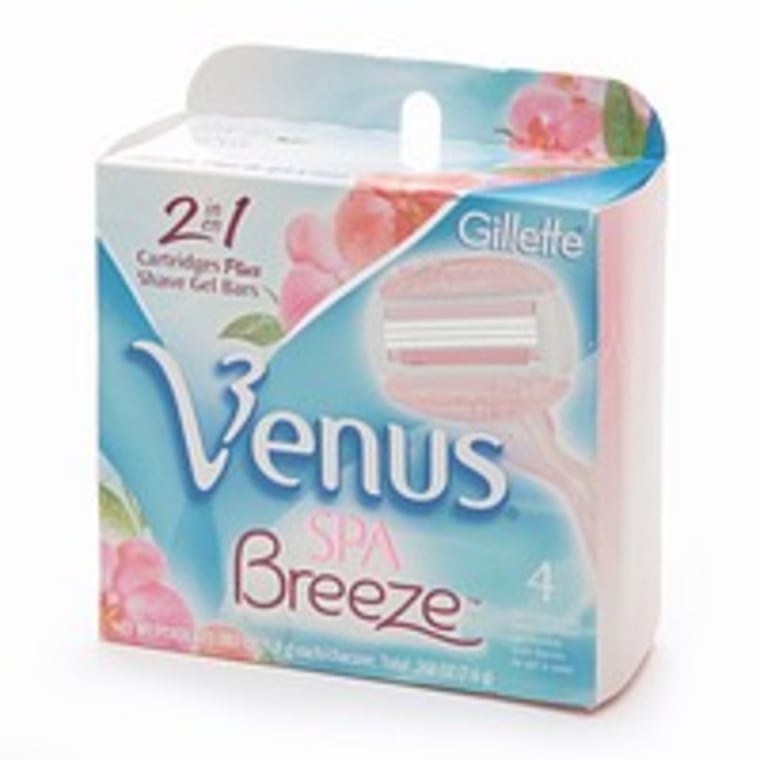 help remove hair without shaving lotion or soap. The Venus Spa Breeze (left) comes complete with fresh white tea-scented shave gel bars built into the cartridge. And for gals-on-the-go, the first disposable versions are now available ($6.99-$11.99, drugstore.com). Toss one in your purse for the unexpected pool party or rest at ease the next time you carry your weekend bag on board!
When it comes to brushing your teeth, it's a whole new ballgame thanks to Colgate Wisp ($2.39; drugstore.com). No water (or rinsing) is needed — these pocket-size disposable four-packs will help you freshen up anywhere in a flash.  For those who won't dare mess their perfectly painted faces with additional layers of sunscreen, consider mineral makeup! Brands like 24.7 ($11.99 and up; cvs.com) and Glominerals (gloskincare.com) offer not only a flawless foundation, but the extra benefits of SPF, vitamins and antioxidants. So while you powder throughout the day, you'll keep the sunspots away! You can also heal while you conceal with Physician's Formula Blemish Rx ($8.99; walgreens.com), which fights acne and covers it up at the same time. Or, opt for Lorac's Double Feature, which has a concealer, blender ball and highlighter all in one ($24; sephora.com).
When it comes to color, you can find eye-popping extras like Stila's Convertible Eye Color ($22, http://www.stilacosmetics.com/) or jaw-dropping duos like CoverGirl's Wetslicks Amazement with Crest Peppermint Oil ($5.99; walgreens.com). The eye applicator has a pencil on one end, a smudging tool on the other and a shadow smack in the middle, while the lip gloss doubles as a breath mint. Now that's a kissable combo!
Think of Cake Beauty's Satin Sugar Refreshing Hair & Body Powder ($18; cakebeauty.com) as the anti-shower for both your skin and scalp. Meanwhile, tarte's celluFIGHT ($40; tartecosmetics.com) is a two-for-one tanner and toner for the body!  Finally, keep your medicine cabinet from getting too complicated with balms that come in handy for almost anything! Bliss Problem Salved 20-in-1 Wonder Balm ($18; blissworld.com) and Revolution Organics All Over Body Balm ($28; beauty.com) can be used to soothe sunburn, bug bites, blisters or plain old dry skin. They'll also tame flyaways, reduce scars, prevent wrinkles, and heal broken bones — only kidding about the broken bones, but you get the idea!