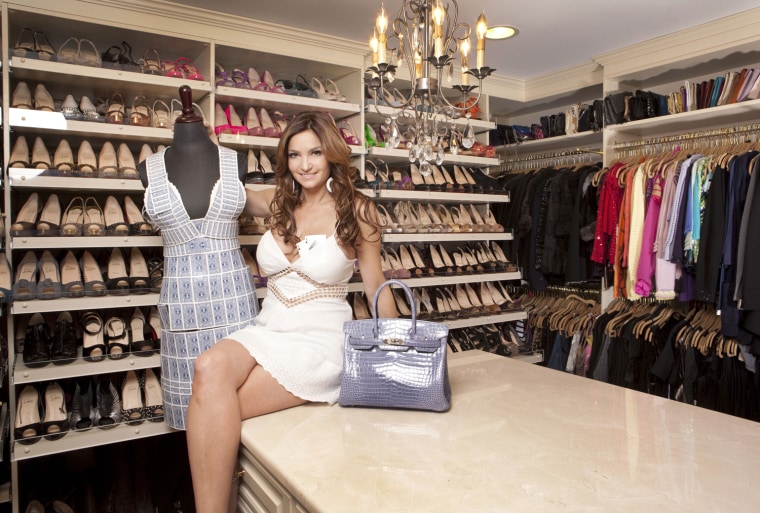 By Scott Stump
The ex-husband of poker star Beth Shak is calling her bluff when it comes to her shoe collection.
Hedge fund boss Daniel Shak, 52, claims in a recently filed lawsuit that before the couple divorced three years ago he was unaware of his ex-wife's collection of 1,200 shoes, which could change the payout from their divorce settlement, according to The New York Post. The "World Series of Poker" star, 42, reportedly owns more than 700 red-soled pairs of heels from her favorite designer, Christian Louboutin, and she has estimated that her entire shoe collection is worth north of $500,000. Daniel Shak has the shoes valued at $1 million in his lawsuit.
Shak claims in the lawsuit that she hid her shoe collection from him in their former $7.5 million Manhattan apartment, possibly using a secret room. The lawsuit is asking for a 35 percent portion of Shak's shoe collection, which would mean a substantial extra payout from their divorce settlement that could run into the hundreds of thousands.
"Dan trusted his wife and was not inspecting his home to try to find inventory or 'secret rooms,''' the lawsuit reads.
"I'm shaking my head over this whole thing," Beth Shak told The New York Post, which first reported the story. "He is saying he didn't know the closet in our master bedroom existed." (TODAY.com contacted Shak's representative for comment, but did not yet receive a response.)
The shoe collection full of size sevens now takes up three closets in Shak's home in Bryn Mawr, Pa., and previously has been featured on MTV's "Cribs." She has a tattoo of a red-soled shoe on her groin area, and is such a frequent customer that Louboutin lets her get in early on limited edition heels and also special-order stilettos. The documentary "God Save My Shoes" also includes a segment on Shak's collection, which also includes a combined 500 pairs of YSL pumps, Manolo Blahnik heels, Lanvin flats and Jimmy Choos.
"It's my one happiness,'' she told The New York Post in 2011.
More: Meet the woman who owns 1,200 pairs of shoes
Adidas cancels release of controversial shackle sneaker
Karl Lagerfeld designs $37,500 collar covered in black diamonds