When I first read about scalp facials, I was skeptical, thinking it was nothing more than a treatment designed to be clickbait. But the more I thought about it, the more it made sense!
How is it possible that I have spent so much time and money trying to achieve flawless skin on my face and perfectly styled hair, but have completely neglected the root of the problem for decades?
For Dr. Shani Francis, a hair-loss specialist and medical director of Ashira Dermatology in Gurnee, Illinois, it all starts with the scalp.
"The way that we typically treat our skin on our scalp often ends up marginalized when compared to how we treat the skin on our body and face," Francis told TODAY via email. "(It) is often subjected to an aggressive environment of infrequent, improper and inadequate cleansing; countless hair products; chemicals; and environmental toxins.
"While the research is limited, it is fairly logical to me that treatments targeting scalp skin health would augment our current practices."
She also saw potential for this type of treatment to benefit those with psoriasis.
"While this type of treatment would likely not adequately address the inflammatory processes causing the psoriasis; it could potentially help loosen the frustrating scaling (or) flaking of psoriasis that so many with scalp psoriasis are burdened with," Francis said. "It would be more of a temporary relief (but) could possibly get quite expensive versus medical treatment."
Enter Ritsuko Borges.
Borges developed a treatment called "Head Spa" that combines natural ingredients and Ayurvedic massage techniques for a multisensory, holistic experience that will leave your head feeling and looking clear.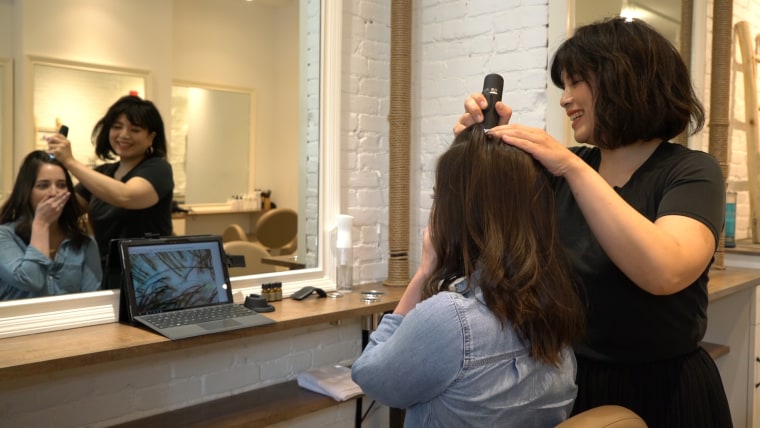 She offers the popular treatment for $125 an hour at Masa Kanai in New York City. I made my way to the salon to try it myself.
The appointment began with a consultation during which Borges analyzed my scalp using a handheld microscope. I've struggled with dandruff so I knew it wouldn't be pretty, but the results were truly jaw-dropping. To my surprise, Borges showed me that my scalp was not dry, as I had expected. Instead, it was producing more oil than the skin on my face, causing clogged pores and redness. Gross!
Because of this, Borges suggested that the rebalancing mask would be the best option for my treatment. She hand-mixed a scalp mask containing sage to soothe my oily scalp and led me through a series of breathing exercises and a scalp massage before we relocated to the private treatment room for the real work to begin!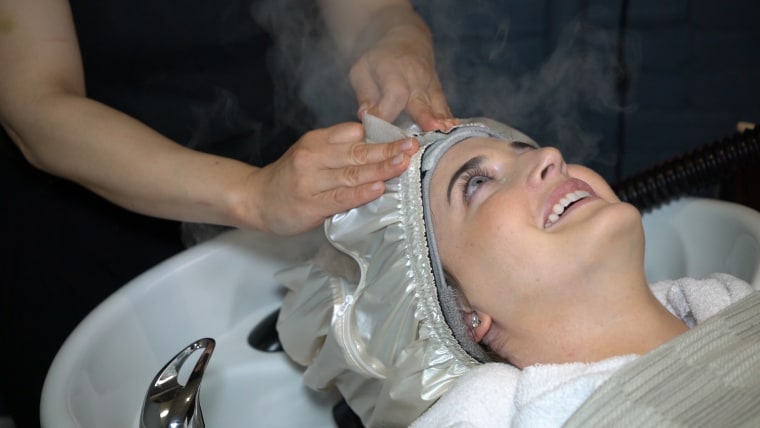 Once I was seated in the incredibly comfy salon chair, Borges wrapped my head in what looked like a silver balloon that she then filled with steam to open up the pores on my scalp, like you would for a traditional facial. When she reopened the silver contraption, steam flowed out like it was a freshly popped bag of popcorn.
Next came the mask application, followed by a cooling shampoo and conditioning treatment. The whole experience ended with an anti-aging tonic dripped onto my hair from high above and another mini massage to help me savor the last few moments of relaxation.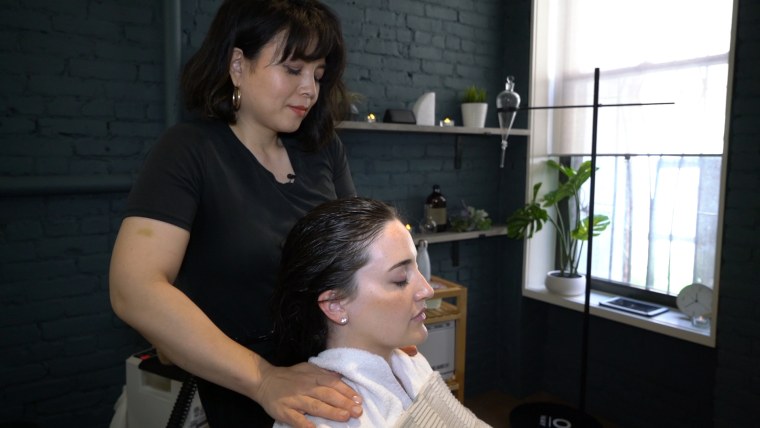 After Borges blow-dried my hair, we took a look at my scalp again under the microscope and I was relieved to see that the clogged pores had all but vanished! Some redness remained, but Borges recommended massaging my scalp with coconut oil once a week to keep up the progress at home.
As a self-proclaimed dry shampoo addict, I expected to need a bit of a morning boost the following day, but I was pleasantly surprised! My hair felt softer than it had in years, and there wasn't a speck of dandruff in sight.