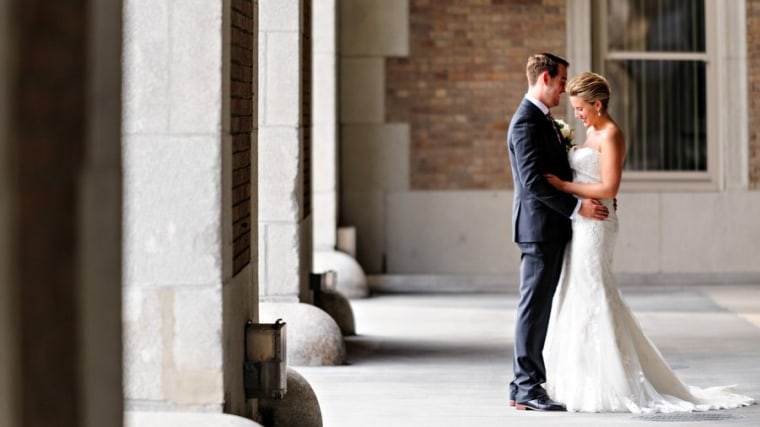 Caitlin and Chris are the Jim and Pam of Boston, Mass.

"We always make that joke because we worked together and literally sat right next to each other," Caitlin said. Six months after Chris started working at a telecommunications company, Caitlin landed a job in the same office. "There was this beautiful girl who walked in and I wanted to get to know her," Chris remembers. "I jumped at the opportunity to train her."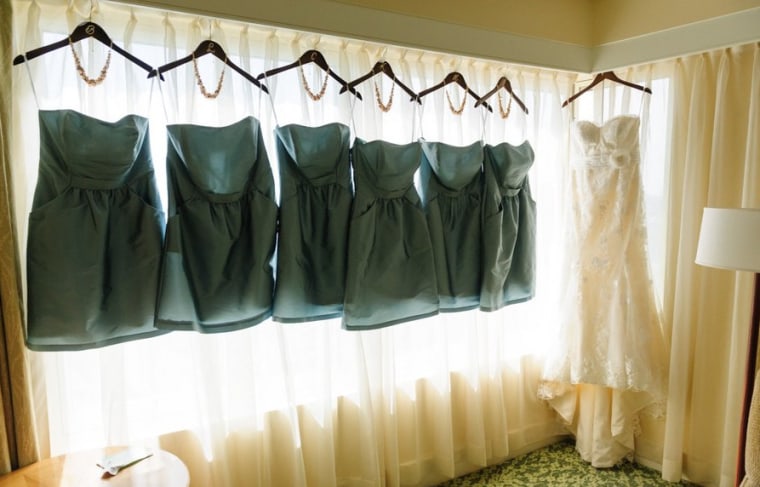 And like the popular couple from "The Office," Chris couldn't make a move because Caitlin already had a boyfriend. So the two spent their days getting to know one another and pulling endless pranks.
"Chris had the kindergarten crush and was throwing paper balls at me," Caitlin said. "We're both very goofy individuals and joked around a lot."

Finally, after a year of working together, Caitlin ended her relationship and set her eyes on Chris.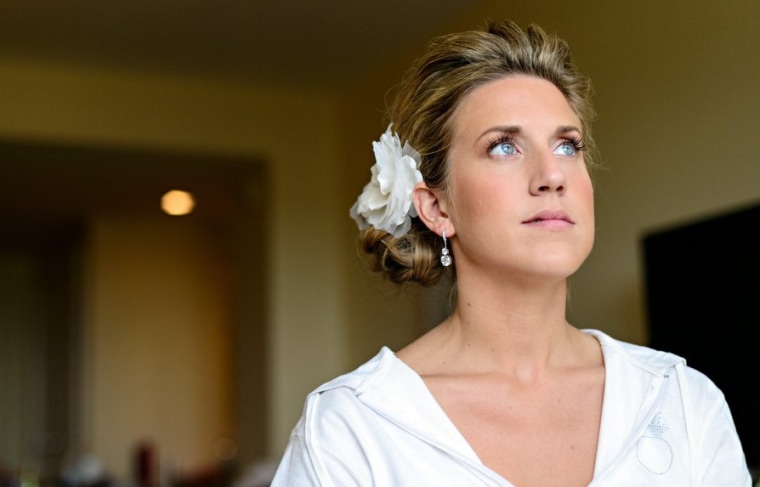 "I finally wore her down and got her to break up with her boyfriend," Chris said. A week after Caitlin ended her previous relationship, Chris took her out on their first date to South End Buttery, a coffee shop and bakery in Boston's South End neighborhood.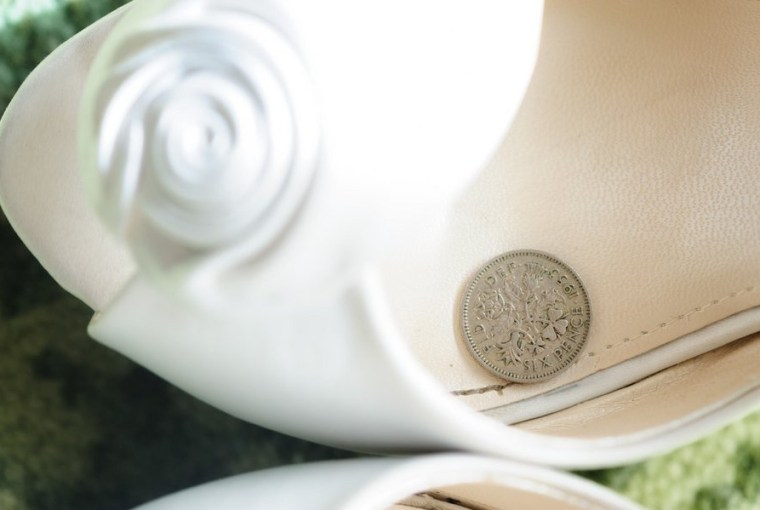 "We had already shared everything with each other," Caitlin said about dating Chris. "We knew everything about each other before we got together."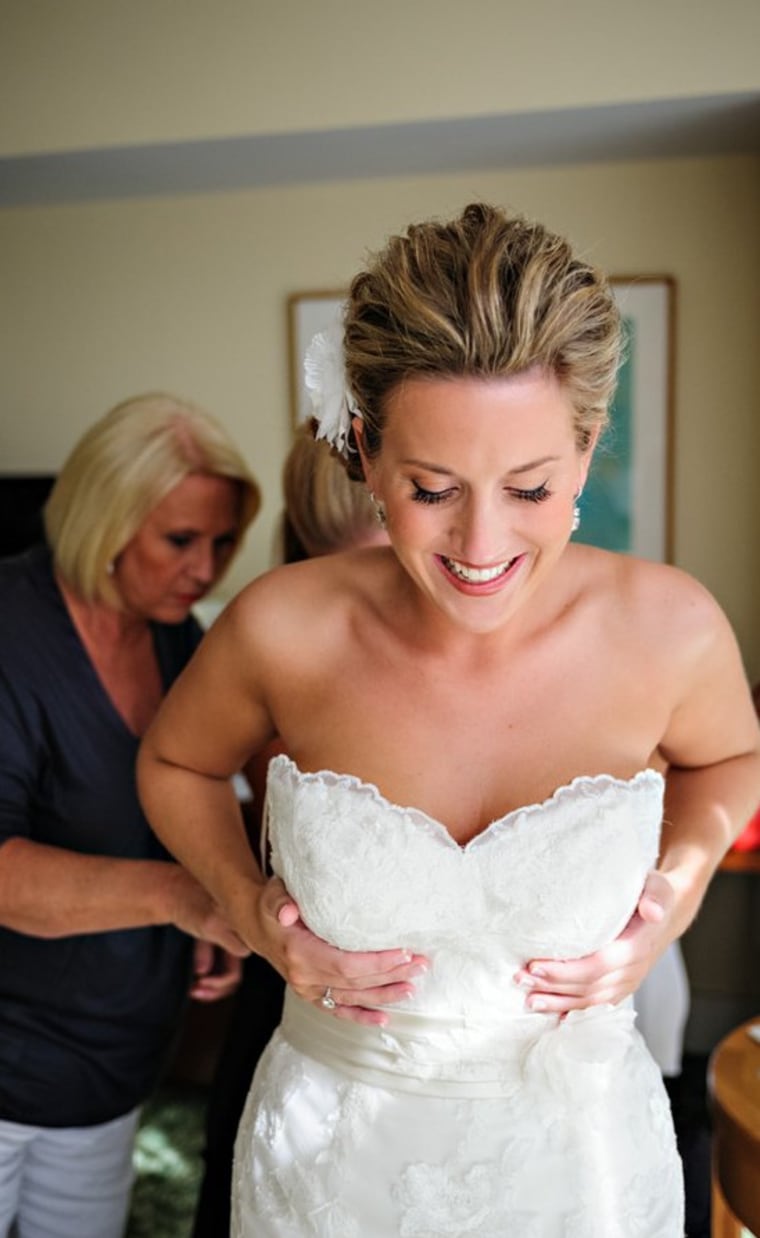 Two years later, on Sept. 14, 2012, Chris took Caitlin back to South End Buttery for their anniversary. Afterwards, he asked if they could walk around a nearby park for a few minutes before heading home.

"I told her I was too full to walk up the stairs," Chris remembered. "So we sat down and enjoyed the outdoors a little bit." The park visit took an eventful turn when Chris got down on one knee and asked Caitlin to marry him.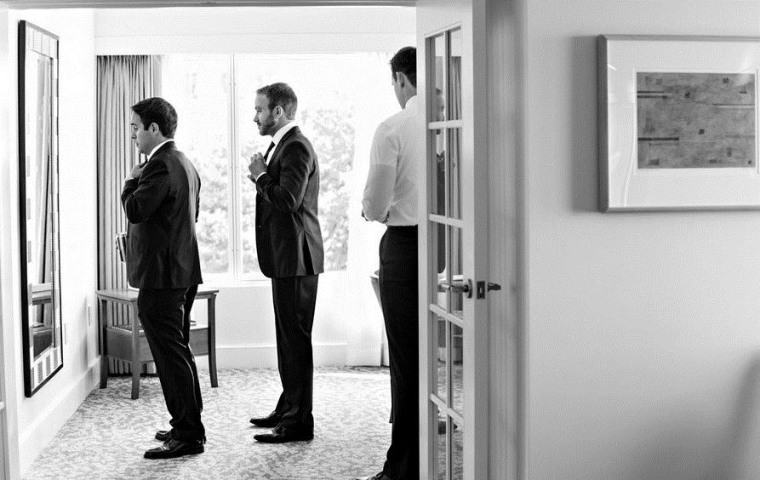 "I was surprised!" Caitlin said. "I didn't expect it." Pleasantly shocked, she said yes, and the couple set the date for Sept. 14, 2013.

While brides often take over the wedding planning and tell the groom where to be and when, Caitlin and Chris took a different approach. The two both felt it was important to plan the day as a couple.
"I wanted us to do it together," Caitlin said. "I just really wanted our wedding to reflect us and who we are."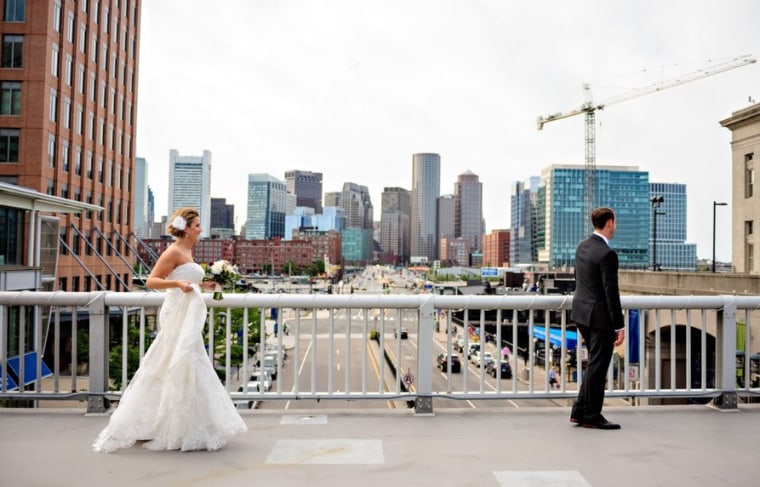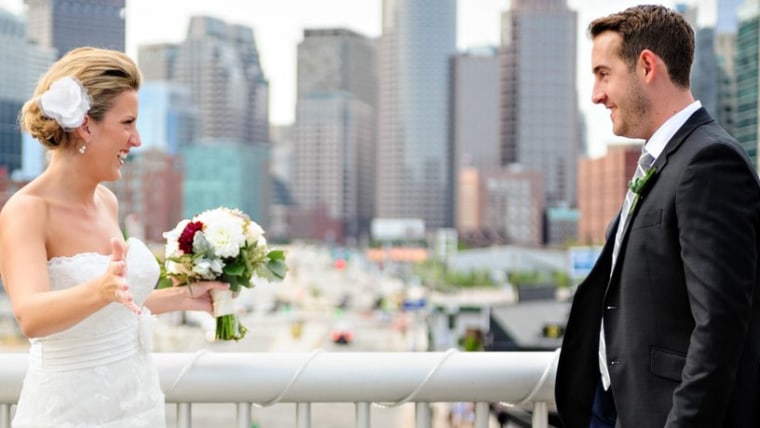 Chris was all in, and made his voice known by pushing to have the wedding in Boston.

"Location was definitely one of the biggest drivers for me," Chris said. "My family is from the Boston area and we met each other here." Caitlin had lived in Boston for six years, so she agreed. The two booked the Seaport Hotel, a waterfront location in the heart of the city, for the ceremony and reception.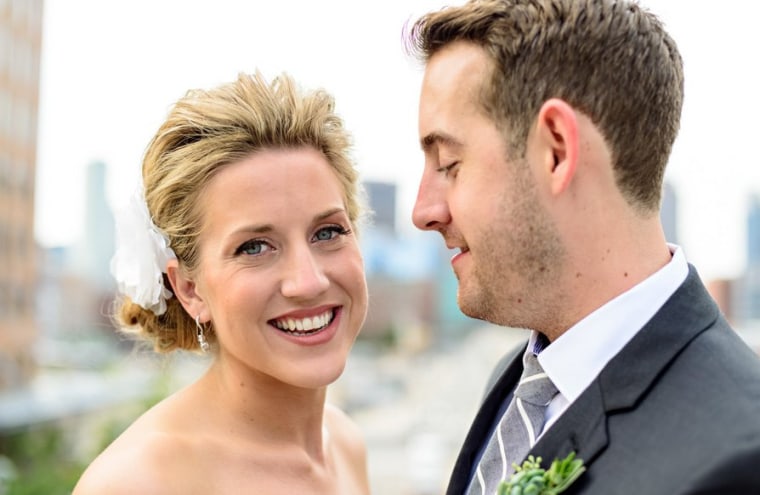 Caitlin said her gown and her bridesmaids' dresses gave her the most stress. She had a difficult time finding the right shade of blue for her wedding party. "I couldn't get the right color," she said. "That was a big freak out for me."

Additionally, during her second to last wedding gown fitting, her lace wedding dress popped.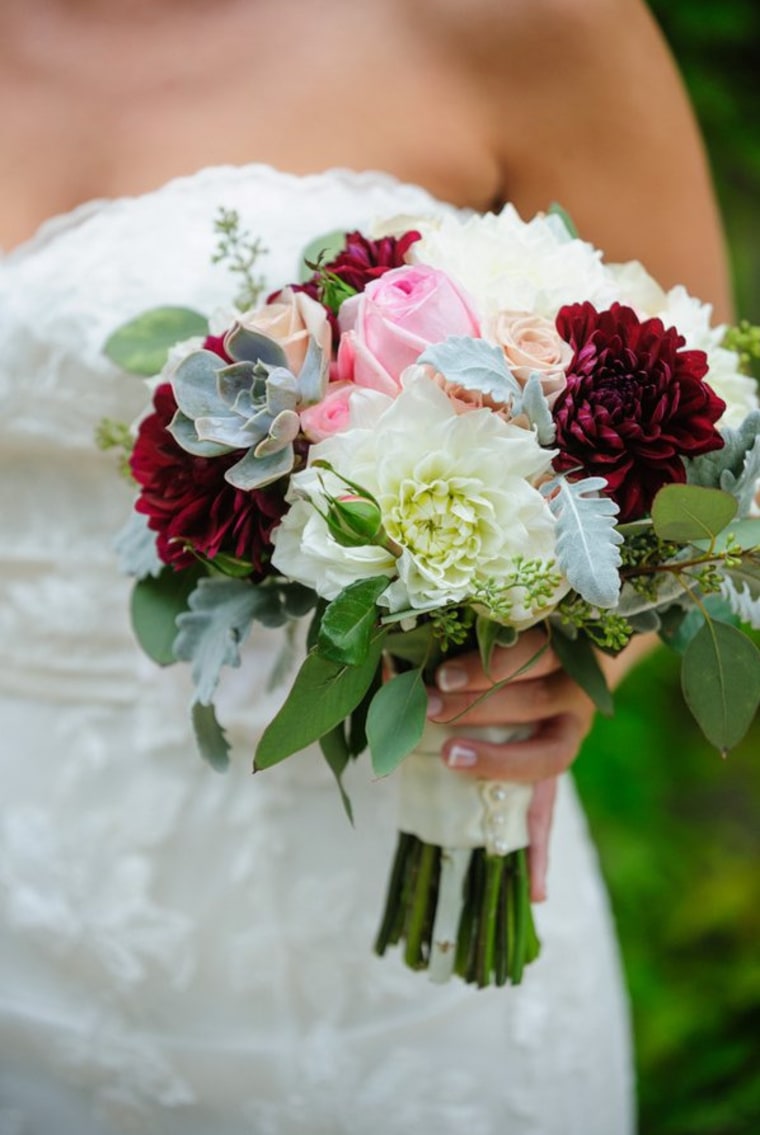 "That isn't always a bride's dream, to be too big for your dress," she said. "That was definitely a scary part." Thankfully, the seamstress was able to adjust the gown to be the perfect fit for the special day.
Sept. 14 arrived, and the bride and groom woke up in separate rooms at the hotel with their bridal parties. Caitlin's bridesmaids gifted her a scrapbook full of letters from each of the women, her family and even Chris's family. On the last page of the book was a letter from her groom.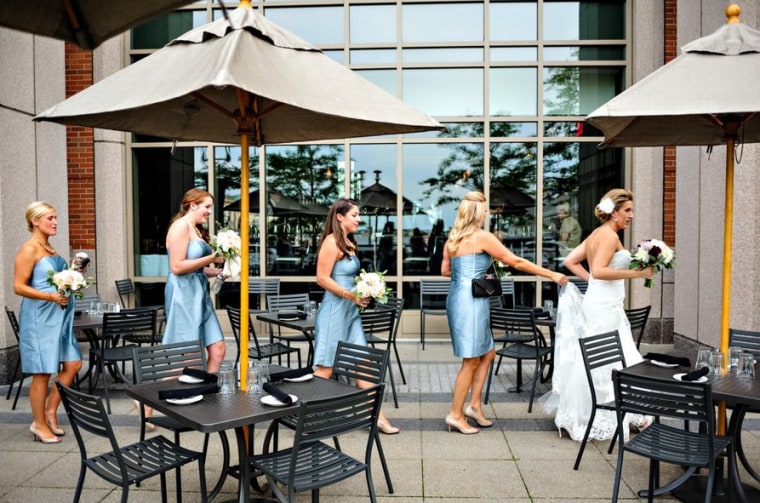 "That was just waterworks immediately," Caitlin recalled about opening up the book. "That was really special."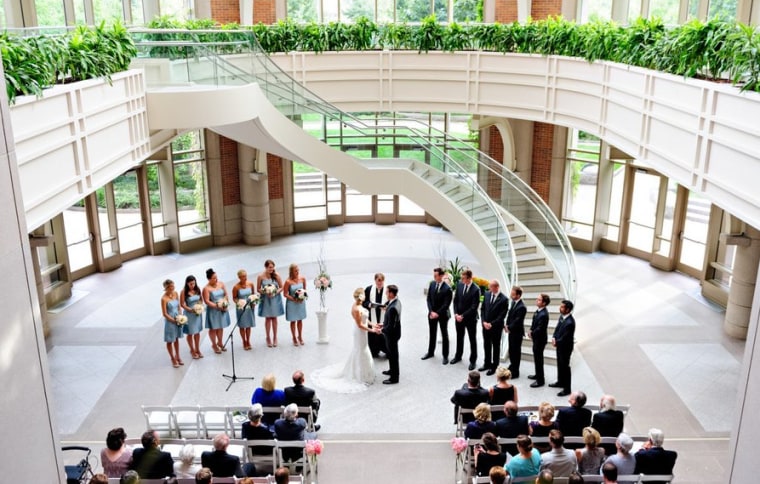 Before the ceremony, the couple decided to do a "first look" with the photographer. Chris stood on a bridge near the hotel and Caitlin walked up behind him, then tapped him on the shoulder.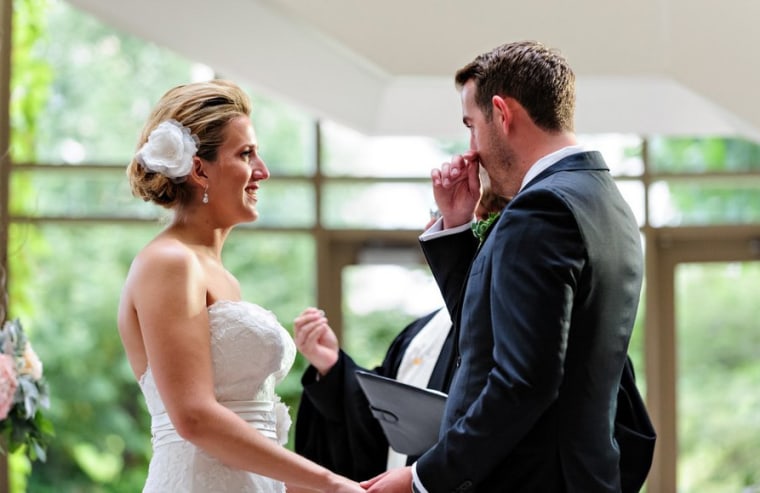 "There was a lot of anticipation walking up to him, but once he turned around, I was just so happy to be there with him alone to share that moment," Caitlin said.
"I think the first word out of my mouth was 'stunning,'" Chris said about seeing his bride. "I was pretty much speechless."
Chris and Caitlin took pictures together, then split up to get to the ceremony.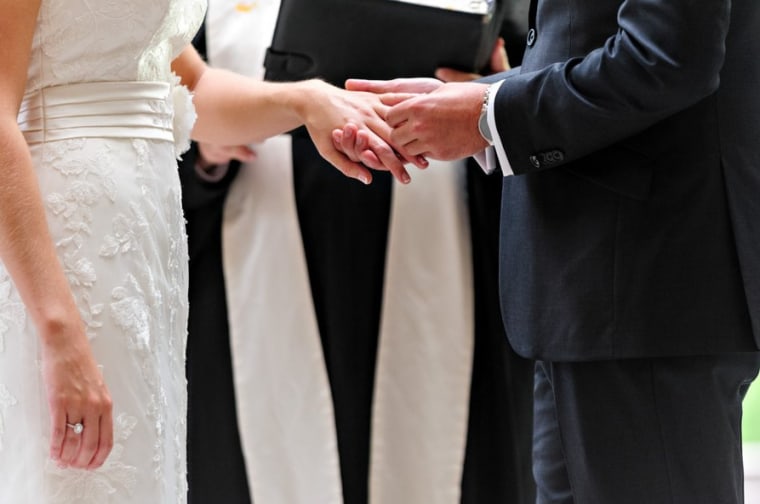 With a six-pence coin in her shoe for good luck, Caitlin walked down the aisle to her groom, where they exchanged vows and shed a good amount of tears.  
"I could barely get through the vows," Chris said. "Having to repeat those words to your soon-to-be wife was easily the most emotional part of the entire day for me."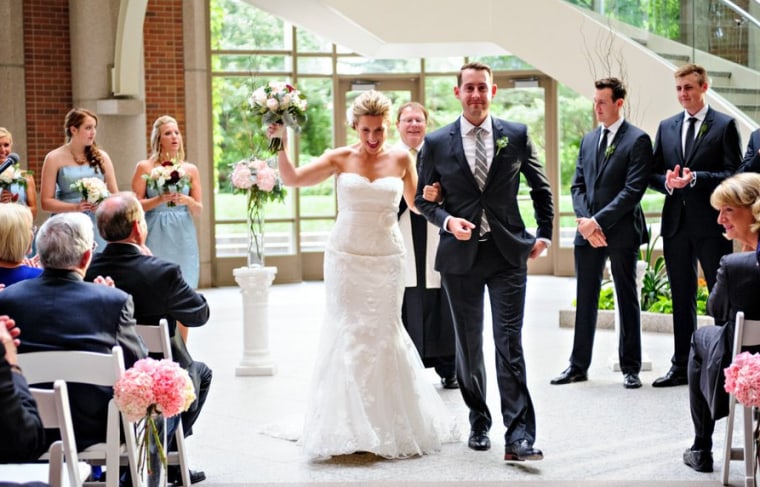 "We both cried during the ceremony," Caitlin said. "Saying our vows was a big thing!"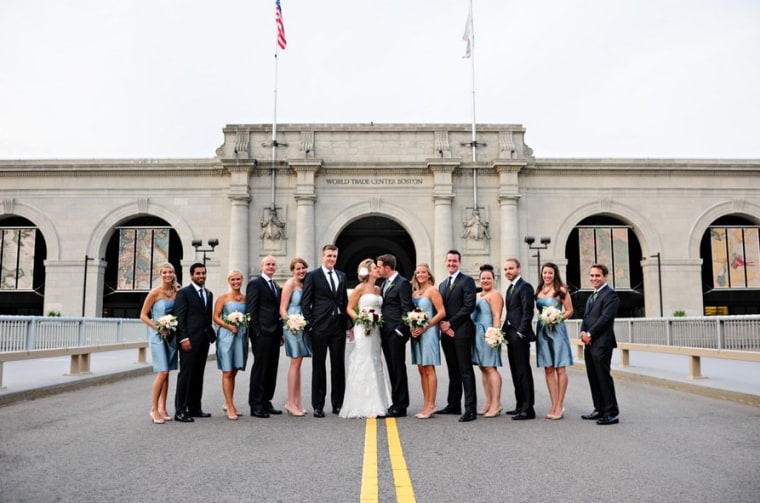 After being pronounced husband and wife, Caitlin and Chris went up to a private room in the hotel with their wedding party to take a brief break before joining the rest of the guests during the cocktail hour and reception outside. The two walked in doing a goofy dance, then had their first dance to "Hold You in my Arms" by Ray Lamontagne.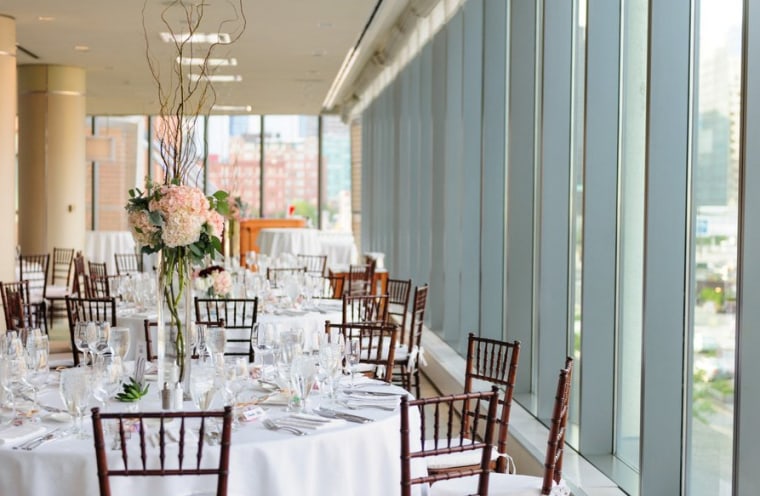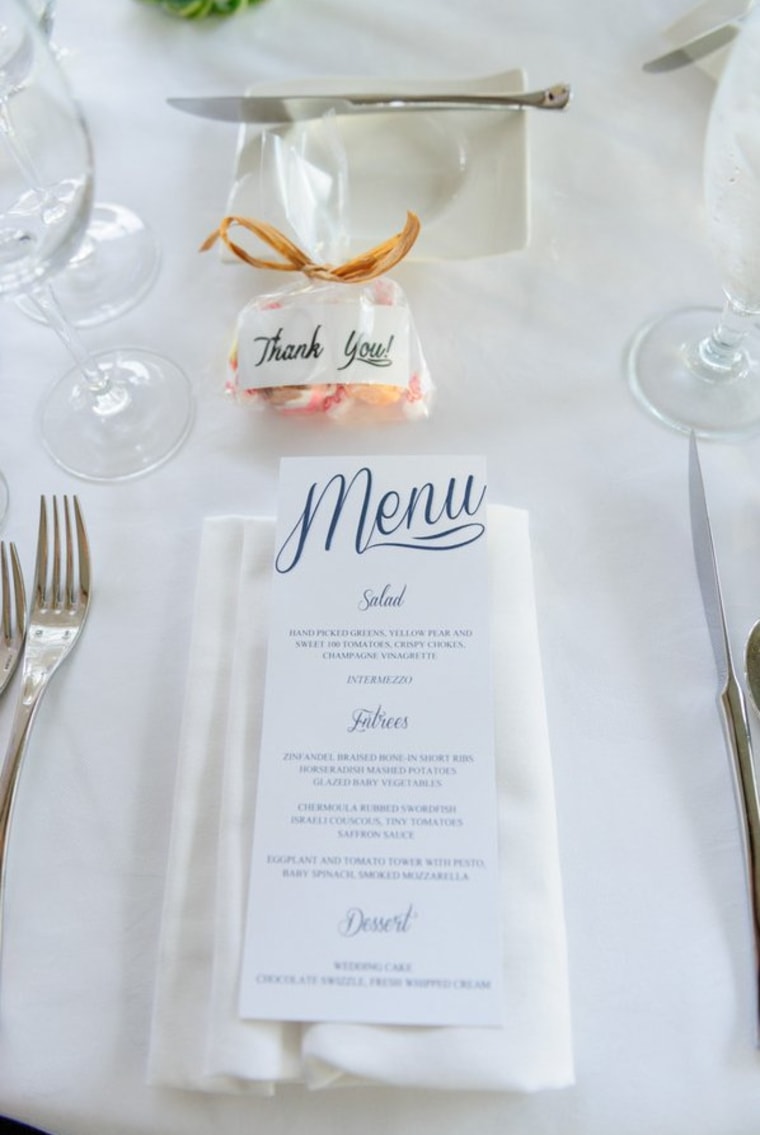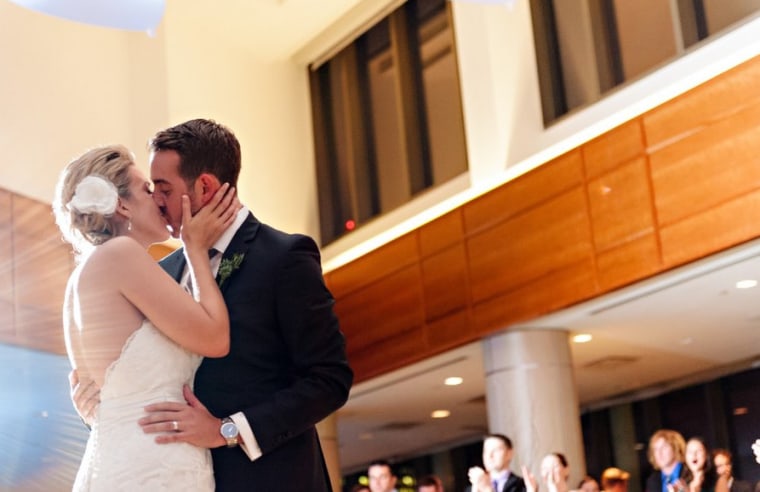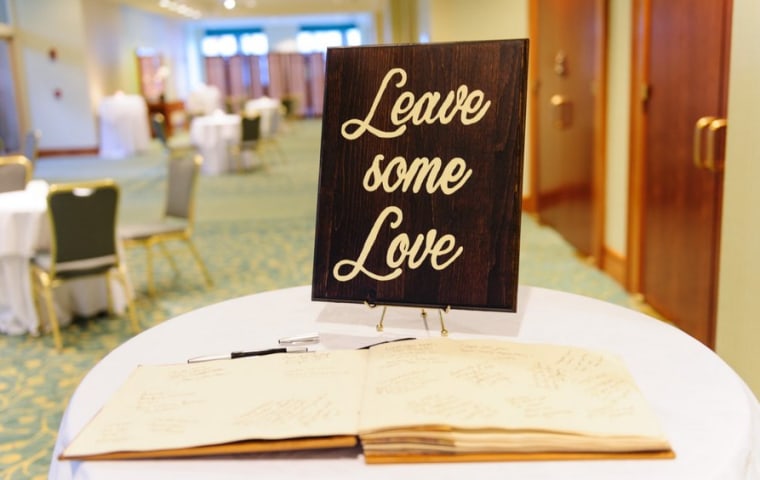 The rest of the night was spent visiting with guests and getting groovy on the dance floor. 
"At one point, I found myself in the dance floor looking around," Caitlin recounted, "amazed at all the people there for us and having such a great time."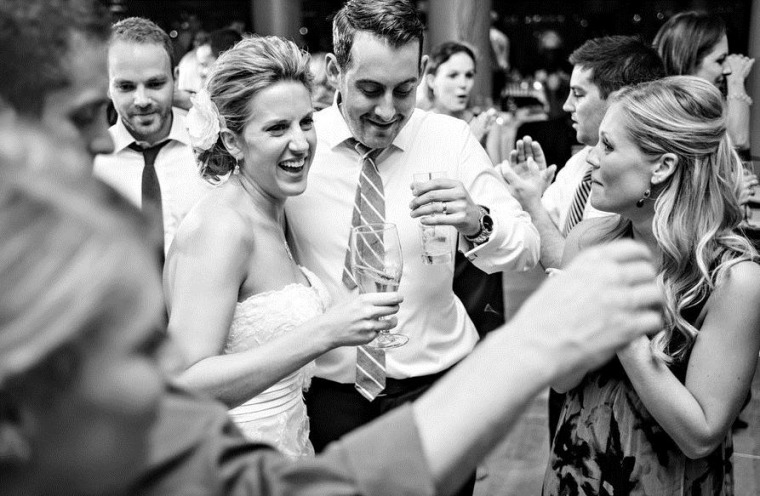 The newlyweds are still living in Boston, where they hope to say for the next several years. Looking back at their wedding, the two remain infatuated with the love the felt from everyone, and for each other, during the ceremony.
"I keep saying I want to go back to the ceremony," Caitlin said. "Just to have that feeling again and to be in all the love that was in that room, it was so amazing."
All photos provided by Krista Photography. Want to submit a real wedding? Send us your story and photos here. You can see more from the TODAY Real Weddings series here.