/ Source: TODAY contributor
No, there's no need to adjust your set. That really is Jerry Springer flanked by two healthy, sane and beautiful women and without a negative word to say about anyone.
"How tough is my job?" a beaming Springer told TODAY's Al Roker, bowing to former Spice Girl Mel B. on his right and Miss Universe-USA Crystle Stewart on his left.
Springer was speaking live from Nha Trang, a gorgeous seaside resort in Vietnam, where on Sunday July 13 (9 ET, 8 CT) he and Spice Girl Melanie Brown — also known as Mel B. or "Scary Spice" — will host the Miss Universe 2008 pageant on NBC. A total of 80 countries have sent contestants to the pageant, each one hoping to succeed the reigning Miss Universe, Riyo Mori of Japan.
Among the contenders is Miss Puerto Rico Ingrid Marie Rivera, who was in the news after alleging that her evening gown at the November 2007 Miss Puerto Rico Universe pageant was doused in pepper spray. The investigation was later dismissed due to lack of evidence.
Pageant judges will include — among others — fashion designer Robert Cavalli, Donald Trump, Jr., and actress Nadine Velazquez. In June, Velazquez made headlines after saying she didn't want to hear the traditional world-peace pledges from contestants at this year's pageant. Instead, the "My Name is Earl" star said she was looking forward to seeing "true passion" from the girls.
So what else are the judges looking for? "They're looking for beauty, kindness, intelligence — a strong independent woman," Mel B. told Roker.
"That's why I was chosen as host," Springer wisecracked.
"Do you have any favorites?" Roker asked the multi-talented television personality.
"Anyone who's breathing," Springer said.
The host of the iconic "The Jerry Springer Show" as well as "America's Got Talent" said that being in the Vietnamese resort city "is very exciting. Beyond that, it's a little bit weird, to be honest, because here we were in Vietnam 30 years later, and I have to say the people here have been very friendly."
Rivals leave politics out of the competition
Behind all the hugs and smiles, the 80 Miss Universe contestants are engaged in a fierce competition. But two contestants with perhaps the greatest reason for hostilities have become fast friends. Miss Kosovo Zana Krasniki and Miss Serbia Bojana Boric, representing one of the world's most ethnically torn regions, seem a little bit weary of people asking whether they get along. "We are friends, we go everywhere together," said Boric. "We are the girls who want to talk with each other." Kosovo declared its independence from Serbia in February. The move has divided nations around the world, with the U.S. among dozens of countries supporting Kosovo, but others arguing that Kosovo should remain part of Serbia. Vietnam is among those nations that hasn't recognized Kosovo, and the Vietnamese compere at a recent Miss Universe event introduced Krasniki as "Miss Kosovo-Serbia." "I'm so proud to represent Kosovo, the newest country in the world," Krasniki said. This year's contestants span a wide range of experiences and aspirations. Miss Albania was a professional basketball player. Miss Argentina says she has paranormal experiences. Miss Antigua & Barbuda is fascinated by snakes. Miss Venezuela has been kidnapped and Miss Angola was in a plane crash while trying to escape a conflict during her country's civil war. The shortest contestant in this year's show is Miss El Salvador, a petite 5-foot-3. The tallest are Miss Jamaica, Miss Mexico and Miss Peru, who measure 6-feet. Plastic surgery is not forbidden. In fact, Miss Brazil aspires to become a plastic surgeon someday. All the girls will be hoping to avoid the calamity that befell Miss USA during last year's contest, when she fell down during the evening gown segment and became an unintended star on You Tube, where the video was played over and over again. "Anything can happen on live television," said Phil Gurin, the executive producer of this year's show, which is owned jointly by NBC and New York magnate and television star Donald Trump. Miss USA, Crystle Stewart of Texas, is confident she won't meet the same fate as her predecessor. "All I can offer to the world and to America is to do my best," said Stewart, who is writing a motivational book called Waiting To Win. "Nerves don't play a part in this," she said.
More than just a beauty pageantMiss Universe, along with Miss USA and Miss Teen USA are all pageants owned by Donald Trump and NBC Universal in a joint venture. (Msnbc.com is a joint venture of Microsoft and NBC Universal.) The pageant is committed to increasing HIV/AIDS awareness by focusing on women's health and reproductive issues. It does that through relationships with educational and research organizations such as the Latino Commission on AIDS, God's Love We Deliver, APICHA and Gay Men's Health Crisis.
That's quite a leap from the pageant's origins as a local "bathing beauty" competition that began more than half a century ago in Long Beach, Calif., under the sponsorship of Catalina Swimwear. Back, then, the object was to sell bathing suits. Now, it's to represent the best of young womanhood to the more than 170 nations where the broadcast will be seen.
It's no longer just about beauty to contestants who are educated, goal-oriented and aware of the world and its problems.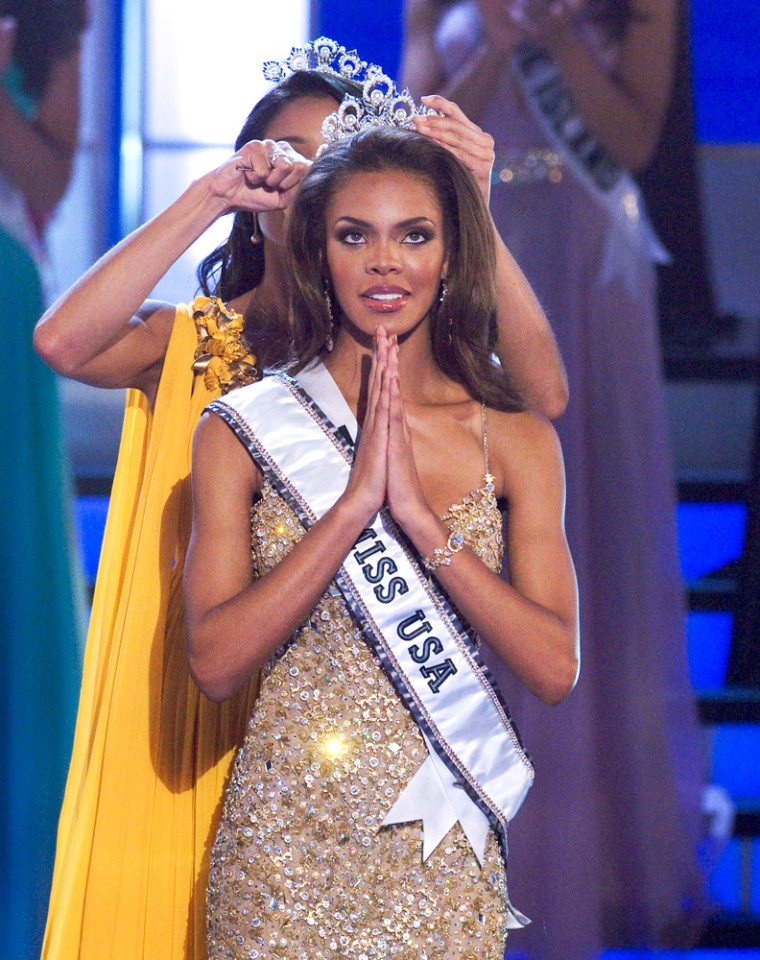 Miss USA, for instance, is no dewy-eyed teenager but a 26-year-old University of Houston graduate with a bachelor's degree in consumer science and merchandising. Stewart also has her own company, Inside/Out, which she uses as a platform for public speaking appearances, character development lessons and event planning."
"With Inside/Out, I can teach and show young women that beauty and intelligence are not mutually exclusive," Stewart has said. She also serves as a board member on the Trey Rice Education Fund and Houston Community College's VAST program, which assists individuals who have learning disabilities with educational opportunities. Crystle plans on continuing her work with autistic children, whom she taught as a special education teacher's aid at Elkins High School, during her year as Miss USA and beyond.
The 2008 Miss Universe pageant will air on Sunday July 13 (9 ET, 8 CT) on NBC.
The Associated Press contributed to this report.