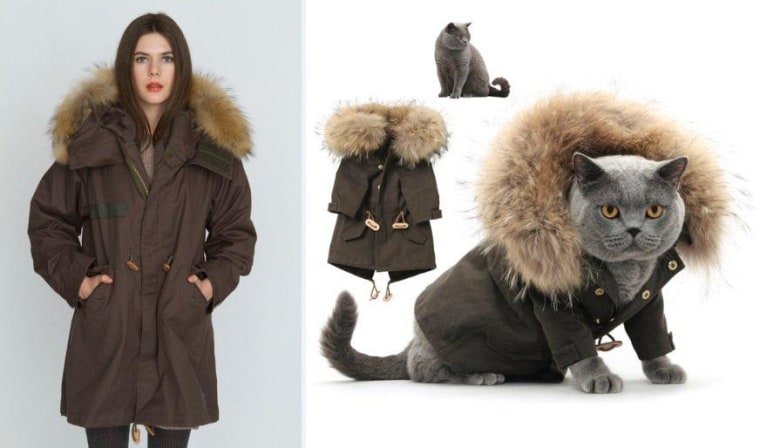 Fashion is going to the — er — cats? At least that's the case at United Bamboo, a New York-based clothing company now selling an online "Catclub" collection of 33 outfits inspired by the brand's ready-to-wear line but specially tailored to fit (fashion-forward) felines.
It's cat couture for the pet owner who thinks imitation is the sincerest form of flattery. For the style-conscious cat lady, these looks — ranging from fur-lined parkas to slinky black dresses — might seem familiar. All of them first debuted in editions of the brand's annual cat calendars, which have featured a number of kitty "models" dressed up in feline-friendly versions of that year's looks since 2010.
Now the garments created for the photo shoots are available online, each made from the same materials as their human doppelgangers.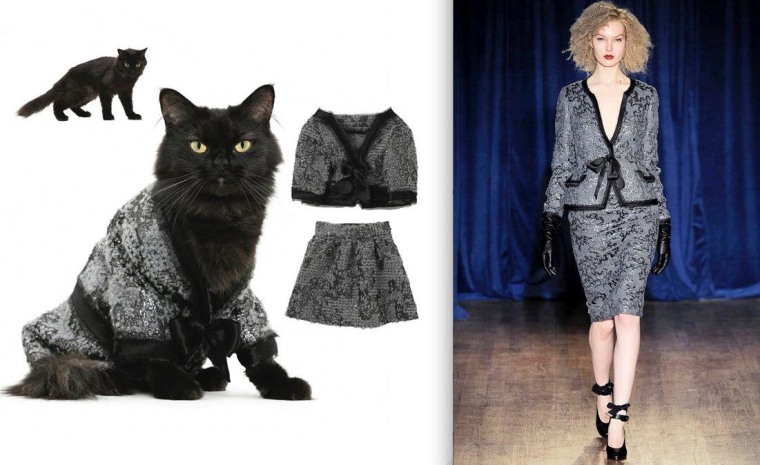 "We don't really produce cat clothes as a line, but we made one of each for calendar shooting purposes," Nikki Girion, a spokesperson for United Bamboo told TODAY.com. "Since we had the cat clothes just sitting in the closet, and the cat idea-slash-calendars seemed to be really popular, we decided to sell the clothes."
Of course, coordinating with your cat in couture isn't cheap. Prices range from $49 for an anthracite, pleated skirt to $98 for one of the company's colorful fishtail parkas. And that's just for the kitties.
All told, a boa fur-lined fishtail parka for yourself and your precious will set you back nearly $1,000. (Hey, at least they're not quite as expensive as the $500 cat dresses United Bamboo designed for Opening Ceremony in 2010.)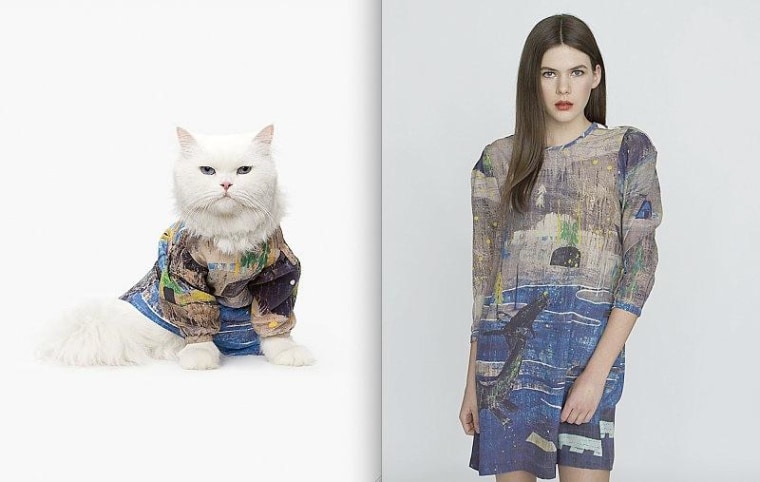 But the price point hasn't stopped cat lovers from buying these one-of-a-kind creations: So far, 12 of the 33 outfits have been sold since they went on sale at the end of November.
How did this all start, you might ask? The cat craze at United Bamboo began in 2009, when co-owner Miho Aoki thought her cat would look cute dressed up in clothes (it's probably safe to say that a fair amount of cat owners have found themselves thinking the same thing at some point in their pet ownership).
Aoki acted on her imagination, outfitting her animal in human-inspired attire and documenting it for posterity. "She took a photo and had it framed up in the office," Girion said. "Our pattern maker LOVES cats and wanted to take the idea further so Miho thought to make a calendar out of cats wearing United Bamboo clothes."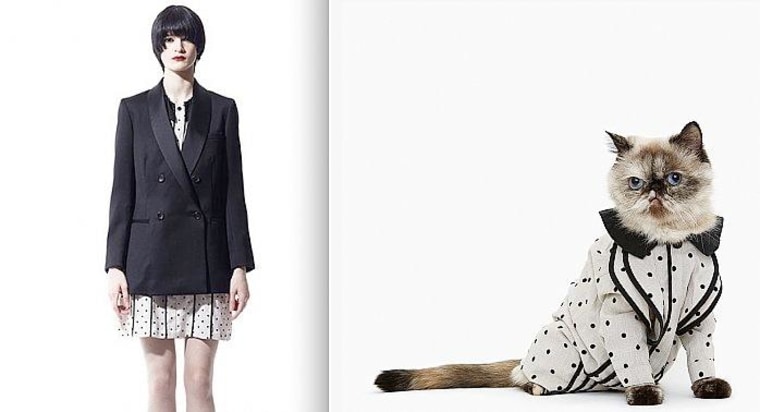 Many of the outfits on the site are paired with trivia about the "models" who first donned them — just in case you want to learn more about "Patooti," "Little Prego Spina," or any of the other cool cats.
Even animal-of-the-moment "Tardar Sauce," the grumpy cat was spotted at Refinery 29 this past week, modeling United Bamboo clothes in a video shoot. As usual, he looked adorable — but definitely not pleased.
If cat clothes aren't your thing, or you're in the market for a matchy-matchy gift for your other little one (maybe Coco has already used up her clothing allowance), check out chic coordinated clothing for moms, babies and even dads here.
More:
Oh, Yoko! Ono's fashion line gropes for Lennon
Would you dare wear denim sandal-boots?