It's Hollywood's big night! See the most talked-about looks from the Oscars red carpet.
Allison Janney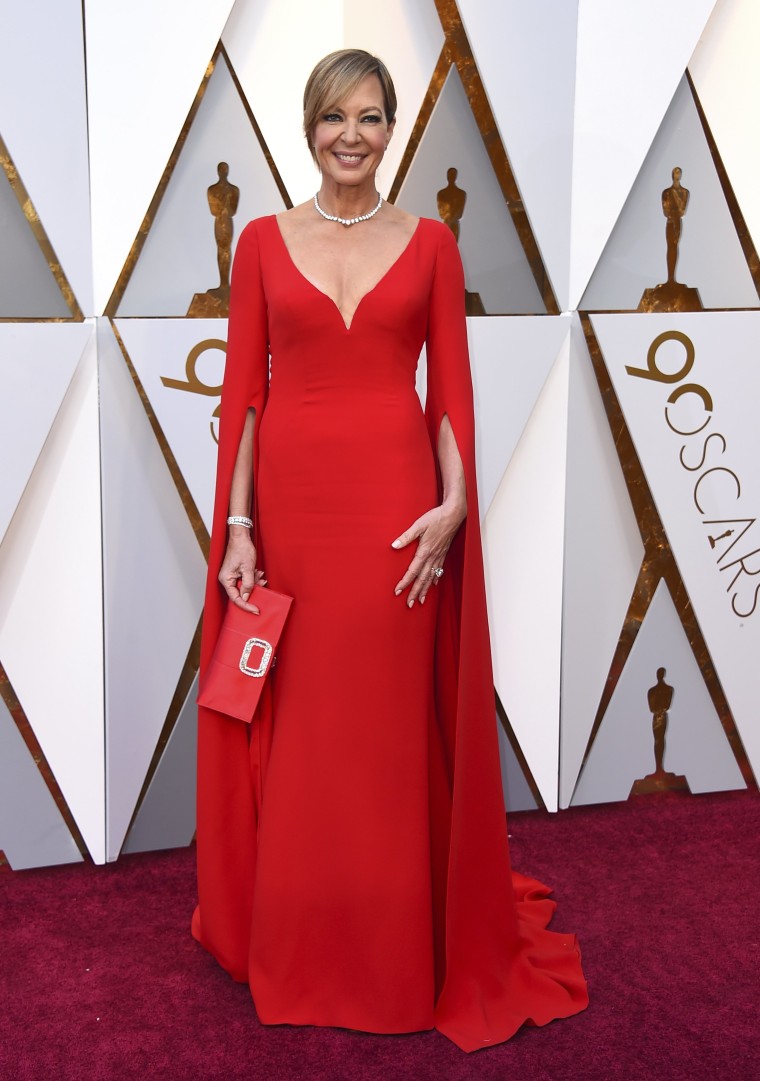 Allison Janney knows how to wear red! The "I, Tonya" star made quite the entrance in this cherry number with dramatic sleeves that draped to the floor.
Salma Hayek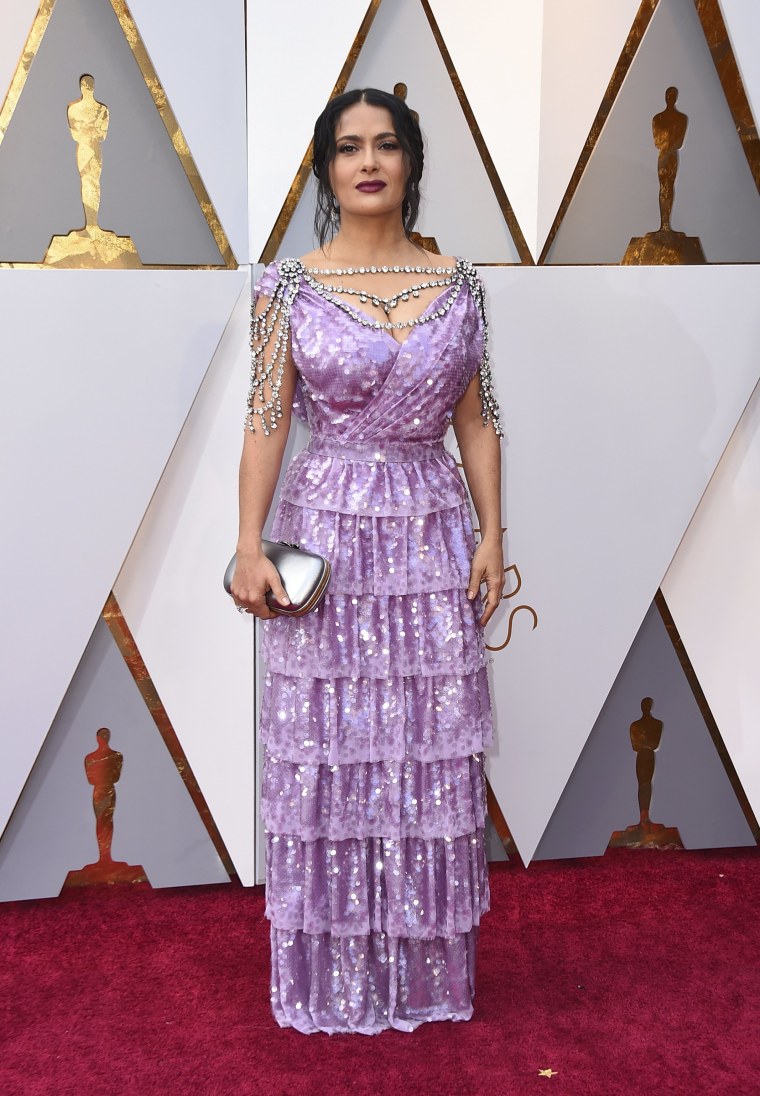 Salma Hayek is never afraid to take a fashion risk — and it certainly paid off at the Oscars! This shimmery, bejeweled, layered dress feels one of a kind.
Margot Robbie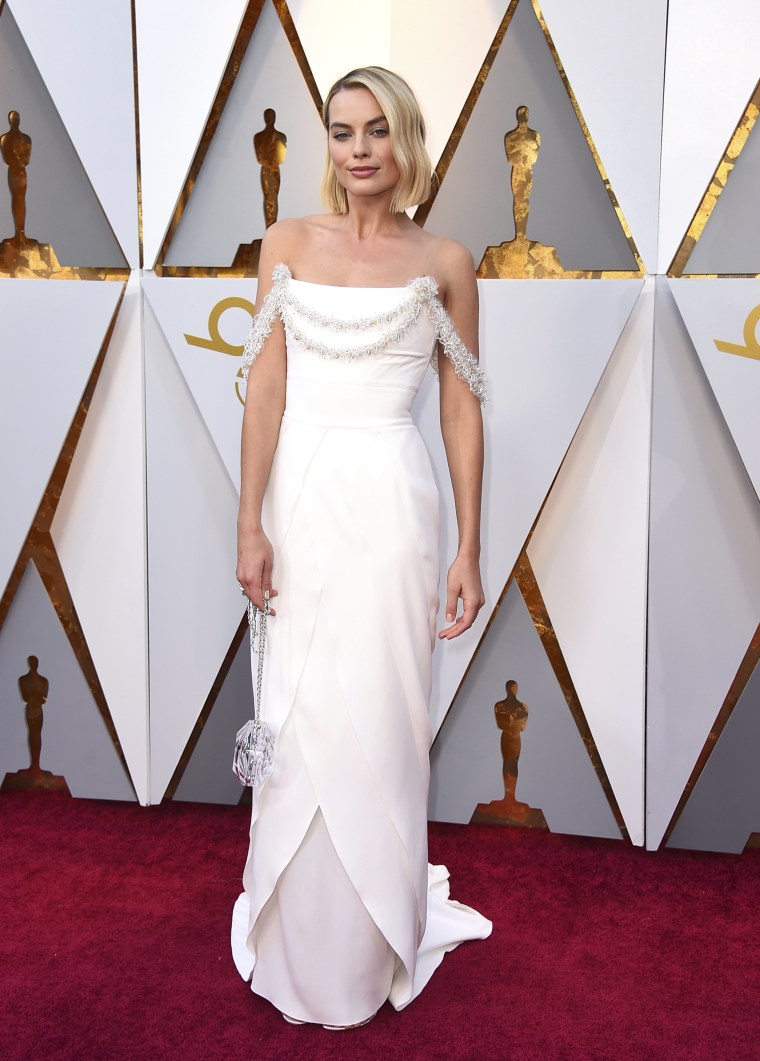 As Margot Robbie clearly knows, white makes a striking statement on the red carpet. This standout number from Margot Robbie looked sleek and romantic at the same time.
Viola Davis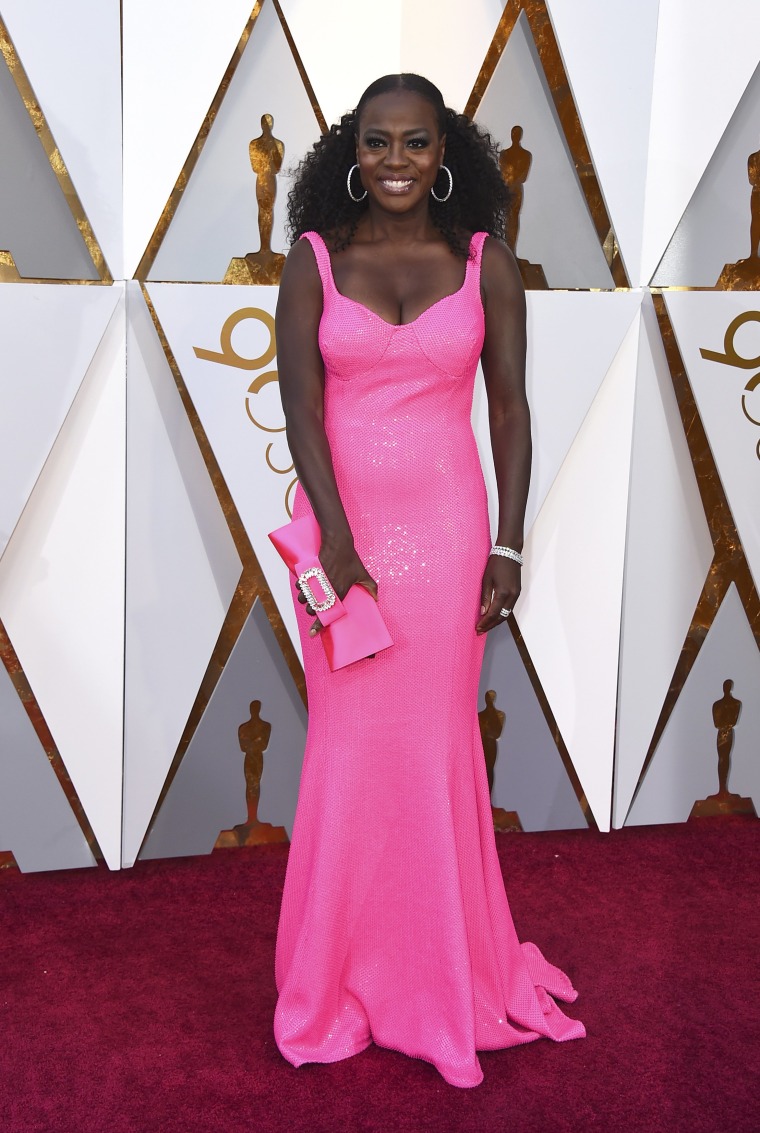 It's Viola Davis' world and we're just living in it! This Barbie-pink color looks fantastic on the Oscar-winning star.
Allison Williams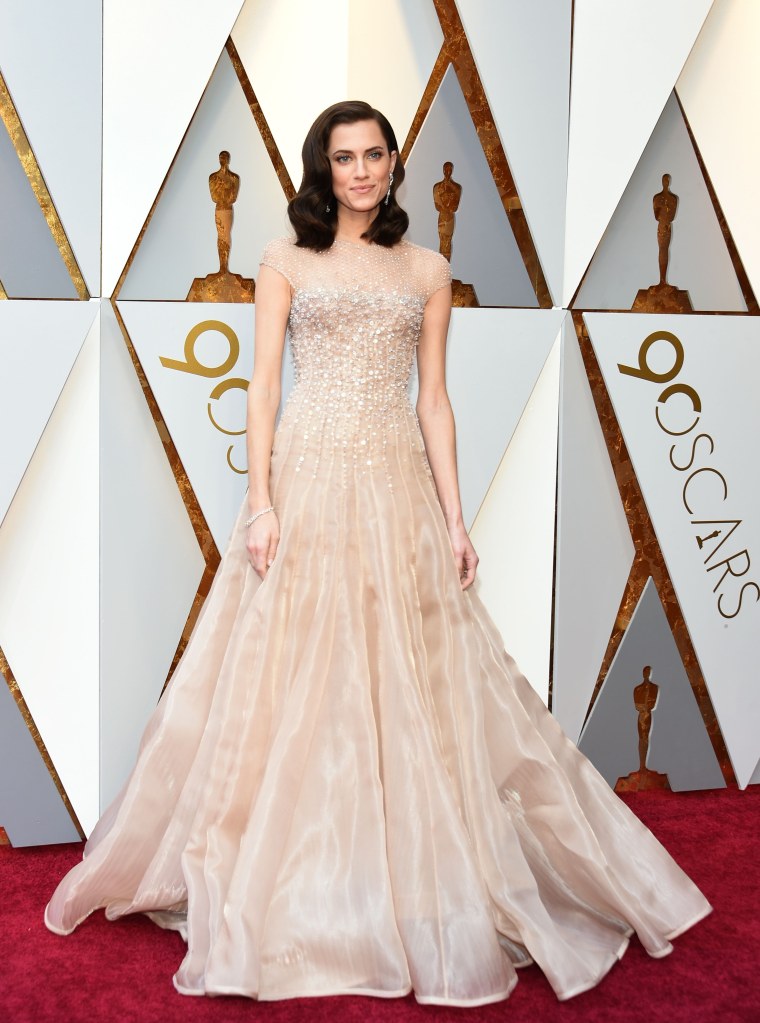 Looking like a real-life princess, "Get Out" star Allison Williams chose a skin-tone hued beaded ballgown.
Saoirse Ronan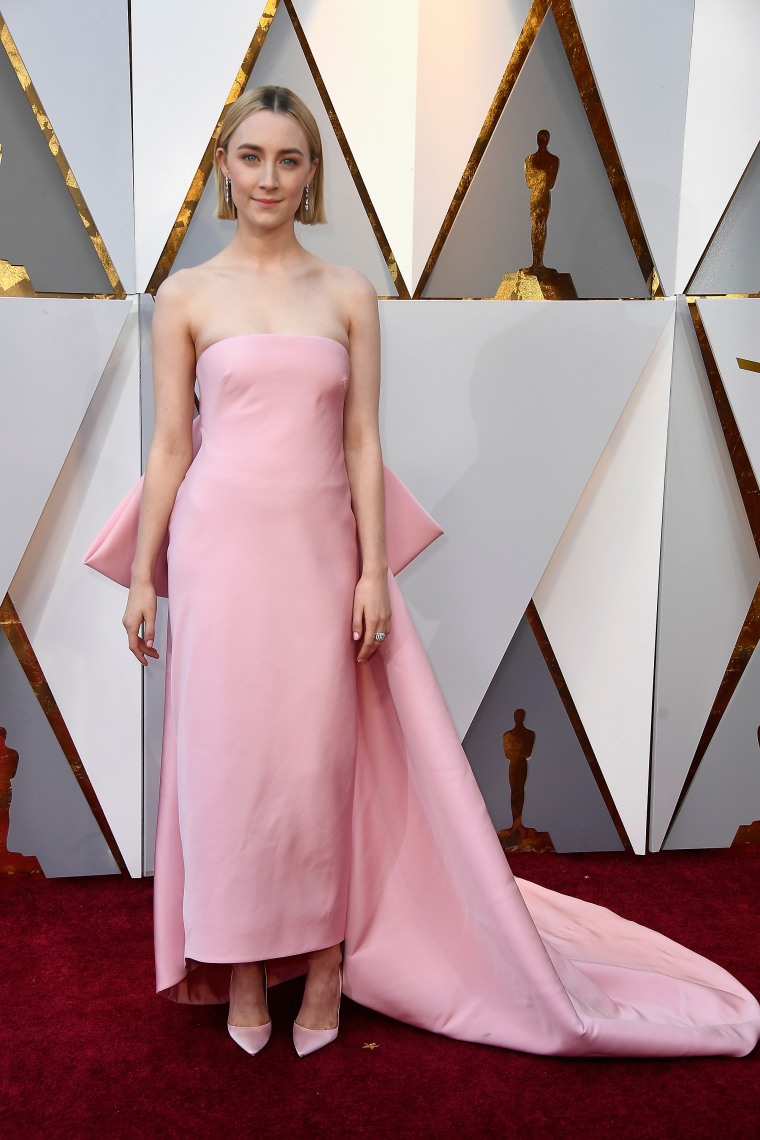 Pretty in pink! Saoirse Ronan looks sugary sweet in this cotton candy-hued strapless dress with a dramatic bow in the back.
Nicole Kidman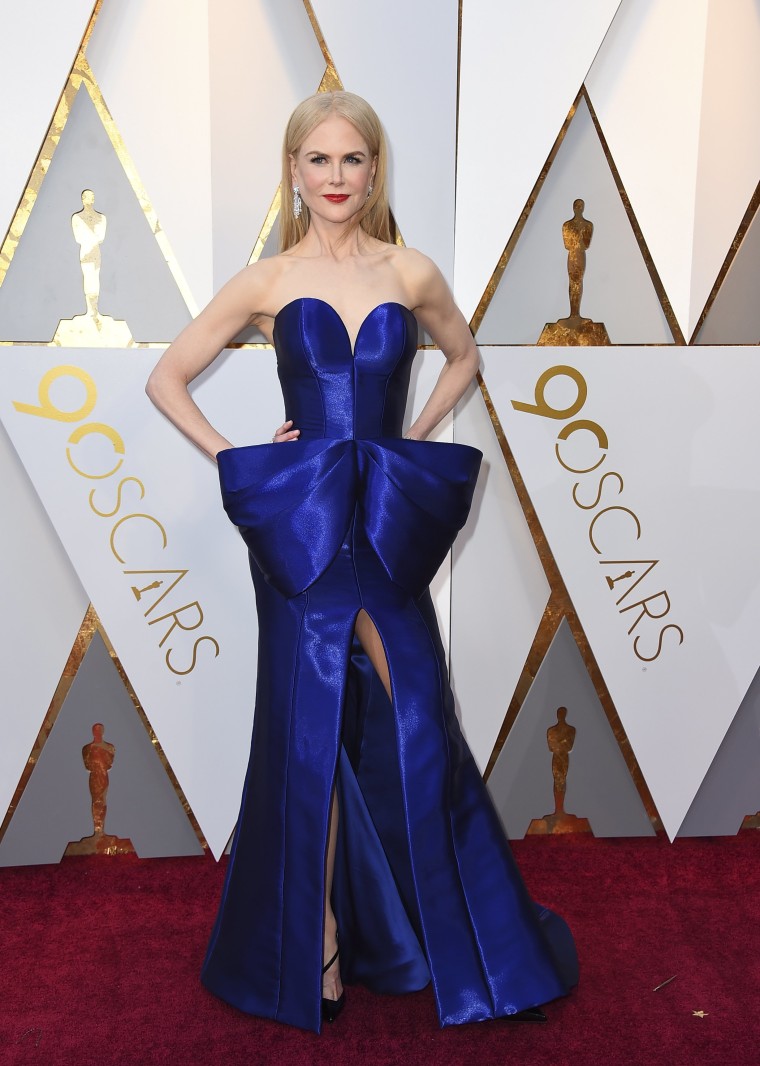 Nicole Kidman was born to wear this dress! She looked picture-perfect in this bold blue gown with a large bow at the waist.
Lupita Nyong'o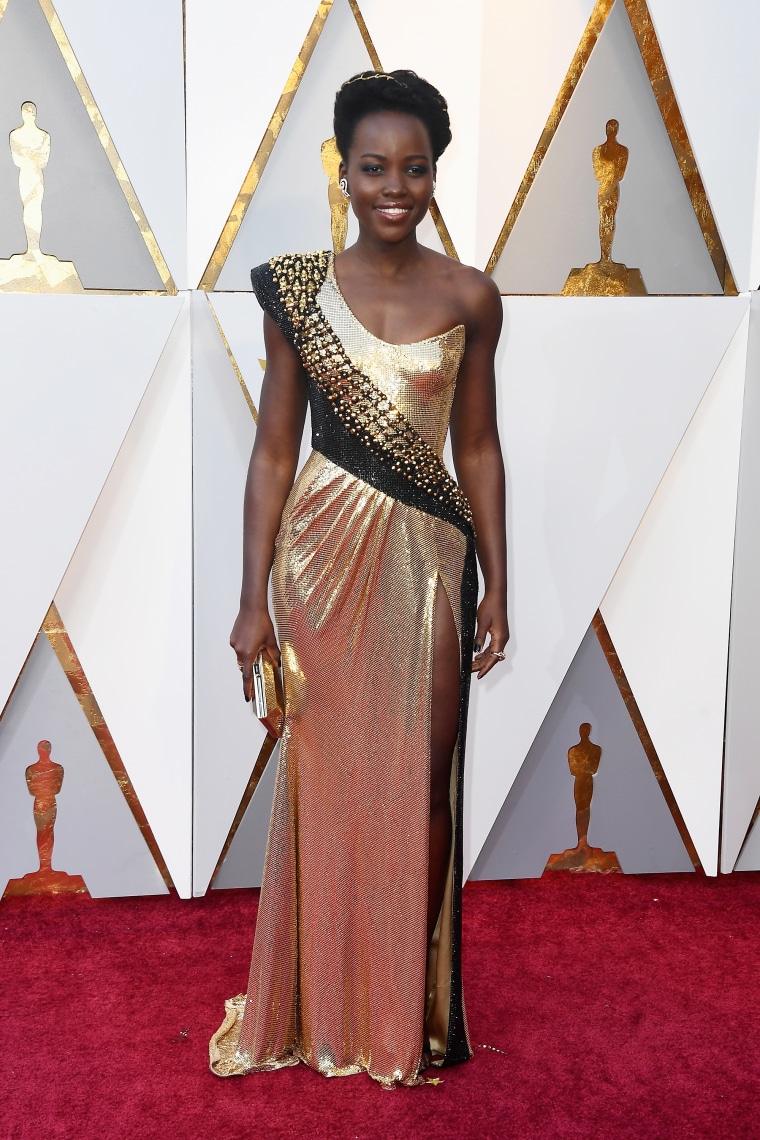 Lupita Nyong'o is in the record-breaking movie "Black Panther," and certainly looks the part of a Hollywood star in this gold gown.
Gal Gadot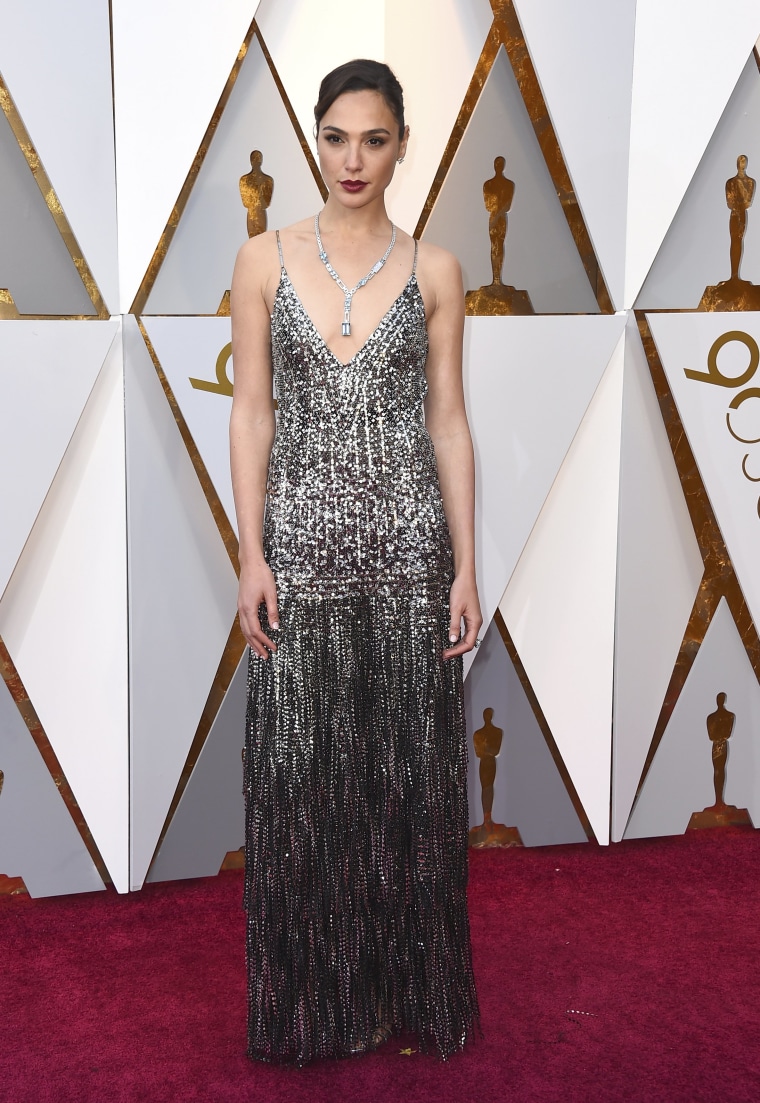 A Wonder Woman, indeed! Gal Gadot made quite the red carpet entrance in this shimmery fringed gown with a standout necklace.
Mary J. Blige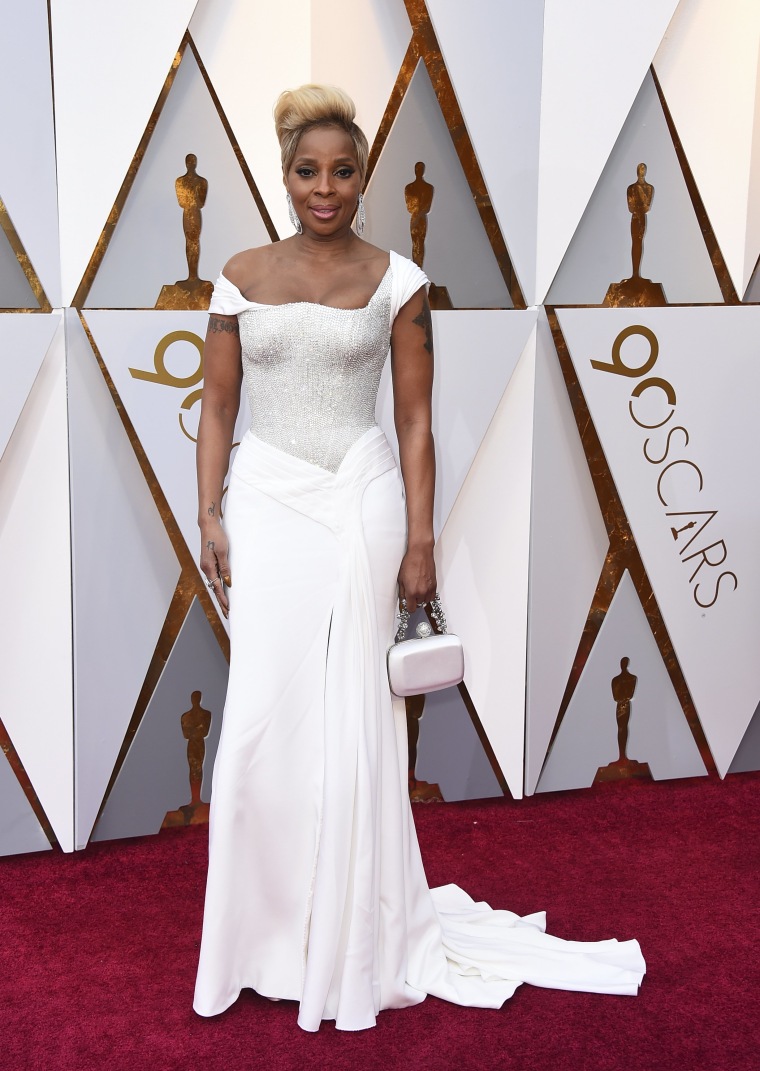 Mary J. Blige might be all about "no drama," but that isn't the case when it comes to her red carpet dresses. Just check out the gorgeous bling on the bodice of her striking white gown!
Ashley Judd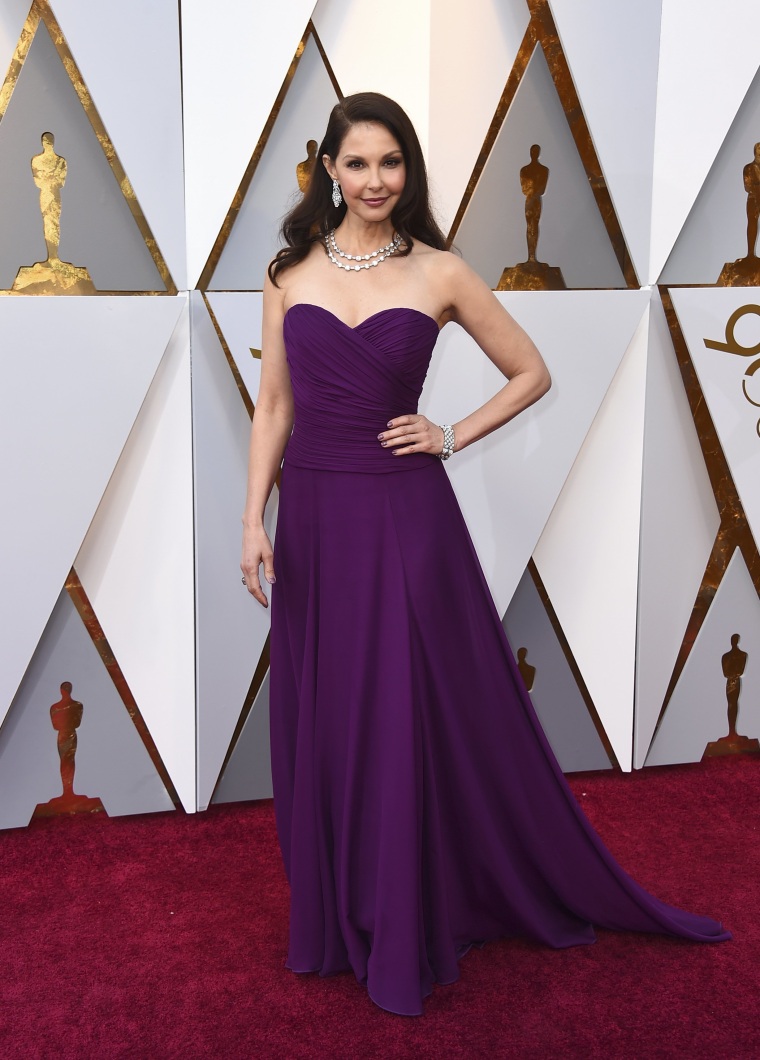 Ashley Judd made her red carpet entrance in this regal purple gown with a sweetheart neckline and a ruched, fitted bodice.
Octavia Spencer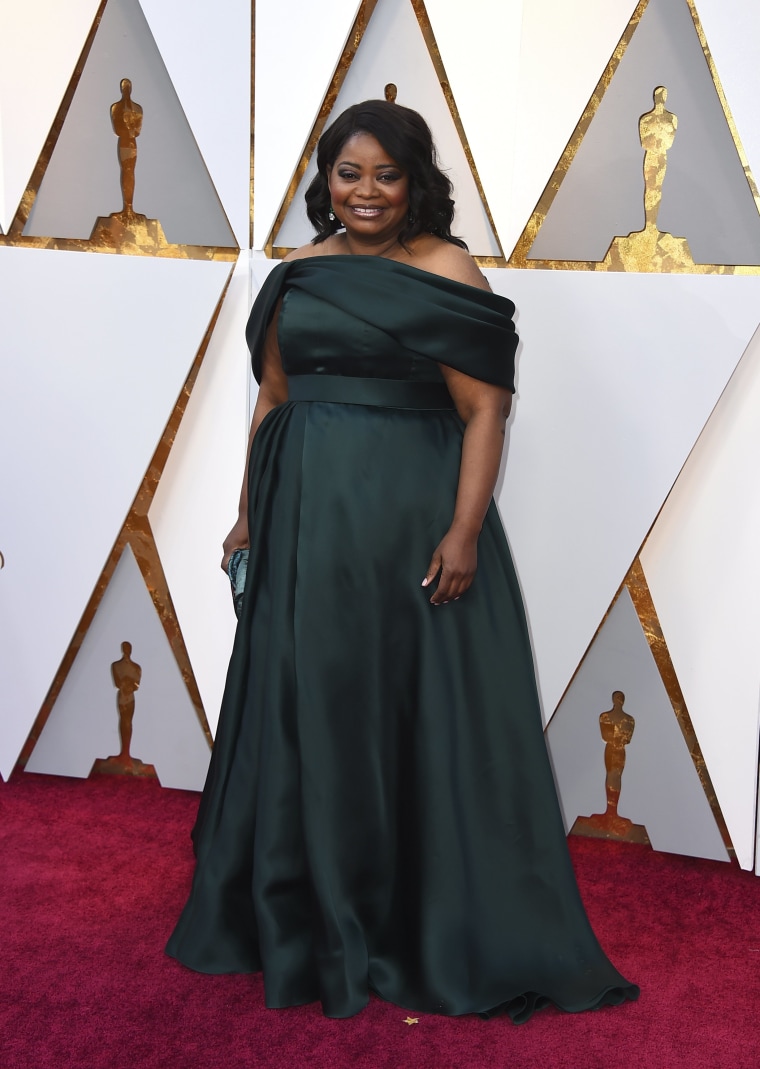 Octavia Spencer is glowing in this moody teal gown with a flattering, off-the-shoulder neckline.
Laura Dern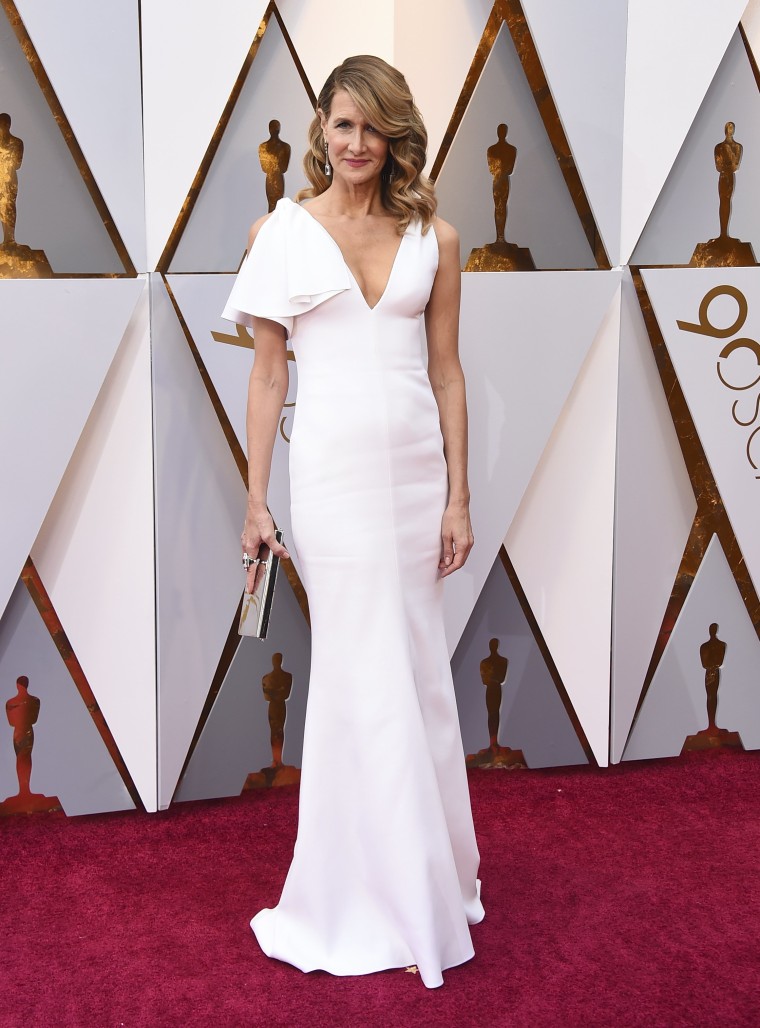 This deceptively simple gown is stunning on Laura Dern, who had an important role in "Star Wars: The Last Jedi."
Gina Rodriguez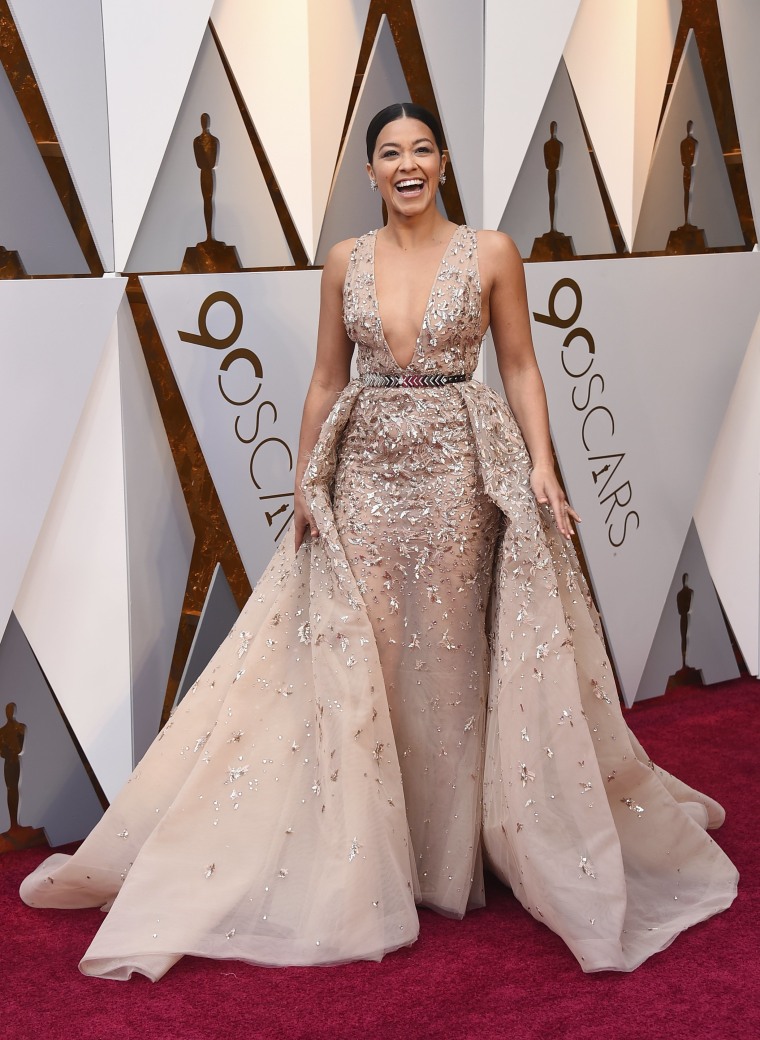 Now that's an Oscar-worthy smile! Gina Rodriguez brought her megawatt charm to the red carpet in a nude-colored gown with a plunging neckline and dramatic skirt. The metallic silver belt around her waist adds the "it" factor.
Sandra Bullock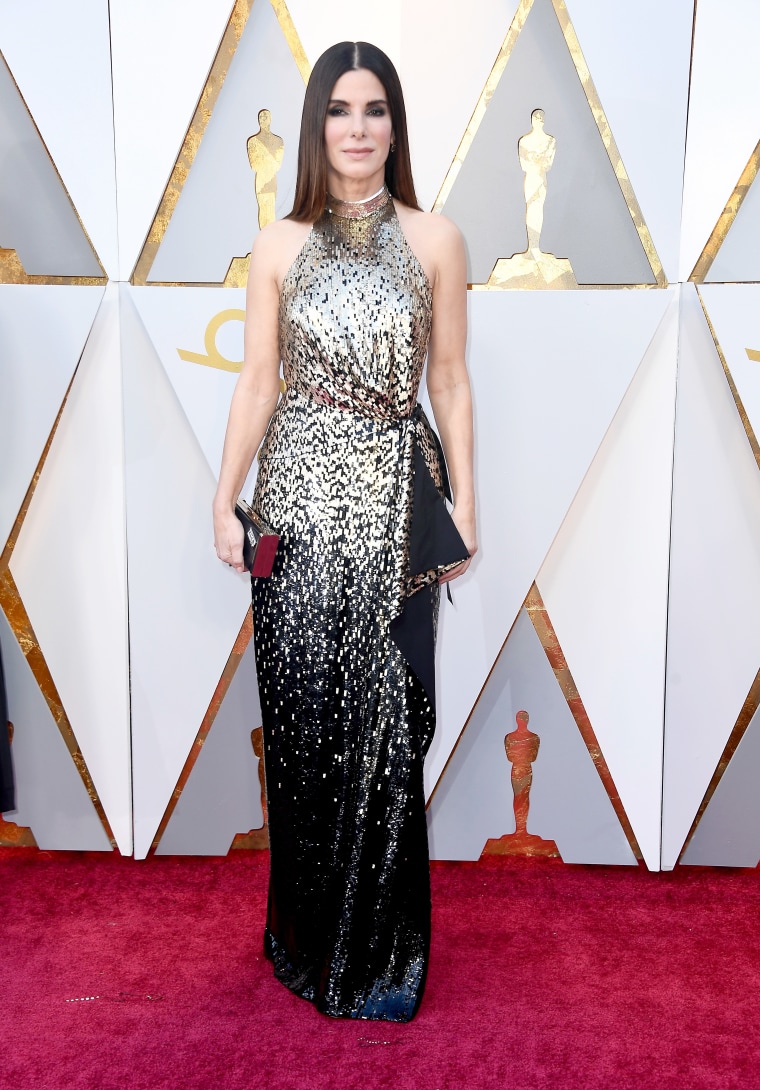 Sleek, straight and shiny! Sandra Bullock matched her gorgeous hair to her dress for this sophisticated look.
Helen Mirren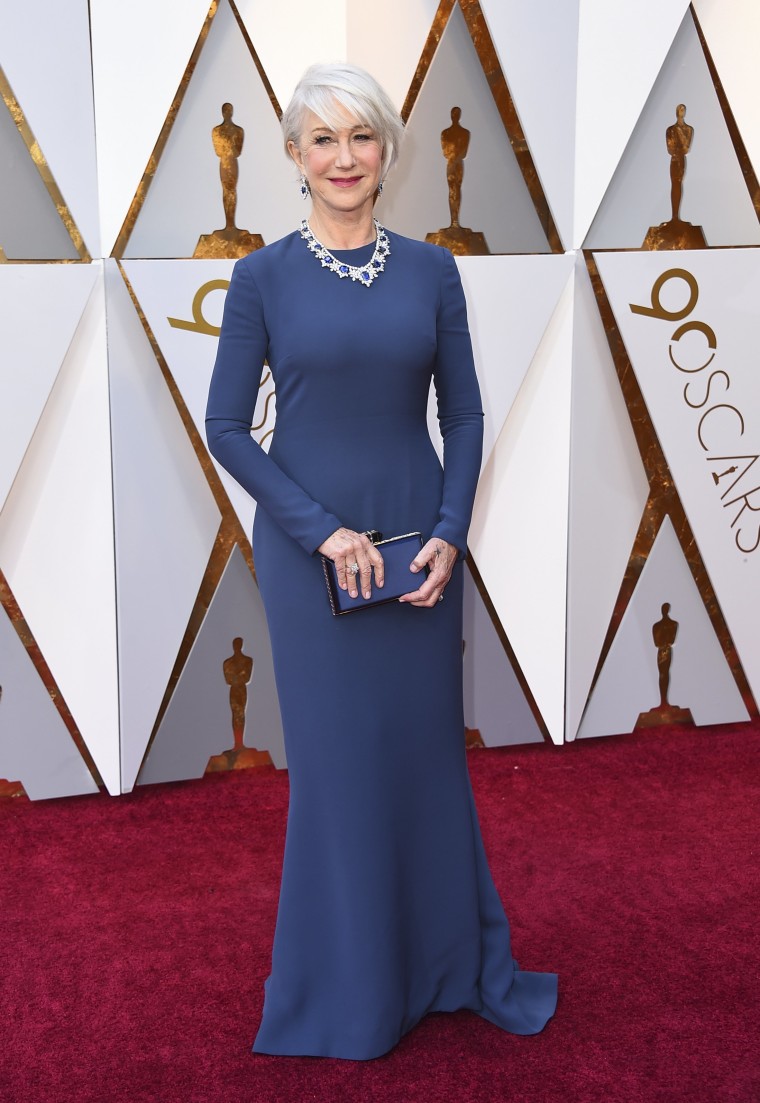 Is it blue? Is it gray? Is it something in between? While we can't quite put our finger on the name of this color, Helen Mirren is certainly rocking it.
Zendaya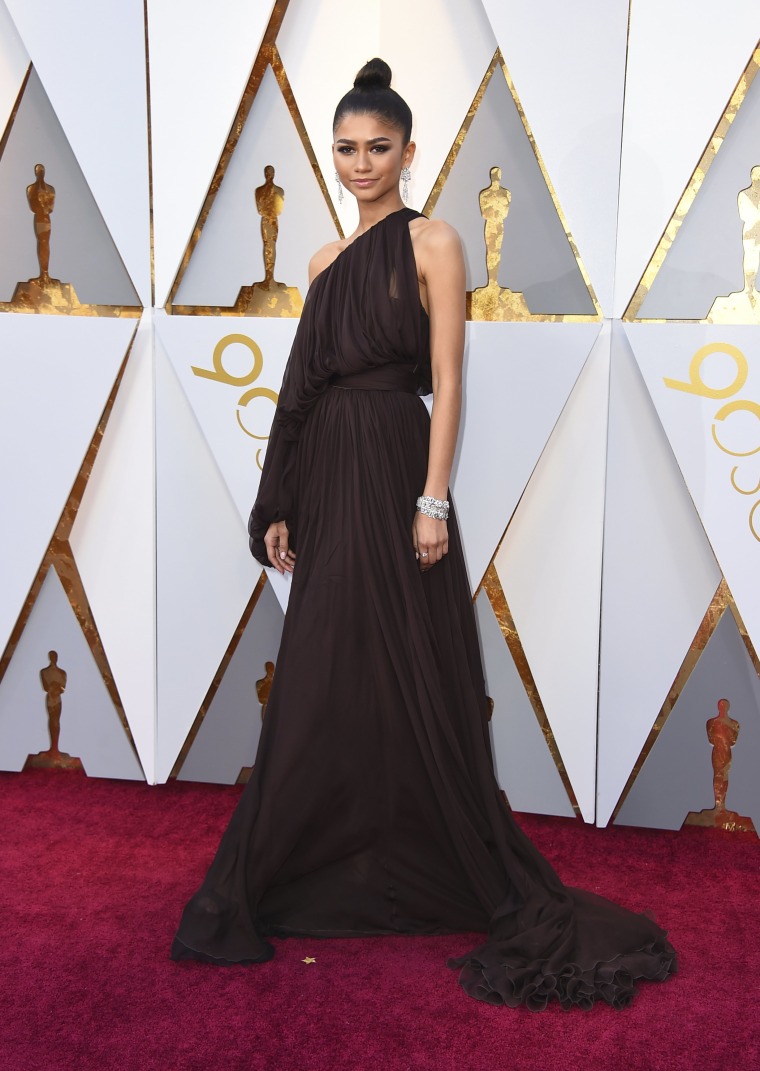 Zendaya solidifies her status as a red carpet icon with every appearance. This one-shoulder gown is effortlessly cool and perfectly styled with this sleek topknot.
Greta Gerwig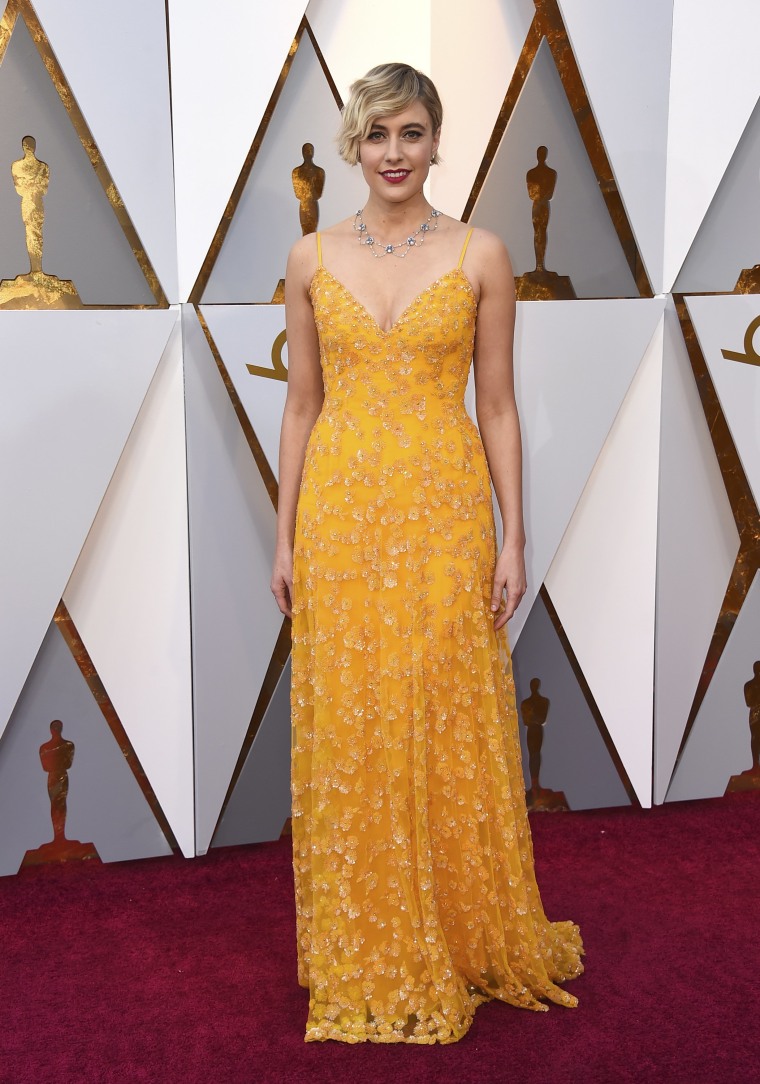 "Lady Bird" director Greta Gerwig went with a slightly retro look with this marigold slip dress. Her '40s-style finger waves and red lips top off the outfit.
Jennifer Garner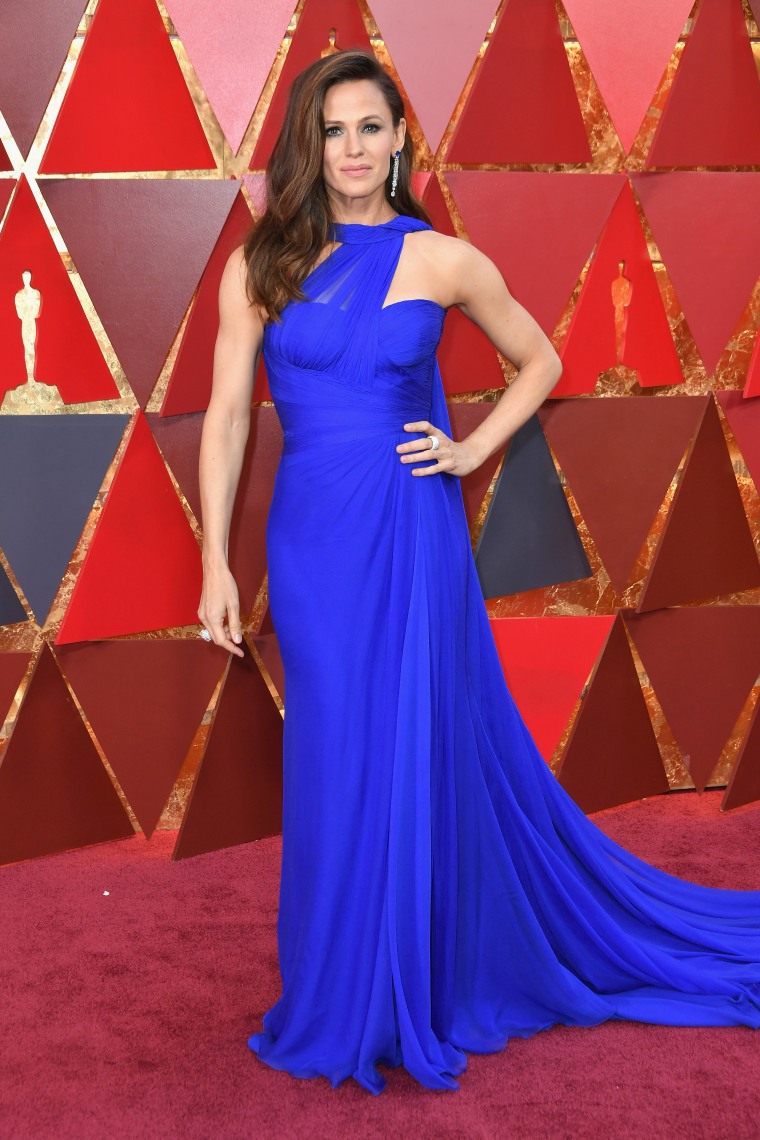 Jennifer Garner made quite the statement in this figure-hugging royal blue gown paired with old Hollywood waves.
Jane Fonda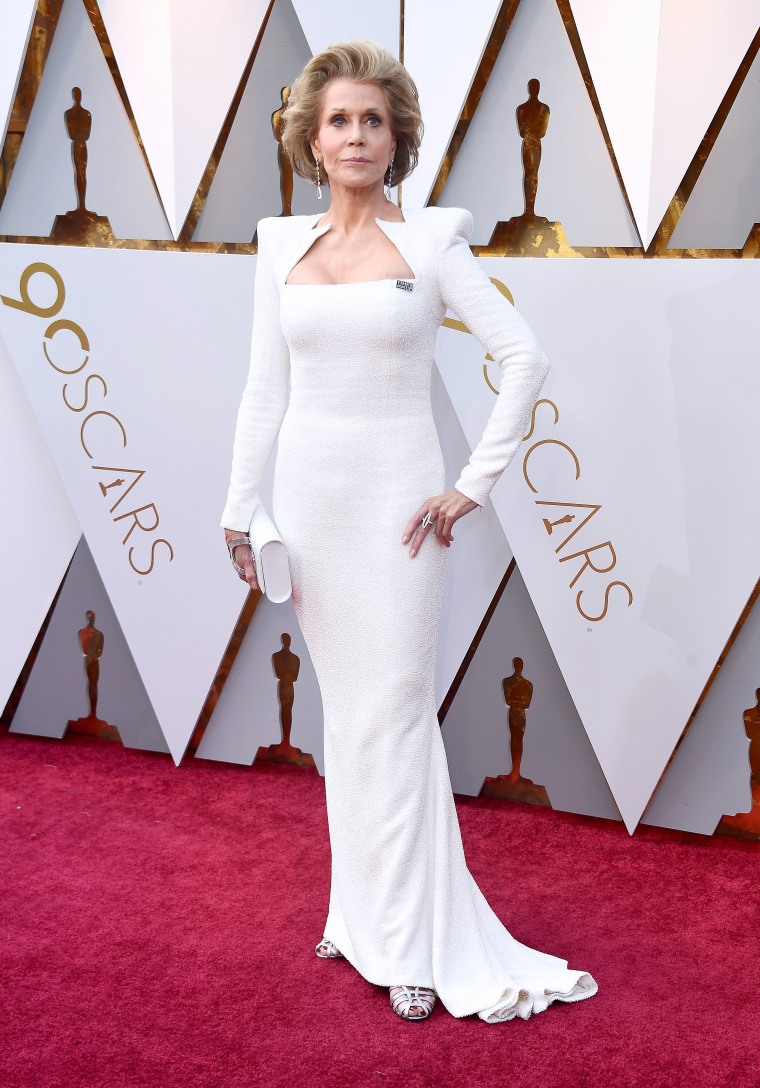 Talk about timeless! Jane Fonda never fails to make a statement on the red carpet, and this look is no different. The unique neckline frames her face perfectly.
Emily Blunt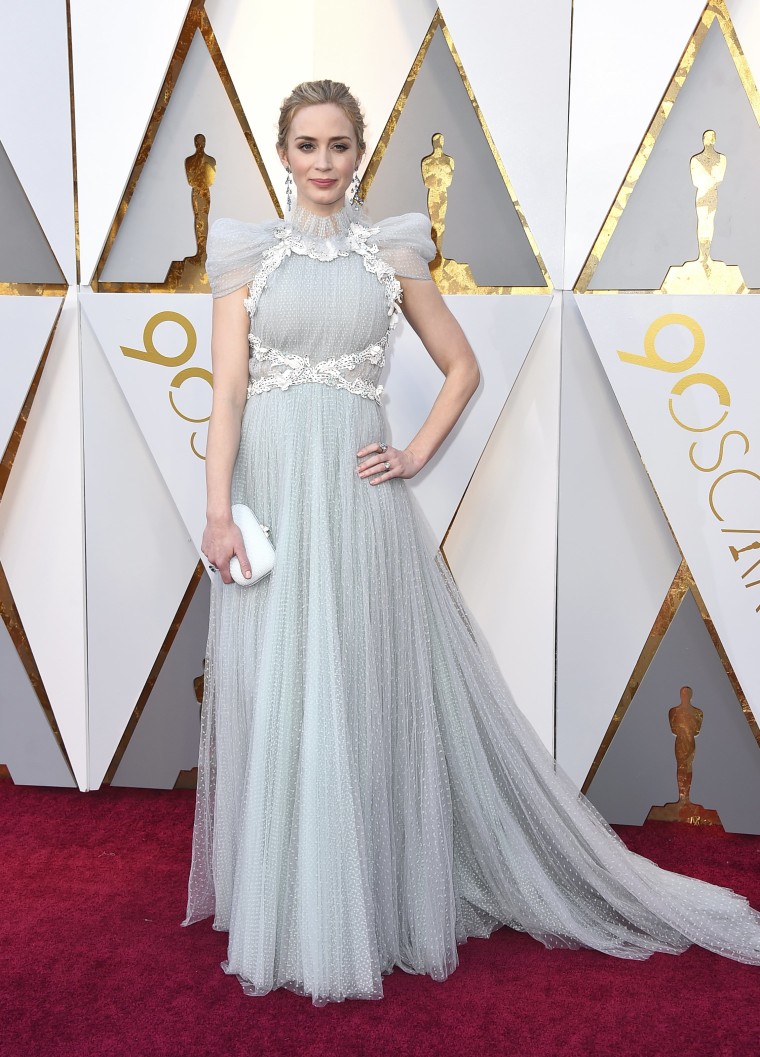 Emily Blunt looks romantic and lovely in this pastel green number.
Elisabeth Moss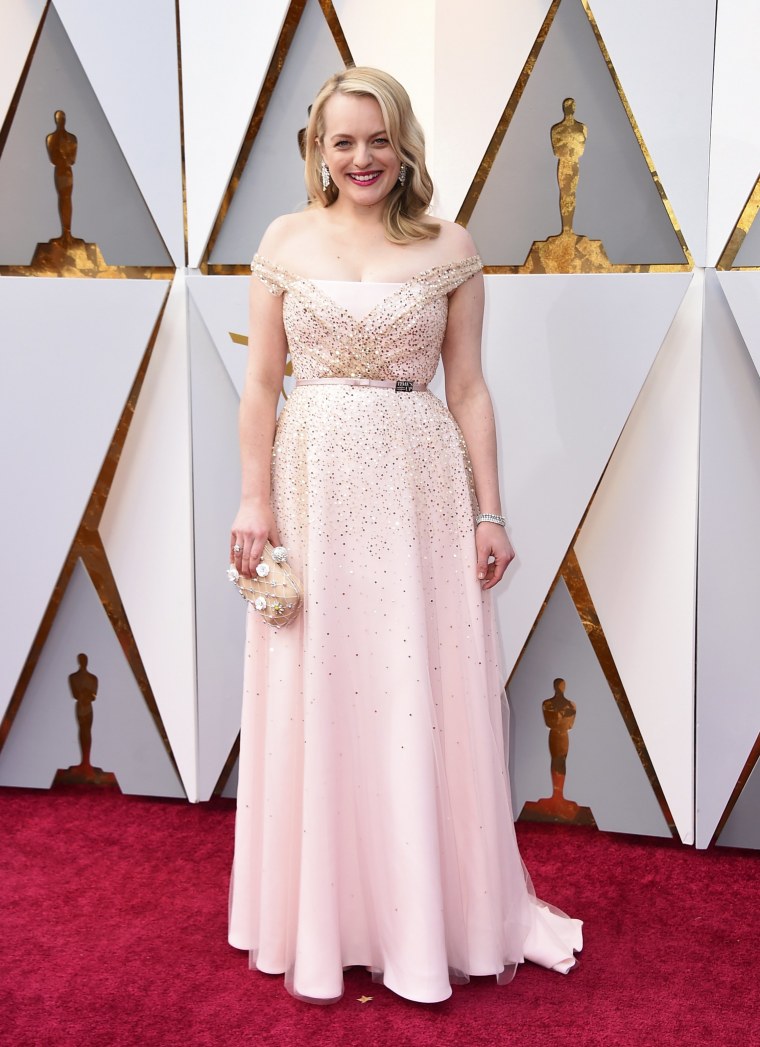 Elisabeth Moss is looking pretty in pink in this sweet, off-the-shoulder gown. The teeny-tiny bow at the waist adds the ideal finishing touch.
Jennifer Lawrence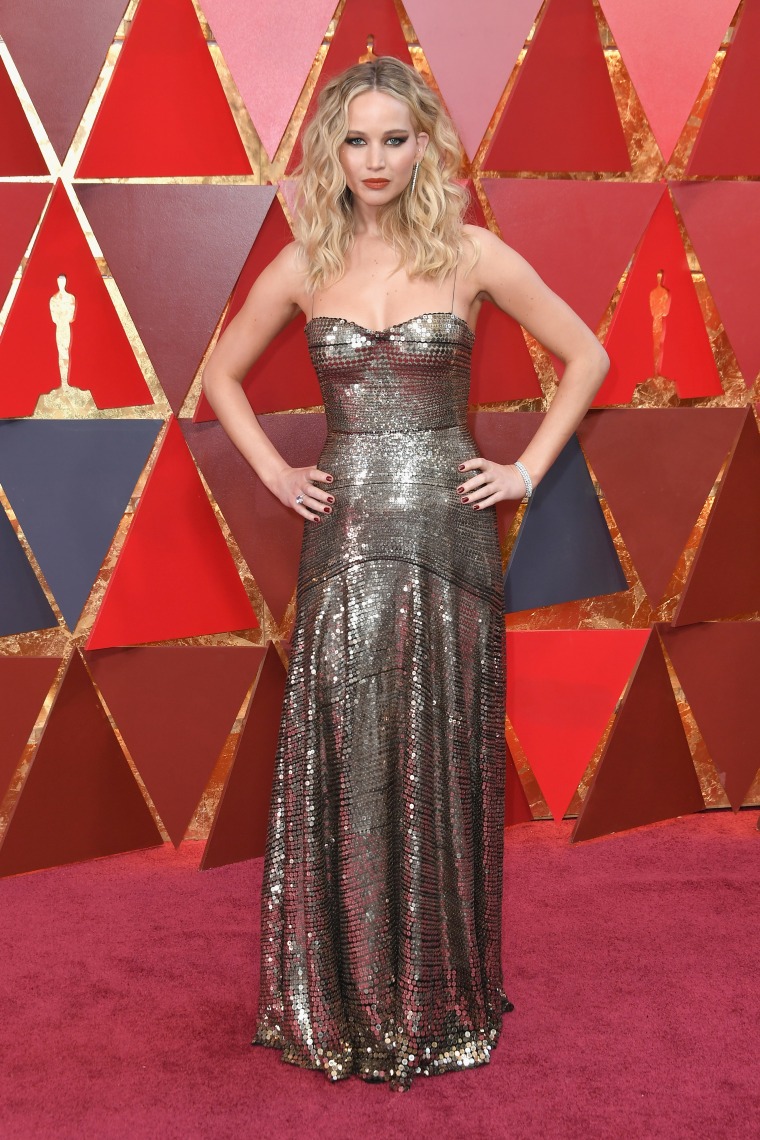 Gorgeous in gunmetal! Jennifer Lawrence chose a slinky, shiny column dress for the red carpet.
Emma Stone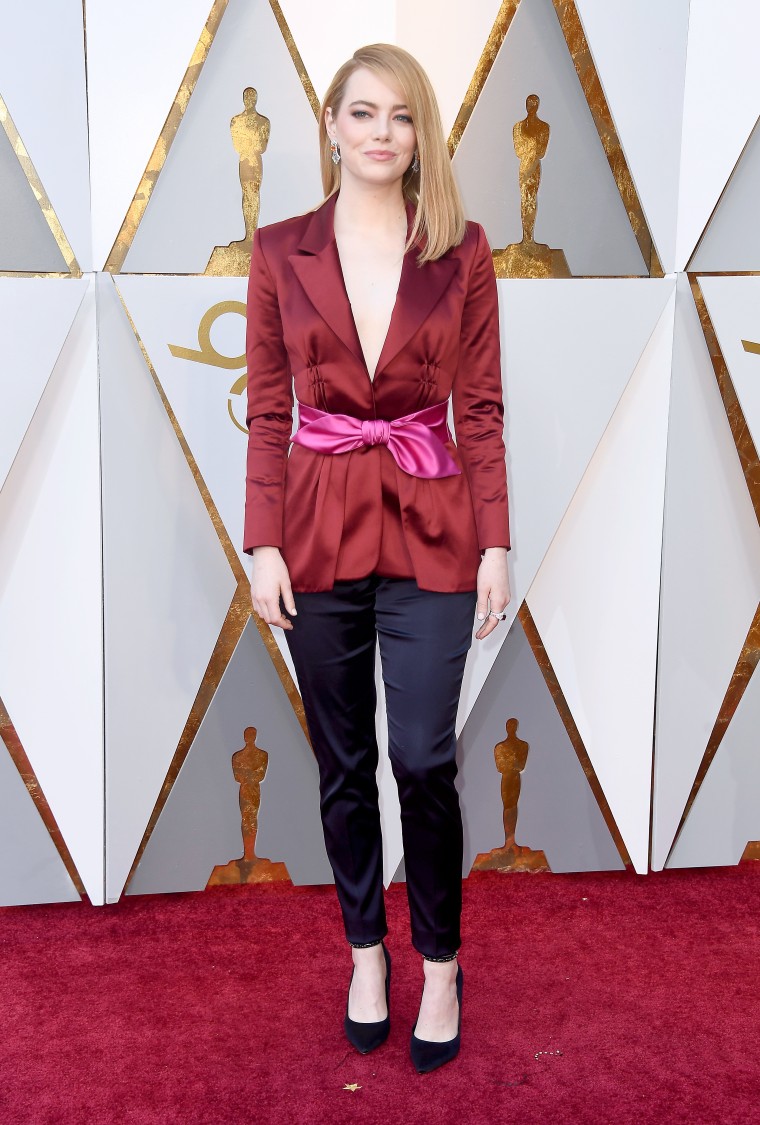 The 2017 Oscar winner for best actress wore a silky pantsuit for her return to the Academy Awards.
Beanie Feldstein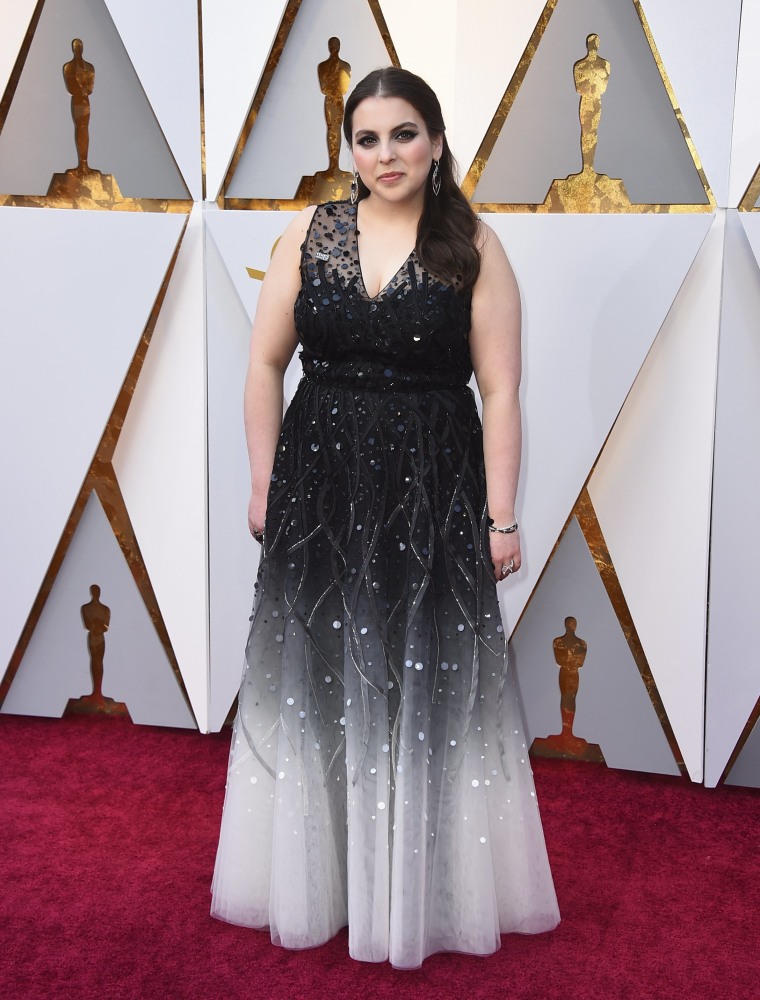 "Lady Bird" star Beanie Feldstein is black-and-white perfection in this reverse ombre gown with a flattering deep V-neckline.
Rita Moreno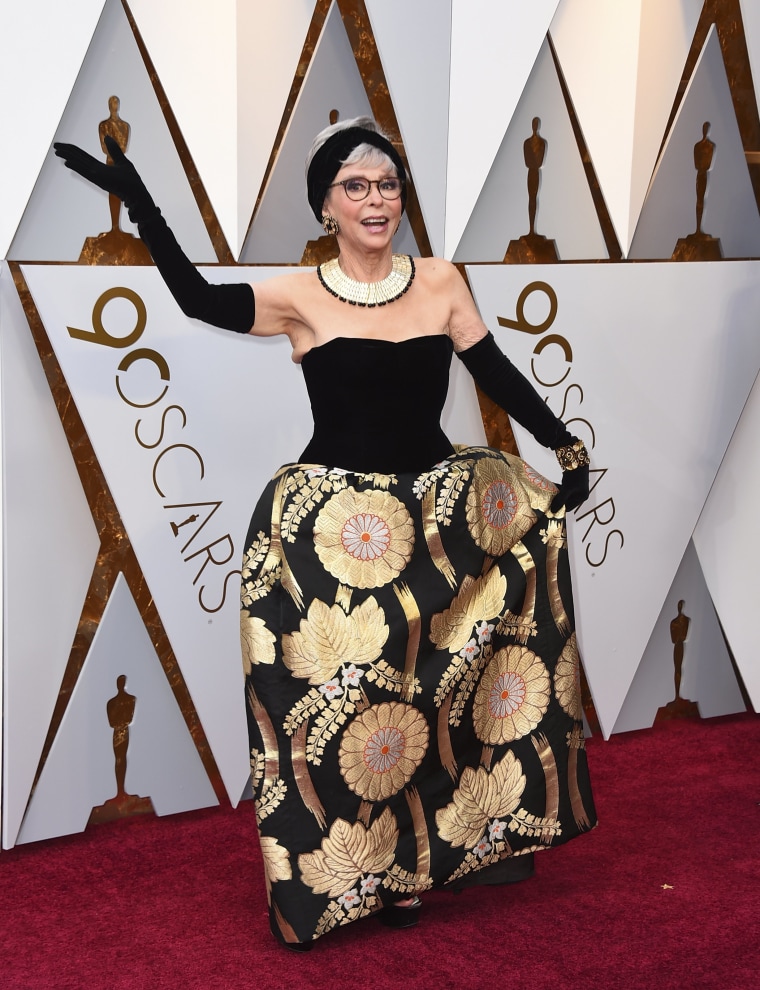 Look familiar? Rita Moreno wore the same gown she did in 1962 when she won her Oscar for "West Side Story." What a legend!
Meryl Streep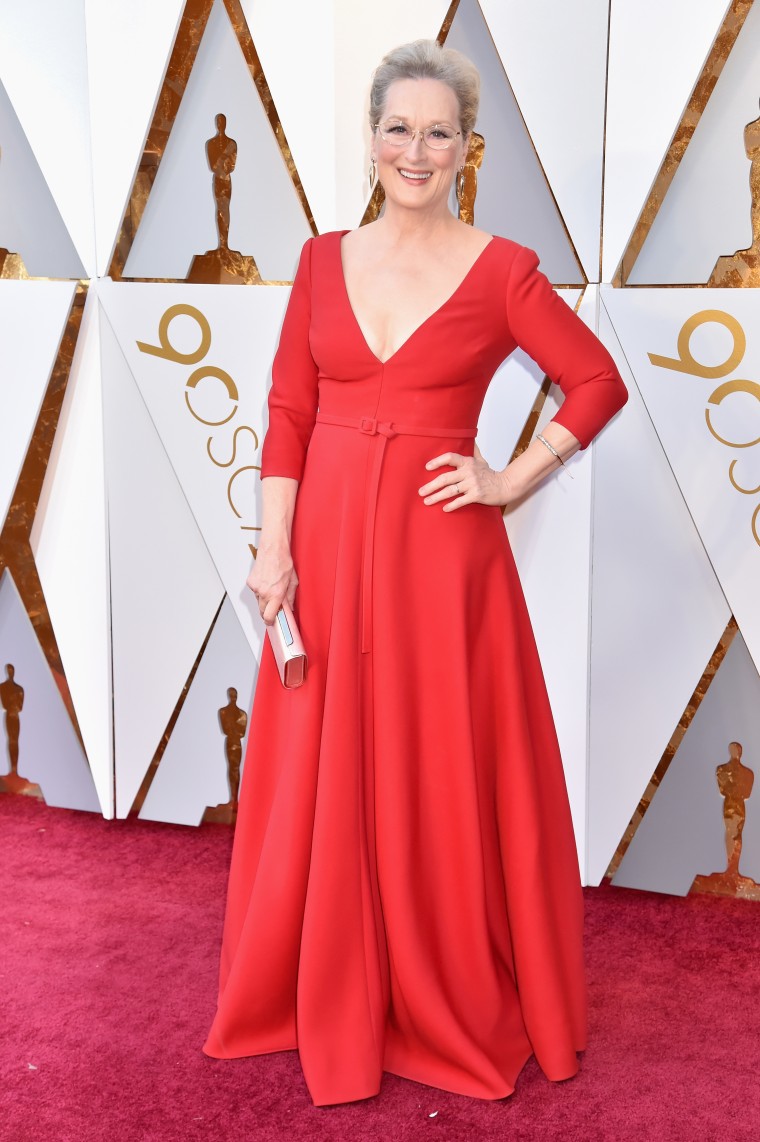 Is it any surprise that Meryl Streep looks amazing on the red carpet? This three-quarter-sleeved gown has a lower neckline than we're used to seeing on the Oscar-winning star, but it looks gorgeous. The skinny belt adds a trendy touch.
Adam Rippon and Mirai Nagasu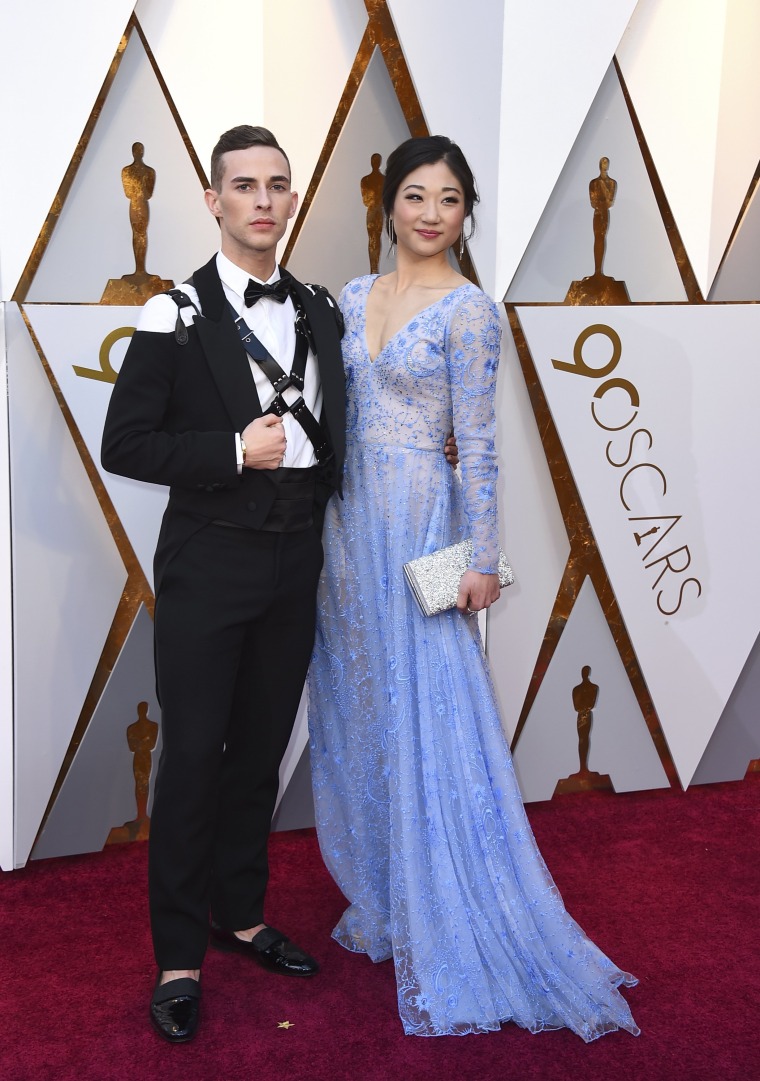 The Olympics are coming to the Oscars! Figure skating sensations Adam Rippon and Mirai Nagasu are out of their costumes and in elegant, stylish looks for the red carpet.
Lindsey Vonn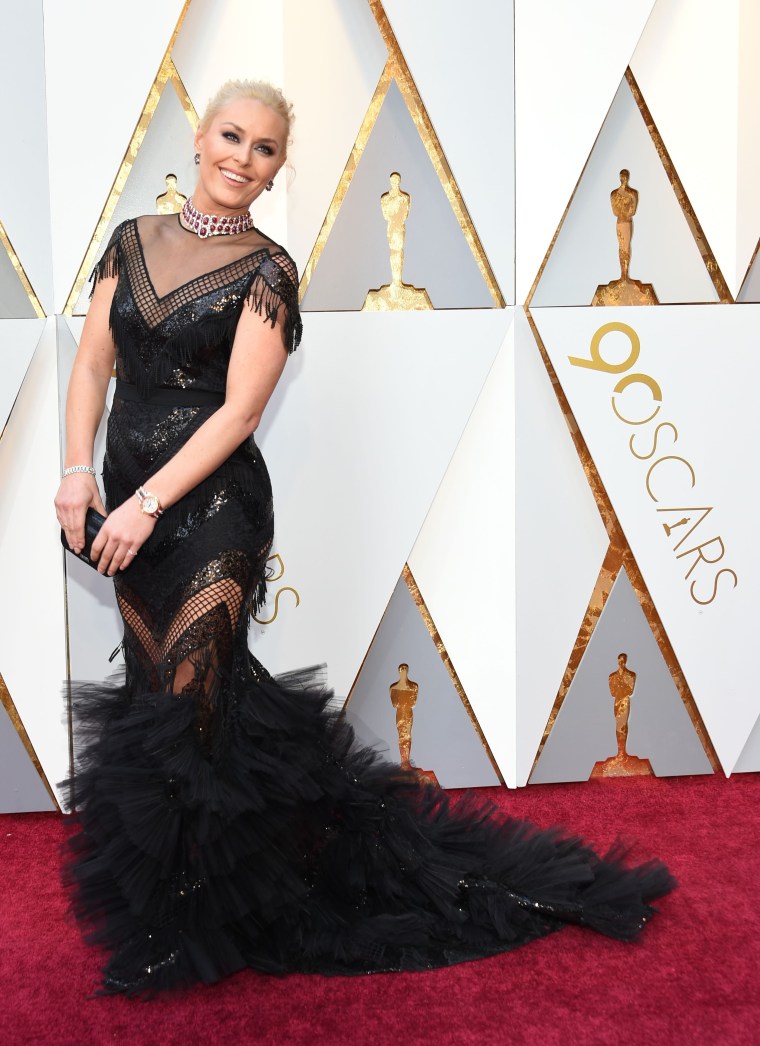 Skiing sensation Lindsey Vonn is all smiles on the red carpet in this eye-catching number.