/ Source: TODAY contributor
TODAY Style editor Bobbie Thomas presents free-spirited fashions that are still sophisticated.
It's the first official day of spring, and along with the warm weather and upcoming April showers, a sprinkling of girlish trends tends to blossom this time of year.
But this season, those who lean toward clean, polished clothing will be happy to hear that a subtle sophistication is helping these styles bloom into a grown-up, understated pretty. Dusty pastels, shapes that drape and feminine fabrics all come together in an effortless way to create looks that ease into summer with just the right amount of feminine flair.
Bobbie Thomas, TODAY Style editor and author of the Buzz for In Touch Weekly, zones in on softer silhouettes, fabrics, colors and accents by styling these sweet trends in five different ways.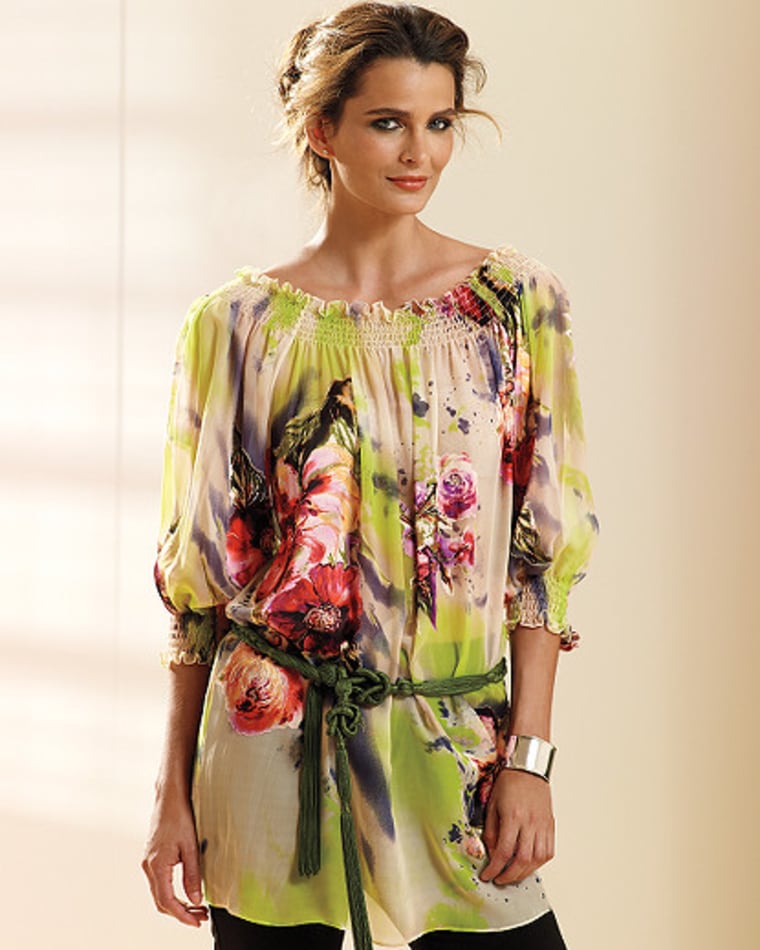 Impressionistic art
Less ladylike floral and more modern art, patterns in washed-out watercolors are making waves in stores this spring. While wallpaperlike designs tend to overwhelm, art-inspired, abstract tops and dresses won't look as busy. Perfect for creating a casual vibe, try piling on the prints by adding a scarf.
You may think two different designs would clash and compete, but oftentimes mixing patterns melds into a wardrobe masterpiece!
On model:
Gray printed blouse $59, Zara.com
Printed silk scarf $59, Zara.com
BCBGeneration wide-leg shorts $88, Macys.com
Pretty and polished Striking the right balance with office-appropriate summer clothes can be tricky. While lightweight linen is tempting on hot days, many think of this fabric as too unstructured and relaxed for a work wardrobe. But when paired with the proper pieces, that's not necessarily so.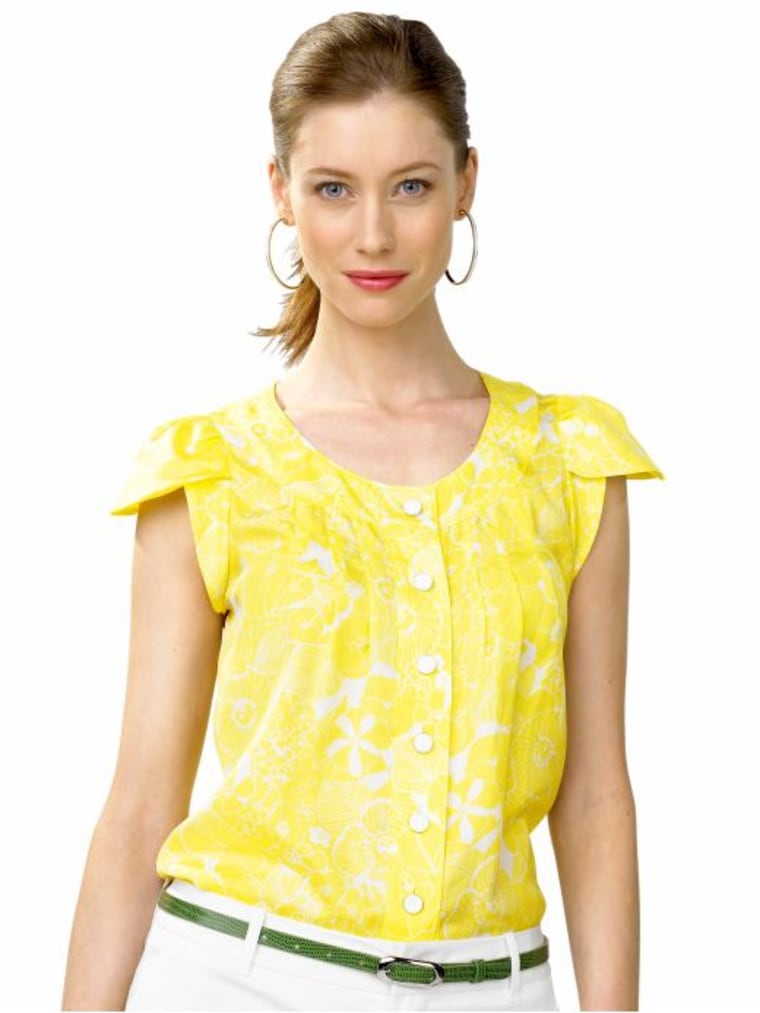 A soft satin blouse with feminine tailoring instantly adds polish for work. Look for lovely fabrics that are loose and easy, and you'll feel like you've lightened your workload.
And while the weather is still chilly, consider gray tights as the perfect transitional trend. Great for the office, a pair of charcoal tights will let you indulge in summer dresses now!
On model:
Satin floral-print blouse $68, Bananarepublic.com
Sheila Fajl earrings $70, Lordandtaylor.com
Gray linen pants $29.90, HM.com
Light layers Designers are doing the layering for you this season, with a slew of chiffon, mesh and tulle overlays on springtime dresses. These sheer fabrics are not only subtle and sexy, they're versatile in style. From frothy and fancy to casual cool, adding bohemian-inspired accents or standout jewelry can change the look of these barely-there layers. And what could be more romantic than peekaboo pieces?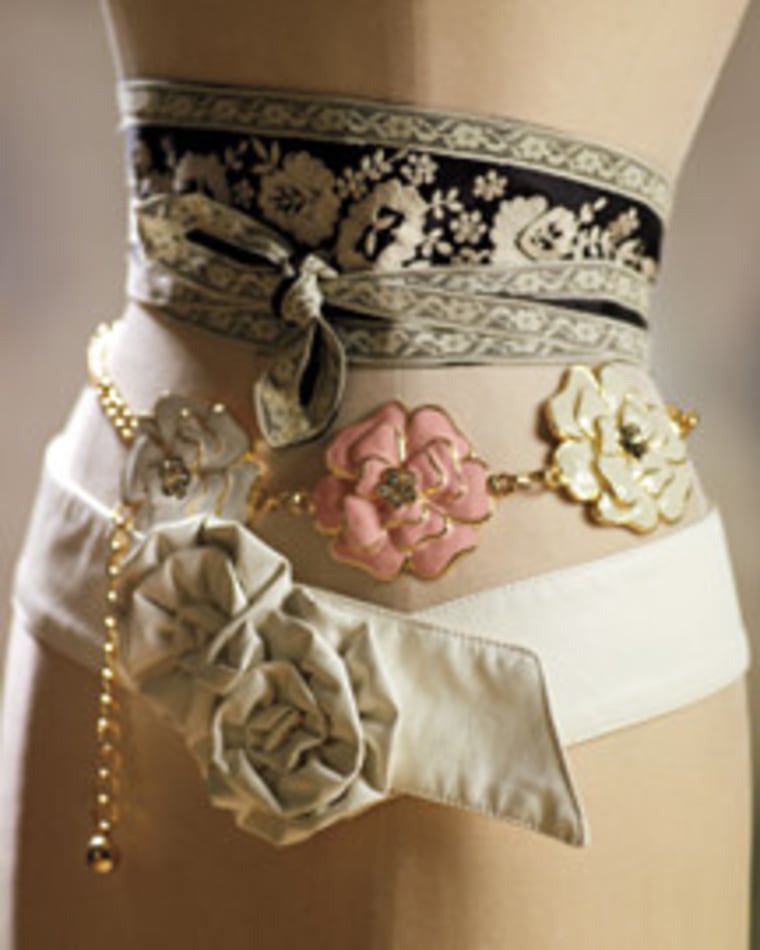 On model:
Sweetees ivory chiffon dress $158, Ithreads.com
Subversive for Target three-strand saturn beaded pearl necklace $49.99, Target.com
Laci obi embroidered belt $29, Spiegel.com
Lenigrad wedges $70, Aldoshoes.com
Pretty in pink
The ultimate female symbol — nothing says soft more than pink! This season, opt for muted pastels instead of candy colors and you can't go wrong. A wrap silhouette is womanly, and loose ruffles lend a laid-back air. Adding a pair of fun floral flats makes this look easy rather than uptight.
On model:
Lauren by Ralph Lauren linen sleeveless wrap ruffle dress $179, Macys.com
Floral ballet flats $39.50, Gap.com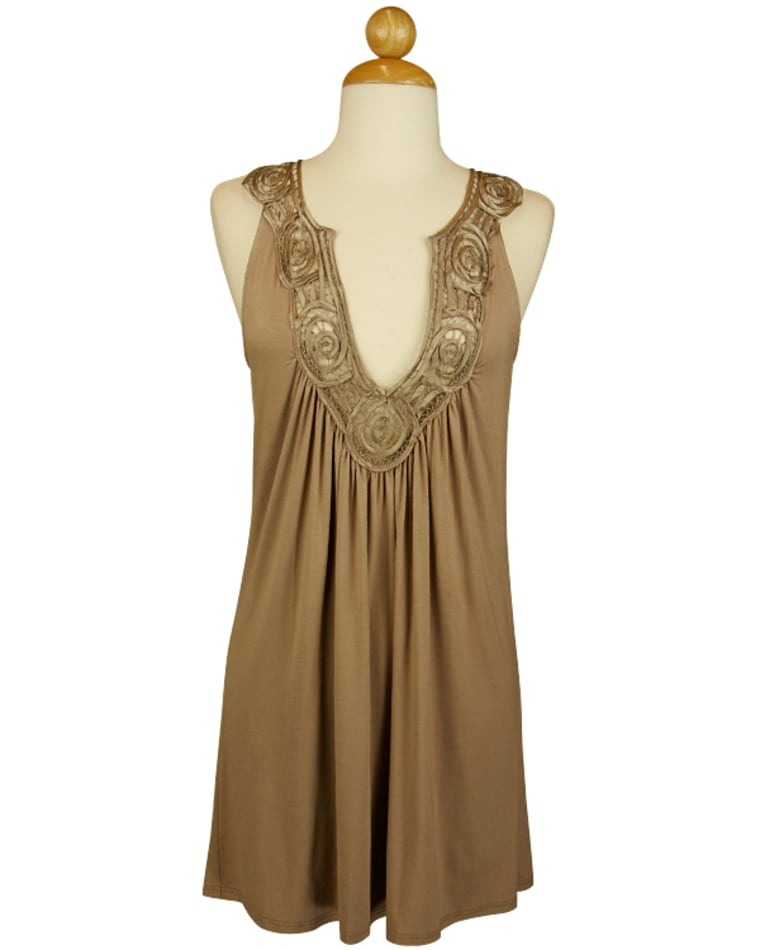 Delicate details Consider a skirt with swing this season! A must-have with movement, ballet-inspired pieces feel especially fresh right now. Not as extreme as a tutu, a full flowy skirt is swooshing in to take the place of sharp pencil styles. And soft accents such as eyelet, macramé, crochet and lace trim add a hint of flirtation.
Texture takes a turn from the glitz-and-glamour craze to more subdued embellishments such as braided fabrics and stone or wood instead of studs and gems. And finally, flowers are in full bloom with three-dimensional appliqués and accents! Garden party here we come!
On model:
Athena tunic $44, Francescascollections.com
Cashmere and silk chiffon cardigan $340, MaxAzria.com
Robert Rodriguez pleated flair skirt $308, Neimanmarcus.com
Gumushane camel sandals $70, Aldoshoes.com