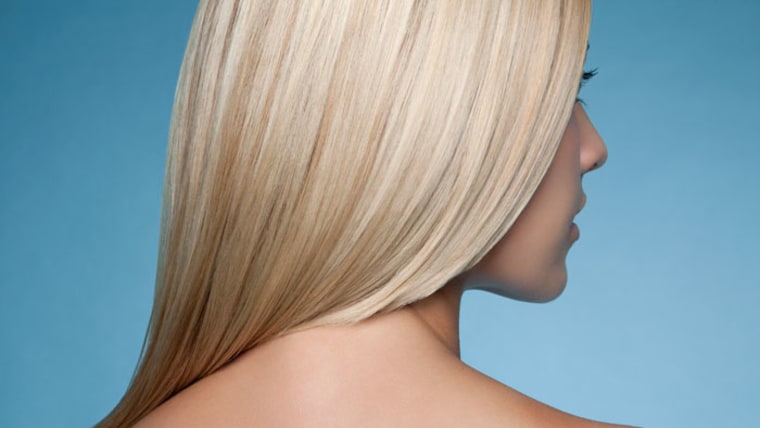 Stalling on your next salon appointment? You're definitely not alone. Many of us try to stretch the time between visits (way) longer than the recommended six weeks. But what to do when your strands start to show the signs of really needing that cut? Hide the evidence with these ingenious expert tips. 
Side-sweep your bangs
Bangs can be super-stylish and really frame a face, but when you're over the look, they can be a hassle to grow out. "My recommendation would be to start pushing them to the side once they hit your eyes," says says Myrna Palacios, a stylist at the Rita Hazan Salon in New York City. "About two weeks after that, go see your stylist and have he or she start blending the now grown out bangs into your existing haircut. This will help with styling and not looking like you're actually growing out bangs." 
"Under-curl" unruly ends
Use a drop of serum on your ends and use a flatiron to the ends under, advises celebrity hairstylist Julia Papworth. "Not only will you be left with a rockin' hairstyle, but you'll also successfully mask unsightly split ends."

Try an updo
When all else fails, sweep your hair up into a topknot, bun or romantic braided 'do. These styles showcase the healthiest sections of your hair, are forgiving to visible roots and look like you made an effort. 

Bring on the (big) curls
Hairstylist and makeup artist Amanda Shackleton has a trick for improving the appearance of hair that's desperate for a trim. First, use a wide-barrel curling iron from root to tip. "By giving some bend in the ends and volume at the roots, you disguise the two areas that are hardest hit." Next, use a conditioning spray to replenish strands while providing hold. Her pick: Rusk Deep Shine Oil Shaping Spray, $19 at sears.com. "It's not heavy or oily but gives you both hold and sheen." 
Play around with scarves 
When your style is past its prime, no accessory can compete with the almighty scarf. There are so many different ways to use them (search Pinterest for pictures of women from past decades, including Rosie the Riveter, Jackie O and Grace Kelly, as well as contemporary scarf icon Eva Mendes, for inspiration) and a vibrant color or print can take you from disheveled to glamorous in under a minute. Tip: If using a silky scarf, give it a quick steam or iron first. Nothing kills the glam like wrinkled fabric.
Invest in this gadget
One of the best way to keep your hair healthy between salon visits is to be vigilant about hydrating the cuticle and moisturizing split ends. This means regular deep-conditioning hair masks, nourishing product choices and even changing your home environment: "Sleep with a humidifier in the dry months," reveals Shaun Surething, co-owner of Seagull Hair Salon in New York's West Village. "Nothing is going to keep your hair more moisturized than the natural humidity." 

Skip daily shampoos
"Shampoo will dry out the hair, especially the ends," says Palacios. "It is recommended to go about two to three days in between washes. You can still wet your hair and lightly condition the ends, then rinse. This will help your haircut to last a little longer."