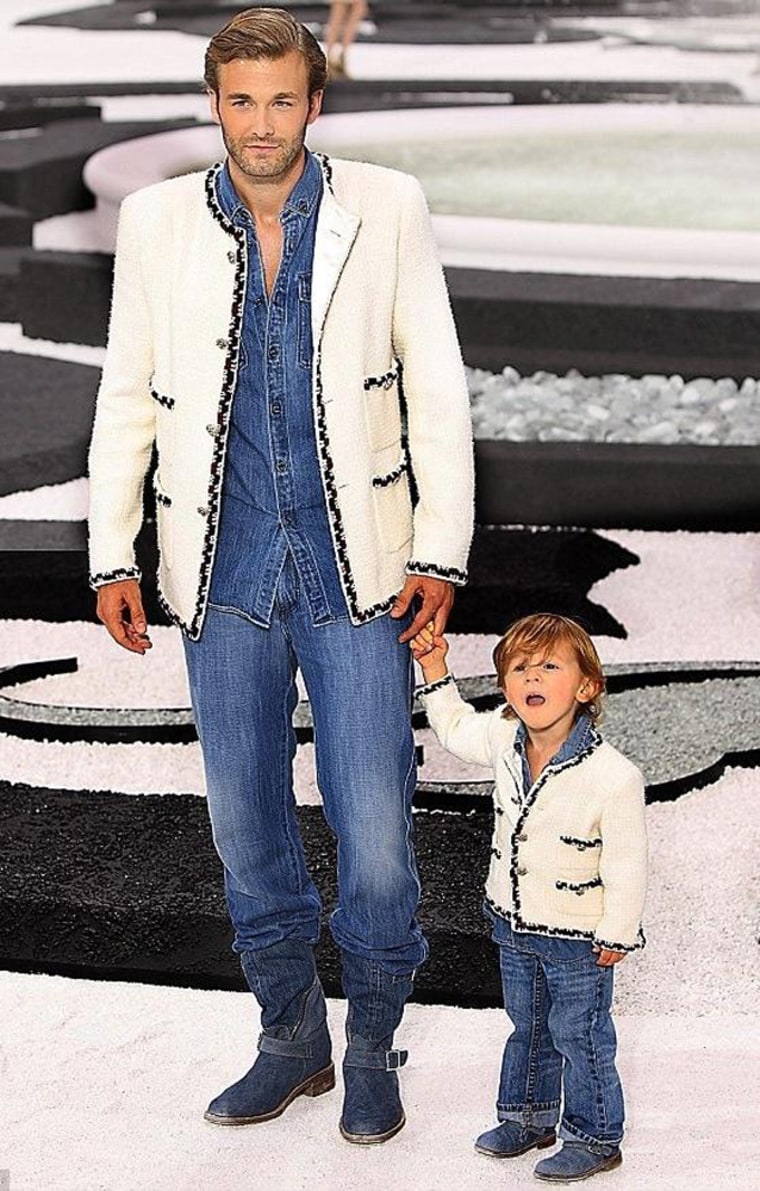 By Merisa Fink, TODAY contributor
You just got your neighbor's holiday card in the mail and are now feeling a bit panicked because … when did it become December?Don't worry.Snag one of these sets, head to your local portrait studio, and one-up that neighbor with an even better card.  And if you're really cutting it close – e-holiday cards (like the gorgeous ones on Paperless Post) are a chic and effortless way to spread holiday cheer this season.
From matchy-matchy to subtly similar, shopping sleuth Merisa Fink rounds up the best coordinated sets to make you and your tot a hit this holiday season.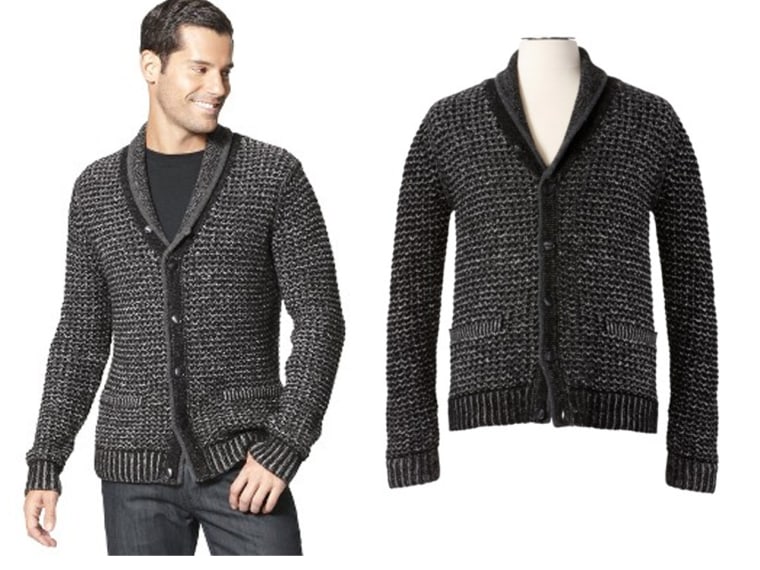 The only thing better than a sexy guy is a sexy dad with his perfectly paired protégé.Part of the beautiful Neiman Marcus and Target holiday collaboration, this set hits the bullseye. 
Rag & Bone Men's sweater, $69.99, matching Boy's sweater, $49.99, Target.com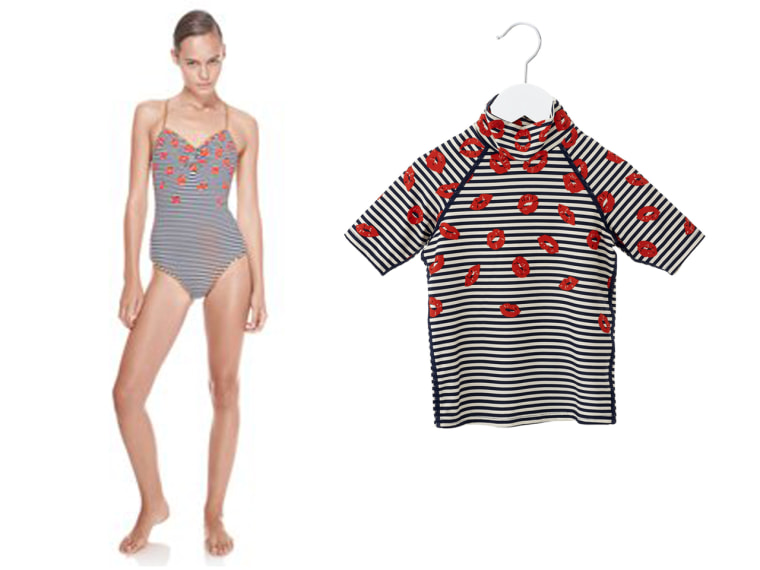 Little Marc knows that although you want to show some skin, hers is best left covered up.This kiss coupling should do just the trick.
Although Marc Jacobs does not explicitly advertise its coordinating collections, it has significant design overlap for adults and babies.  Thus, it is significantly on my holiday wish list.
Stripey Mademoiselle Danger Maillot, $151, Kiss Rashguard, $85, MarcJacobs.com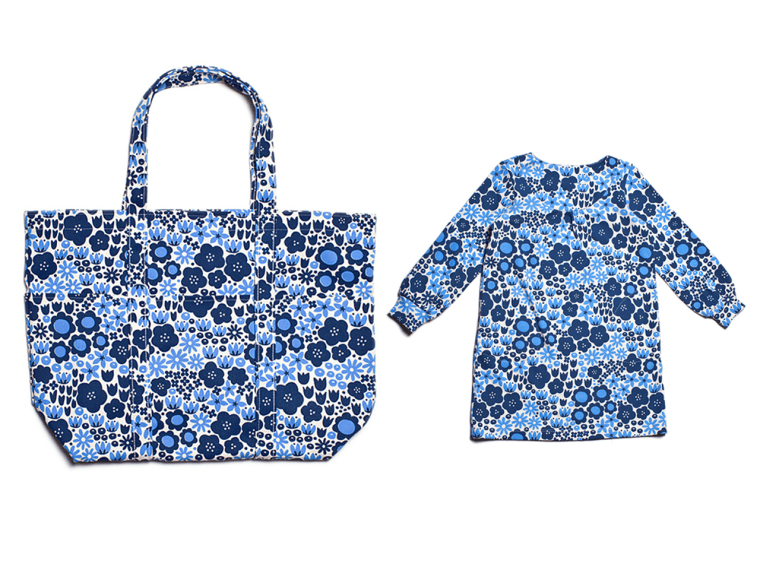 The Brooklyn-based husband and wife design team behind Sunny Blue Meadow draws inspiration for its bold prints from everything, from their German heritage to envelope lining.Their punchy patterns manage to appeal to both mom and baby alike, perfectly balancing our desire to match but also be fashion-forward. 
 Schoolyard Dress - Sunny Meadow Blue, $63, Matching Organic Tote, $58, WinterWaterFactory.com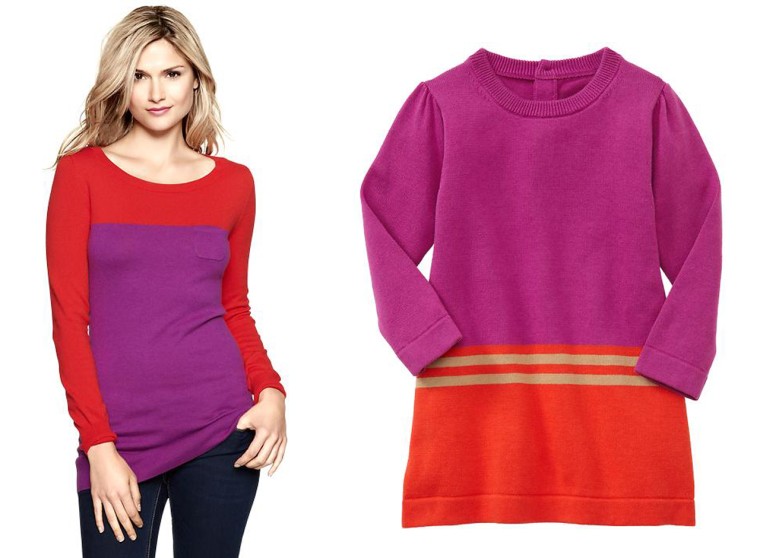 If you're a parent, then you already know that Gap has some of the cutest baby clothing around – and certainly some of the best prices. You're a close-knit family – your sweaters might as well be, too. 
Colorblock tunic, $54.95, colorblock knit dress, $32.99, gap.com
Pajamagram embraces corny coordination like it's their job – which it is.We love them for that.Their website is extremely user-friendly, which makes buying matching PJs for your entire family (including the pup!) a dream.
Super Family, $19.99 - $49.99, Pajamagram.com
When she was a young secretary, my grandmother's boss instituted a rule that on gloomy days, employees in the office must wear bright colors to offset the weather. Available in a rainbow of candy colors, these sunny slacks are a great way to brighten up your day with your daughter – even if you're the boss. And don't let the prices fool you – even the snobbiest fashionistas have been buzzing about the impressive quality of Old Navy's pants lately. 
Pop Color Pants for Women and Baby, $19 and $14, respectively, Oldnavy.com
Ray-Bans now come in tot sizes! Better yet: buy these unisex specs for your spouse under the guise of a gift, then "borrow" them indefinitely. You'll be in hipster heaven.(Skinny jeans, plaid clothing and matching TOMS not included.) 
Ray-Ban Junior Wayfarer $63, Ray-Ban Original $150, Ray-Ban.com
Dress like the earth mother you are with these Native American-inspired moccasins.The adult pair is cute enough on its own, but the matching mini-me booties are great fringe benefits. 
Minnetonka Double Fringe Side Zip Boot, $59.95, Double Fringe Side-Zip Bootie, $28.95, Zappos.com
The great shopping sages wisely maintain that you can never have too much J. Crew cashmere.So why not start 'em young?The luxury ladies in your life will swoon over these sumptuous sweetheart sweaters.   
 Collection Cashmere Baby Sweater in Heart Me, $145, Heartbreaker Sweater, $98, JCrew.com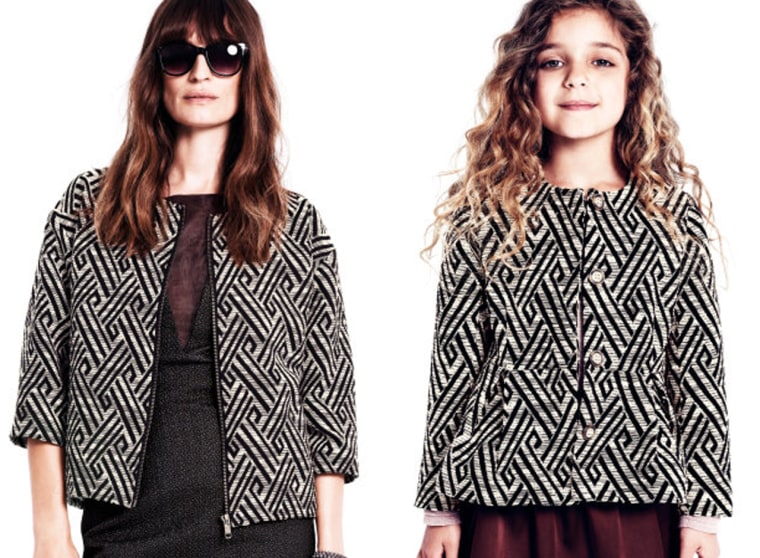 If your clan likes to channel celebrity-level coordination, then the H&M Family Collection just made your life a bit easier – and cooler.Gwen, Gavin and the boys will have nuthin' on you. 
 H&M Girls' Jacket, $34.95, Women's Jacket, $29.95, HM.com
Next time you visit "the house that Jay-Z built", come correct.Though this pairing would make Queen Bey and Blue Ivy proud, you can surely dress your diehard sports duo in their favorite team's colors. 
Adidas Brooklyn Nets Newborn Full Zip Raglan Coverall, $17.99, Adidas Brooklyn Nets Primary Logo T-Shirt, $19.99, Dickssportinggoods.com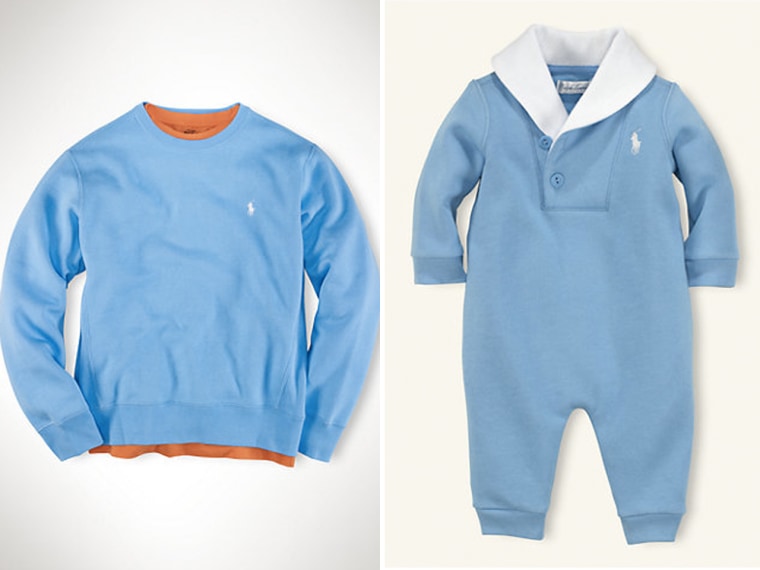 Looking regal enough for the British monarchy, this shawl-collar onesie will soon become your little prince's favorite.While all of Ralph Lauren's preppy pint-sized pieces are adorable (a popped collar on an infant – too much!), this one is a royal standout. 
 Shawl-Collar Coverall, $32.50, Athletic Fleece Sweatshirt, $89.50, Ralphlauren.com
Baby, it's cold outside – and this winter set is the perfect way for your little bundle of joy to brave the weather in the car, stroller, or carrier.  Savvy moms should buy one size up to accommodate lots of layering.
Infant Buttery Fleece Bunting, $65, Women's Denali Jacket,$199, TheNorthFace.com
Do you smile and accept gifted baby clothes only to turn around and return them because, well, they're soft – but not soft enough for your baby?You're a softness snob – and you might as well admit it.Lucky for you, Splendid is known for its incredibly supple fabrics – soft enough for even your baby.  So you can keep that chip on your shoulder, as long as you have a burp cloth underneath.(For your next softness fix on the cheap, check out the buttery Kicky Pants line, too.)
Splendid.com Charlee Plaid Scoop Neck Top, $108; Charlee Plaid Dress, $84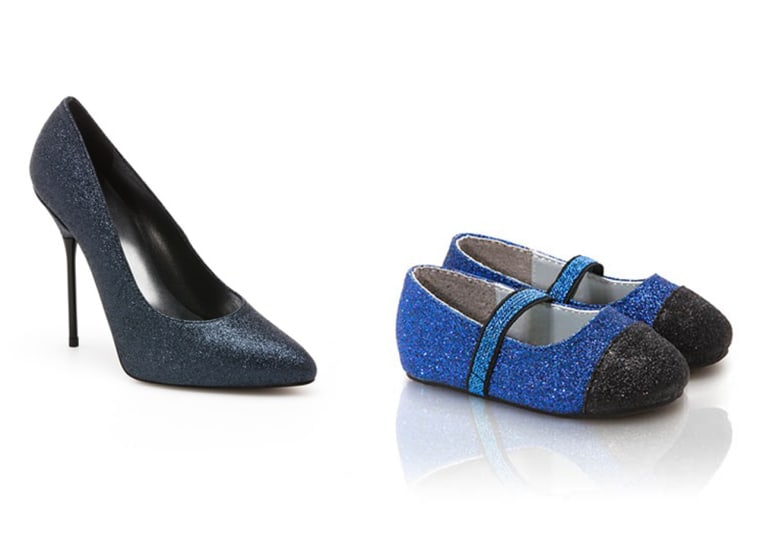 For this dazzling combo, you're gonna wanna make sure that you take those holiday photos lengthwise. Despite Stuart Weitzman's luxury pricing for moms, the footsie fashion house has a beautiful line of (relatively) reasonably priced shoes for babies. So what if she can't walk yet?
Dagger in Navy Mini Glitter, $375, Babycupcake in Blue Glitter, $36,
StuartWeitzman.com
Merisa Fink is a TODAY Style contributor who writes when her 5-month old graces her with a nap.
More from TODAY Style:
20 best beauty gifts for everyone on your holiday list
Not just for nerds: Turtlenecks are cool again