By Merisa Fink
Pregnancy lore promises that you'll be whisked into motherhood with lustrous, enviable hair, a glow so radiant you'll emit a halo, and a fertile je ne sais quoi that compels perfect strangers on the street to remark on your beauty. But if these enchanted properties don't magically manifest themselves in a timely fashion, many an expectant mother might find researching the do's and don'ts of pregnancy beauty products to be a confusing and stressful hassle.
"For pregnant women, [my] general advice is keep it simple, less is more with respect to personal care product use," advises Maida P. Galvez, MD, MPH, Director of New York's Mount Sinai Pediatric Environmental Health Specialty Unit. "Choose fragrance-free products when possible, and look to the Environmental Working Group's website for more information about which products are in fact safer." 
For everyone else that is still waiting for their pregnancy fairy godmothers to cast that transformative spell, here's a bundle of mom-to-be-friendly beauty products that rival any magic wand: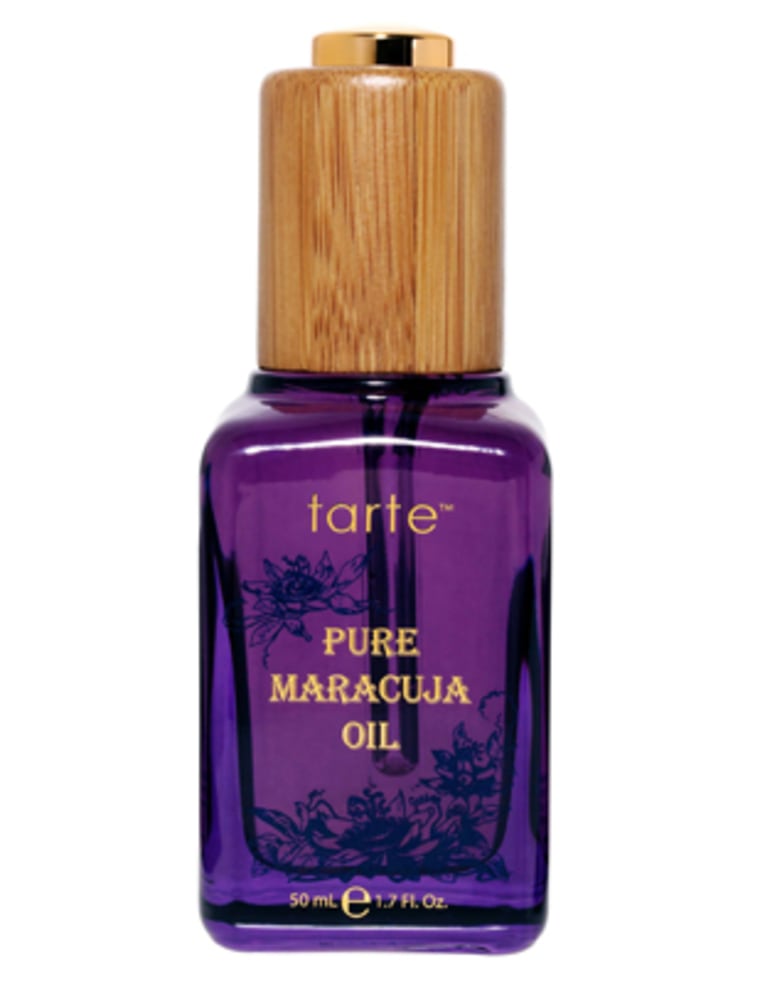 Maracuja oil
A few drops of Tarte's Maracuja Oil (QVC.com, $46) is pregnancy glow in a (pretty, recycled glass) bottle. The vitamin C-packed product is meant to awaken dull or dry skin, and the essential fatty acids promise to brighten lackluster cheeks. If your hormones have made your previously perfect skin a stranger to you, the oil's antioxidants are a good way to soothe and heal problem areas. Best of all (well, besides the delicious smell) — this elixir is formulated without parabens, phthalates, sodium lauryl sufate, mineral oil or synthetic fragrances.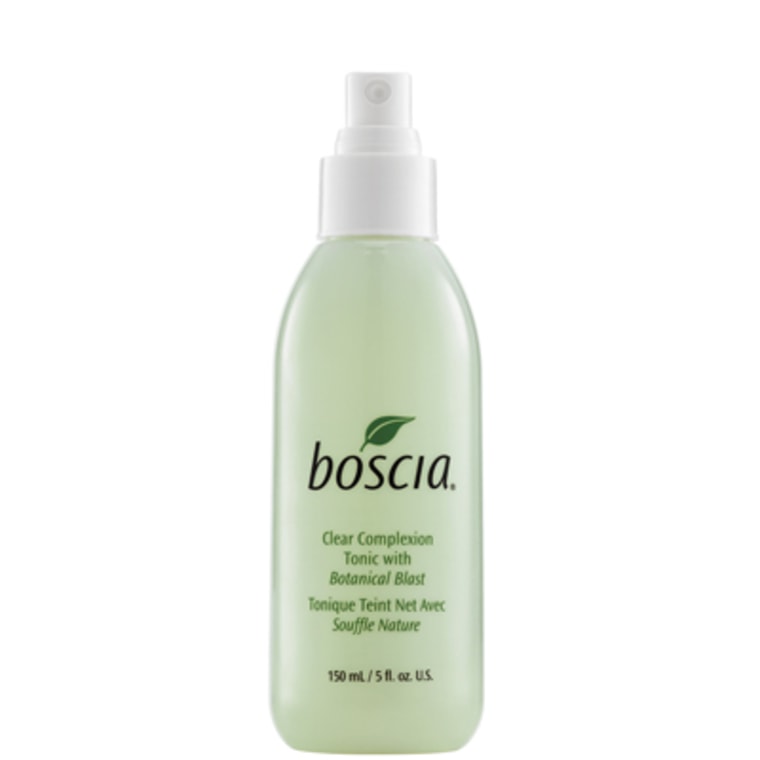 Refreshing oil-fighting spritz
Summer mommies-to-be, meet your new best friend: Boscia's Clear Complexion Tonic (Bosciaskincare.com, $26) helps cool you off in the summer and keep acne and greasiness under control. Leave it in the fridge for an extra boost when you sprtiz at home, and stick the travel size bottle in your purse to make the playground moms jealous. All of Boscia's products are preservative-free and pregnancy-friendly, but the willow bark, rosemary leaf, jojoba leaf and willowherb in this baby make it stand out as a toiletry bin superstar. For extra acne ammo, try Boscia's Willow Bark Breakout Treatment (Bosciaskincare.com,  $25).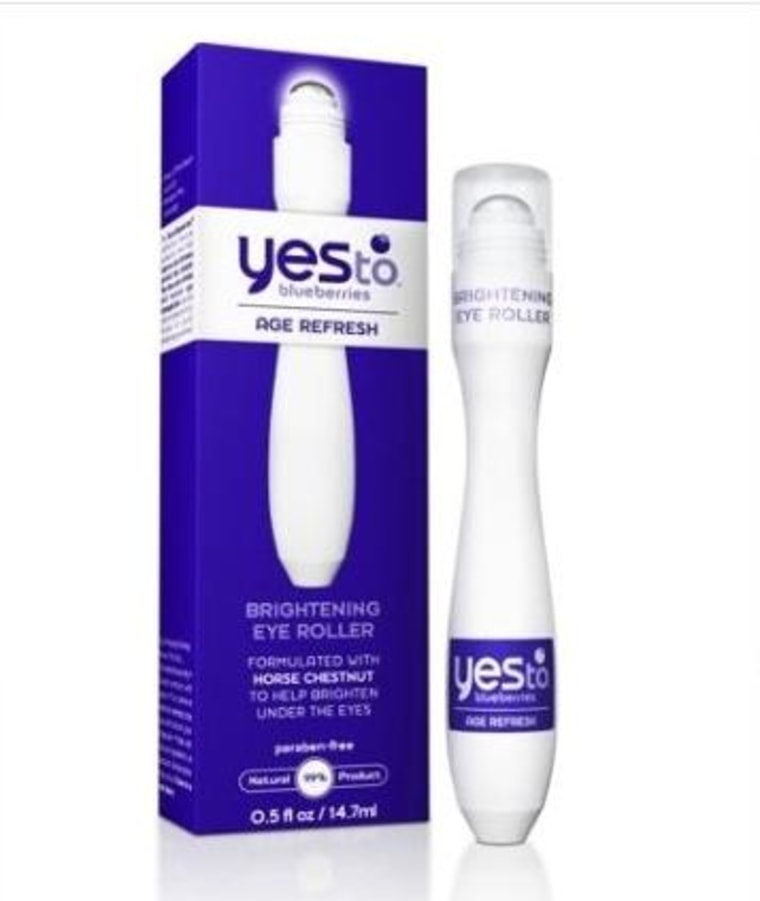 Eye care
Whether you're losing sleep because you've been waking up to pee every few hours (because you can't roll over in your rotund state) or just generally puffy from all that "glowing", chances are your eyes could use a little TLC. Besides, it's never too early to get a jump on those under-eye bags you're bound to get as a gift from your newborn. The Yes to Blueberries Brightening Eye Roller (YesToCarrots.com, $19.99) is paraben- and petroleum-free, and includes horse chestnut to help improve the appearance of dark circles by stimulating circulation and blood flow, and bearberry extract, an anti-oxidant rich botanical to help brighten dark circles by inhibiting melanin production.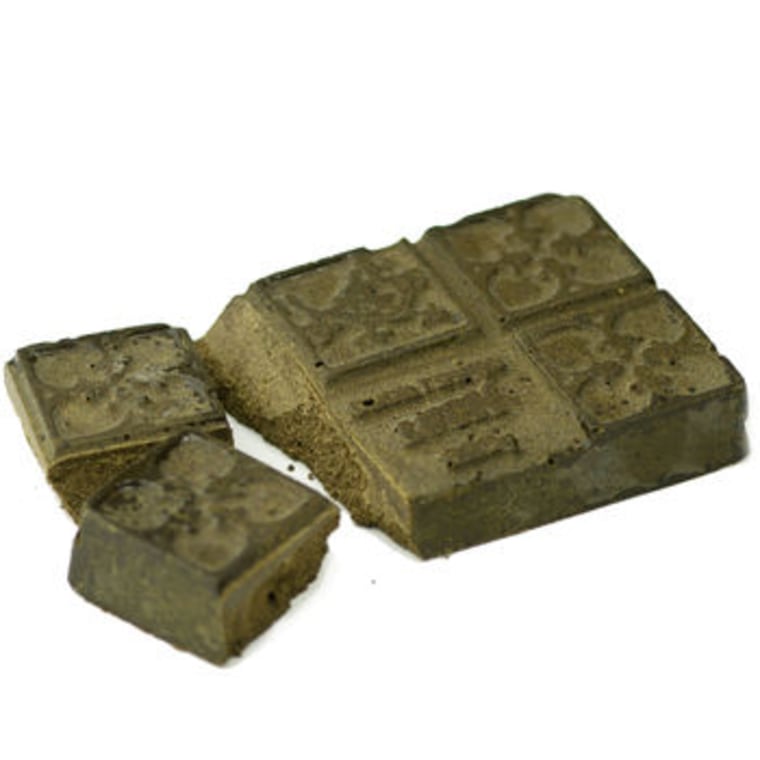 Henna hair dyes
Just because you're sowing your family's roots doesn't mean you want them on your part line. But if you've ever gone to get your hair dyed while visibly pregnant, you're familiar with the disapproving glances from holier-than-thou women; women who are probably naturally gray-free. Luckily, Lush's henna based hair dyes (lushusa.com, $24.95) are a chemical-free way to safely maintain your, ahem, real hair color.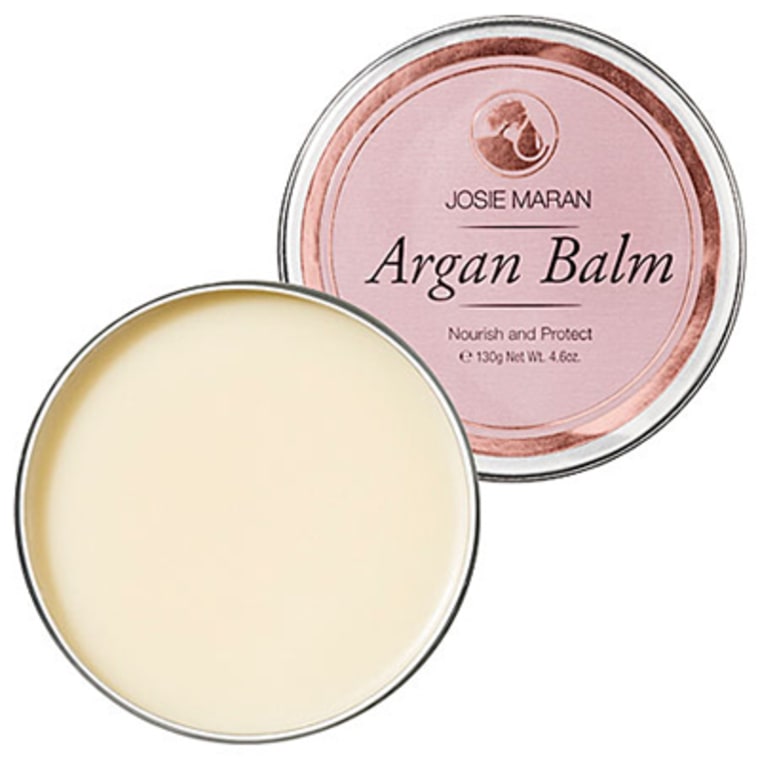 Argan oil
Swap out your cocoa butter for argan oil, and you won't regret it. Argan oil has been used to treat acne, stretch marks and skin conditions like eczema and psoriasis because it's packed with vitamin E and fatty acids. Josie Maran's version (Sephora, $42) is especially pregnancy-friendly because it is free of parabens, sulfates, synthetic fragrances or dyes, petrochemicals, phthalates, GMOs, or triclosan. It works on everything from your lips to split ends. So get shmearing.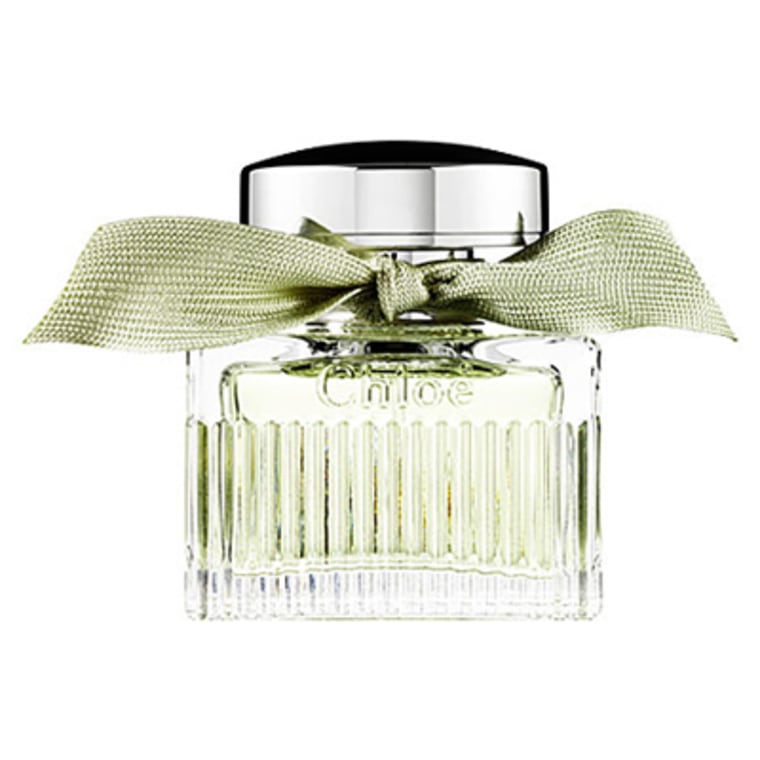 Paraben-free perfume
If your favorite perfume doesn't appeal to your new werewolf-level pre-natal sense of smell, it may be because of certain chemicals in it. If you're like me, and your previously-adored scent now smells like cat urine, check out Stella McCartney's collaboration with Chloe (Sephora, $65). The vegan designer's paraben-free scent is made with 22 percent natural rose water, and has notes of grapefruit, peach, violet, cedarwood, patchouli and amber. Spray liberally on yourself, linens, husbands and pets.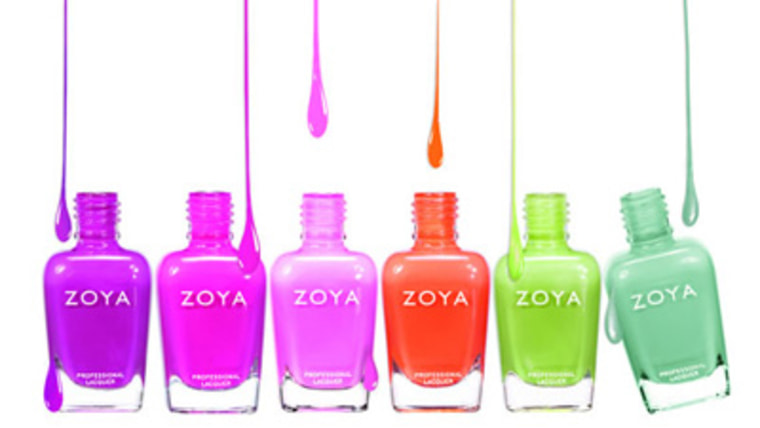 Natural nail polish
Some pregnant women avoid manicures because of the chemicals in popular polish brands, but savvy customers need not throw the baby out with the pedicure-water. Gladly, there's a loophole — and it comes in neon, just in time for summer. Zoya's Natural Nail Polishes (zoya.com, $8) leave out all the bad-guy ingredients, and so do their polish-removers. Stash a bottle in your purse and go get lacquered — your cuticles will thank you.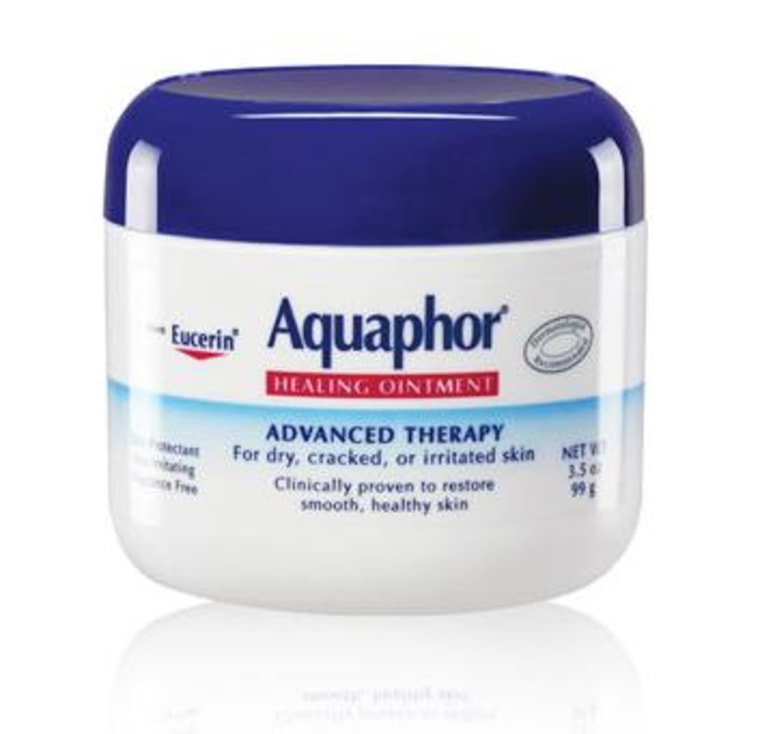 Do-it-all ointments
For moms with back-to-basics philosophies (or less bathroom storage space), an all-in-one product is ideal. New mom Lisa Bashi, 35, of Brooklyn, New York, swears by Eucerin Aquaphor Healing Ointment (Drugstore.com, $7), a fragrance-free lotion intended for dry, cracked or irritated skin: "I used, and still use, Eucerin constantly. Pregnant women should just buy it by the tub because you can use it on yourself for your dry pregnant belly and then later on for soreness from nursing. It's also safe for the baby and prevents diaper rash, quickly heals cuts, moisturizes their skin, and it goes on thermometers before you take their temperature."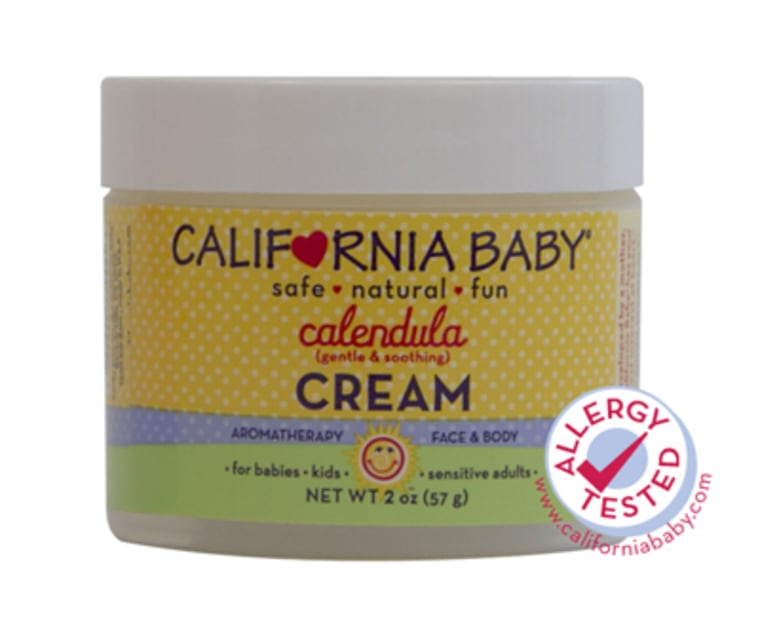 California Baby's Calendula Cream (CaliforniaBaby.com, $12.99), a lavender-scented cream boasting the soothing properties of the calendula flower, also has a cult following among new and expecting moms, and is a great alternative for those who seek to avoid the petroleum found in Aquaphor.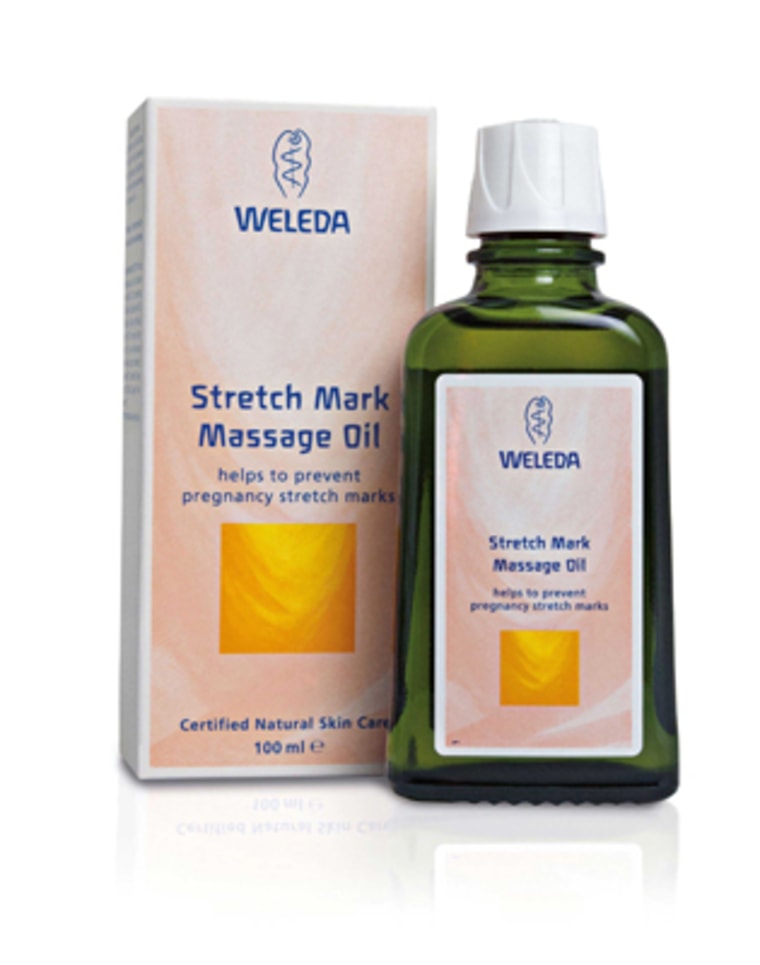 Massage oil
Buy Weleda Stretch Mark Massage Oil (Target, $22.99) under the pretense that you're using it to help prevent stretch marks, then casually mention to your partner that it happens to be an excellent massage oil, too. Jada Shapiro, Co-Founder of Birth Day Presence, highly recommends it for its "organic arnica flower extract which helps ease tightness in the skin. It also has wheat germ oil which conditions and refines the skin and is high in Vitamin A, D and E. Women notice a reduction in the intensity of stretch marks with regular use, as well as a tendency to prevent new stretch marks from forming. This massage oil is also wonderful to use for pain relief massage during labor." Not a bad product to keep on your bedside.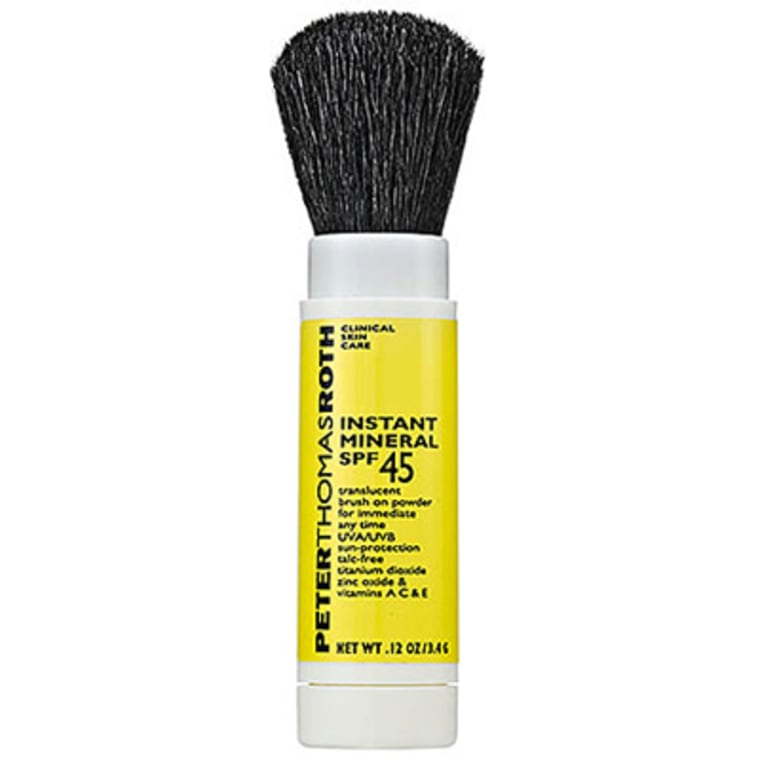 Sun-kissed skin (minus the sun)
Pregnancy is not the best time to work on your tan: anyone who has read about the ominous-sounding mask of pregnancy should be sufficiently scared into the shade. But bronze sometimes just looks better! What's a blossoming, pasty girl to do? Snag a chemical-free self-tanner like St. Tropez Self Tan Bronzing Mousse (Sephora, $30) to fake a bake, and dust on Peter Thomas Roth's Instant Mineral Powder (Sephora, $30, available in translucent and bronze) to protect and mattify you on those sunny, sweaty days.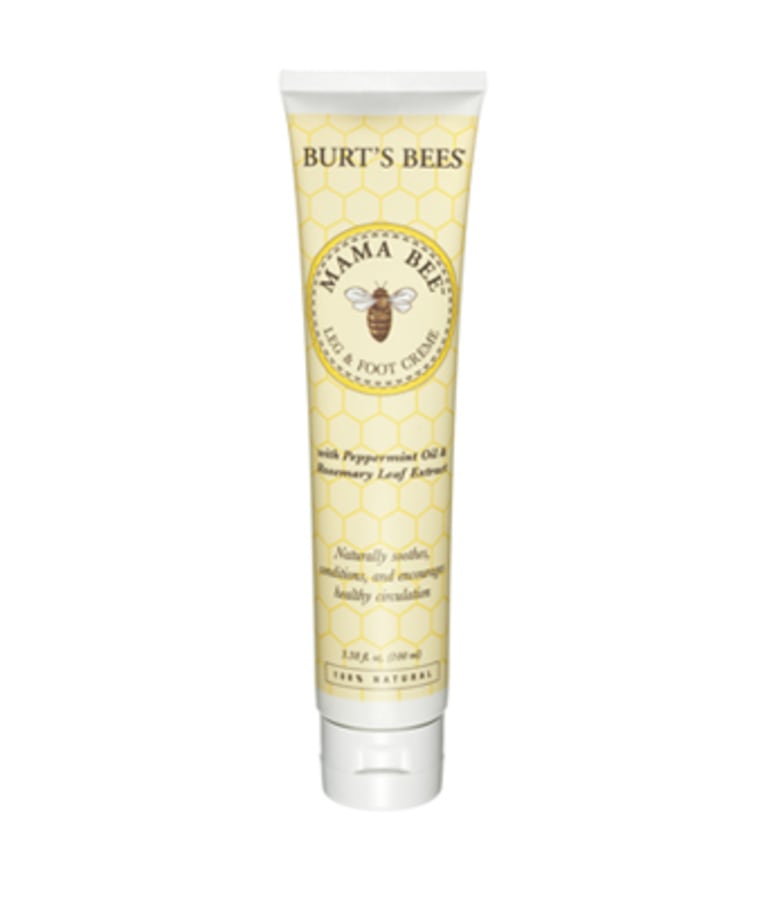 A leg up
Some doulas and midwives claim that leg massage can induce labor in women that are close to term. So if your due date has come and gone and baby seems set on staying put, enlist your partner or pedicurist to get rubbin'. Three-time mom Neeli Berger Margolis, 35, of West Orange, New Jersey, depended on the Burt's Bees Mama Bee Leg and Foot Creme (BurtsBees.com, $9): "At the end of my pregnancy my feet became so swollen and dry. The heels began to crack. It was so soothing to lather it on at the end of the night." The mama-razzi reviews online indicate that Neeli is not alone in her love of the peppermint-oil based emollient. This inexpensive indulgence also uses rosemary extract for extra soothing of your tired tootsies, and is paraben and phthalate free.
Merisa Fink is an attorney by day, freelance style contributor at night, and willing victim to frosted-mini-wheat pregnancy cravings every 4 hours.
More:Video: Rosie Pope's time-saving products for busy moms
SPF beauty buys: Our 11 favorite mineral sunscreens
Which pregnant celebrity had the most-coveted style? Check out the best baby bumps out and about and on the red carpet.