Adriana Lima made quite the post-baby debut Wednesday night, taking to the catwalk for the 2012 Victoria's Secret Fashion Show in lacy red lingerie less than two months after giving birth to her second child. Any sign of that baby bump had already disappeared.
Of course, it didn't exactly happen overnight (though it may seem that way). Bringing to mind that old adage that pain is beauty, the Victoria's Secret Angel has been tweeting about her weight loss for weeks, posting pictures of herself in sweaty workout clothes and showing off cuts she incurred while boxing.
"Tired ... Very very tired," she tweeted last month.
Even without the added baby weight, getting in shape for one of the biggest lingerie events in the world isn't easy.
"It is really intense, it's not really the amount of time you spend working out, it's the intensity: I jump rope, I do boxing, I lift weights, but I get bored doing that," she told The Telegraph in 2011. "If I am not moving I get bored very easily."
Though Lima made an astonishingly swift comeback, the 31-year-old didn't make the quickest return to the catwalk in Victoria's Secret "Angel" history. That honor goes to 36-year-old Heidi Klum, who strutted down the runway in a purple corset in 2009, just five weeks after giving birth to her fourth child.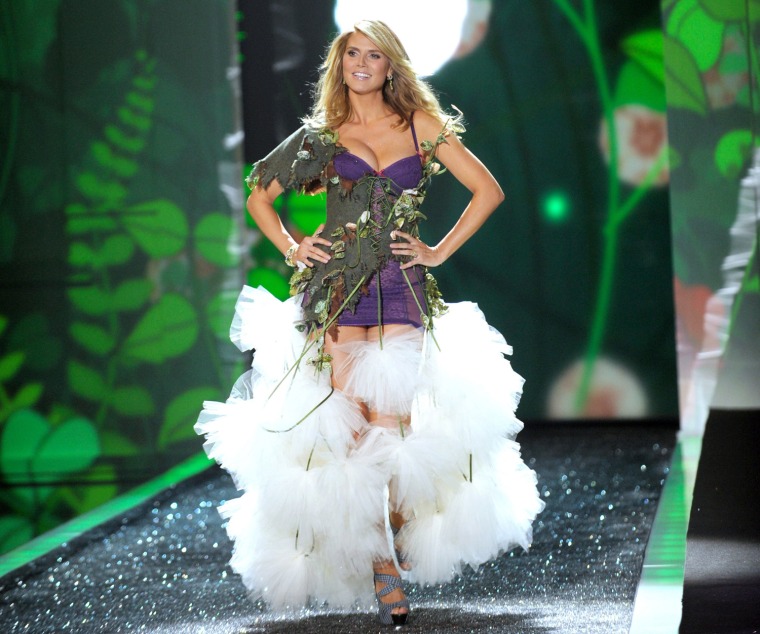 "I think I'm partially lucky," Klum told the New York Daily News in 2009. "I eat very healthy, I do watch what I eat a lot. People always think, 'Oh, she probably doesn't eat anything.' I do eat a lot, but I do watch what I eat. I try to stay away from the carbs."
While Klum modeled an admittedly more demure creation (at least by Victoria's Secret's standards), not everyone was pleased with the supermodel's decision in the wake of her pregnancy. Though people commented online that Klum looked great, many felt it was just too soon for her to join the other Angels.
How do you feel about Adriana Lima stepping onto the catwalk so soon after giving birth? Tell us in the comments!
More:
Alessandra Ambrosio models $2.5 million Victoria's Secret 'Fantasy Bra'
Victoria's Secret pulls 'sexy little geisha' lingerie after backlash