Mugly, an 8-year-old Chinese crested rescue dog from England, won the title for ugliest dog in the world over the weekend, a prize Kathie Lee says is well deserved.  
Mugly, with his short snout, beady eyes and white whiskers, also has a tuft of hair covering part of his face. "It's definitely the tuft that put him over the edge," Hoda said. The dogs were judged on "natural ugliness in both pedigree and mutt classes." Kathie Lee called the dog "just wrong on so many levels," adding, "You know what? He deserved it." 
KLG told Hoda she has a fear she could end up with some of Mugly's traits. Specifically, this tuft: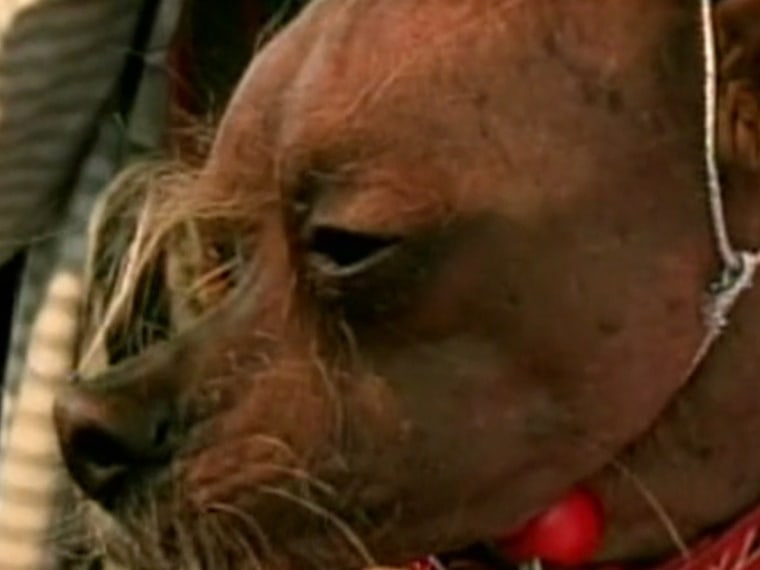 "That's my greatest fear," she said. "That I'm going to start going a bit crazy and that nobody is going to take care of things on my face that start growing, you know? Because I'm a maniac about that stuff." 
She worried that if her face starts to sprout, her kids may not assist in removing it — out of revenge (is this every mother's fear?). "My daughter is going to get back at me for everything. My son is...they're just gonna, like, let it grow."
TODAY.com contributor Jillian Eugenios is similarly concerned about tuft removal and would like someone launch a preventative cream against it. 
More: Mutt named 'Mugly' wins ugly contest
Kathie Lee's Malti-poo visits studio, gets busy