How much foundation is too much foundation?
TikTok star Meredith Duxbury may have you second guessing your answer.
Duxbury, 24, frequently generates online debate with her over-the-top makeup routine, which features a substantial amount of foundation — around 10 pumps of product.
Despite some commenters' negative reactions, Duxbury has parlayed her TikTok fame into brand deals, fashion show appearances and most recently, her eponymous makeup collection with Morphe. She also has a loyal fanbase, with more than 18 million followers.
"You are my comfy person," one TikTok user wrote on one of her recent videos.
Duxbury opens up to TODAY.com about her makeup routine, why she strives to be open about getting cosmetic work and how she stays grounded amid social media fame.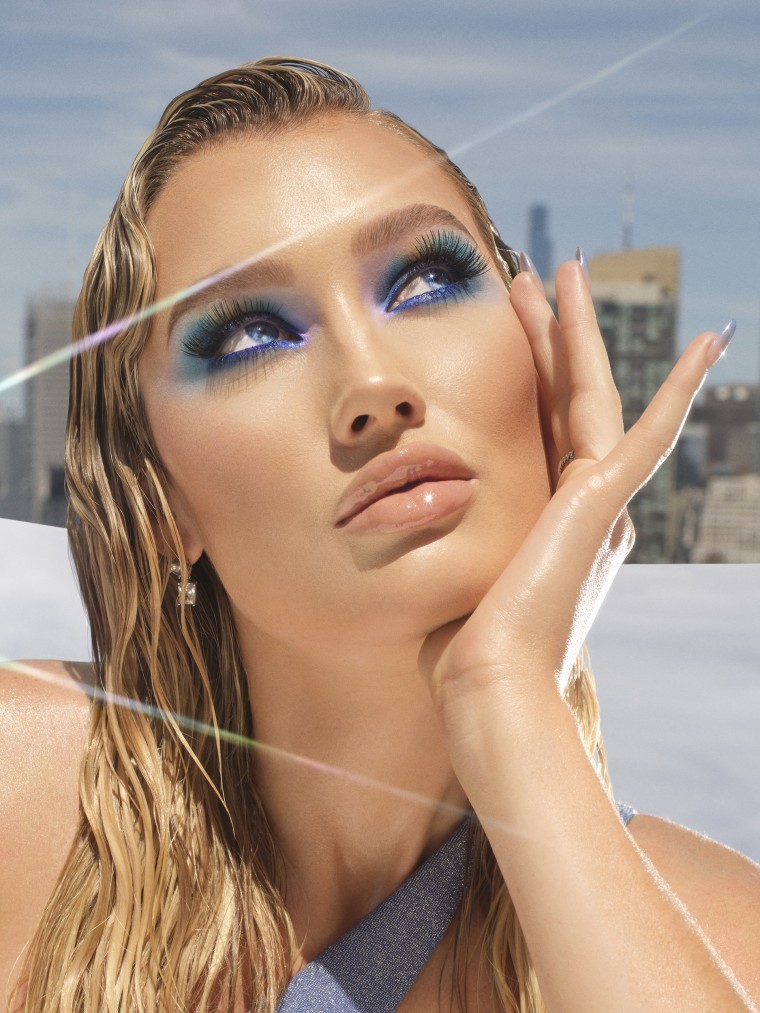 Creating #thefoundationchallenge
Duxbury went viral on TikTok when she created #thefoundationchallenge in early 2021, a social media campaign to encourage her followers to replicate her extensive foundation routine.
In her #thefoundationchallenge videos, Duxbury demonstrated how she uses a whopping 10 pumps of foundation for the base of a full glam makeup look. She typically mixes two foundations, which she then applies all over her face using her hands — all while lip syncing to upbeat, girl-power infused songs like Doja Cat's "Get Into It (Yuh)" and Nicki Minaj's "I'm Legit."
At first, the product goes on wet and shiny, covering her lips. But it's the definition of "trust the process." Once she blends out the foundation, it has a full coverage, glam look.
While some commenters have accused Duxbury of manufacturing her elaborate routine for views, she says that she started using the technique for a simple reason: to cover up her freckles.
"I use a little bit more foundations than somebody that doesn't have freckles," she tells TODAY.com. "Because freckles are pretty pigmented, so it takes a little more product to cover."
Duxbury decided to see how her routine would perform on TikTok.
"I thought it would just be fun to see other people try it," she says. "People loved it because it wasn't something that I'd seen before. It was just like, a way to kind of engage my followers to try my technique."
Duxbury's TikTok account grew rapidly as her makeup challenge gained traction on the app. The hashtag #thefoundationchallenge now has more than 615 million views.
Even a few celebrities gave Duxbury's routine a try, including Selena Gomez.
How she handles the hate
Duxbury's unusual makeup application method gained her millions of followers — but also sparked a significant amount of online hate.
"It was kind of shocking that there were so many people that had opinions on what I was doing," she says. "No one's ever exposed to that in their life until something like this happens."
Duxbury takes the comments in stride, often duetting snarky messages to promote another makeup tutorial.
"I was so affected by what people thought of me and what people said, but now that I'm so happy with what I'm doing, and happy with myself, and content with myself, that's most important," she says. "And that's what I always try to tell my followers, too, because I know I have a lot of young girls who follow me, and boys too. I just think at that age, it's so crucial to have the confidence and to not let other people's opinions shape who you are."
But she didn't always feel that confident.
When she was younger, Duxbury stopped posting her makeup videos online when an older boy at her school found her YouTube channel. She calls the incident "the most embarrassing day of my life."
In light of her past experiences, Duxbury hopes to inspire her followers to pursue their dreams regardless of what others may say.
"Don't let other people's opinions affect who you are, and what you want to do, and what you love," she says.
"It's not fair for them to not get the chance to follow through with their passion and their art and creation because of somebody else's opinion, when they don't even matter to them," she continues.
She has lip filler — and she's open about it
Duxbury wants to empower others to be themselves.
"I just want to be a role model for other girls and have them feel confident in their skin," she says.
That's why honesty is key, Duxbury says. She is open when asked about the aesthetic changes she's made, like getting lip filler.
"If you're a young girl, and you're on Instagram scrolling and you're like, 'Why don't my lips like look like that?' I just don't think it's good to to lie about it," she says. "If I'm getting filler, I'm happy to take you along with the journey and show you. I don't think that there's anything wrong with it."
Duxbury posted a TikTok in 2020 demonstrating the process of getting her lip filler, and her followers expressed appreciation for her honesty.
"i like how ur not afraid to show the internet that you get things done," one TikTok user commented. "most ppl are like oh I'm perfect they totally don't know that i have things done."
"I want everyone to feel confident with whatever they do with their body! I love being real and honest with all of you guys," Duxbury responded to the comment.
What's next for Duxbury?
Since her initial rise to fame, Duxbury has expanded her reach in the worlds of makeup and fashion.
Her face is currently displayed on several billboards across Manhattan to promote her makeup collection with Morphe, and she recently attended a runway show in Paris.
Her next goal, she says, is to walk in a runway show.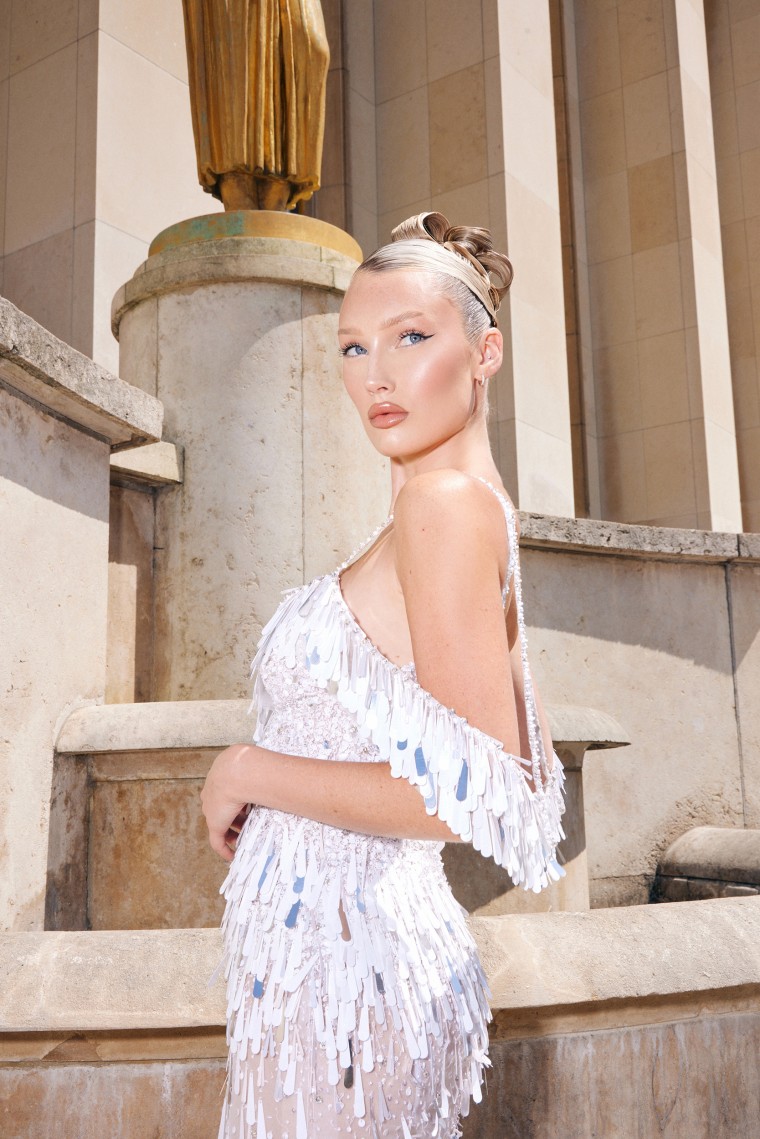 Duxbury finds creative inspiration through her work on social media.
"I wouldn't say when I was younger that I said, 'I want to be an influencer, I want to be famous,'" she says. "It was more like, 'I love art, and I love creating.'"
"You just have to do it for yourself, and that's where the happiness comes out of it," she continues. "If other people don't like what you're doing, that's fine. Everyone's entitled to their own opinion."