/ Source: msnbc.com contributor
When the 47th Grammy Awards air February 13, who'll take home the gramophones on the big night? Will the Academy stick with the tried and true favorites, or surprise us all by voting for the shiny and new? This year the big categories are filled with R&B and hip-hop artists — a genre largely ignored by voters in the past. Kanye West racked up 10 nominations, and Alicia Keys and Usher received eight each. All three are nominated for Album of the Year.
Representing the old guard are Loretta Lynn and the dearly departed Ray Charles, who've received five and seven Grammy nods respectively. West could shake things up by pulling Grammy out of its comfort zone, or maybe it will just be Alicia Keys: Redux. With wild card Green Day, it's shaping up to be a showdown worth seeing.
Who should win and who will win? Ree and Helen debate.
ALBUM OF THE YEAR
"Genius Loves Company," Ray Charles and Various Artists
"American Idiot," Green Day
"The Diary of Alicia Keys," Alicia Keys
"Confessions," Usher
"The College Dropout," Kanye West
Helen's take: Ray Charles is going to win this, and every other category for which he's nominated not because he deserves it, but because he's dead. Also Jamie Foxx is starring in a movie about his life. "Genius Loves Company" is not even close to the best thing he's ever recorded. It's not even the best thing on audio loop in Starbucks. But awards ceremonies love their sap. "Van Lear Rose" by Loretta Lynn should win, but it's not nominated in this category — relegated instead to the Country Album ghetto — despite being produced by Jack White of the White Stripes. Like Charles, Lynn is a legend, but a living one. And her biopic, "Coal Miner's Daughter" came out more than 20 years before this album. Speaking of old-school geniuses who've lived tumultuous lives, Brian Wilson should be here too for "Smile." (We're still waiting for a decent movie about him.)
Ree's take: I'll back you up on Lynn and Wilson, though "Van Lear Rose" is clearly superior to "Smile." But of the choices offered, beating out the old adage that the Grammy favors dead folks and Alicia Keys, Album of the Year goes to Green Day for "American Idiot." It's my personal favorite as well as my pick to win. Being the only rock contender in this category is the key. Expect votes to split among some of the other nominees.
RECORD OF THE YEAR"Let's Get It Started," Black Eyed Peas
"Here We Go Again," Ray Charles & Norah Jones
"American Idiot," Green Day
"Heaven," Los Lonely Boys
"Yeah!" Usher featuring Lil Jon and Ludacris
Helen's take: Like I said, Ray Charles wins, with Norah Jones tearfully accepting the award. It's not the best record here, but it's certainly not the worst. You heard me, Black Eyed Peas. Any song destined for "Jock Jams Volume VI" doesn't deserve a prize. "American Idiot" should win. The production is cool, with the heavy drums, the prudent use of echo effects, and the a cappella tag line at the end of the verse. It rocks!
Ree's take: Should win? Green Day. But Usher brings home the shiny. "Yeah!" was the most played song of 2004. According to the number crunchers at Nielsen Broadcast Data Systems, it was played 496,805 (though I counted 496,804, so take it for what it's worth.) This will give him the edge up against Billy Joe and the gang. Once again, Black Eyed Peas comes up short in their quest to be this year's Outkast.
SONG OF THE YEAR
"Daughters," John Mayer
"If I Ain't Got You," Alicia Keys
"Jesus Walks," Kanye West
"Live Like You Were Dying," Tim McGraw
"The Reason," Hoobastank
Helen's take: Why is "Milkshake" by Kelis not in this category? That's just insane.
Ree's take: "My milkshake brings all the boys to the yard…" Great, now I've got that stuck in my head! This is a disappointing bunch. Are lame Song of the Year nominations the new black? Honestly I don't think any of these deserve the award. That honor should go to Loretta Lynn's "Portland, Oregon." Tim McGraw's "Live Like You Were Dying" already won Song of the Year at the Country Music Awards, so no surprise if he takes this one, but "If I Ain't Got You" by Alicia Keys stands a chance, too.
BEST NEW ARTISTLos Lonely Boys
Maroon 5
Joss Stone
Kanye West
Gretchen Wilson
Helen's take: I almost want Kanye West to lose just to see if he'll throw a hissy fit like he did at the American Music Awards. But with 10 Grammy nominations, this producer-turned-artist is going to win, and he deserves it. The production on "The College Dropout" is lush and immaculate, and the warble in his voice is a fine match for his confessional rhymes. Gretchen Wilson beat him for Best New Artist at the AMAs, but she'll have to settle for Best Country Album here. Don't worry Gretchen, you'll be around for a while. No doubt you're moments away from crossing over to pop a la Faith Hill. Joss Stone's second album tanked, so there's no way she's going to get it. (Why is some one with two albums nominated for Best New Artist anyway?) Maroon 5 and Los Lonely Boys? Nice knowing you, we won't be seeing you next year.
Ree's take: It's shocking that neither Franz Ferdinand nor The Killers made this list. Granted they got nods in other categories, but they belong here. Gretchen Wilson will take home a Grammy in a country category. Joss Stone would have been a shoe-in last year, when she should have been nominated for New Artist. I wouldn't mind seeing Kanye West win, but this category never favors rap/hip-hop. This is the only real shot of the night for Los Lonely Boys but they're out-hyped by the competition. I fear a Maroon 5 victory.
R&B ALBUM
"My Everything," Anita Baker
"I Can't Stop," Al Green
"The Diary of Alicia Keys," Alicia Keys
"Musicology," Prince
"Beautifully Human: Words and Sounds Vol. 2." Jill Scott
Helen's take: What an odd assortment of nominees. Do all these artists use the same dog groomer? Because that would be about the only thing they have in common. Alicia Keys is going to win of course, because that's what Alicia Keys does. Poor old Prince is the Rodney Dangerfield of pop music (he gets no respect). Anita Baker won eight Grammys back in the day, but she's been out of the game too long to get any votes. The Reverend Al Green still sings like an angel, but "I Can't Stop" is far from his best. Jill Scott is lost among the legends. Congratulations Alicia, don't forget to pick up an extra trophy case at Ikea.
Ree's take: Ikea? I find even a light-load of gold dipped phonograph trophies cause those pressboard shelves to sag. But I don't think Ms. Keys needs to go shopping just yet. It's a tough category. You can throw out Anita Baker and the Reverend Al Green right off the top. Then you have what shapes up to be a three-way horserace, with Prince edging out by a neck, or a stiletto boot of some sort.
RAP ALBUM"To the 5 Boroughs," Beastie Boys
"The Black Album," Jay-Z
"The DEFinition," LL Cool J
"Suit," Nelly
"The College Dropout," Kanye West
Helen's take: Kanye West takes it here, and he might as well.
I washed my hands of the Beastie Boys after "Ill Communication" because I got sick and tired of two good hip-hop songs surrounded by a load of experimental Tuva throat singer samples. Like so many Grammy nominees, "To the 5 Boroughs" rests on the laurels of previous accomplishments ("Paul's Boutique"). Put another way, everyone says the album is great because everyone thinks that's what they're supposed to say.
Jay-Z's got zero flow, and he raps about stuff that's only an iota removed from standard look-at-me pimp rap. He's a great producer, but the lyrics and the delivery aren't there. I just don't like LL Cool J's "smoove" rap. And Nelly? Come on! Am I a 13-year-old girl?
It's been a weak year in non-bling hip-hop. Where have the Pharcyde, or the Roots, or even the Black Eyed Peas gone? What happened to the good members of the Wu-Tang Clan? (Oh yeah, he's doing a lousy comedy with Red Man.) Eminem's still good (look for him in this category next year) but we can't have all the hopes of hip-hop riding on his narrow behind. Mos Def's "The New Danger" is pretty decent. I'm not sure it qualifies as a "rap album," but you don't have to listen to it to know it's better than Nelly.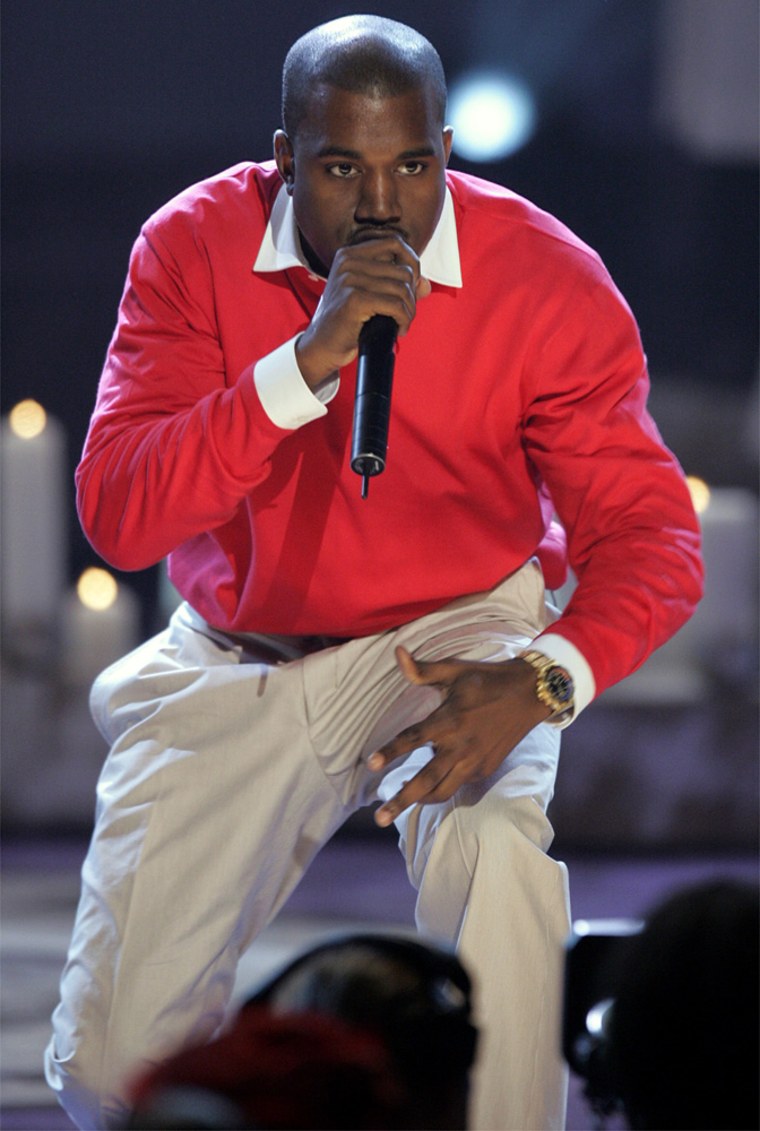 "A Grand Don't Come For Free" by The Streets would freshen up this competition. Sadly, the Grammys, as usual, are behind the times in rap, and it'll be years before they know what to do with an act that broadens the genre like The Streets.
"The Black Album" is billed as Jay-Z's last release, and if it's true, he's going out on a high note. After a couple of lackluster releases (including the filler-laden "Blueprint 2") this one delivers 14 intimate tracks worthy of the Jay-Z hype. None of this matters, of course, since Kanye West wins big. "The College Dropout" is way ahead of the rest.
ROCK ALBUM"The Delivery Man," Elvis Costello and the Imposters
"American Idiot," Green Day
"The Reason," Hoobastank
"Hot Fuss," The Killers
"Contraband," Velvet Revolver
Helen's take: This is such a dude-occupied category. Why P.J. Harvey (nominated in other categories) can't get in here, or LeTigre (nominated for nothing), or even, bless her, Courtney Love, is a darn shame. As for the boys who are nominated…
Elvis Costello should have won a Grammy for Best New Artist when he was nominated in 1983, but he sure doesn't deserve Rock Album now. This twangy concept LP almost belongs in the Country category. Other aging punk rockers, Green Day, do a better job with their own blue state rock opera, "American Idiot" and it's certainly more solid than anything else here. As for the other contenders, Hoobastank exudes more rock station white noise with "Reason." Guns n' Roses/Stone Temple Pilots hybrid Velvet Revolver belongs on "VH1 Behind the Music," not an awards ballot. The Killers are Duran Duran for the next generation, and I mean that in the best way possible. "Hot Fuss" is so joyously ridiculous, I make The Killers my dark horse pick to win.
Ree's take: Dude-centric, indeed. Newsflash to the Grammys: Chicks rock. It's not just a cute phrase plastered on the front of girlie-tees. In a year with air-guitar-worthy tracks from the ladies listed above, this assortment is an embarrassment. Why is Hoobastank wasting perfectly good space here? For Hoobastank I channel my inner-granddad: you call that music?! And nominating Elvis Costello 20 years after his most relevant work? The man's got one foot in the Lifetime Achievement award. I agree that The Killers would make a worthy dark horse win, but it seems this one is a giveaway. It's all wrapped up with a big ugly bow and tag that says "to Green Day, with love."
COUNTRY ALBUM"Van Lear Rose," Loretta Lynn
"Live Like You Were Dying," Tim McGraw
"Tambourine," Tift Merritt
"Be Here," Keith Urban
"Here for the Party," Gretchen Wilson
Helen's take: Loretta Lynn should win here (see my comments for Best Album) but Gretchen Wilson, poised to be this year's Grammy Sweetheart, is going to take it. And she should be embarrassed when she does. Don't get me wrong, "Here for the Party" is a good record, but "Van Lear Rose" is brilliant. Poor Tift Merritt is lost between Lynn's legend and Wilson's spunk. Keith Urban is a country singer from Australia. That's just cool. As for Tim McGraw, who died and made him Garth Brooks?
Ree's take: Helen, to answer your question, his dad — did you even listen to the song? As for your pick, Gretchen Wilson, in a word: youaresowrong. Loretta Lynn has this thing locked up. If anyone but Lynn wins this, call the cops — a robbery has taken place. Seriously. With all due props to McGraw, Merritt, Urban and Wilson, this is Lynn's baby.
Helen: Well, we'll just see who's right on February 13.
Ree: Yes. And check it: I didn't call anything for Ray Charles. Yeah, that's right. I fly in the face of posthumous reason.
Ree Hines lives in Tampa, Florida. Helen A.S. Popkin lives in New York.