What would you do if Milo Ventimiglia knocked on your door while you were watching him on TV? It could happen!
The 39-year-old actor recently shocked one lucky "This Is Us" fan by showing up at the man's door while he was watching the hit NBC show.
Ventimiglia took to Twitter on Tuesday to share a hilarious video capturing the moment.
The short clip finds the mischievous actor taking a break from filming in a residential L.A. neighborhood after peeking inside the window of a nearby house and realizing someone was watching "This Is Us" right at that very moment.
"We're filming right next door," the actor explains as he walks to the house. "We're going to go knock on the door."
That's when he and the younger actors who portray the show's characters as teenagers approach the neighbor's door.
RELATED: Watch Milo Ventimiglia and Ellen DeGeneres re-create 'This Is Us' push-up scene
"Hi, sorry to bother you," says Ventimiglia to the neighbor, who introduces himself as Fred.
"We're filming next door but we happened to notice what you're watching right now," Ventimiglia continues as Fred takes in all the show's actors and crew members and bursts out laughing.
"Yes, I'm watching you!" Fred admits, delighted.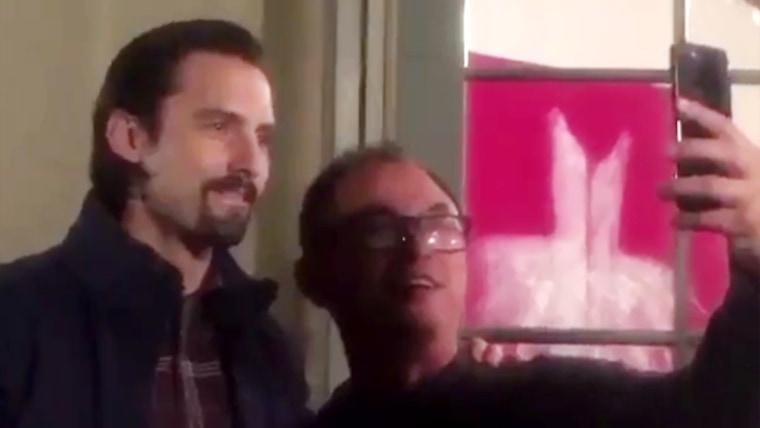 Ventimiglia looks inside Fred's home and points to the image of himself on Fred's TV. "There's me, there's Sterling (K. Brown), there's Susan (Kelechi Watson)," the actor says, before the whole gang poses for selfies together.
Watch the entire hilarious above!
"This Is Us" airs Tuesdays at 9 p.m. on NBC.