It was clunky, with big buttons and bright colors, and in the 1980s, every kid desperately wanted one. 

Before there was an iPod, there was the Sony Walkman, and Tuesday marks the 35th anniversary since it first went on sale on July 1, 1979. Thanks to a frustrated Japanese executive, kids suddenly had the freedom to listen to their favorite music tapes anywhere instead of lugging around a boombox.
Slap a tape in that boxy yellow contraption, and you could nod and pretend you were listening to Mom and Dad while hair metal was cranked up to ear-splitting volume. Slip those fuzzy headphones on, and you no longer had to be subjected to the tyranny of your parents' oldies cassette on long car rides. 
They cost $49.95 when they first came out in 1979, the equivalent of $442 today. But no price was too high for being the first kid in your neighborhood cool enough to have one, especially if it had mega bass and auto reverse. There were even versions that played CDs.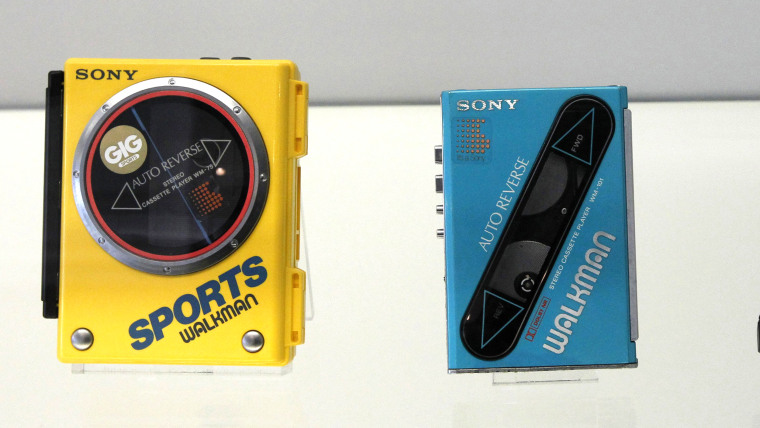 The present generation may regard the Walkman as something unearthed in an archaeological dig, but Sony sold hundreds of millions of them in the 1980s and 1990s before Steve Jobs made everyone toss them in the back of the closet. They had their drawbacks, as known by anyone who might have had their favorite Run-D.M.C. tape eaten by one in sixth grade (still mad).
But they also bring back memories. There was no "shuffle" option on them, so when you had a favorite tape, it stayed usually wedged in there for weeks. (Either that or it actually was wedged in there, and no amount of mashing it with a screwdriver could get it out.) 
The anniversary of the Walkman has many thinking back to that lucky day they got one, and the songs that got heavy rotation on theirs. During TODAY's Take on Tuesday, Tamron Hall and Willie Geist asked viewers to share their faves:
For some, it's just too hard to let go. 
Follow TODAY.com writer Scott Stump on Twitter and Google+.