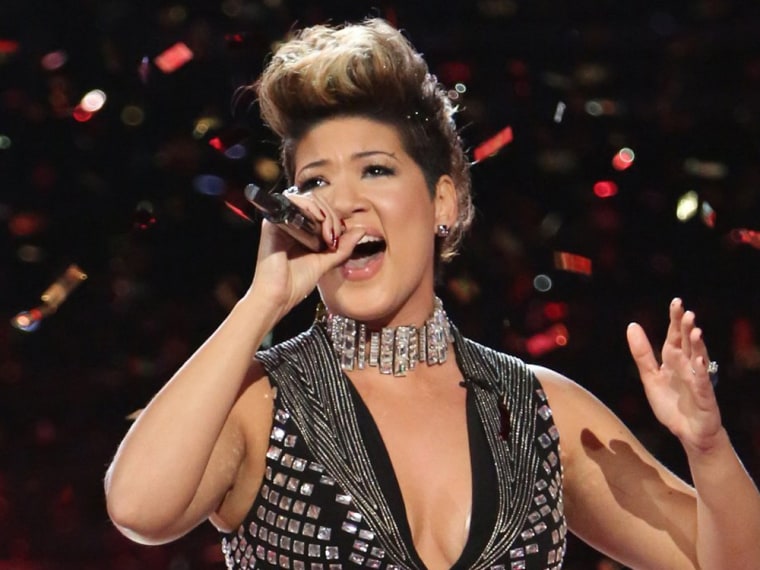 Many predicted Tessanne Chin's victory on "The Voice" — especially after her cover of Whitney Houston's "I Have Nothing" Monday hit No. 1 on the iTunes singles chart — but those people didn't include the singer herself.
"I never got that comfortable," she told TODAY after she won. "Not at all. Because I know that iTunes is one aspect of the votes, and I know that (Jacquie Lee) is a beast and so is Will (Champlin)."
If Tessanne had any serious difficulty during the finale on Tuesday night, it was in having to perform her new single, "Tumbling Down," just moments after learning she was the champ.
"Can you believe it?" she commented with a laugh. "I was a wreck. Especially because your debut, you want it to at least be good. I did my best. I was (struggling). I most definitely was."
Though she may not have been her usual best, the tune was one she knew would fit her.
"That's the first thing she said, was, 'I connect with this song,'" the song's writer and OneRepublic frontman Ryan Tedder told TODAY. He added that he wrote the tune — a "nightmare," he called it, because it had to work for all three finalists — with the goal that it'd be something he could "without question pitch to an artist of the caliber of Rihanna or Kelly Clarkson."
"Tumbling Down" was about the only struggle this season for the 28-year-old, who earned the public's vote through every week of "The Voice's" live playoffs, and who was praised by her coach and fellow finalists on Tuesday night.
"(It) feels pretty good. It feels good," said coach Adam Levine of earning his second "Voice" victory. (His first came in season one.) As for his advice to Tessanne, he told us, "She knows. She knows what to do."
"Tessanne has such original star quality to her," said teammate Will Champlin. "I can't even speak clearly here, but that's how good she is."
As the champion of season five, Tessanne has earned a recording contract with Universal Music Group, and that's where her focus turns now.
"I think a lot of my dreams have come true," she said, "and my next dream is to have a No. 1 selling album. A Grammy award winning album."
She won't have long to celebrate her victory. Tuesday night, iTunes began taking pre-orders for her post-"Voice" album, which has a listed release date of March 25, 2014. 
Tune in to TODAY Thursday for a live interview with Tessanne.