So, that Spice Girls reunion tour? No matter how much you really, really want it, it's not happening, says Victoria Beckham.
"I'm not going on tour. The girls aren't going on tour," the fashion mogul told British Vogue during a preview of her autumn/winter 2018 collection over the weekend.
Beckham's announcement comes just over a week after she put Spice Girls fans in a tizzy after sharing rare reunion pics with her former bandmates Emma Bunton, Melanie Brown, Geri Halliwell and Melanie Chisholm.
"It was so great to see the girls. We had such a fun lunch. It was really, really, really lovely. I still speak to them all individually, but for us all to get together was really lovely," she said.
Beckham and her former bandmates were merely "brainstorming" about future plans, but nothing's set in stone.
"There's something so strong in the message of what the Spice Girls stood for. What is that in the future? What does that look like? We were just bouncing ideas around. Brainstorming," Beckham explained, and then looking over her collection, she added, "But this is what I do."
The Spice Girls, who made "girl power" a mantra during their free-spirited 1990s heyday, first shot to fame with hit single "Wannabe" in 1996.
In 1997, the hugely popular act released a full-length motion picture called "Spice World."
"I remember that movie. I was so upset when they made me wear that tight little army dress," the mom of four revealed. "And (6-year-old daughter) Harper Beckham, who's only watched 'Spice World' once, says, 'Mummy, I love that bit when everyone's in the really cool clothes and you're in the tight little army dress!'"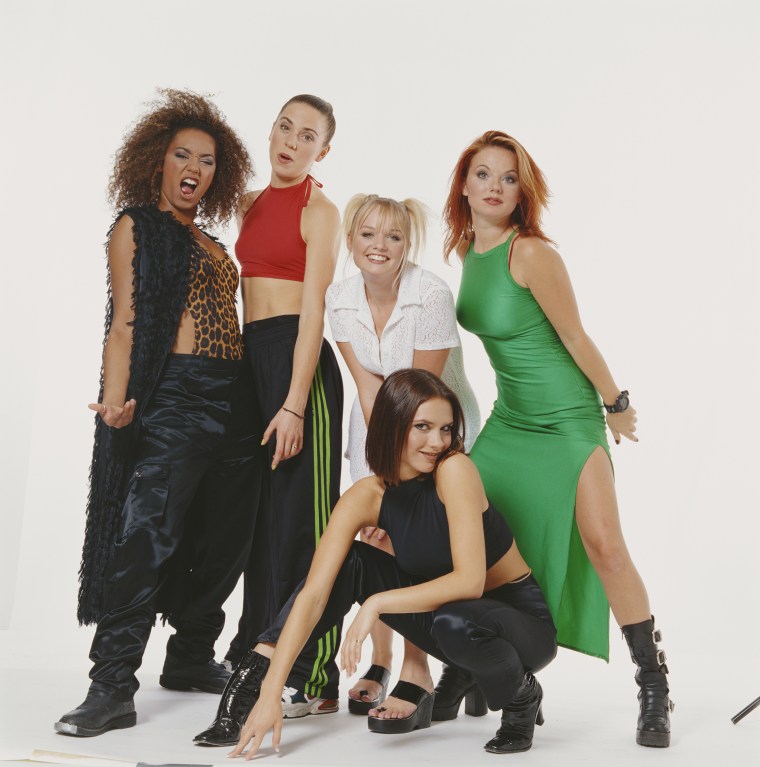 No matter how the Spice Girls reunion takes shape, fans can be sure it will be a "positive thing."
"You know, there's so much bad stuff going on, and the Spice Girls were about fun and celebrating individuality," said the star. "I think there's so much that the brand can do, and it's such a positive message for young kids.
"What does that look like in the future?" she added. "It's not me in a cat-suit."